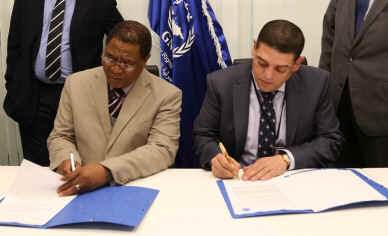 Loai Deeb (right) signs a memorandum of understanding with COMESA, the Common Market for Eastern and Southern Africa
Just two months ago, the head of cultural studies at Stavanger university in Norway signed a cooperation agreement with an obscure but very well funded human rights organisation – the Global Network for Rights and Development (GNRD).
According to GNRD, which is also based in Stavanger, the agreement allowed "high-calibre graduates to acquire rewarding and relevant work experience in human rights and development fields through internships at GNRD".
A similar agreement had been signed with GNRD a month earlier by the Centre for Peace Studies at another Norwegian university, in Tromsø.
Had either university bothered to carry out some basic checks through Google they would probably not have signed the agreements:
GNRD has connections with the United Arab Emirates and portrays the UAE's human rights policies in an undeservedly favourable light.

Its founder and president, Loai Deeb, previously set up a fake university in Norway which closed under threats of legal action from the Norwegian authorities.

Deeb also uses hundreds of fake Twitter accounts to promote himself and his activities.

GNRD's "High Commissioner for Europe" is a discredited Belgian politician with a conviction for electoral malpractice.
Last Friday, however, new questions arose about the activities of Deeb's strange human rights organisation. It emerged that GNRD was at the centre of a money-laundering investigation launched by the Norwegian authorities and that Deeb had been arrested. The amount of money involved is said to be $13 million.
Stavanger university has now decided that GNRD does not "meet the requirements" for partnership and has cancelled the agreement.
Universities were not the only institutions fooled by GNRD. Others include the United Nations, the European Parliament and the African Union. Even before the money-laundering case (which has yet to be tested in court) there were plenty of reasons to stay well clear of Deeb and GNRD. Readers unfamiliar with the background can find the details here.
In the seven years since it was founded, GNRD has made a particular point of trying to associate itself with other organisations and institutions. Sometimes there were formal agreements and a signing ceremony which was photographed for GNRD's website. Developing these ties helped to build an air of credibility.
Many of its ties, though, were much less formal but GNRD exaggerated their importance. It spent a lot of time "participating" in activities organised by other groups – which often required nothing more than attending a conference or meeting and posting a report of it on the GNRD website. Again, this helped to build credibility by association and, through the website posts, created an impression of GNRD as a busy, active organisation even when it wasn't actually doing very much.
GNRD's website carries the logos of 27 "collaborators and sponsors" (scroll down to the bottom of this page). They look impressive but the names are difficult to read – which is perhaps just as well because two of them are businesses owned by Loai Deeb. They also include two hotel companies and a travel agent (presumably used by GNRD) and several NGOs in Latin America which GNRD staff have reported meeting on their travels. Almun (the Arab League Model United Nations) is included too – apparently because GNRD attended one of its events in Cairo last year.
After some digging, mainly through the news items on GNRD's website, I have compiled an alternative list of GNRD's "collaborators" which I think gives a more accurate picture of its significant relationships (apart from the obvious one with the UAE):
United Nations
In February this year, the United Nations Economic and Social Council (ECOSOC) granted GNRD consultative status. One practical benefit of this is that it allows GNRD to book rooms for meetings at the Palais des Nations in Geneva.
European Parliament
GNRD is recognised by the European Parliament and listed in the transparency register. Six GNRD staff are currently accredited for access to parliament premises.
In addition, several MEPs have jointly hosted events with GNRD. They include:
African Union
In 2013, GNRD signed a memorandum of understanding with the African Union "to facilitate the development and integration agenda" of the AU and "explore opportunities for cooperation and non-exclusive partnership".
GNRD's "High Commissioner on Africa", Joseph Chilengi, also chairs the general assembly of the AU's Economic, Social and Cultural Council (ECOSOCC). In June, Chilengi flew to Spain at GNRD's invitation to take part in an Africa Day debate.
COMESA
In January this year GNRD signed a memorandum of understanding with the Common Market for Eastern and Southern Africa (COMESA) "for strengthening cooperation between the two parties to facilitate the development and integration agenda of the COMESA". GNRD was also given a consultancy role in COMESA.
Egypt
GNRD is one of only five international organisations approved by the Sisi regime to observe Egypt's next parliamentary elections. This seems to be the result of an enthusiastic report produced after a GNRD mission observed the 2104 election which legitimised Sisi's seizure of power.
Anna Lindh Foundation
GNRD's branch in Spain is a member of the Spanish network of the Anna Lindh Foundation. GNRD's website says: "This inclusion allows GNRD to participate in the different calls for grants and activities promoted by the foundation."
University of Valencia
GNRD's Spanish branch is in Valencia and two logos for the University of Valencia are displayed on its website in the "collaborators and sponsors" section. Clicking on one logo links to the university's social science faculty, and the other to the University of Valencia General Foundation.
It is unclear whether GNRD has a formal agreement with the university but articles on GNRD's website claim it has the university's support.
Last October GNRD held an art exhibition on the social science faculty's premises. An administrative note by GNRD says it was sponsored by the faculty and artist Antoni Camaró. The note continues: "We received a very high turnout; the room exhibition was overcrowded. We succeeded in establishing a partnership with the Social Sciences University and its staff. They are very receptive and open to organising more projects together with GNRD."
In December, a GNRD event was held in the law faculty, "in collaboration with Jorge Cardona, Professor of International Public Law".
In April, GNRD and Red Acoge (a Spanish NGO) organised "a presentation on the latest research into the portrayal and depiction of immigrants in the mass media" in the university's social science faculty.
A further GNRD event on university premises took place in May and, according to GNRD, "vice president for culture of Valencia University, Antonio Ariño, announced academic support given to GNRD" for organising it.
Less than a week later, yet another GNRD event in Valencia was "supported by Valencia University through its vice rector, Antonio Ariño".
Nakhweh (Yemen)
Last October GNRD, in conjunction with Yemen's National Center for Human Rights and Democratic Development (Nakhweh), organised an expensive but futile conference in Brussels aimed (in Deeb's words) at achieving "an all-inclusive national reconciliation" for Yemen. GNRD's website reported that it ended "successfully" and was "widely expected to immediately improve the Yemeni political climate and facilitate greater security and stability throughout Yemen". It didn't.
The head of Nakhweh, according to the Yemen Times, is Ahmed Saleh al-Essi who became controversial in Yemen both for his business activities and (until recently) his domination over the Yemeni Football Association.
Haytham Manna
Haytham Manna, director of the Scandinavian Institute for Human Rights (SIHR), has attended and spoken at various GNRD events. GNRD chief Loai Deeb was a founder of SIHR and remained on its board until 2013. Manna, a Syrian living in exile, has also acted as spokesperson for the Arab Commission for Human Rights the Syrian National Coordination Committee for Democratic Change.
International Institute for Peace, Justice and Human Rights
GNRD works very closely with the Swiss-based International Institute for Peace, Justice and Human Rights (IIPJHR). Both organisations share an office address in Geneva and almost all the activities reported on IIPJHR's website are carried out in conjunction with GNRD.
When I first looked at IIPJHR in January, the "who we are" section of its website had been copied directly from the same section of GNRD's website – without even bothering to change the organisation's name. This was changed after I pointed it out in a blog post.
Like GNRD, IIPJHR is one of the five international organisations approved by the Sisi regime to observe Egypt's parliamentary elections.
Church of Scientology
This may be a case of GNRD not properly checking out the organisations it collaborates with. In February, GNRD staff attended "human rights training workshops" in London provided by a Scientology front organisation.A few days later, GNRD staff celebrated International Women's Day jointly with the Scientologists at Fitzroy House – a museum dedicated to the memory of Scientology's founder, L Ron Hubbard.


Posted by Brian Whitaker
Tuesday, 16 June 2015
This work is licensed under a Creative Commons Attribution-NonCommercial 4.0 International Licence.