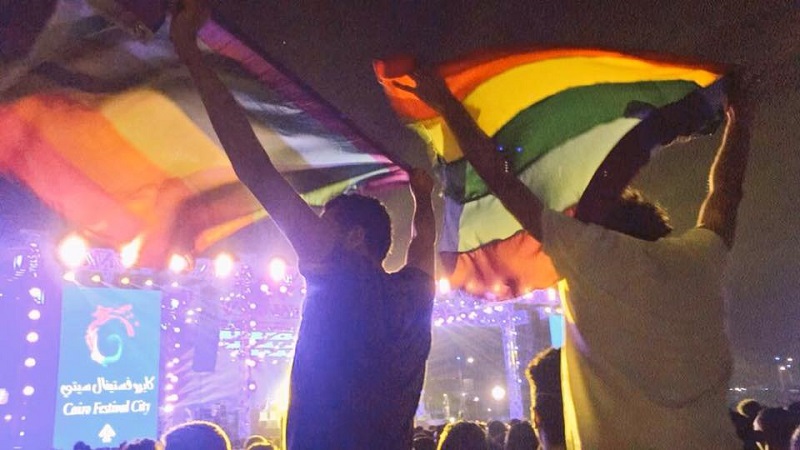 Blog post, 26 September 2017: Seven people who waved rainbow flags during a music festival in Egypt have been arrested for "promoting sexual deviancy".
The flags appeared during a performance by the popular Lebanese band, Mashrou' Leila, at the Music Park Festival in Cairo last Friday. Mashrou' Leila is controversial because its songs question "traditional" ideas about Arab politics and society. It attracts a gay following partly because one of its songs, "Shim El Yasmine", is about same-sex love but mainly because its lead singer, Hamed Sinno, is openly gay.
Sinno caused a stir at Lebanon's Byblos International Festival in 2010 when he grabbed a rainbow flag from a member of the audience and attached it to his microphone. "Right in front of me, there was a crowd of about 100 LGBT kids and there was this kid, 18 at most, and he was waving the rainbow flag and his friends were doing the same thing with signs on gay rights," he said later.  
Since then, Sinno has emerged as the Arab world's most famous openly-gay celebrity (and is still virtually the only one).
Following last week's incident in Cairo, the government-linked Syndicate of Musical Professions – a body tasked with suppressing "abnormal" kinds of music – said future performances in Egypt by Mashrou' Leila will be banned.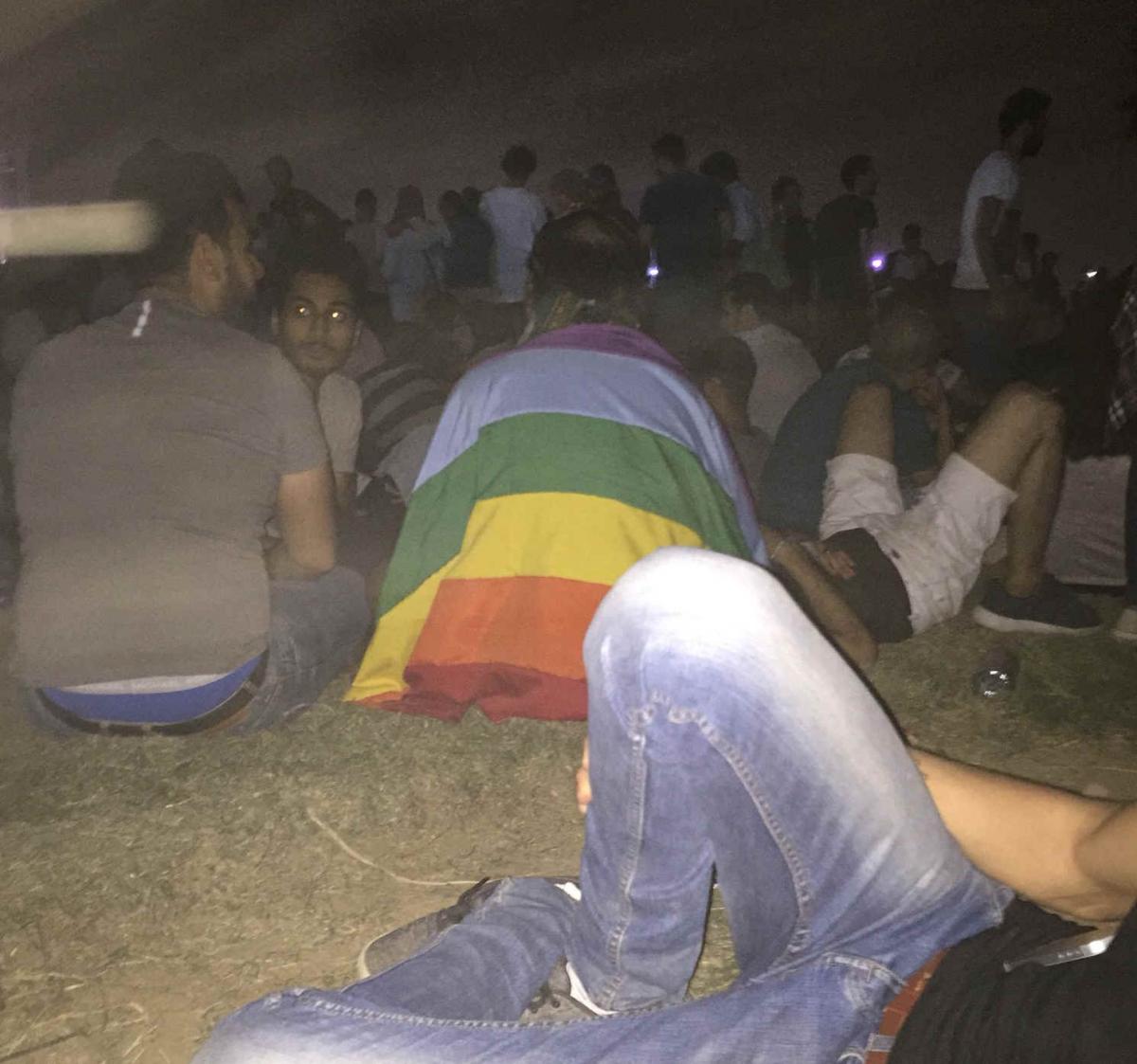 Mashrou' Leila has performed several times before in Cairo, as well as in Dubai and Tunis but has twice been prevented from performing in Jordan, where it has a large fan base – last year and earlier this year.
Rainbow flags were first adopted by gay rights activists in California in the 1970s and have since spread to many other countries. In some parts of the world, though, many people are still unaware of the LGBT connection – and are often shocked to find out.
Rainbow-coloured copies of the Qur'an are marketed as "an ideal gift for Muslims" and in Saudi Arabia rainbow umbrellas are sometimes used as sunshades.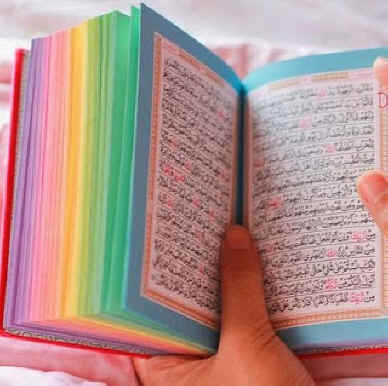 It wasn't until 2015 that the Saudi religious police discovered this multi-coloured peril lurking in their midst – and cracked down on it. Their first victim was a privately-run school in Riyadh which had rainbow stripes painted on a parapet. The school was fined 100,000 riyals ($26,650) for displaying "the emblem of the homosexuals" and forced to repaint its parapet in plain blue.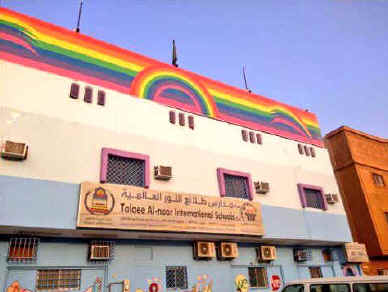 The first public appearance of a rainbow flag in an Arab country is thought to have occurred in March 2003, when 10 supporters of the nascent LGBT rights group, Helem, paraded it during an anti-war demonstration in Beirut. The flag, stitched together by a member of the group, hung in the window of Helem's office for several years afterwards.
Update: doubts about arrests
In a post on Facebook, Scott Long, who has written extensively about LGBT issues in Egypt, casts doubt on the reported arrests. He writes:
a) The Egyptian tabloid press started reporting on Monday morning that police had arrested 7 people for hoisting a rainbow flag at the Mashrou' Leila concert last week. So far, lawyers have apparently not been able to locate these arrestees. The news outlet that first reported the arrests has good connections to the police. But it is still possible that the police or the newspaper were lying, to give the impression that the highly moral Sisi regime is doing something about the "outrage."

b) I think I can say with personal confidence that if people have been arrested so far, they were not the ones who were holding up the rainbow flag at the concert.

c) People are rightly terrified, including people who were actually at the concert. They need to make rational, informed decisions about their safety. But rumors -- or premature, frightening statements from NGOs -- won't help them to do that. 

d) This is a new intensification of the same old moral panic about sex and gender that the Sisi regime uses to shore up its support. It's going to claim victims, if it hasn't already. I hope external LGBT NGOs who have been (in my view) disgracefully silent about the crackdown in Egypt will be ready to act when it's clear what is happening. I hope they won't leap prematurely to create the false appearance of effective action, when in fact they're planning just the tired, useless same-old same-old. LGBT activists who haven't yet called for a complete end to European and American military aid to the Egyptian dictatorship: you should have done so four years ago. So: do it now. This horrible story doesn't give you any new reasons to do so. All the horrors are on record. The facts in this case will come. Today, now, without equivocating, say what you should have said -- and didn't have the courage to -- starting in 2013.
---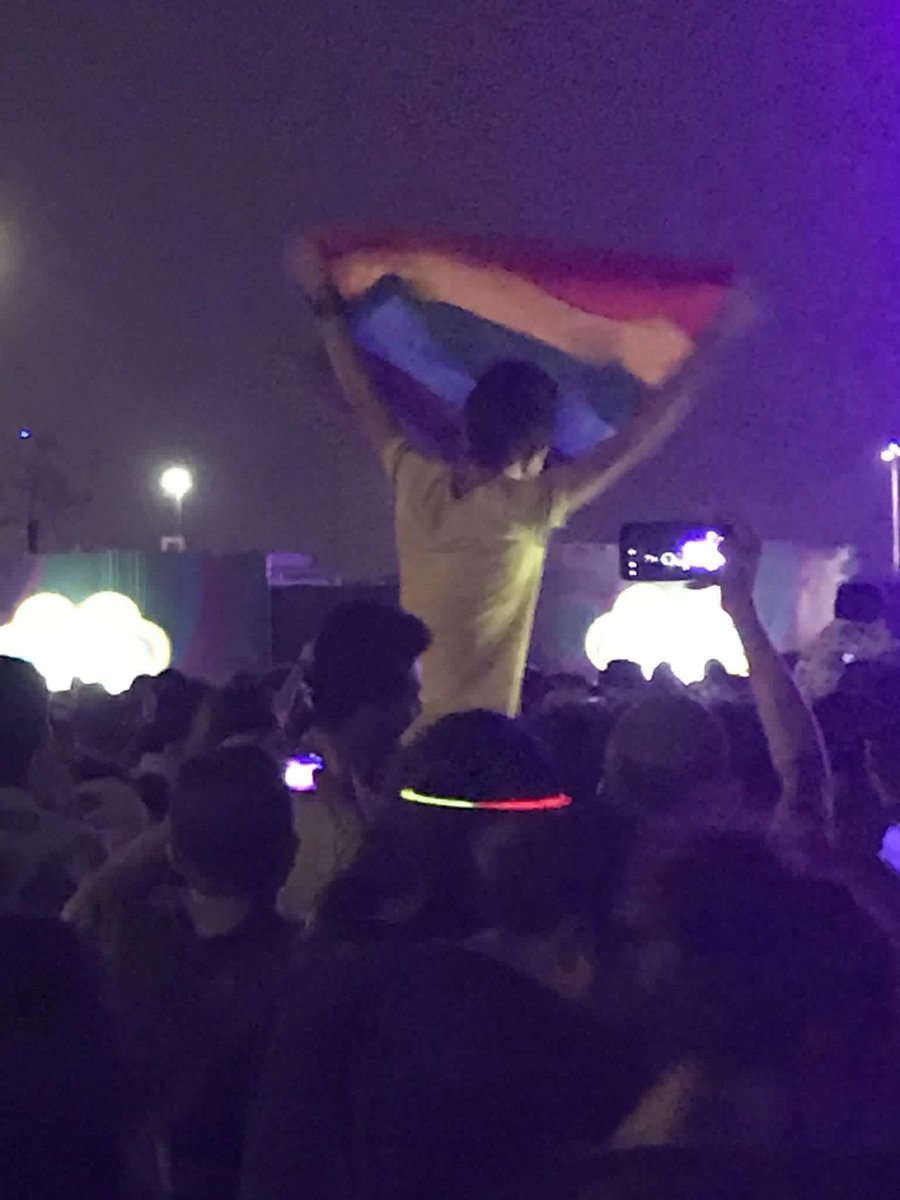 Blog post, 29 September 2017: Following last week's music festival in Cairo where some of the fans waved rainbow flags, the Coptic church has plans to "combat homosexuality and offer ways of treatment", according to local media.
St Mark's Cathedral – the seat of the Coptic Pope – is to hold a conference under the dramatic title "The Volcano of Homosexuality". 
"The conference aims to increase awareness on how to achieve a 'speedy recovery' from homosexuality through number of lectures by the cathedral's priests," the Egypt Independent reports. It continues: 
"St Mark's Orthodox Coptic Cathedral has previously expressed that it is against homosexuality, justifying its intolerance by quoting verses from the Holy Bible that it says describes any type of homosexuality as filth.

"In 2003, representatives from all Christian churches in Egypt held a meeting headed by the former late Pope of the Coptic Church, Pope Shenouda III, where they opposed attempts by other Christian churches outside of Egypt to legalise homosexuality and homosexual marriage.

"Meanwhile, the current Pope of the Coptic Church, Pope Tawadros II, asserted that homosexuality violates natural instincts and the heavenly laws, saying that it may be either a disease that needs treatment or a sin that needs repentance."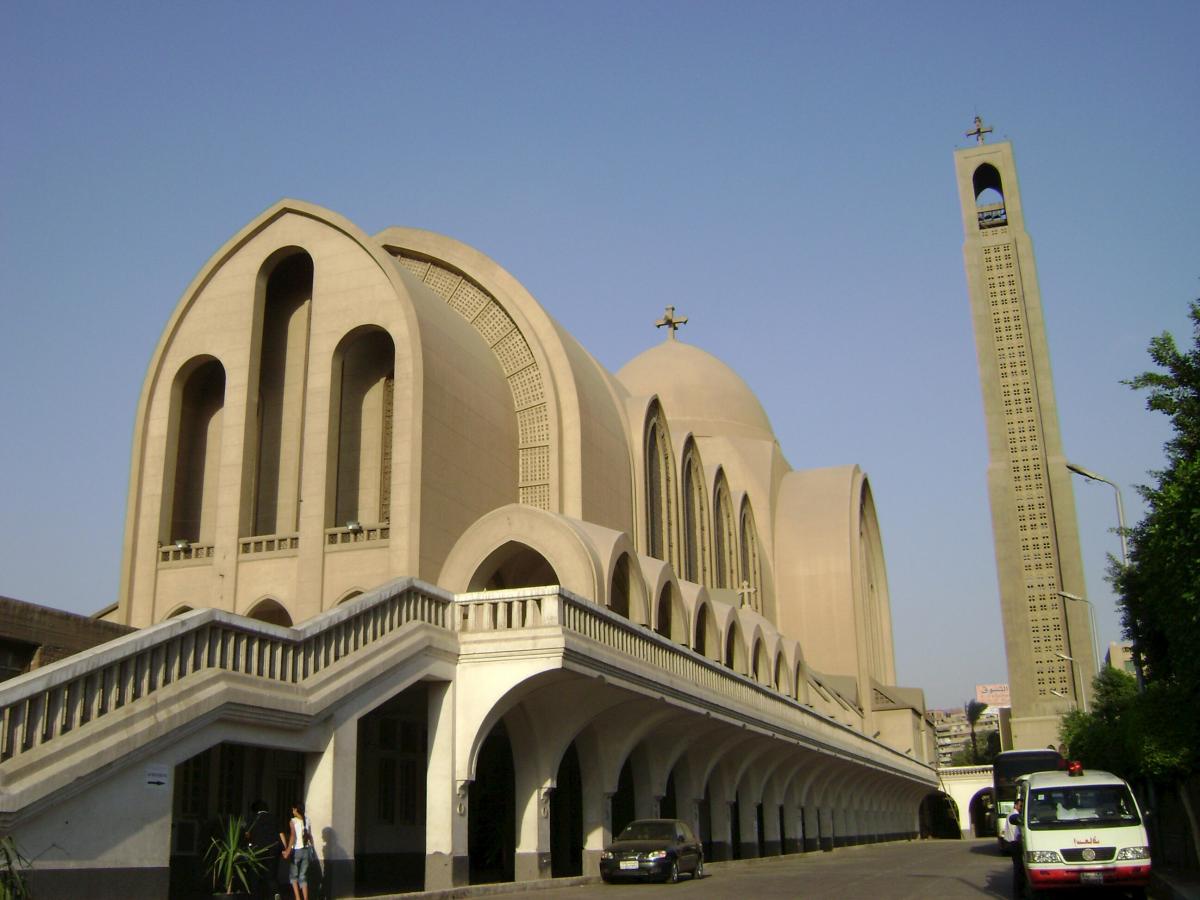 Last Friday, Mashrou' Leila, a Lebanese band whose lead singer is openly gay, performed at the Music Park Festival in Cairo and several rainbow flags were photographed among the audience. 
In an apparent move to placate public opinion, the Egyptian authorities later claimed seven of the flag-waving fans had been arrested for "promoting sexual deviancy". However, Scott Long, who has written extensively about LGBT issues in Egypt doubts the claim is true. He points out that the concert took place in New Cairo and lawyers have so far been unable to trace anyone in the New Cairo jail who was arrested as a result of the concert.
Meanwhile, attempts are being made to link an apparently separate case, in another part of Cairo, to the flag-waving affair.
On Tuesday, al-Dostor newspaper reported that a student identified only as "Mustafa W. M." had been convicted of "inciting debauchery" and "declaring himself queer". The court, in the Dokki district of Cairo, sentenced him to six years in jail, a fine of 300 Egyptian pounds ($17), and a period of supervision equal to his jail sentence. 
According to al-Dostor's report, the student was arrested after attending the Mashrou' Leila concert. Scott Long suggests this was an attempt by police to show they are on top of the flag-waving affair by linking an unrelated case to the concert.
Homosexuality is not actually illegal in Egypt but other charges can be brought – such as "debauchery" (an old law directed against prostitution) and "immoral advertising" (use of gay dating apps and websites).
At least 274 LGBT people – including 64 who were transgender – have been targeted by Egyptian police over a three-year period starting in 2013, according to the "Solidarity with Egypt LGBTQ+" group. The figures are based on monitoring of news reports and it's likely that some cases went unreported. 
In more than half of these cases (58%), police had used social media, dating apps and the internet to track and arrest their targets.
---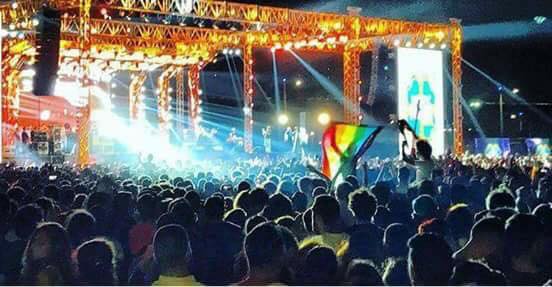 Blog post, 1 October 2017: At least 11 allegedly gay men have now been arrested in the backlash against last month's Mashrou' Leila concert in Egypt, human rights groups say.
Mashrou' Leila, a Lebanese band whose lead singer is openly gay, performed at the Music Park Festival in Cairo on September 22 and photos circulated on social media showed several members of the crowd waving rainbow flags.
The sight of these flags triggered a moral panic in Egypt, with demands for government action coming from religious leaders, politicians and sections of the media. Dr Abbas Shuman, Deputy of al-Azhar – Egypt's highest Islamic authority – described the flag-waving as "an act of moral terrorism".
Religious complaints came from Christians as well as Muslims and the Coptic church announced plans for a conference to tackle "the volcano of homosexuality". According to one news report, priests will give lectures at the conference with the aim of promoting "speedy recovery" from homosexuality.
Three days after Mashrou' Leila's performance, Egyptian officials announced that seven of the concert flag wavers had been identified and arrested. This claim appears to have been untrue – made up to please the anti-LGBT campaigners. None of the seven have appeared in court and there has been no further information about any of them. However, since the concert police have been rounding up other allegedly gay men.
Last Thursday, 19-year-old student identified only as "Mustafa W. M." was sentenced to six years in jail for "inciting debauchery" and "declaring himself queer". The student, who had no lawyer to defend him, had been arrested on September 23. According to Human Rights Watch he had been entrapped through a dating app – a common police tactic in Egypt – though there were claims in court that he had attended the Mashrou' Leila concert.
Amnesty International reports that two other men who were arrested last week are currently detained in Agouza police station in Cairo are due to stand trial on 11 October. Another two men were arrested on 28 September and are detained in Dokki police station.
On Saturday, Ahram Online reported that a further six men had been arrested for "debauchery" and "forming a network for homosexual acts". According to prosecutors, the six were found in "indecent positions" during a raid on a flat in Cairo's Ramses Square. They will now be subjected to anal examinations "to determine if they have committed homosexual acts".
Once again, there are (rather tenuous) attempts to link these men to the flag-waving incident. Ahram Online says:
"The prosecution has said that a number of young men who had frequented the Ramses flat were the ones who raised the rainbow LGBT flag while attending a concert featuring Lebanese rock band Mashrou' Leila."
Egypt has no specific law against homosexuality and yesterday Human Rights Watch called for the men's immediate release.
"The Egyptian government, by rounding people up based on their presumed sexual orientation, is showing flagrant disregard for their rights," Sarah Leah Whitson, HRW's Middle East and North Africa director said. "Whether they were waving a rainbow flag, chatting on a dating app, or minding their own business in the streets, all these debauchery arrest victims should be immediately released."
A similar call came from Amnesty International. "The fact that Egypt's Public Prosecutor is prioritising hunting down people based on their perceived sexual orientation is utterly deplorable," Najia Bounaim, AI's North Africa Campaigns Director said.
"These men should be released immediately and unconditionally – not put on trial.

"Forced anal examinations are abhorrent and amount to torture. The Egyptian authorities have an appalling track record of using invasive physical tests which amount to torture against detainees in their custody. All plans to carry out such tests on these men must be stopped immediately."
---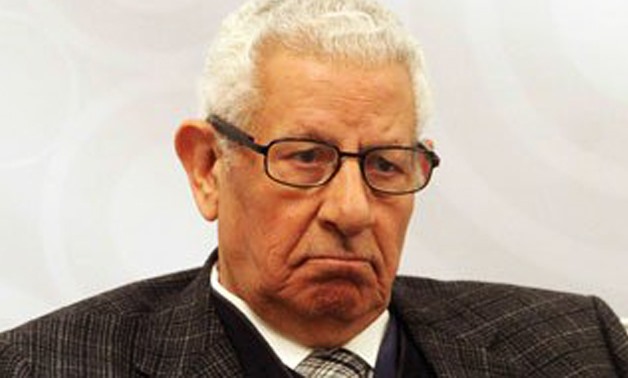 Blog post, 2 October 2017: The moral panic over homosexuality in Egypt, which began when several fans at a music concert waved rainbow flags, took a new turn at the weekend when the authorities ordered local media not to show any sympathy for LGBT rights.
On Saturday the Supreme Council for Media Regulation – whose members are hand-picked by President Sisi – announced a ban on "the promotion or dissemination of gay slogans" because "homosexuality is a disease and a disgrace that is better covered up, not promoted, until it is treated and eliminated".
The decree added that gay people must not appear in print or audio or visual media "except in recognition and acknowledgment of their misconduct". 
What this means in practice is that in future only anti-LGBT coverage will be allowed.
The Supreme Council continued:
"This does not mean that we bury our heads in the sand and ignore the disease or deny it. On the contrary, it is necessary to treat it – and treat it as a common disease."
In this context, it said, the media has a "duty to highlight the seriousness of the disease and the causes of its spread and to warn of the dangers".
Quoted by the Egypt Independent, Makram Mohamed Ahmed, head of the Supreme Council, said the focus should be on ending homosexuality by providing parents with the "appropriate ways of raising children".
Egypt has witnessed other moral panics in the past – in 2014, for example, the regime announced plans to "eliminate" atheism – and they normally fizzle out after a while. Even so, the hysteria generated by the rainbow flags affair has been extraordinary.
It started on September 22 with a performance in Cairo by Mashrou' Leila, a Lebanese band whose lead singer, Hamed Sinno, is openly gay. Photographs posted on social media showed a handful of people in the audience waving rainbow flags and this brought complaints from religious leaders, politicians and sections of the media – all demanding government action.
The results were as follows:
● The Syndicate of Musical Professions – a government-linked body tasked with suppressing "abnormal" kinds of music – said future performances in Egypt by Mashrou' Leila would be banned.
● The Deputy of al-Azhar – Egypt's highest Islamic authority – described the flag-waving as "an act of moral terrorism".
● The Coptic Church said it would hold a conference entitled "The Volcano of Homosexuality" where priests would help people towards a "speedy recovery" from homosexuality.
● A lawyer who is vice-president of an Egyptian "human rights" organisation (Al-Haq International) filed a complaint with the Public Prosecutor accusing the concert organisers, the director of Cairo Festival City Mall, Mashrou' Leila band members and the administrators of the Rainbow Egypt Facebook page of "spreading debauchery".
● The authorities initially claimed that seven men had been arrested for waving flags at the concert. (It's not clear if this was true at the time. Some activists suggest it was a made-up claim, to give the impression the authorities were taking swift action.)
● Since the concert, at least 11 allegedly gay men have been arrested in various parts of Cairo. It is not clear that any of them were involved in the flag-waving.
● One of the arrested men, reportedly entrapped through a gay dating app, has since been convicted of "inciting debauchery" and "declaring himself queer" – and sentenced to six years in prison.
● The authorities have ordered anal examinations for at least six of the other arrested men "to determine if they have committed homosexual acts" (which are not actually illegal in Egypt). Such tests are not scientifically valid and are widely regarded as medically unethical.
---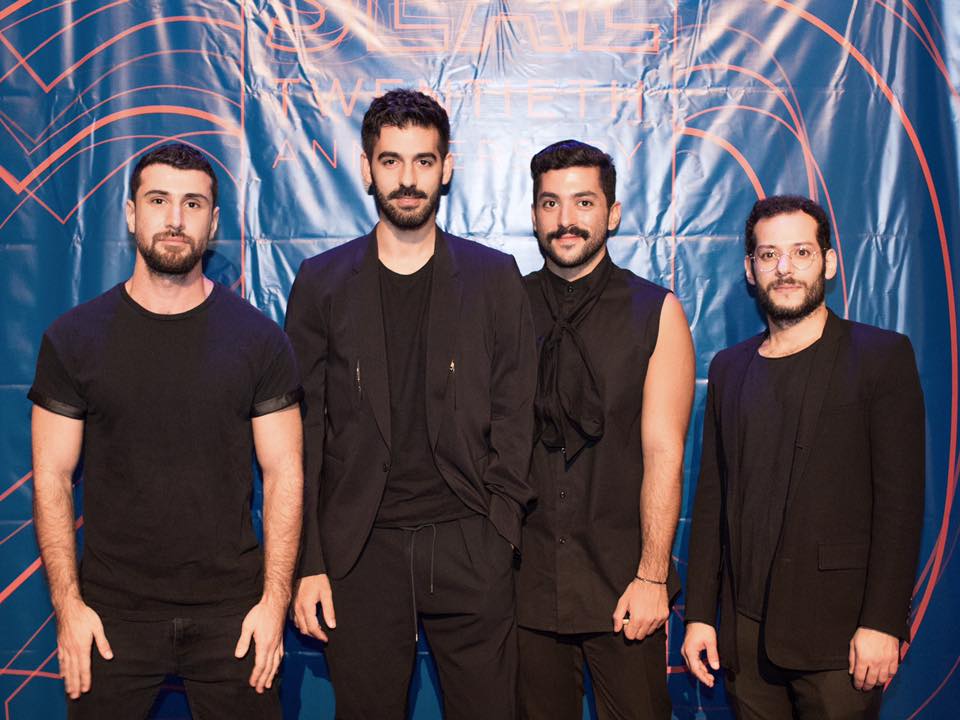 Blog post, 3 October 2017: When Mashrou' Leila, a Lebanese band whose lead singer is openly gay, performed in Cairo on September 22 several members of the audience waved rainbow flags. Religious leaders, politicians and sections of the Egyptian media were horrified and demanded swift government action. The authorities responded by rounding up people suspected of being gay and ordering local media not to show any sympathy for LGBT rights. 
Yesterday Mashrou' Leila issued the following statement via its Facebook page.
* * *
Dear Friends,
Over the course of the last 10 days, we had opted to remain relatively silent on the situation in Egypt, after consulting with various Egyptian activists, and human rights organizations, for fear that a statement from us would risk further inflaming the situation, and the brutal trespasses on concert goers, activists, and the LGBTQ+ community. It has however become rather apparent in the last 48 hours that the state apparatus is hell-bent on executing the most atrocious of human rights violations.
For those of you who have not been following up on the events going on in Egypt, please scroll down.
* * *
We cannot begin to explain how saddened we are to see yet another era of backwards tyranny creep over one of our most beloved countries and audiences.
This crackdown is by no means separable from the suffocating atmosphere of fear and abuse experienced by all Egyptians on a daily basis, regardless of their sexual orientations.
We denounce the demonization and prosecution of victimless acts between consenting adults.
It is sickening to think that all this hysteria has been generated over a couple of kids raising a piece of cloth that stands for love.
The amount of boastful ignorance, hate speech, and lies that have emerged in the press is unthinkable. We urge the Egyptian press to wake up to the catastrophe that they've generated and take responsibility for the inflammatory lies that they've published over the last 10 days.
We denounce the hate speech that has been adopted by both the state and the media.
We denounce the apathy that we've witnessed from various civil society organizations. The state is currently rounding up kids and violating their bodies. This is not a time for silence, nor is it a time for condescendingly discussing identity politics. Silence is consent.
We call on cultural producers, musicians, and activists, inside and outside Egypt, to express their solidarity with the Egyptian community during this horrible time. This is no longer something any of us can afford to ignore.
We need an internationalist solidarity movement bent on pressuring the Egyptian regime to immediately halt its ongoing witch-hunt and release all detainees.
We call on the Egyptian state and security apparatus to remember that they are part of the International Covenant on Civil & Political Rights, and the UN Convention against torture which classifies anal examinations as a form of torture.
We reiterate our unwavering support to the Egyptian people in this horrible time. We're heartbroken that the band's work has been used to scapegoat yet another crackdown by the government.
Human rights are not privileges to be given and taken away. Human rights just are.
We apologize to our fans for having to endure yet another attack.
* * *
● Following a rather ugly smear campaign in the Egyptian press, we played a concert in Egypt on the 22nd of September that was attended by upwards of 35 thousand people. The line-up included another Jordanian band, and an Egyptian local band.
● A couple of audience members raised rainbow flags during the concert.
● What followed was the most aggressively homophobic media frenzy we've ever witnessed. State sponsored news outlets and various independent outlets alike, took the opportunity to publish vile articles promoting hate speech and dividing the Egyptian community, while repeatedly publishing false news about the band and about non-normative sexualities, with inflammatory headlines. This was also echoed by an equally brutal social media attack on the band, our friends and families, and most relevantly, our fans in Egypt.
● News coming out of Egypt for the first few days was inconsistent and self-contradictory, as the horrid lack of professionalism in the Egyptian press created a thick fog of intentionally false news to try to further incense public opinion.
● What first appeared to be an irresponsible media frenzy, proved to be more tactical than coincidental, as reports began to surface that the police then moved to arrest upwards of 35 people (activists, teenagers, and people suspect of being LGBTQ+) in the past 10 days. Some were lured over dating apps, a vile entrapment technique repeatedly used by the Egyptian police.
● Kids are being arrested in scores and put to summary trials. Reports show that some have even already been sentenced to double the maximum amount of prison time usually sentenced (6 years).
● Though homosexuality is not explicitly criminalized in Egypt, people are being tried for "debauchery" and "incitement of debauchery."
● Those in custody will be forced to undergo anal examinations, a long debunked archaic forensic technique intended to determine the victim's sexual orientation. This is a technique that has been proven to be of absolutely no medical validity, and has been condemned internationally as a cruel form of physical and psychological torture. It is state-sanctioned rape and should be discontinued immediately.
● In an attempt to further gag any kind of dissent/opposition/disagreement, the state then moved to ban all forms of support towards the LGBTQ+ community on any and all media outlets, continuing to falsely call homosexuality a "disease," and called for further shunning all homosexuals, save for those who appear to have "repented." This is part of a larger trope of some believing homosexuality to be "curable."
● It is important to note that all sorts of conversion therapy have been proven not only ineffective, but also seriously damaging and harmful, both to victims of the "therapy" itself, and to society at large. This too is a shockingly unethical move from the state, and has absolutely no basis in science.
● Furthermore, various media outlets and members of both the police and government have created an overblown social panic, and are now leveraging that panic to witch-hunt leftist activists and human rights activists, by suggesting that proponents of basic human rights are a danger to society.
● The band has been banned from playing in Egypt again. Local press rushed to justify the state's censorship by making it look like "several countries have previously banned" us from playing. This is a lie. The only other country that has been that belligerently averse to freedom of expression is Jordan, whose human rights track-record where freedom of press, freedom of speech, and freedom of expression, are by no means exemplary.
This is an extremely simplified account of the horrors we've been witnessing over the last week. For a more detailed account of the situation we urge you to look at the statements by the Egyptian Initiative for Personal Rights, Human Rights Watch, and Amnesty. We've also found the most accurate reporting on the situation to be coming out of Mada.
---
Blog post, 4 October 2017: When the sight of a few people waving rainbow flags at a pop concert becomes an act of "moral terrorism", when it plunges a country into hysteria and the government responds by arresting dozens of people on suspicion of being gay and orders the media to show them no sympathy, it's time to ask why.
Such was the apparent power of these flags that Egypt has been in paroxysms over them for the last couple of weeks. But to treat this as a case of mass homophobia, or even hyper-homophobia, misses its real significance. At the root of the rainbow flags affair are two fundamentally opposing views of where Egypt is – or should be – heading.
This clash over Egypt's future has many aspects, and liberty of the individual – sexual behaviour included – is one of them. On one side are those, like the head of Egypt's Supreme Council for Media Regulation, who say homosexuality is disgraceful and the media must help stamp it out. On the other are those who say what happens between consenting adults in private is no concern of the state, the police or anyone else.
The dispute here is not so much about sex itself as about the role of the state and society in policing it. Why would a government – and a regime like that of Abdel Fattah el-Sisi in particular – bother with such matters? And why, having decided this is proper government business, would it side with those who are fearful of what others might be doing in darkened rooms?
The short answer, of course, is that it's playing a populist card. There's far more political mileage to be had in Egypt from attacking LGBT people than defending them. Minorities – especially small and unorganised ones – are an easy target and if they can be portrayed as a threat to the nation's well-being, so much the better. We have seen this in Egypt before, with atheists and Shia Muslims, and especially with the notorious "Queen Boat" case of 2001 which involved 52 allegedly gay men. 
The Queen Boat defendants were tried in  the state security court, specially set up under an emergency law to deal with suspected terrorists. A Cairo newspaper reinforced this "security" angle with a front-page headline that said: "Perverts declare war on Egypt".
The message that homosexuality is unpatriotic was hammered home by al-Musawwar magazine with a doctored photograph of Sherif Farhat, the main defendant in the case, wearing an Israeli army helmet and sitting at a desk with an Israeli flag. Meanwhile, the semi-official al-Ahram al-Arabi magazine headlined a spread of articles with the words: "Be a pervert and Uncle Sam will approve".
In the current furore there are repeated attempts to link "promotion" of homosexuality (for example, by waving a rainbow flag) as a form of terrorism. In this fantasy world it was only a matter of time before the customary but unspecified "foreign hands" would make an appearance – and, sure enough, they have. 
According to Youm7 newspaper, the concert flag-waving was not just flag-waving but the signal to launch a foreign plot:
"Security investigations found that some of the accused in the case received funds from foreign bodies and rights organisations calling for freedoms to execute a plan to spread thoughts calling for the breakdown of society and spreading ideas that undermine public conduct and morals. Raising the flag at the concert was a signal to these organisations that the plan is being implemented."
What Egyptians are meant to conclude from this is that the only thing protecting them from the foreign-gay-terrorist onslaught is the Sisi regime. Posing as guardian of the nation's cultural, religious and moral values is a familiar tactic among Arab regimes. It provides a veneer of respectability and gives them a measure of legitimacy which would otherwise have to be acquired through the ballot box. As a general rule of thumb, this preoccupation with national values and morality tends to be inversely proportional to the regime's actual morality in terms of brutality, levels of corruption, and so on.
In Egypt's case there are a few additional factors. One is the regime's long-running war against the Muslim Brotherhood: while cracking down on Islamists it needs to display religious credentials of its own. Turning the rainbow flags affair into a public spectacle also creates a welcome diversion from the country's real problems.
Sisi heads an authoritarian regime ruling over what is still, for the most part, an authoritarian society, and the regime's attitude to rainbow flags and LGBT rights is probably not very different from the attitude of most Egyptians. In that respect, no one can seriously claim the regime is out of step with society.
It is not abnormal for the attitudes of government and society to reflect each other and, if left to their own devices, to evolve more or less together over time. Problems start when this evolution is not allowed to take place – as we are now seeing in Egypt.
The "traditional" values espoused in most of the Middle East are less traditional than many suppose and are, to some extent, imaginary: look at the way Egyptian women are dressed in photos and films from the 1950s. The dangerous part, though, is that they are presented as fixed, unchanging and unchangeable.
This is what the Sisi regime is doing in connection with LGBT rights. Instead of allowing rational discussion – and the possibility of a shift in public opinion – it is insisting that nothing can change. It has given instructions that gay people must not appear in newspapers, on radio or television unless they are appearing to publicly repent. It has given orders that the media must portray homosexuality as a disease which, with proper treatment, can be eliminated.
This may prove a trickier approach to maintain than the regime imagines – not least because it doesn't explain why the "diseased" are being collected by police cars rather than ambulances. To many outside the country, if not inside, this approach also makes the regime look ignorant.
Further evidence of the regime's ignorance comes from its ordering of anal examinations on suspects "to determine if they have committed homosexual acts". Such tests are not scientifically valid and are widely regarded as medically unethical. There was also that embarrassing episode a few years back when the Egyptian army developed a "miraculous" magnetic wand which it claimed would cure HIV, hepatitis C and other viruses.
Although there are many similarities between the rainbow flags affair and the 2001 Queen Boat case, it may not turn into a simple re-run this time. In 2001 there were virtually no voices in Egypt supporting the Queen Boat defendants – even the main local human rights group shied away – but there were no social media then and the internet has since given many Egyptians new perspectives, especially among sections of the urban youth. Some even think it's cool to have gay friends.
Since 2001, Egypt has seen both revolution and counter-revolution. In the counter-revolutionary phase many have become so dispirited as to abandon any thoughts of continued struggle. Regardless of that, though, resistance over the rainbow flags affair looks like being stronger than it was over the Queen Boat.
One pointer came in 2014 when a TV reporter accompanied police on the raid of a Cairo bath-house which the reporter described as "a den of perversion". Instead of the customary applause for this exploit, however, the reporter faced a barrage of social media criticism.
Unlike the Queen Boat case, some of the rainbow defendants appear defiant and have aleady been speaking out, if only through their lawyers.
Sarah Hegazy, the only woman among the dozens arrested, claims she was beaten in her cell by fellow inmates after police them she was involved in a case relating to homosexuality.
Another defendant, Ahmed Alaa, not only admits waving a rainbow flag but defends his right to do so. Mada Masr reports:
Alaa was questioned for hours simultaneously by another prosecutor, according to his lawyer Ramadan Mohamed. When asked about his sexuality, Alaa responded that he isn't gay. "I am not a member of the homosexual community, but my personal belief is that every person is free, as long as they don't harm others, and I don't know anyone from this community personally," he said, according to the lawyer. 

When asked about the raising of the flag at the concert, Alaa explained that it happened sporadically and wasn't planned. He said he didn't bring the flag to the gig, but borrowed it from another member of the audience.

The prosecutor told Alaa there is a contradiction between his "accepting of homosexuals," and his knowledge of the Quran, in which "homosexuality is condemned," to which he responded, "The state permits the selling of alcohol, despite it being prohibited by Islam. Every person is free, as long as they don't harm others. They will be judged before God in the end. The law does not punish personal beliefs or sexual practices."
A video in support of Alaa, which was posted on YouTube yesterday, has so far had more than 88,000 views.
The rainbow flag defendants certainly have support, though how strong it will be remains to be seen. Once again, the regime may succeed in swallowing its victims whole. But this time it could find them surprisingly indigestible.
---
Blog post, 26 October 2017: Amid the continuing moral panic over homosexuality in Egypt, a draft law submitted to parliament proposes not only to criminalise gay sex but also to ban rainbow flags and outlaw almost any kind of social activity involving gay people.
The draft law, presented to the Speaker by MP Riad Abdel Sattar, currently has formal backing from 12 other members of parliament. Abdel Sattar belongs to the supposedly liberal Free Egyptians Party – the largest party in parliament with 65 of the 596 seats.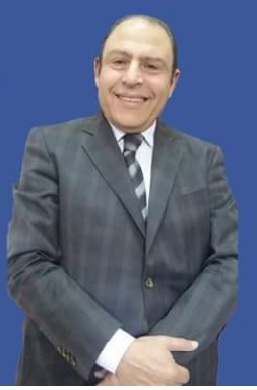 At present Egypt has no specific law against homosexuality but a law against "habitual debauchery", originally intended to clamp down on prostitution, is often used instead.
The new draft law proposes jail sentences of between one and five years for "perverted sexual relationships". Article 2 says:
"For every two or more persons, whether male or female, who engage in a perverted sexual relationship between themselves, in any public or private place, the penalty shall be imprisonment for a period not less than one year and not more than three years, and in the case of a repeat offence the penalty shall be imprisonment for five years."
The draft proposes similar penalties for anyone "abetting" same-sex relations. This includes hosting gatherings of gay people, such as parties. It also requires the "closure" of any premises used for such gatherings. Article 3 says:
"For any person who abets homosexual relations, whatever they may be, whether by inciting or facilitating others, by preparing a place for them to be practised, or by inviting others to them, even if they are not practising them [themself], the penalty shall be imprisonment for a period not less than one year and not more than three years, plus the closure of the premises. In the case of a repeat offence the penalty shall be imprisonment for five years."
Article 4 adds:  
"It is strictly forbidden to advertise or announce gatherings that bring together homosexuals by any means of advertising or announcement, whether audible or visible, or through social media. In this case, the penalty for the advertiser and promoter shall be imprisonment for a period of three years ..."
The current furore began last month when several fans at a music concert waved rainbow flags and the authorities responded by arresting dozens of people. At present there is no obvious law against rainbow flags but the draft bill aims to change that. Making, selling or even carrying them will result in a jail sentence. Article 5 says: 
"It is forbidden to carry any sign or symbol for homosexuals, just as it is prohibited to manufacture, sell, market or advertise them. The punishment for anyone who violates that shall be imprisonment for a period not less than one year and not more than three years."
The full text of the draft law is available here in Arabic.
Earlier this year Abdel Sattar proposed a monthly tax on social media users, saying the money would be used to pay for monitoring their activities and combating terrorism.
---
Blog post, 23 November 2017: Egyptian morality police are systematically using fake social media accounts to target LGBT people, according to a report published yesterday.
Out of 232 prosecutions for "non-normative" sexual behaviour over the last four years, 129 – more than half – were the result of entrapment through dating websites of mobile phone apps, research by the Egyptian Initiative for Personal Rights (EIPR) has found. Transgender women are a particular target for entrapment by this method, it says.
Egypt's recent moral panic over rainbow flags at a pop concert, which resulted in the arrests of at least 75 people, attracted international attention but the report shows this was only one part of a broader pattern. Since the Sisi regime seized power in 2013, prosecutions have been averaging almost five time the level of previous years, EIPR says.
Egypt has no specific law against homosexuality but prosecutions of people suspected of being gay or transgender are usually brought under a law against "habitual debauchery".
The report also criticises sensationalist coverage of such cases in Egyptian media in which "individuals are demonised, defamed and represented as subhuman". They are presented as a threat to the moral fabric of society and a danger to citizens – especially any who are living with HIV/AIDS.
Entrapment work is carried out by a branch of the interior ministry known as the General Directorate for Protecting Public Morality. Officers often correspond with their targets in English or Gulf Arabic in order to allay suspicion and engage in sexually explicit conversations which may last for months before a meeting is set up.
They also try to persuade their targets to accept money in exchange for sex – which makes conviction easier. An article in Middle East Eye last month described one example:
As the chat continued, the morality police agent repeatedly asked the man if he would accept money in exchange for anal sex.

"I'm not a business," the man responded but after repeated insistence on the part of the officer, posing as a wealthy man, the man eventually agreed to accepting $50.
Another entrapment case, in 2015, involved a man called Firas who went to a square in the Dokki district of Cairo to meet someone he had been talking with online. Firas told a researcher from EIPR: 
"He had asked me to buy condoms and some supplies for the evening. I went there with these things — which were later confiscated as evidence for the case — and I waited.

"He was late, so I sent him a message saying that he's late and that I have the right to leave, and he replied apologising and blaming the traffic.

"Later, a black car with a driver stopped. I could see a driver as well as a passenger in the backseat. He asked me to sit next to him and said that we would go to his place."
As the car set off it was stopped by police and Firas was arrested. He was initially sentenced to a year in jail but was eventually acquitted on appeal. 
Treating possession of condoms as evidence – as happened in Firas's case – is  especially alarming. EIPR's report comments: "This practice presents a major threat to the health of gay and transgender women and men who have sex with men."
Possession of cosmetics and women's clothing has also been treated as evidence in trials, even though there is no law against it.
The Egyptian authorities have long been criticised for making use of anal examinations by doctors in "debauchery" cases. Such tests are not scientifically valid and are widely regarded as medically unethical. 
EIPR gives more details of what is involved, citing the medical reports from several cases. In one case in 2015, prosecutors made five requests to the Forensic Medicine Authority:
1. Carrying out a medical examination to check for habitual practice of debauchery through repeated anal penetration and if they were repeatedly used and the manifestations of this on them …

2. Examining the anus of both defendants for any traces of seminal fluid and testing whether they match the seminal fluids of other defendants.

3. Examining the evidence for seminal fluid and determining whether they match with either defendants.

4. Examining the evidence and determining how it may have been used in sexual activity.

5. Taking urine and blood samples from defendants to test for the presence of drugs, sleeping pills, alcohol or any mind-altering substances or not, and if affirmed, what is the nature of said substance.
In the same case, defendants were also sent to be tested for sexually transmitted infections. EIPR comments:
The increasing involvement of the medical sector and specifically the Forensic Medicine Authority in the cases of habitual debauchery is an alarming indicator as to how implicated the medical establishment is in such egregious violations. Forced anal examinations are now considered by the UN Committee against Torture as a method of cruel, inhuman or degrading treatment, which may constitute torture. 

The doctors carrying out the examinations are in clear violation of the Constitution, which guarantees the right of all citizens to dignity. They are also in violation of the oath doctors take to preserve patients' dignity, and to article 35 and article 28 of the Medical Code of Ethics, which prohibits doctors from carrying out any medical examination without informed consent.
In what appears to be a recent development, the authorities are now also using medical tests to determine the "guilt" or otherwise of transgender people.
In another case in 2015 the judge ordered tests to determine whether the accused had "taken medication to help alter the shape of their bodies and their masculinity". 
On examination, a doctor found that the external reproductive organs were "in their normal masculine, adult shape and size". According to the medical report, blood tests also showed "the hormones percentage in the blood is normal and acquits [sic] any defendant from the charge of consuming medication that alter physical or masculine attributes".