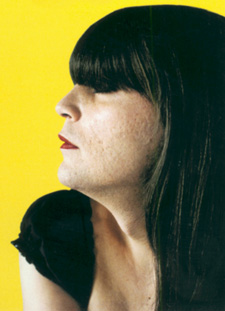 An unusual book-signing took place in Beirut at the end of last month. "Memoirs of Randa the Trans" ( مذكرات رندا الترنس) is the life story of an Algerian raised as a boy, who felt trapped in a male body.
Mocked and abused at school, and later threatened with death by religious extremists, Randa fled to Lebanon. She felt safer there, but finding work proved difficult:
"When she applied for a nursing job at a hospital in Beirut, the employer hailed her resume and experience but told Randa it was against the hospital's policy to hire transsexuals.

"The only jobs she was offered sounded pretty sleazy: exotic dancer or entertainer at nightclubs. Once, someone suggested she should try prostitution – a common solution for transsexuals who are outcasts in this region, according to Randa."
Her biography, co-written with Lebanese journalist Hazem Saghyieh, is thought to be the first of its kind in Arabic.
Posted by Brian Whitaker, 4 April 2010.
UPDATE: The NOW Lebanon website published an interview with Randa on April 7.
This work is licensed under a Creative Commons Attribution-NonCommercial 4.0 International Licence.