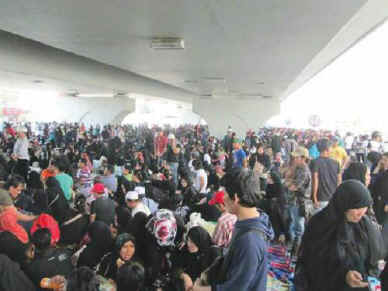 Undocumented Indonesian workers gathering under a bridge in Jeddah on Sunday.
The Saudi authorities must have been delighted to see John Kerry, the US secretary of state, paying a schmooze visit to the king on Monday. This gave the western media something to talk about and diverted attention from the big story of the day – the start of the kingdom's "all-out" campaign to get rid of "illegal" foreigners.
The crackdown, in the words of Jeddah's police chief, has got off to "a vigorous start". Inspection squads rounded up almost 5,000 men and women yesterday, according to preliminary figures from the authorities – 2,200 in Samta and 1,899 in Jeddah, with smaller numbers in the Eastern Province, Baha, Tabuk, Yanbu, and Hafar al-Batin. Arab News says 300 were also detained in Madina for violating residency laws.
Aside from the mass arrests, the main effect of Day One was to demonstrate in very visible terms how heavily Saudi Arabia depends on foreign labour. As undocumented workers leave or go into hiding, some sections of the economy have ground almost to a halt.
---

Saudi expulsions crisis: full coverage

---
"Several industries, including the construction, hospitality and service sector, commercial markets and even educational institutions, have been hit by the nonavailability of foreign workers," the Jeddah-based Arab News reports:
"For perhaps the first time in its history, the 'Halaqa' central vegetable market had virtually no workers on the scene. This, coupled with a fall in vegetable supplies from abroad, has gravely affected market activity.

"Indeed, supplies of fresh produce to Jeddah [have] been badly hit, resulting in spiralling fruit and vegetable prices. Potatoes, which were being sold at SR4 per kg as of Sunday, doubled on Monday to reach SR8 a kilo.

"Traders said there were no supplies from Hail, where labourers stopped reporting to farms to pick and load potatoes.

"Traders at vegetable markets told Arab News that there were no new shipments of vegetable produce in the past 24 hours from Taif, Hail, Tabuk and Madinah …

"The meat market was also affected badly, with Sudanese shepherds not turning up at work in east Jeddah…"
Construction work in Jeddah was also badly hit. Sales of cement and ready-mixed concrete – a good measure of the level of activity – would be around 4,000 cubic metres on a normal day but fell to just 600 cubic metres on Monday, Arab News says.
The Saudi Gazette reports that many bakeries in Madinah, Jeddah and Makkah – often a source of employment for undocumented foreigners – were also forced to close and Adnan Fakeeh, a member of the National Committee for Bakeries, warned that up to a quarter of them could go permanently out of business.
There are "hardly any Saudis" willing to take up bakery jobs vacated by foreigners, according to the committee's chairman. This could lead to the spread of unlicensed bakeries which do not meet health regulations, he said.
The Saudi authorities, acutely aware of the controversy this campaign is arousing, announced a couple of minor concessions yesterday.
One, which will no doubt help to placate religious elements, is that undocumented foreigners who work part-time teaching memorisation of the Qur'an should not be arrested or fined for violating the new labour laws.
The ministry of labour has also said it will nor carry out inspection raids on schools for the remainder of this term. Most fee-paying schools in Jeddah were reportedly closed on Monday as they attempted to regularise the employment status of teachers.
"Saudisation" – replacing foreign workers with Saudis – has long been government policy and the current crackdown is an attempt to unpick years of maladministration and corruption which resulted in vast numbers of expatriates working in the kingdom illegally.
The crackdown is also viewed as an attempt by the Saudi regime to protect itself from the effects of the Arab Spring by reducing unemployment among young Saudis.
The Saudi unemployment rate is officially put at 12% – though Reuters notes that this figure "excludes a large number of citizens who say they are not seeking a job".
Persuading Saudis to swallow their pride and take up work previously done by Asian and Filipino expatriates will not be an easy task, though Arab News reported one small glimmer of hope today: fifteen young Saudis are to join a training scheme in the hospitality business which has been organised by a hotel chain.
It is not only in Saudi Arabia that the campaign's impact is being felt. Countless families around the world, especially in some of the poorer countries, have been depending on remittances from undocumented workers in the kingdom – workers who now face expulsion if they are unable to legalise their status.
PHILIPPINES
Thirty expelled Filipinos arrived in Manila on Monday complaining of ill-treatment by Saudi officials, AFP reports:
"They treated us like animals," said domestic helper Amor Roxas, 46, who burst in tears while narrating her ordeal.
She claimed Saudi police rounded them up and placed them in a crowded cell for four days before they were paraded from the immigration center to the airport.

"Our feet were chained," added Yvonne Montefeo, 32, in between sobs.

Saudi Arabian embassy officials in Manila did not want to comment on the allegation of abuse.
Migrante International, a support group for Filipino overseas workers, warned that the Filipinos "are in danger of being violently dispersed, arrested and detained by Saudi authorities" as the kingdom implements its crackdown, AFP added.
According to the Commission on Overseas Filipinos, there were
1.27 million Filipino workers in Saudi Arabia, of whom 108,000 were undocumented. More than 4,000 are said to have been repatriated since the crackdown was announced and a further 1,700 are awaiting exit papers.
PAKISTAN
By last month, more than 700,000 Pakistanis had succeeded in regularising their status, either by changing their profession or changing their Saudi sponsor, according to Muhammad Naeem Khan, the Pakistani ambassador in Riyadh. He expects this figure to rise above 800,000.
It is unclear how many still lack proper documentation. In 2004, Pakistan's labour ministry estimated there were 1.5 million Pakistanis in Saudi Arabia.
In remarks quoted by the Saudi Gazette, Ambassador Khan praised the kingdom's new employment system:
"You see now every expatriate guest worker shall have a proper contract; they will have jobs according to their profession; they will enjoy their legal status as they will now have medical insurance; they will be able to go out and return to the kingdom without any hassle, and above all they will not have any fear of being illegal here. I am sure this will yield positive dividends for expatriate guest workers."
INDIA
About 1.7 million Indians are thought to be working in Saudi Arabia – half of them from the state of Kerala. India's Financial Express says 466,689 have renewed their residence permits during the last five months, 359,997 workers have transferred their sponsorships and 355,035 workers changed their job titles to legalise their status.
The Indian government had given assurances to Saudi Arabia that no illegal Indian workers would remain in the kingdom after the November 3 deadline, Financial Express says.
By the end of October a further 90,000 Indians were said to have returned home from Saudi Arabia but One India News reports that 3,000 illegal expatriates from Kerala are still stranded in the kingdom.


Posted by Brian Whitaker
Tuesday, 5 November 2013
This work is licensed under a Creative Commons Attribution-NonCommercial 4.0 International Licence.