Last Friday the OPCW published the results of laboratory tests on samples from a suspected chemical attack in Syria – thus prompting a wave of misreporting not only by the usual activists on social media but by others who ought to be setting a better example.
A few hours after the findings were released, BBC Radio 4 announced: "International inspectors have found that chlorine gas was used in the Syrian city of Douma in April."
In fact, the inspectors had done no such thing. In the words of their official report, they had found evidence of "various chlorinated organic chemicals". While that could be the result of a chlorine gas attack – and investigations are continuing – it is not confirmation that such an attack happened. Chlorine is a very common substance and there could be other reasons for its detection.
Meanwhile on Twitter, some defenders of the Assad regime have been hailing the results – no less wrongly – as a sign that the alleged chemical attack never happened.
The BBC's error, though, is troubling because although it was probably accidental it fuels claims that mainstream media are conspiring to deceive the pubic – especially over Syria.
The Skwawkbox website denounced it as "outright fake news" while on Twitter prominent Assad defender Tim Hayward commented: "Is it possible that the BBC TV News lies so blatantly about a report that is there for the world to read? It says OPCW confirms chemical attack when OPCW report explicitly states that it can not."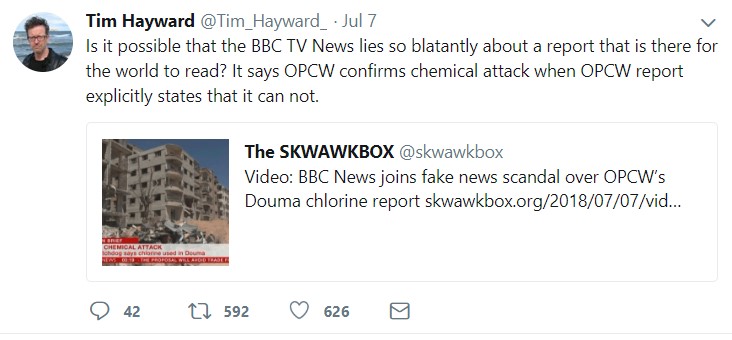 Hayward, a professor at Edinburgh University, is a leading figure in the "Working Group on Syria, Propaganda and Media" – a group of academics who deny chemical attacks by the Syrian regime and claim Assad is the victim of a western regime-change plot.
The BBC newsreader's announcement that inspectors had found "chlorine gas was used" was followed immediately by a report from foreign correspondent Anna Holligan who accurately summarised what the OPCW had really said – so it looks far more like a cock-up than a conspiracy to deceive. Presumably the person writing the newsreader's script had failed to understand the story.
It's to be hoped that the BBC will now investigate and find out what went wrong. It shouldn't have happened but Professor Hayward's own tweets on the subject were a salutary example of how easy it is to make mistakes.
While accusing the BBC of blatant lying about "a report that is there for the world to read", he posted another tweet supposedly quoting the OPCW investigators' report as saying they "cannot confidently determine whether or not a specific chemical was used as a weapon".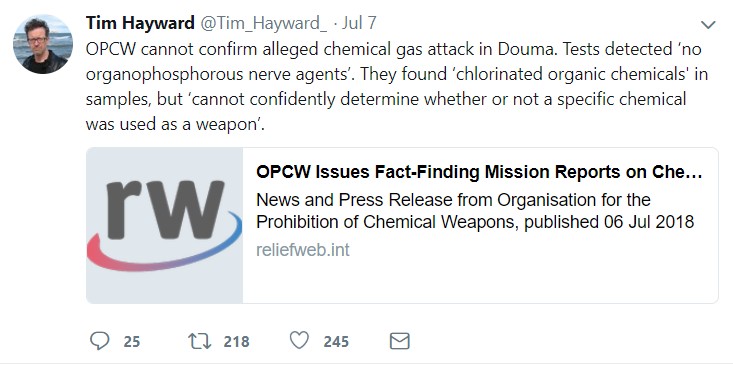 In fact, those words appear nowhere in the report on Douma. Hayward was quoting from the wrong report – one published by the OPCW four days earlier about an entirely different investigation.
For the record, some of the Russian media made the same mistake as the BBC, though Hayward doesn't appear to be complaining about them. Sputnik News began its story: "The Organisation for the Prohibition of Chemical Weapons (OPCW) has announced in a report that it found that chlorine had been used in an attack in the Syrian city of Douma", while the Tass news agency had a headline saying: "Chlorine used for chemical weapons attack in Syria's Douma - OPCW interim report".
The OPCW is continuing its Douma investigation and a clearer picture on the chlorine question should emerge when it reports on interviews with witnesses, symptoms of alleged casualties and the role of two yellow containers, described in its interim report as industrial gas cylinders.
The investigators' other key finding from Douma last week was that "no organophosphorus nerve agents or their degradation products were detected, either in the environmental samples or in plasma samples from the alleged casualties". This almost certainly rules out sarin use – which has been giving Assad supporters a reason to celebrate.
Dan Cohen, a correspondent for the Russian propaganda channel, RT, tweeted: "This upends the State Dept narrative breathlessly adopted by mainstream media" – a point also echoed by the mysterious Twitter user known as Sarah Abdallah (see previous blog post).
One of the ironies here is that only a couple of weeks ago many of those now hailing the report as evidence of the Assad regime's innocence were condemning the OPCW as an untrustworthy organisation that should not be allowed to identify the culprits in chemical attacks.
This work is licensed under a Creative Commons Attribution-NonCommercial 4.0 International Licence.