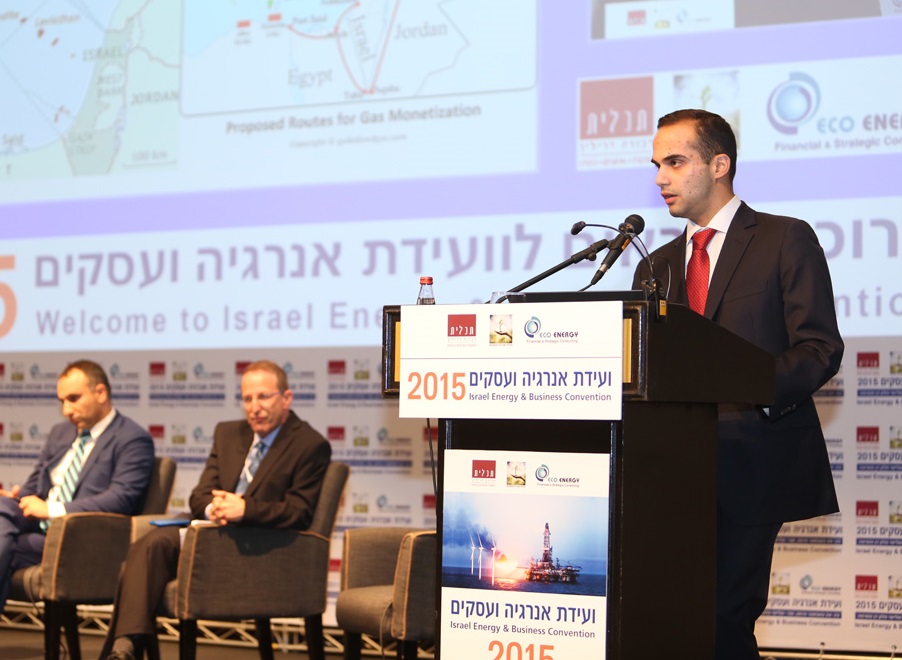 George Papadopoulos, the first person to plead guilty in the Trump-Russia affair, is due to be sentenced soon for giving false information to the FBI but, since he later agreed to cooperate with the investigation, special counsel Robert Mueller has recommended a light or non-existent jail term ranging between zero and six months.
Intriguingly, though, Papadopoulos has also agreed, in advance, to pay a fine of $9,500. He has the money in cash, ready and waiting, locked in a safe to await the day of sentencing, according to Mueller's written submission to the court.
Under current sentencing guidelines, $9,500 is the maximum fine for the offence, so despite being lenient about the jail term Mueller is actually seeking the toughest financial penalty and Papadopoulos is not objecting.
The fine, however, is not quite what it seems. A cryptic section in Mueller's submission to the court says it will be paid with money that Papadopoulos acquired from a dubious source:
"The defendant provided information about $10,000 in cash he received from a foreign national whom he believed was likely an intelligence officer of a foreign country (other than Russia)."
Mueller adds that forfeiture of the money "is not applicable in this case" but it looks as if the fine is a roundabout way of confiscating it.
Mueller has given no further details about Papadopoulos's mysterious benefactor it appears that the suspected intelligence officer from a "country other than Russia" was Israeli.
Strange holiday on Mykonos
Last summer, shortly before his arrest, Papadopoulos took his girlfriend, Simona Mangiante, for a break on the Greek island of Mykonos where, according to Papadopoulos, "a lot of strange things happened".
The couple, who have since married, talked about one of their odd encounters on Mykonos in an interview with Rolling Stone magazine. They said an Israeli businessman in his mid-sixties – who they are now convinced he was an agent for the Mossad – offered Papdopoulos $10,000 in cash. According to Mangiante, the payment was "not to be a consultant, just to, let's say, 'keep [his] engagements'."
Somehow, the Trump-Russia investigators heard about this and raised it with Mangiante when they interviewed her last year. But it was connections with Russia and Trump, not Israel, that first got Papadopoulos into trouble – largely by accident. For reasons which are still unclear, in 2016 the Trump election campaign chose him as one of five foreign policy advisers, though he was still in his twenties and lacked experience.
Papadopoulos then had the misfortune to meet Joseph Mifsud, the now-vanished "professor". With Mifsud's help, and presumably in the hope of impressing the Trump campaign, Papadopoulos made contact with various Russians with a view to setting up a meeting between candidate Trump and the Russian president, Vladimir Putin. Later, when questioned about these contacts, he lied to the FBI.
Little interest in Russia
Before joining the Trump campaign Papadopoulos had made unfavourable comments about Russia occasionally but his main interests lay elsewhere. He had spent several years promoting himself as an expert on energy – not energy in general but specifically in the eastern Mediterranean where Israel had discovered large amounts of natural gas.
There was more than enough gas for Israel's own needs, which meant the surplus could be exported. This raised political questions about the supply routes – Turkey, Cyprus and Egypt were possibilities – and it became the main focus of Papadopoulos's energy-related activities. The most notable feature of his output on the subject was his insistence that Israeli gas should not be exported via Turkey.
His involvement with Israel prior to joining Trump led Mueller to suspect Papadopoulos was in breach of the Foreign Agents Registration Act. According to Papadopoulos's wife, Mueller threatened to prosecute him as an unregistered agent of Israel if he didn't cooperate with the Trump-Russia investigation.
An odd choice
When candidate Trump appointed his foreign policy advisers in March 2016 four of those named, though not obvious choices, were at least in line with his political outlook. There was Keith Kellogg, a retired general, Joseph Schmitz, formerly at the Pentagon, Walid Phares, a right-wing pundit on the Middle East who had unsavoury connections in Lebanon, and Carter Page, an investment banker with an unusually favourable view of Russia. The most puzzling choice, though, was Papadopoulos: what did Trump think he could bring to the table?
"He's an oil and energy consultant. Excellent guy," Trump told the Washington Post. But that didn't really answer the question. There are plenty of oil and energy consultants, and many of them are no doubt excellent. This points to the conclusion that either Papadopoulos was chosen on a whim – which with Trump is always possible – or he was chosen because Trump thought he had something specific to contribute.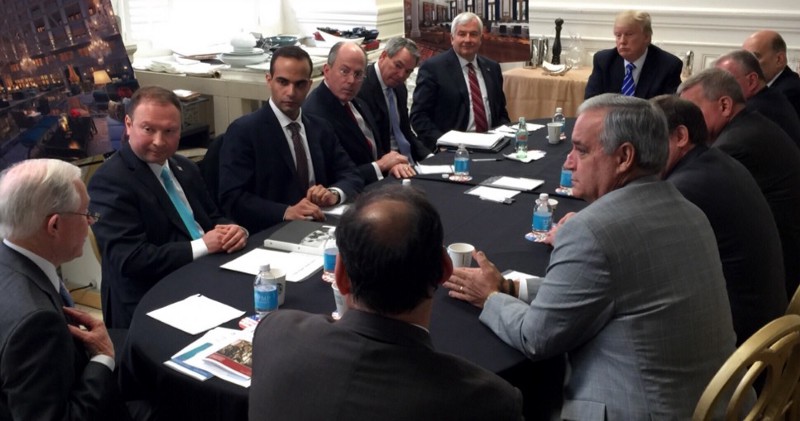 Realistically, there was only one thing Papadopoulos could contribute, which was his work on gas in the eastern Mediterranean and the contacts that came with it. Since leaving university he had done little else.
A version of his CV, posted on LinkedIn around the time he joined the Trump campaign, gives a fair amount of detail enhanced by mild exaggeration: he describes himself as "keynote speaker" at conferences where he simply gave a presentation and the list of his 11 "publications" includes several news reports where he is merely quoted. Nevertheless, the basic outline seems to be true, and most of it can be confirmed from other sources.
In 2011, a few months after completing his university studies, Papadopoulos joined the Hudson Institute, a Washington-based think tank, initially as an intern and later as a research associate. This appears to be how he first became involved with gas in the eastern Mediterranean and, since Greece and Cyprus were two of the countries in the area, his family connections with Greece and his fluency in the language made him useful to Hudson.
"I worked with three Senior Fellows," he wrote in his CV. "My responsibilities included leading an Eastern Mediterranean Energy Security project, liaison between various countries of the region (Greece, Cyprus, Egypt, Israel and Lebanon), and analysing the impact of the Eastern Mediterranean and Caspian hydrocarbon reserves on regional energy security."
The 'Dr Strangelove' think tank
The Hudson Institute was founded in 1961 – at the height of the Cold War – by Herman Kahn, an American physicist who became famous for his theories about the survivability of nuclear war. The character of Dr Strangelove in Stanley Kubrick's satirical film is said to have been partly modelled on Khan.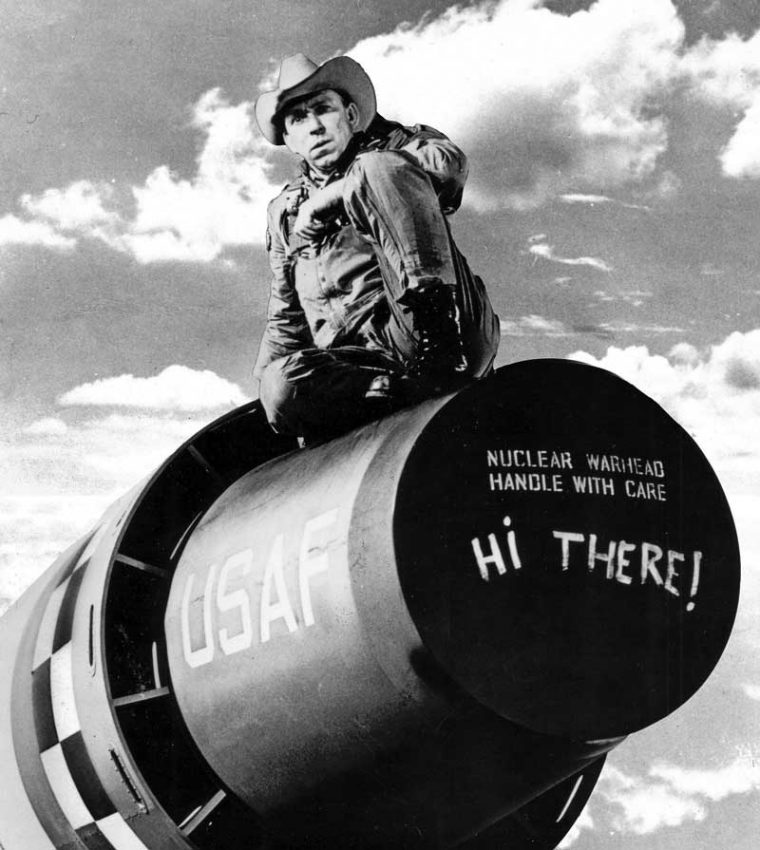 Richard Perle, chief architect of the 2003 war in Iraq, later became one of the institute's trustees and another of the Iraq war hawks, Douglas Feith, is one of its "senior fellows".
Perle and Feith, together with Meyrav Wurmser (who formerly headed Hudson's Middle East department), were also among a small group of "prominent opinion makers" behind the now-notorious Clean Break document of 1996 which advised the incoming Israeli government of Binyamin Netanyahu to dispense with the Oslo accords and create space "to engage every possible energy on rebuilding Zionism ..." It set out a plan for Israel to "shape its strategic environment", beginning with the overthrow of Saddam Hussein and the installation of a Hashemite monarchy in Baghdad.
Meyrav Wurmser, incidentally, was also co-founder of the Israeli propaganda outfit, MEMRI, and has claimed that leftwing Israeli intellectuals pose "more than a passing threat" to the state of Israel, undermining its soul and reducing its will for self-defence.
Another of the Hudson Institute's interesting connections is with Texas-based Noble Energy, one of two leading firms in the development of Israel's natural gas production. In 2013, Jeffrey Berenson, a long-serving board member of Noble Energy, became a trustee at Hudson.
In the same year, by a remarkable coincidence, Hudson Institute created a new "Global Leadership Award" and presented it at a gala dinner to Charles Davidson, who at the time was chief executive of Noble Energy. According to the citation, Davidson was honoured "for his transformative successes in developing energy resources in the United States and Eastern Mediterranean, which have led to enhanced US energy security and competitiveness and turned the Eastern Mediterranean into a burgeoning energy-producing region".
Both Davidson and Berenson have been funders of the Hudson Institute. In 2015, Berenson donated in excess of $100,000, according to its annual report.
The 'vision' of Papadopoulos
In October 2013, more than two years after Papadopoulos started at Hudson, the institute held a one-day conference in Washington entitled "Power Shifts in the Eastern Mediterranean: The Emerging Strategic Relationship of Israel, Greece, and Cyprus". Speakers included representatives from Greek, Cypriot and Israeli embassies, plus Bush-era Neocons Douglas Feith and David Wurmser. In his CV, Papadopoulos claims credit for setting it up:
"My vision resulted in the successful completion of the first ever conference on US-Greece-Israel-Cyprus political, commercial, and energy ties. This tripartite relationship that I have promoted has the potential to become the stabilising link of the post-Arab Spring structure in the Eastern Mediterranean that US policy desperately seeks."
From this point on, promoting relationships in the eastern Mediterranean that were centred on Israel and excluded Turkey became Papadopoulos's core activity.
The following January, in an article for Arutz Sheva (which has links to Israel's settler movement and is known in English as Israel National News), he warned against viewing Turkey as an ally of the United States:
"The US would be wise to shift its policies, and resources, towards improving relations at all levels with its stalwart allies in the region, Israel, Greece, and Cyprus, to contain the newly emergent Russian fleet, and malignant jihadist forces operating around Israel's borders."
In a second article for Arutz Sheva, a month later, he argued that Israel should export its natural gas to Europe via Cyprus. The idea of exporting to Europe via a pipeline through Turkey, he said, was "bereft of the political realities in the region and does not take into account the potentially devastating impact this option can have on Israel's strategic relations with EU member Cyprus, and by extension, all of Europe".
A few weeks later Papadopoulos spoke at a conference in Cyprus which, according to the organisers, "brought international oil and gas business leaders, government policy decision makers together with investors to facilitate financial and commercial agreements in the natural gas industry of Cyprus and Israel".
In October 2014 he spoke at an energy conference in London where, according to his CV, he "discussed the geopolitics of the energy trade from the eastern Mediterranean; risk analysis of Israel and Cyprus' various export options; and the burgeoning relations between the US, Greece, Israel, Cyprus, and Egypt".
Hudson Institute takes up the gas issue
Meanwhile, Hudson Institute was becoming increasingly engaged with the issue too – and especially the possibilities it seemed to offer for geopolitical game-playing.
● In March 2014 an article by Arthur Herman, a "senior fellow" at Hudson, appeared in Commentary Magazine under the title: "Will Israel be the next energy superpower?"
● In June, Alexis Galanos, mayor-in-exile of Famagusta in the Turkish-occupied part of Cyprus, gave a talk at Hudson Institute which included "the potential role of energy resources" in reunification of the island. In his CV, Papadopoulos says he "facilitated" the event.
● In July, Seth Cropsey, a "senior fellow" at Hudson, travelled with Papadopoulos to Cyprus where they met President Nicos Anastasiades.
●In November, Hudson Institute hosted a talk on "shifting power dynamics in the eastern Mediterranean" by Professor Efraim Inbar of the Begin-Sadat Center for Strategic Studies in Israel. Again, Papadopoulos says in his CV that he "facilitated" the event.
● In December, Hudson Institute published a report by Cropsey and another "senior fellow", Eric Brown, entitled: "Energy: The West's Strategic Opportunity in the Eastern Mediterranean". It said:
"The hydrocarbon strikes in the Levant Basin have revealed to the West a unique strategic opportunity to create a better and more secure future for the Eastern Mediterranean region. They demonstrate again that bountiful sources of energy exist, and that they exist outside the arc of unstable governments and those hostile to the international order …

"Developing these resources will enable the region's democracies to proactively design and create an East Med security architecture that can be made to work for them and will help stabilise the region ...

"US leadership, both diplomatic and strategic, is required to harness the full geostrategic potential of East Med energy and to use this to reverse a terrible and worsening regional security situation."
At the time of writing the report, however, Cropsey and Brown appeared less eager than Papadopoulos to exclude Turkey. Energy resources, they said, "could be helpful in securing Turkey as a frontline state and, in time, to restore it as a key pillar and beneficiary of a law-based security order".
● In February 2015, the journal of the American Hellenic Institute Foundation (AHIF) published a long article by Cropsey and Papadopoulos criticising Vice-President Biden over his trip to Cyprus in 2014. They wrote:
"It is no surprise that the two democracies in the eastern Mediterranean [Cyprus and Israel], along with Greece, have joined in a relationship to balance Turkey.

"Vice President Biden might have bolstered this promising sign of effective regional cooperation by raising the possibility of Cyprus's membership in NATO, lifting the embargo on weapons that the Cypriots can purchase to defend itself its littoral areas or increasing US-Cyprus military-to-military cooperation.

"The Obama administration's silence on these and other issues that would acknowledge the expanding shared strategic interests of the US and Cyprus indicates that the current US administration has yet to realise the large changes that have reversed Turkey's progress toward moderate, secular governance.

"This reversal ends, at least in the foreseeable future, the hope that Turkey will emerge as the first country in history successfully to combine Islamism and democracy, while maintaining strategic relations with the world's Jewish state."
● Hudson Institute's biggest contribution of the topic came in March 2015 when it published a 52-page report titled "US Policy and the Strategic Relationship of Greece, Cyprus, and Israel: Power Shifts in the Eastern Mediterranean". (Reminder: This was in the same year that Noble Energy's Jeffrey Berenson donated more than $100,000 to Hudson and, perhaps not surprisingly, Noble Energy got eight favourable mentions in the report.)
The report named "senior fellow" Seth Cropsey as its sole author and did not credit Papadopoulos anywhere in the text. In his CV, Papadopoulos says he "worked with" Cropsey on the report – which is almost certainly true. The 52-page report and the earlier article about Biden both contain large passages of identical text. While the report shows Cropsey as its sole author of the report, the Biden article shows him as co-author with Papadopoulos.
● In July 2015, in partnership with two consulting firms, Eco Energy and Benjamin Schlesinger & Associates, Hudson Institute submitted a report on offshore gas drilling to the Israeli energy ministry. The six-page report (which is discussed in more detail on the Desmog website) named Papadopoulos and Cropsey as two of its co-authors.
Developing the gas industry in the eastern Mediterranean is at root a commercial activity. With any enterprise of that kind there are political risks to be considered but Hudson Institute's analysis went way beyond that. It was using the gas issue as grounds for reversing what it saw as an American "retreat from influence" in the Middle East.
Its 52-page report, for example, harked back to the good old days when the United States was "the one country which possessed the political, economic, and military power to influence the region and international order generally in accordance with its values and interests" – to which it added: "Current US foreign policy, by contrast, is in a state of sporadic retreat."
Thus, the Hudson way of safeguarding Israel's gas exports meant expanding the Sixth Fleet, arming Cyprus and other militaristic things. Some of this was aimed at weakening Russian influence but, overall, it's easy to see how reasserting US power in the Mediterranean could be applied to Trump's election slogan: "Make America Great Again!"
Papadopoulos joins the Trump campaign
The following September, Papadopoulos left Hudson Institute and joined Energy Stream as a consultant – a job which lasted only four months. In February 2016, after six weeks working for Ben Carson's ill-fated presidential campaign, he joined the mysterious London Centre of International Law Practice (LCILP) where the equally mysterious "professor" Joseph Mifsud – a central figure in the Trump-Russia affair – was Director of International Strategic Development.
Less than a month after starting at LCILP, however, Papadopoulos was tapped to join the Trump campaign. At the end of March, he attended his first "national security" meeting with Trump in Washington and, almost immediately, headed off to Israel to speak at the Hadera Energy Tech Conference in Tel Aviv. He also had lunch with researchers at the Begin-Sadat Center for Strategic Studies and got a write-up in the Jerusalem Post which described him as a "young, impressive energy expert". The Jerusalem Post article continued:
"He expounded on what he says is Trump's prism on global affairs. It goes like this: unlike President Barack Obama, who weakly attempted to 'reset' relations with Russia and then spent the latter part of his tenure isolating and sanctioning Russia, Donald Trump would 'overtly seek' serious engagement with Russia on a range of common concerns.

"Trump, says Papadopoulos, sees Russian President Vladimir Putin as a responsible actor and potential partner. After all, he says, Russia had good trade relations with European countries and with Turkey before recent 'incidents' (the Russian invasion of Crimea; the Turkish shooting down of a Russian military jet). Russia has been careful not to cross NATO lines, he adds, and has been respectful of Israeli concerns in Syria and elsewhere, too."
For a while after Trump's election victory Papadopoulos seems to have been expecting a job in the new US administration and, apparently in anticipation of that, he travelled to Greece where he met with politicians and gave a TV interview. In addition, he met Greek defence minister Panos Kammenos in Washington on the day of Trump's inauguration.
Welcoming the settlers
Two days later, Papadopoulos also met a group of Israelis headed by Yossi Dagan, a leader of the West Bank settler movement, who had reportedly been invited to Washington for Trump's inauguration. A brief video clip shows Papadopoulos with Dagan and, adopting Israeli terminology for the occupied West Bank, Papadopoulos says:
"We had an excellent meeting with Yossi and, er, we hope that the people of Judea and Samaria will have a great 2017. We are looking forward to ushering in a new relationship with all of Israel."
Soon, though, Papadopoulos's political ambitions were crumbling. Trump didn't give him a job and, to make matters worse, the FBI was asking questions about his Russian contacts.
Israelis to the rescue?
By March 2017, Papadopoulos was back in Israel where he met David Ha'ivri, a settler/activist who according to the Jerusalem Post "has worked closely with Christian Zionists for years". Ha'ivri posted a tweet saying "Wonderful spending the afternoon with my good friend George Papadopoulos" and attached a photo of them together.
At some point, Ha'ivri introduced him to businessman Charles Tawil – subsequently identified by the Daily Caller as the person who visited Papadopoulos and his wife-to-be during their sojourn on Mykonos offering $10,000.
Tawil invited them both to Israel but only Papadopoulos agreed to go, according to the Daily Caller's account which says Tawil handed the $10,000 to Papadopoulos in a hotel room in Israel and it was the first instalment of what was intended to be a monthly retainer.
Quoted by the Daily Caller, Ha'ivri describes Tawil as "a part-time consultant for companies that operate in Africa and Middle East" who thought Papadopoulos had useful connections. On that basis, he allegedly helped to secure a $10,000-a-month retainer for Papadopoulos from an energy infrastructure company (which has so far not been named).
"The retainer would go firstly to cover [George's] needs as he said that he had financial problems," Ha'ivri told the Daily Caller. According to Ha'ivri, Papadopoulos was also supposed to help prepare a bid for subcontracting work with Exxon Mobil in Cyprus but the deal quickly fell apart – for reasons which he attributed to Papadopoulos's "immaturity".
Whatever the real purpose of the $10,000 payment, though, it's very doubtful that this was part of a straightforward business relationship. Papadopoulos himself appears to have been uncertain about it because instead of taking the money back to the US he left it for safe-keeping with a lawyer in Greece. It now awaits collection by the American justice authorities.
This is one in a series of articles about the Trump-Russia affair and the characters involved. A detailed chronology of Papadopoulos's activities before joining the Trump election campaign can be found here.
This work is licensed under a Creative Commons Attribution-NonCommercial 4.0 International Licence.