A mysterious organisation that calls itself "Labour Friends of Palestine" has started posting tweets in support of Nigel Farage and his Brexit party. It posted two of them on Monday – one from the Brexit party saying "Another fantastic rally in Chester!" ...
... and one from Farage himself saying "Positive vibes!"
This is rather strange, because "Labour Friends of Palestine" purports to be connected with the Labour party – and Farage's party will be competing against Labour in the European elections later this month.
"Labour Friends of Palestine" has a photo of the late John Smith (Labour leader from 1992 to 1994) in the header of its Twitter account but its actual connection – if any – with the Labour party is unknown. It is not to be confused with Labour Friends of Palestine & the Middle East, a semi-official group which is recognised and supported by more than 100 Labour MPs.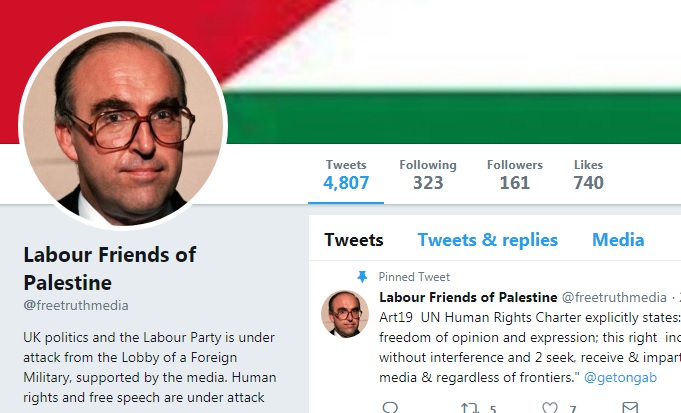 "Labour Friends of Palestine" is clearly not a friend of Labour's deputy leader, Tom Watson – in a tweet last February it informed him: "ur days in the party are numbered" – but it admires former Labour MP George Galloway, who was expelled from the party in 2003 for bringing it into disrepute.
Also rather strangely, "Labour Friends of Palestine" doesn't seem especially interested in Palestine. Besides backing Farage and Brexit, its recent Twitter activity shows support for Julian Assange, Putin's Russia, the Corbyn wing of the Labour party, the Assad regime in Syria, the yellow vest protests in France, the presidency of Nicolás Maduro in Venezuela and a book that says vaccines cause autism.
When "Labour Friends of Palestine" launched its Twitter account in December 2017 its earliest tweets were not about Palestine – almost all of them were defending the Assad regime in Syria.
Prominent among the followers of "Labour Friends of Palestine" on Twitter are a bunch of conspiracy theorists who regularly defend Assad. For more details see yesterday's blog post.
This work is licensed under a Creative Commons Attribution-NonCommercial 4.0 International Licence.