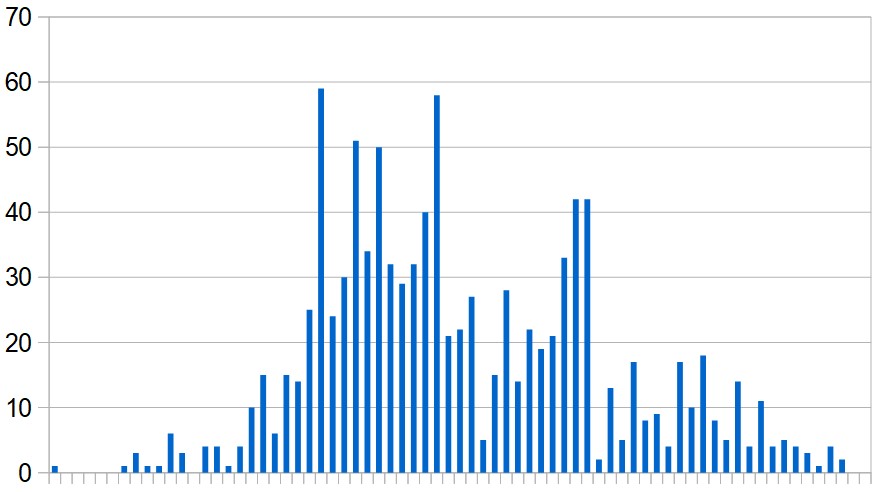 Yesterday, for the first time since March 8, Tunisia reported no new cases of Covid-19. This is just one of several hopeful signs that the virus is receding. Official figures show the recovery rate is now higher than the infection rate, and the number of currently-active cases has more than halved since the beginning of this month.
There's still a chance of the virus surging back as the North African country relaxes its restrictions but so far Tunisia is looking like a success story – a least on the medical front. The economic reckoning is yet to come.
Despite having limited testing capacity, Tunisia benefited by taking preventive action early – thus keeping the number of infections to manageable levels. Only 1,032 cases have been reported since the first one emerged on March 2 (a Tunisian man who had returned from Italy).
---
CLICK HERE to jump to Middle East updates
---
By March 16 the number had risen to 20 cases – almost all of them coming from abroad – and Tunisia responded by suspending international flights and closing its land borders. Other measures included closure of schools and mosques and the cancellation of sporting and cultural events.
This was followed, on March 18, by the start of a daily 6pm to 6am curfew. It might have seemed like a premature decision at the time, since there were still only 25 known cases, but it clearly paid off.
Tunisia has also made some use of hotels for quarantine purposes – which seems to be more effective than relying on people to isolate themselves at home.
Even if Tunisia manages to keep the virus contained there will still be some daunting economic questions to be grappled with. Fairouz ben Salah discusses these in a recent article for Al-Monitor.
"In a bid to soften the economic repercussions of the lockdown and protect jobs, the government vowed financial assistance to low-income families, food distribution to less-privileged areas and incentives to help businesses," Ben Salah writes.
But the government's limited resources mean the amounts are meagre and do nothing to help the vast numbers who work in the informal economy. The result could be social unrest.
So long as the virus continues to circulate – whether inside Tunisia or internationally – there's also little hope of reviving the economically important tourist industry.
---
New cases
A further 8,369 Covid-19 infections have been reported in the Middle East and North Africa since yesterday's update.
Countries reporting more than a thousand new cases were Saudi Arabia (1,966), Iran (1,683), the UAE (1,463) and Qatar (1,103).
After recent falls, the level of new infections reported in Iran has been rising during the past week. This might indicate an approaching second wave of the epidemic, though the health ministry attributes it to increased testing capacity.
The list below shows cumulative totals (excluding Iran) since the outbreak began, with day-on-day increases in brackets.
Algeria 5,891 (+168)
Bahrain 5,236 (+295)
Egypt 9,746 (+346)
Iraq 2,818 (+51)
Israel 16,526 (+34)
Jordan 562 (+22)
Kuwait 9,286 (+598)
Lebanon 859 (+14)
Libya 64 (-)
Morocco 6,380 (+317)
Oman 3,721 (+148)
Palestine 547 (-)
Qatar 23,623 (+1,103)
Saudi Arabia 41,014 (+1,966)
Sudan 1,526 (+161)
Syria 47 (-)
Tunisia 1,032 (-)
UAE 19,661 (+1,463)
Yemen 58 (+5)
TOTAL: 148,539 (+6,686)
Note: Yemen's total includes two cases reported by the unrecognised Houthi government in the north of the country.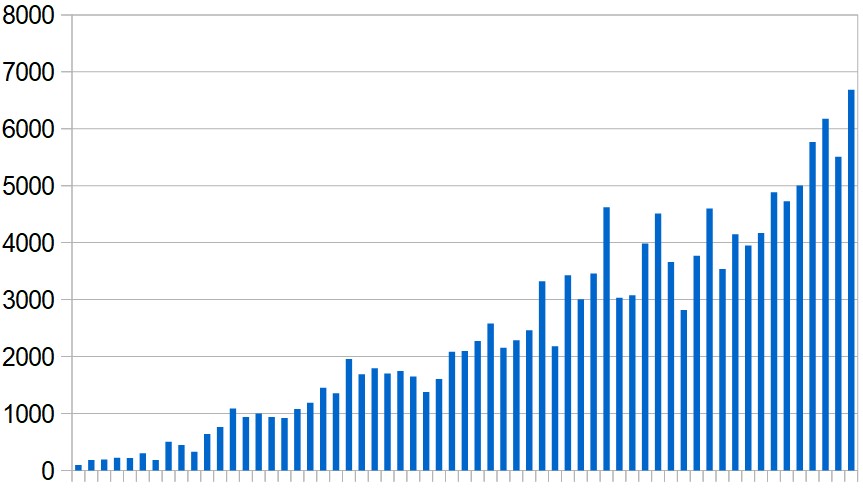 ---
Death toll
A further 88 coronavirus-related deaths were reported in the region yesterday – 45 of them in Iran.
The list below shows cumulative totals of reported deaths in the region outside Iran, with day-on-day increases in brackets.
Algeria 507 (+5)
Bahrain 8 (-)
Egypt 533 (+8)
Iraq 110 (+1)
Israel 258 (+4)
Jordan 9 (-)
Kuwait 65 (+7)
Lebanon 26 (-)
Libya 3 (-)
Morocco 188 (-)
Oman 17 (-)
Palestine 4 (-)
Qatar 14 (-)
Saudi Arabia 255 (+9)
Sudan 74 (+4)
Syria 3 (-)
Tunisia 45 (-)
UAE 203 (+5)
Yemen 10 (-)
TOTAL: 2,332 (+43)
Note: Yemen's total includes one death reported by the unrecognised Houthi government in the north of the country.
CLICK HERE for previous updates
For anyone interested: A spreadsheet documenting the coronavirus cases and deaths reported in the region each day can be viewed here.
This work is licensed under a Creative Commons Attribution-NonCommercial 4.0 International Licence.