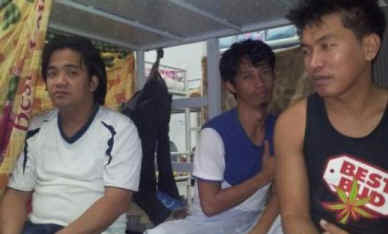 Filipinos inside the Shumaisi deportation centre in Makkah. (Photo sent to Arab News by an inmate.)
It's now three months since Saudi Arabia launched its all-out crackdown on "illegal" foreign workers. I reported on the beginning of this ill-conceived campaign in a series of blog posts last year and it's time for an update.
Saudi statistics are not necessarily reliable but by January 21, according to the interior ministry, 250,000 migrants had been deported since the start of the crackdown on November 4.
This is not by any means the whole story, though. There was also a short period of mass expulsions last April before the king called a halt, allowing a "grace period" for migrants who lacked proper documentation to regularise their status or leave the country voluntarily.
Even before that, large numbers had been leaving quietly and according to Saudi officials 800,000 were expelled during the previous 15 months.
Whatever the overall total, the numbers are still growing. Last Friday night police rounded up 378 "violators of residency and labour regulations" in Dammam, bringing the total so far detained in the Eastern Province to 19,425.
Other arrests last week included "700 illegal residents including 12 wanted men and a group of bootleggers" in al-Unooz district of Riyadh and 9,000 "illegal workers" in the Hai al-Wazarah area of the city – mainly Asians from Bangladesh, India, Pakistan and Sri Lanka.
---

Saudi expulsions crisis: full coverage

---
Meanwhile, about 1,000 Filipinos were reportedly stranded in a "tent city" near their consulate in Jeddah. They are gradually being moved to the Shumaisi deportation centre in Makkah and many are concerned about the length of time it is taking to repatriate them. Arab News reports:
"Many of the Filipinos arrived from the central and eastern regions of the kingdom to seek an easy departure but were stranded in Jeddah for being unable to fulfil the criteria for the exit process. Others demanded to be deported from the airport itself resulting in their being detained in Jeddah.

"A Filipino worker lodged inside the deportation centre and waiting for repatriation told Arab News over the phone: 'It's not easy to leave the Kingdom even after having arrived at the deportation centre as the process takes a lot of time'."
Following a visit to Shumaisi, the consul-general of Bangladesh
praised its facilities and said deportations are "going on at a fast pace now". It's unclear how many of the 2.6 million Bangladeshis in the kingdom are being deported but 800,000 are said to have legalised their status with a further 31,000 returning home during the grace period.
Bangladeshis mainly work in construction but in 2009 Saudi authorities cut down on the issuing of residency permits. Since then, only 70,575 Bangladeshi workers have managed to obtain jobs in the kingdom.
Saudisation
One of the main aims of the crackdown on migrant workers is to create jobs for Saudis, thus reducing unemployment – especially among the potentially disaffected youth. There has been much scepticism about the feasibility of this because most of jobs left behind by expelled migrants are for menial or dirty work – not the sort of vacancies that Saudis would readily apply for.
Nevertheless, the Saudi labour minister (as might be expected) insists that it is going well. Last month he made three claims:
1. The private sector has employed more Saudis in the past few months than it had in the last 30 years.

2. The employment level of Saudis has gone up by 1.5% since the implementation of the new labour laws in November.

3. "Saudisation" has gone up to more than 30%.
Without more details, however, it's almost impossible to know what these claims actually mean. Nor does everyone share the minister's optimistic view. Last week several members of the Shura Council (the unelected parliament) complained that the Saudisation (nitaqat) programme has failed to deliver.
Despite 12 billion riyals ($3.2 billion) spent on job creation through the Human Resource Development Fund, unemployment has actually risen. "Companies manipulate the system to give the impression that they have helped Saudis get employed," a Shura member said.
One growth area, according to Prince Sultan Bin Salman, head of the Commission for Tourism and Antiquities, is tourism. There will be a fresh boom in tourism during 2014, he said, and this sector will eventually become the kingdom's largest employer.
Several astonished readers of the Arab News report pointed out that if Saudi Arabia really wants to increase tourism it should start issuing tourist visas (which at present are almost impossible to obtain).
Enterprising Saudis
In the background, there's also a steady flow of propaganda stories in the local media aimed at turning Saudi Arabia into a nation of entrepreneurs.
In Arab News last week, a string of business chiefs handed out advice to young Saudis about broadening their career options. "Expanding the job search has been a dilemma for Saudi youth, as they refuse to take up certain jobs for fear of being looked down upon," the paper said.
One career option that has probably not occurred to many Saudi women is debt collecting, but apparently the prospects are good. According to one firm, women are much more effective than burly men at getting debtors to pay up.
There has also been a contest (with $53,000 in prize money) to find two Saudis with "the most inspirational story of entrepreneurship and perseverance in finding a job".
Inculcating a spirit of enterprise is all very well, but what happens when Saudis try to put it into practice? The Saudi system and its bureaucracy seems purpose-made to discourage any sort of initiative.
A story in the Saudi Gazette yesterday told how Ibtesam al-Zaqdi set up a female-run café in which has proved such a success that she now plans to open a branch in Interlaken, Switzerland.
Before starting the business, she applied for a loan – and waited five years to get it approved. The Saudi gazette continues:
"Al-Zaqdi claimed that one of the most difficult obstacles she dealt with was getting paperwork done at the labour office.

"She submitted her papers and two weeks later found that nothing had been done.

"Al-Zaqdi also claimed that she requested visas to recruit women workers but after six months they issued her visas for male workers instead. She had to reapply and waited another six months."
Young Saudi entrepreneurs should keep in mind that they may have become elderly entrepreneurs by the time their paperwork arrives.

Posted by Brian Whitaker
Tuesday, 4 February 2014
This work is licensed under a Creative Commons Attribution-NonCommercial 4.0 International Licence.