Jordan announced new measures yesterday to stem the spread of Covid-19 infections from neighbouring Saudi Arabia. The move is in response to a new outbreak of the disease which was brought into Jordan by a cross-border truck driver.
The driver had been tested at the Omari checkpoint when crossing from Saudi Arabia into Jordan – as all drivers are. The initial result was negative and he returned to his home in Mafraq province after signing a pledge to quarantine himself for two weeks. A second test, 14 days later, came back positive and the driver is now in hospital.
Far from isolating himself, though, the driver hosted an Iftar banquet and had direct contact with about 140 people – at least 47 of whom are now infected. The resulting outbreak abruptly ended a 10-day period when no new infections had been detected inside the country.
---
CLICK HERE to jump to Middle East updates
---
In contrast to Jordan's relative success in controlling the virus, Saudi Arabia is currently reporting more than 1,000 new cases every day, and infected truck drivers have been arriving at the Jordanian border in a steady trickle – there were five yesterday.
The problem is not so much those who test positive but those whose infection is too recent to show up in the test. In theory, the quarantine period should take care of that but quarantine at home is fraught with risks if drivers don't observe the rules.
Yesterday the Jordanian government announced four new measures aimed at dealing with the situation:
1. Jordanian drivers returning from Saudi Arabia will now be quarantined at military schools in the Azraq area. This is a temporary arrangement while a special quarantine site "consisting of caravans and camps" is prepared near the Omari crossing.
2. Non-Jordanian drivers will be allowed to make their deliveries but will be escorted by security patrols until they return to the Saudi border.
3. To avoid jeopardising cross-border trade the number of drivers plying the route will need to be increased to allow for quarantining. There are more than 1,000 drivers working between the two countries and around a quarter of those cross the border every day. According to the Jordanians, both countries have agreed to "facilitate the granting and renewal of visas for truck drivers" so that more can take part.
4. The fourth measure is intended to discover forbidden gatherings – such as the Mafraq driver's banquet. According to the media affairs minister, the National Center for Security and Crisis Management (NCSCM) has developed an electronic application called "Radar-C" with the ability to detect "all kinds of gatherings", identify their location and "enable the concerned agencies to take the necessary action".
This sounds rather similar to the Israeli system known as "The Tool" which monitors the locations of all mobile phones and all the numbers called.
---
Amid Yemen's rapidly-emerging Covid-19 epidemic, rival factions are blaming each other.
In the south, the internationally-recognised (but dispossessed) government says the "recklessness" of southern separatists is frustrating its efforts to tackle the disease.
Meanwhile, the Houthis who rule much of the north are still not admitting that any Yemenis have become infected in the areas under their control – despite laboratory evidence to the contrary.
Yesterday the Houthis announced a second Covid-19 case in the capital, Sanaa, but said the person had brought the virus into the city from the south. The only previous case announced by the Houthis involved a Somali who was found dead in a hotel.
On Tuesday, a series of tests confirmed that at least four Yemenis in the north have been infected – three of them in Sanaa. The Houthis made no public mention of these and when parts of Sanaa were placed under curfew next day it was presented as a trial run to test readiness for a potential outbreak.
On Friday the Houthis disclosed that they have been holding hundreds of people at quarantine centres in the Sanaa area. According to their official news agency a total of 881 people have so far been quarantined, including 449 Ethiopians and 56 other non-Yemenis. Most have been released but 43 people remain in quarantine.
---
New cases
A further 7,321 Covid-19 infections have been reported in the Middle East and North Africa since yesterday's update. Of those, 1,701 were in Saudi Arabia and 1,556 in Iran.
Egypt reported 495 new cases – its largest single-day increase so far.
The list below shows cumulative totals (excluding Iran) since the outbreak began, with day-on-day increases in brackets.
Algeria 5,369 (+187)
Bahrain 4,444 (+245)
Egypt 8,476 (+495)
Iraq 2,603 (+60)
Israel 16,444 (+35)
Jordan 508 (+14)
Kuwait 7,208 (+641)
Lebanon 796 (+12)
Libya 64 (-)
Morocco 5,873 (+212)
Oman 3,224 (+112)
Palestine 547 (-)
Qatar 20,201 (+1,311)
Saudi Arabia 35,432 (+1,701)
Sudan 1,111 (+181)
Syria 47 (+2)
Tunisia 1,030 (+4)
UAE 16,793 (+553)
Yemen 36 (+11)
TOTAL: 130,170 (+5,765)
Note: Yemen's total includes two cases reported by the unrecognised Houthi government in the north of the country.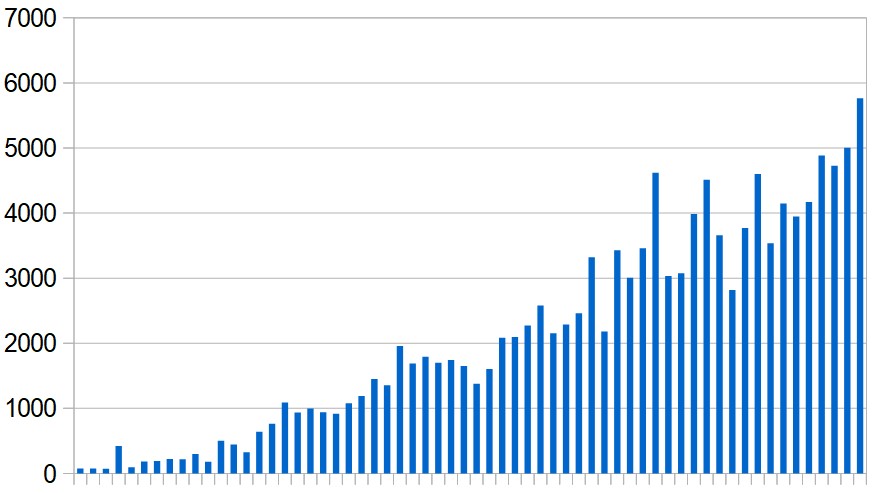 ---
Death toll
A further 120 coronavirus-related deaths were reported in the region yesterday – 55 of them in Iran and 21 in Egypt.
The list below shows cumulative totals of reported deaths in the region outside Iran, with day-on-day increases in brackets.
Algeria 488 (+5)
Bahrain 8 (-)
Egypt 503 (+21)
Iraq 104 (+2)
Israel 245 (-)
Jordan 9 (-)
Kuwait 47 (+3)
Lebanon 26 (+1)
Libya 3 (-)
Morocco 186 (+1)
Oman 17 (+2)
Palestine 4 (-)
Qatar 12 (-)
Saudi Arabia 229 (+10)
Sudan 59 (+7)
Syria 3 (-)
Tunisia 45 (+1)
UAE 174 (+9)
Yemen 8 (+3)
TOTAL: 2,170 (+65)
Note: Yemen's total includes one death reported by the unrecognised Houthi government in the north of the country.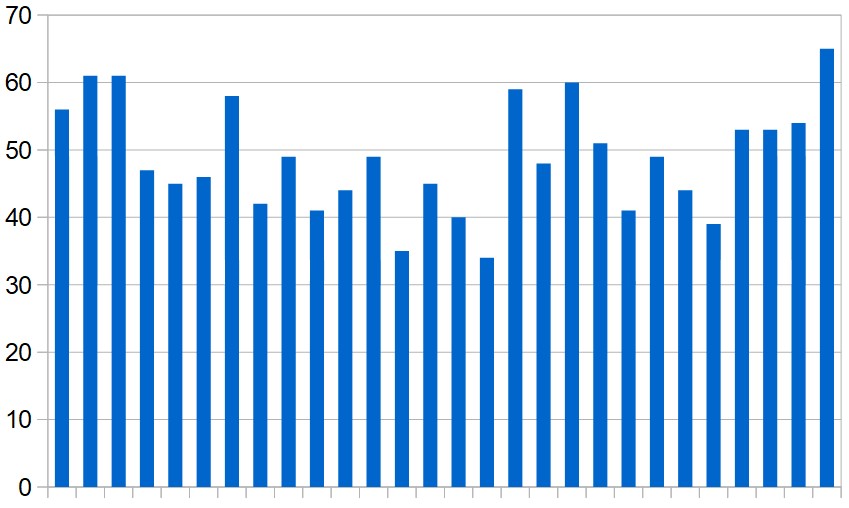 CLICK HERE for previous updates
For anyone interested: A spreadsheet documenting the coronavirus cases and deaths reported in the region each day can be viewed here.
This work is licensed under a Creative Commons Attribution-NonCommercial 4.0 International Licence.