At least three countries in the Middle East are resorting to technology based around mobile phones in their efforts to halt the spread of coronavirus.
The three – Bahrain, Israel and the UAE – are using it in different ways but the underlying principle is the same in each of them. Mobile phones can tell the authorities where you are, and where you have been.
In the midst of an epidemic this can be used for several purposes: to check that people who are supposed to be in quarantine remain in quarantine, to detect others who are not observing the rules of social isolation, and to identify those who have been in contact with an infected person.
It began in Israel on March 14 when prime minister Binyamin Netanyahu announced that the authorities would be relying on technology previously used for counter-terrorism purposes in order to track carriers of the disease.
This led to the revelation that the Shin Bet security service maintains a secret database known as "The Tool" which monitors the locations of all mobile phones and all the numbers called.
Aside from counter-terrorism, The Tool can be used to identify those who have been in the "vicinity" of anyone known to be infected and send them text message telling them to self-quarantine.
Ten days after Netanyahu's announcement, Shin Bet said its mass surveillance efforts had so far detected 500 contacts of coronavirus carriers.
While Israel is using technology to trace contacts, the United Arab Emirates is using it mainly to prevent flouting of the social isolation rules (see previous report).
In the UAE, people who are not classified as essential workers are forbidden to leave home without a permit. The process of applying for a permit (which has to be repeated for every trip outdoors) starts with registering the applicant's mobile phone number on a police website.
Applicants then have to provide details of where they want to go, what time they will set out, and what time they expect to return home. Records of the phone's location can be checked to see whether the user has complied with the permit.
Meanwhile, the government of Bahrain has launched a phone app called "BeAware Bahrain". The app is partly intended to give health information relating to the virus but it has other purposes too.
As in Israel, it will notify people if they come close to someone who is known to be infected.
It will also track people who are in compulsory home in quarantine – and in this case it is combined with GPS technology, which the Bahrainis believe will make it more effective.
According to Gulf News, users of the app must set their location via their phone when they start the quarantine but they are also required to wear a GPS wristband. An alert is sent to the authorities if the wearer of the wristband moves more than 15 metres from the relevant phone.
Removing the wristband or tampering with it can result in a minimum jail sentence of three months, and/or a fine of 10,000 dinars ($26,000).
There will also be spot checks, Gulf News says. The health ministry can demand selfies from quarantined people showing both their face and the wristband.
All this is highly intrusive and in some ways scary, though in the current situation its use can be defended on the grounds that it helps to protect the public from a potentially deadly illness. But once the plague has passed the technology can't be uninvented. It will still be there, available for other purposes.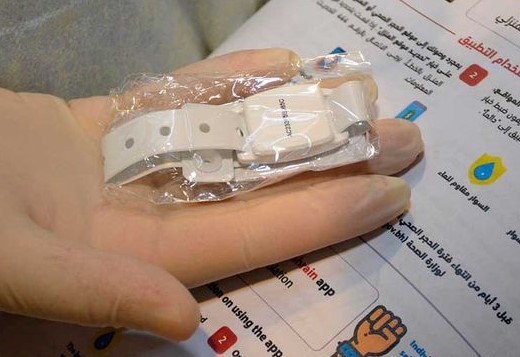 ---
Latest updates from the Middle East
New cases:
Iran reported a further 2,274 Covid-19 infections yesterday. This continues a slow but steady fall in the daily total of new cases which is now 29% below the peak recorded on March 30.
In the rest of the Middle East and North Africa region 1,744 new cases were reported, bringing the total to 23,953.
Israel has the highest number (392 new cases) followed by the UAE (278), Qatar (228) and Saudi Arabia (203).
The list below shows cumulative totals since the outbreak began, with day-on-day increases in brackets:
Algeria 1,423 (+103)
Bahrain 756 (+56)
Egypt 1,322 (+149)
Iraq 1,031 (+70)
Israel 9,003 (+392)
Jordan 349 (+4)
Kuwait 665 (+109)
Lebanon 541 (+14)
Libya 18 (-)
Morocco 1,120 (+99)
Oman 331 (-)
Palestine 254 (+17)
Qatar 1,832 (+228)
Saudi Arabia 2,605 (+203)
Sudan 12 (-)
Syria 19 (-)
Tunisia 596 (+22)
UAE 2,076 (+278)
TOTAL: 23,953 (+1,744)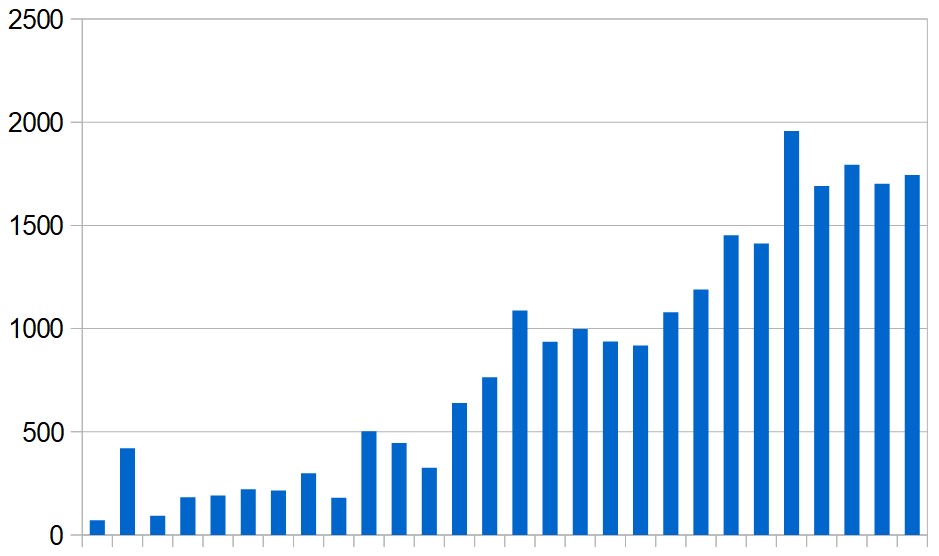 Death toll:
The number of coronavirus-related deaths reported each day in Iran remains fairly steady. Over the last three weeks it has ranged between 117 and 158, and yesterday's figure of 136 deaths is around the current daily average. The official Iranian death toll since the outbreak began is now 3,739.
Elsewhere in the region, a further 56 deaths were reported, bringing the total to 574. Algeria reported the highest number (21 deaths), followed by Morocco with 10.
This is the current list:
Algeria 173 (+21)
Bahrain 4 (-)
Egypt 85 (+7)
Iraq 64 (+2)
Israel 46 (+8)
Jordan 6 (+1)
Kuwait 1 (-)
Lebanon 19 (+1)
Morocco 80 (+10)
Oman 2 (-)
Palestine 1 (-)
Qatar 4 (-)
Saudi Arabia 38 (+4)
Sudan 2 (-)
Syria 2 (-)
Tunisia 22 (-)
UAE 11 (+1)
TOTAL: 574 (+56)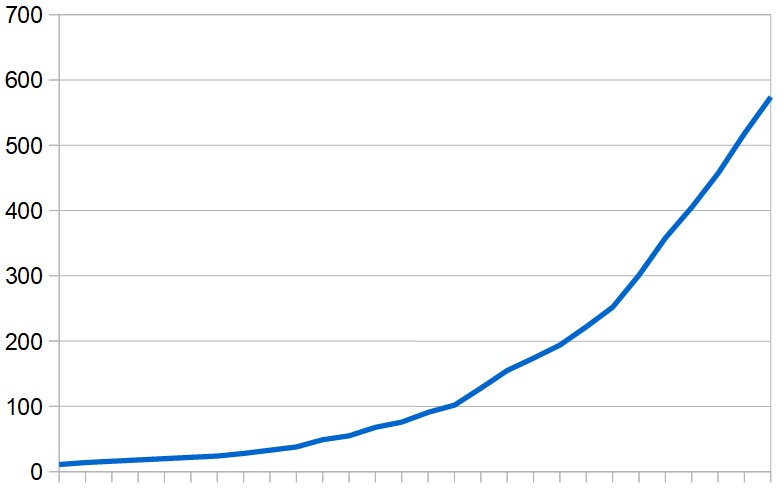 CLICK HERE for previous updates
For anyone interested: A spreadsheet documenting the new coronavirus cases and deaths reported in the region each day can be viewed here.
This work is licensed under a Creative Commons Attribution-NonCommercial 4.0 International Licence.