Country narrative: Kuwait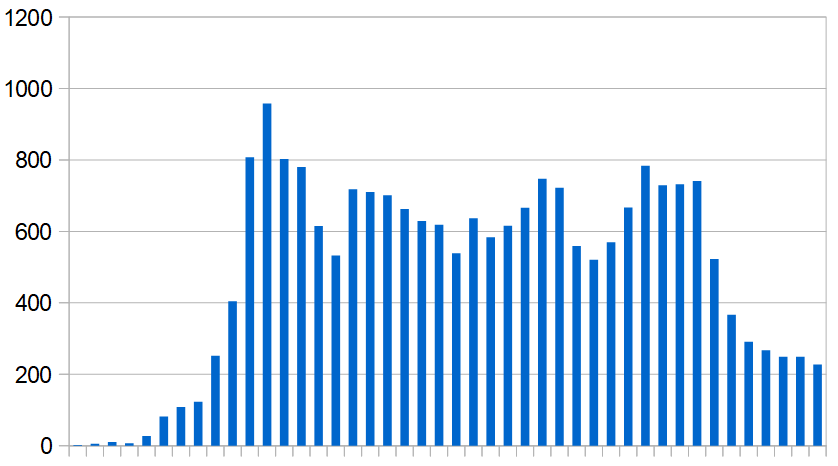 February 25, 2020
The Ministry of Health announced three new cases on Tuesday, bringing the total to eight. The latest three are said to have come from Iran and have been placed in quarantine. One of them is a Saudi citizen. Kuwait has suspended all flights to and from South Korea, Thailand, Italy and Iraq.
February 26
Kuwait reported a series of new cases, bringing the total to 26 by Wednesday afternoon. On Tuesday Kuwait extended its travel restrictions to include Singapore and Japan. Kuwaitis arriving from those countries will be quarantined and non-Kuwaitis will be refused admission, even if they have valid visas. There are also restrictions on ship arrivals and parcel deliveries from affected countries. The government has commandeered Al-Khiran holiday resort, about 90km from Kuwait city, which it plans to use for quarantine purposes.
February 27
Seventeen new cases have been confirmed, bringing the total to 43. This relatively large number – the highest among the Arab countries – may be explained by Kuwait's effort to bring its citizens back from Italy and Iran. Following a cabinet meeting on Thursday the government announced that all schools, colleges and universities, including military colleges and religious education centres, will be closed from 1 March until 12 March. The authorities are also taking steps to ensure adequate supplies of face masks and sanitising products. Kuwait's municipality says it will provide face masks and hand sanitisers for mourners at funerals (which often attract large crowds).
February 28
The health ministry reported two new cases on Friday. On Thursday, 22 Kuwaitis evacuated from Iran arrived back on a Qatar Airways flight from Shiraz and have been placed in quarantine.
February 29
Kuwait has organised a repatriation flight to bring citizens back from Thailand on Saturday.
March 1
Kuwait confirmed one new case on Sunday morning, involving a person who had been in Iran. Kuwait has been busy repatriating its citizens from countries where there are serious outbreaks. Five flights bringing Kuwaitis home from Iran, and one flight from Thailand, arrived on Saturday. Those coming from Iran are in quarantine and those from Thailand are under observation at home. Fifty-two Kuwaitis who have returned from Italy are also under observation.
March 2
Kuwait confirmed 10 more cases, bringing the total to 56. No further details are currently available.
March 4
The aviation authority announced new restrictions on non-Kuwaiti passengers arriving from 10 countries: Azerbaijan, Bangladesh, Egypt, Georgia, India, Lebanon, Philippines, Sri Lanka, Syria and Turkey. From March 8 they must obtain embassy-approved health certificates before flying. Kuwaiti citizens will be tested on arrival.
March 5
Kuwait reported two new cases, bringing the total to 58. Two elderly Kuwaiti women with pre-existing health conditions are in intensive care – one of them is critically ill. All other cases are said to be stable.
March 10
Kuwait has extended its school closures until March 26. Details of other preventive measures can be found here.
March 12
On Wednesday, Kuwait announced severe new restrictions which seem likely to shut down much of the country for the next two weeks:
March 13
Kuwait has set up a new web page showing the latest statistics.
March 14
Kuwait confirmed 20 new cases – fifteen of them Kuwaitis who had been quarantined after returning from Iran. Two more were Kuwaitis who had returned from Britain and the US. The others were two Egyptians and a Spanish citizen. The health ministry says it has so far carried out 7,525 coronavirus tests.
March 17
The information minister announced that the administrators of 14 websites are to be prosecuted for "disseminating inaccurate news and rumours that were later refuted by the competent state agencies". The minister did not name the websites but indicated that the prosecutions relate to things they have said about coronavirus.
March 19
Of the 12 most recent cases, 10 have been linked to travel to Britain.
March 20
Kuwait is doing well on the testing front – it has carried out more than 27,000 tests.
March 23
Four Arab countries have now declared nationwide curfews in an effort to check the spread of coronavirus.
In Kuwait, a night-time curfew – from 5pm to 4am – came into effect on Sunday. The deputy prime minister said the move was regrettable but had become necessary because people were "failing to comply with the Ministry of Health's instructions to stay indoors".
Violators face up to three years in jail and fines of 10,000 dinars ($32,000). People working in "vital sectors" are exempted and will be issued with special ID cards.
Saudi Arabia has announced a similar curfew – from 7pm to 6am – which will come into effect this evening. As in Kuwait, there are exceptions for "vital activities", which in the Saudi case include allowing muezzins to go to mosques and recite the call to prayer.
The Saudi move came amid growing evidence that large numbers of people have been ignoring the rules for self-isolation and social distancing.
In Jordan, where a round-the-clock curfew enforced by the military began on Saturday morning, more than a thousand violators have been arrested – 392 on Saturday and 693 on Sunday. They could face up to a year in jail.
The Jordan Times quotes media affairs minister Amjad Adaileh as saying the curfew may last for weeks and urging people to get used to "this new lifestyle".
The authorities haven't yet decided how to keep people supplied with food, medicines and other necessities but they are considering home delieveries because "allowing people to leave their homes for set periods of time may result in stampedes and crowding, which would counter the government's preventive measures".
Tunisia has also imposed a night-time curfew which started on Wednesday and runs from 6pm to 6am.
April 9
Kuwait: Two districts – Jleeb al-Shuyoukh and Mahboula – have been under "complete isolation" since Monday. They are both described as "densely populated areas where poorer expatriate workers live". Meanwhile, some of the Kuwaitis quarantined in five-star hotels after returning from abroad have been complaining on social media about the quality of the food and service. The meat is said to be fatty and "staff are slow to clean up coffee stains".
April 10
Kuwait reported 55 new cases yesterday, though only five involved Kuwaiti citizens. Thirty-seven were Indians and the others were of Pakistani, Iranian, Nepalese, Egyptian and Syrian nationalities. This is a further sign that infections are spreading mainly among migrant workers. On Monday, Kuwait imposed "complete isolation" on two "densely populated areas where poorer expatriate workers live".
April 14
Arab states in the Gulf are reporting large numbers of new Covid-19 infections among migrant workers.
● In Bahrain, foreign labourers account for almost half the confirmed cases – more than 600 have tested positive.
● In Kuwait, 679 of the 1,300 confirmed cases are reported to be Indian workers.
● In Saudi Arabia, according to the health minister, "most cases" have arisen in migrant worker communities and other densely populated areas. "We have noticed an increase in coronavirus infections in the accommodation of workers and we called upon them to apply the highest degree of precaution," the minister said.
Migrant workers are especially vulnerable to infection because they often live in compounds with shared sleeping quarters where it's impractical to follow the precautions urged by governments.
Journalist Ben Hubbard takes a detailed look at their problems in an article for the New York Times.
Hubbard quotes a Kenyan oil worker in Qatar (interviewed by phone) as saying he shares a room in a company compound with three others, in a ward with only six bathrooms for 450 men: "Crowding is the problem, and washing hands is almost unrealistic."
His company provides food, but in a communal dining hall. "It is not in any way social distancing," the worker says.
April 17
Figures published by the Times of India yesterday show that among Indian citizens who have tested positive for Covid-19 while abroad, more than 60% are in the Gulf states. The paper listed the numbers of known cases:
Bahrain 135
Kuwait 785
Oman 297
Qatar 420
Saudi 186
UAE 238
Based on those figures, Indian citizens account for more than half of all Covid-19 cases reported in Kuwait.
Also in Kuwait, some 300 Turkish workers constructing a new airport terminal are reported to be holding a sit-in in their encampment. They say they were asked to resign when coronavirus arrived in Kuwait but fear they will not receive compensation.
Their Turkish employer, Limak Construction, says it is "prioritising" human resources "in order to minimise negative impacts of the global pandemic". Before the virus arrived, the firm was employing 3,800 Turkish workers in Kuwait and it says 504 of them have now been repatriated "with all rights given".
The Turkish workers also accuse the firm of "constantly bringing new workers from outside" – Indians, Bangladeshis and Nepalese – and fear this influx could spread the virus further.
Click to enlarge" src="/sites/default/files/flow-chart.jpg" style="border-style:solid; border-width:1px; height:334px; width:500px" />
Kuwait's health ministry is discriminating between Kuwaitis and non-Kuwaitis in its allocation of treatment for Covid-19 patients, according to a document circulated on social media.
The document is a flow chart telling medical staff what to do when someone tests positive for the virus. It is dated 16 April and appears to have been produced by the ministry's Covid-19 team.
The chart maps out two alternative courses of action, depending on the patient's nationality.
According to the instructions, Kuwaiti citizens who test positive are to be sent to the state-of-the-art Jaber al-Ahmad Hospital, completed less than two years ago at a cost of a billion dollars. It has 1,168 beds.
For non-Kuwaitis, though, the chart sets out a different procedure. Non-Kuwaitis (who are predominantly migrant workers from poor countries) will be told to go to the emergency department at a local hospital.
The local hospital will make a clinical assessment and then send them in one of two directions, in accordance with the health ministry's guidelines.
Non-Kuwaiti women and children will be transferred to the Jaber al-Ahmad Hospital. It's unclear why they can't be sent there directly after the test result.
Non-Kuwaiti men who have been assessed as "high risk" patients will also be transferred to the Jaber al-Ahmad Hospital.
The remaining group – non-Kuwaiti men assessed as "low risk" – are to be sent the exhibition centre in Mishref where there is a temporary field hospital.
There's no indication that non-Kuwaitis in the field hospital are receiving inadequate care but this two-channel approach to Covid-19 patients based on nationality is medically unethical and could easily lead to a two-tier system​ in patients' treatment.
Thousands of undocumented migrant workers are awaiting repatriation from Kuwait under a government scheme aimed at countering the spread of Covid-19.
Crowded living conditions make migrant workers especially vulnerable to infection and the effect of the scheme will be to reduce their numbers.
The government announced an amnesty where people living in Kuwait illegally could apply for repatriation on attractive terms. There would be no penalty charges for infringing residency laws; the cost of their air fare home would be covered by the government; food and accommodation would be provided while they were waiting to be repatriated, and they would not be disqualified from returning to Kuwait legally in the future.
Officials are expecting 20,000 people to have applied when the amnesty ends tomorrow, and currently there are said to be 15,700 awaiting repatriation in Kuwait's "amnesty shelter facilities".
Five-day slots for applications were allocated according to nationality – Filipinos first, followed by Egyptians, Bangladeshis, Indians, Sri Lankans and finishing with "other nationalities" during the last five days of this month.
Two thousand Filipinos have so far been flown home, though some applicants were rejected because of debts (including unpaid phone bills) or outstanding court cases, according to the Philippines embassy.
Earlier this week two special flights from Kuwait took 247 Bangladeshis back home but it appears that at least one of the flights was for deportation rather than straightforward repatriation. According to the Bangladesh Daily Star it was carrying people who had been imprisoned or held in deportation centres.
Other Gulf states are also repatriating migrants, citing Covid-19 as the reason. But there is resistance from some of the recipient countries. In India, for example, the Supreme Court has imposed a temporary freeze on citizens returning from abroad because of fears they could spread the virus.
In Bangladesh, a letter circulated by a group of 16 NGOs says the host countries should be looking after migrants during the pandemic, not repatriating them:
"Under international law in any crisis situation, it is incumbent upon the state concerned to take care of all people in its land including migrants, irrespective of their status."
Besides the risk of spreading the virus through repatriation, they point out that the home countries have "very limited capacity to rehabilitate the returnees".
However, there's no shortage of people willing to take up the Kuwaiti government's offer, whether or not their home countries want them back.
Huge crowds gathered outside the Nepal embassy as 2,500 sought travel documents ahead of their repatriation. The embassy does not appear to have been particularly helpful. Volunteers from the Non-Resident Nepali Association (NRNA) tried to manage the queues but said there were "just too many" to maintain social distancing.This week Nepalese workers have been among the "other nationalities" applying for repatriation. There are thought to be about 7,000 in Kuwait who could return home under the scheme – many of them female domestic workers.
On Tuesday, a further 22 Nepalese in Kuwait were diagnosed with the virus, making a total of 51 so far.
Meanwhile, the repatriation scheme is of no help to the 80,000-or-so Nepalese who live legally in Kuwait. Many have lost their jobs while others have no option but to continue working in unsafe conditions.
Anuj Tiwari of the Centre for Migration and International Relations in Nepal writes:
"Despite the lockdown, more than 600 Nepali taxi drivers are compelled to work in order to meet their daily instalment earning quotas, vehicle payments, and other daily services/basic needs. Failure to achieve these daily targets could either lead to the loss of income or termination."
Kuwait has been placed under a round-the-clock curfew following the discovery of a major Covid-19 outbreak among employees at supermarkets.
One large Kuwaiti chain, the Khaldya Cooperative Society, shut its doors until further notice after 103 workers – about 40% of its total staff – tested positive for the virus. Sixty infections have been reported at another chain, the Adailiya Cooperative Society. This has raised fears that more infections will follow among their customers.
Kuwait first introduced preventive measures – including a night-time curfew – back in March and until recently it seemed to be more successful than several of its Gulf neighbours in limiting the spread of infections.
Over the last week, however, the number of recorded cases has risen by 74% to 8,688. On Sunday alone, 1,065 new cases were reported.
The full-scale lockdown which began at 4pm on Sunday is due to last until May 30 – which means the restrictions will still be in place during the Eid al-Fitr festival at the end of Ramadan.
All non-essential businesses will be closed for the duration and government services will be available only online.
People will be allowed out to buy food, but only after booking an appointment. They will also be allowed to go for walks wearing face masks between 4.30 and 6.30 pm each day, but not to use vehicles.
Printing of newspapers has been suspended and the only home deliveries allowed are food and medicines.
May 20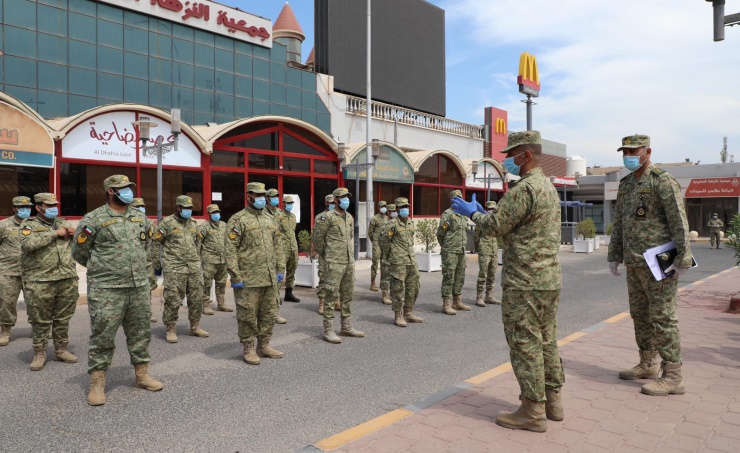 Kuwait has assigned its National Guard to take over the running of supermarkets where staff have been struck down by the Covid-19 coronavirus.
One of those placed under military operation and management is the Khaldiya Cooperative Society which closed its doors ten days ago following the discovery that 103 employees – about 40% of its workforce – were infected. Several other large supermarkets have been brought under the National Guard's control, including the Mahboula and al-Nuzha stores.
The stores are reopening after being disinfected but customers are no longer allowed to enter. Instead, they must order goods online or over the phone and then collect them from the car park.
The outbreak in supermarkets was one factor behind Kuwait's imposition of a full-scale lockdown which began on May 10 and is due to last until May 30. This replaced a night-time curfew and it means all non-essential businesses are closed for the duration. Government services are available only online and people are not allowed out of their homes except to buy food or to go for walks between 4.30 and 6.30 pm each day.
One side-effect of this is a log-jam in Kuwait's ports which could jeopardise food supplies. The ports of al-Shuwaikh and al-Shuaiba are said to be packed full with thousands of tonnes of uncollected goods and unable to receive any more from incoming ships.
"Companies and individuals have been unable to obtain security permits during the curfew to allow clearing their goods," a report in Gulf News says. Beside the risk of food perishing in warehouses, Kuwait could face heavy penalty charges if ships are unable to make their deliveries.
According to a survey by Bensirri, a Kuwaiti PR firm, many businesses had already closed before the government announced its full-scale lockdown.
Conducted towards the end of April and covering almost 500 Kuwaiti businesses that made profits last year, the survey found that 45% had either suspended their activities or closed altogether, while 32% had illegally reduced the wages or working hours of their employees.
Suspended businesses still face fixed costs even if they are not paying wages and 56% of the firms surveyed said they did not have enough capital to survive for the next couple of months.
The survey is clearly part of an effort to lobby the government for financial aid but there's no obvious reason to doubt the problems it reports.
June 20
Kuwait appears to be over the worst. New infections peaked around May 25 and have almost halved since then. Migrant workers who often live in overcrowded conditions account for the majority of cases and many have now returned to their country of origin.
June 27
An article published this week by the Arab Gulf States Institute (a Washington-based think tank) takes a rare look at public discourse on coronavirus in Kuwait. It discusses this in the context of a populist trend in politics and hostility towards migrant workers.
July 25
Kuwait has announced a further easing of its restrictions, starting on July 28. The night curfew will be shortened by three hours, starting at 9pm and ending at 3am. Taxi services will resume and hotels and resorts will be allowed to reopen. Currently, only a limited number of mosques are open but the authorities say all will be open for prayers on Eid al-Adha.
Migrant workers who often live in overcrowded conditions account for the majority of confirmed cases and many have now returned to their country of origin. A proposed new law aims to reduce the migrant workforce further by introducing a quota system for expatriates. This would limit the number of Indian residents and workers to 15% of the total population – forcing about 800,000 of them to return home.
August 1
The situation regarding Kuwait's bidoun (stateless residents) and migrant workers during the pandemic is discussed in an interview with Dr Ebtehal al-Khateeb of Kuwait University, published by the Project on Middle East Democracy (POMED).
August 8
Problems over repatriation flights for Indian expatriates in Kuwait appear to have been resolved. According to media reports, agreement has been reached for 1,000 Indians to be flown home every day between August 10 and October 24. 
August 15
The government has announced that further restrictions will be lifted on Tuesday. Gyms, sport clubs, beauty salons and tailors will be allowed to reopen. Football matches will resume but without spectators. The partial curfew will remain.
As a result of the economic downturn caused by the pandemic and low oil prices Kuwait is planning to expel 360,000 foreigners:
● 120,000 illegal workers
● 150,000 expats aged over 60 (employees, dependents or those suffering from chronic diseases)
● 90,000 "marginal and poorly-educated labourers" 
As yet, there is no timetable for these expulsions.
August 22
The government has announced that the night curfew will be lifted on August 30. Restrictions on large gatherings such as weddings and funerals will continue.
August 29
The government has announced that the night curfew will be lifted on August 30. Restrictions on large gatherings such as weddings and funerals will continue.
November 1
New infections peaked in late May at just over 1,000 cases a day. Since then the numbers have fluctuated between 500 and 800 a day. New cases during the past week averaged 714 a day.
November 18
Update on vaccines: Kuwait's health ministry says it has ordered a million doses from Pfizer and the first batch of 150,000 is expected to arrive once the US Food and Drug Administration has given the vaccine its approval.
Priority for vaccination will be given to frontline health workers, the elderly and those with chronic diseases.
Pfizer's vaccine needs to be stored and transported at a very low temperature (minus 70 degrees Celsius) and the Kuwaiti health ministry has described some of its plans for dealing with this.
February 6, 2021
Update on vaccines: Kuwait's first batch of Pfizer/BioNTech vaccine – 150,000 doses – arrived on December 23, and roll-out began next day. A second batch arrived in January.
The health ministry has also been talking to other possible suppliers and says it has secured an initial batch of AstraZeneca vaccine for delivery early this month.