Country narrative: Bahrain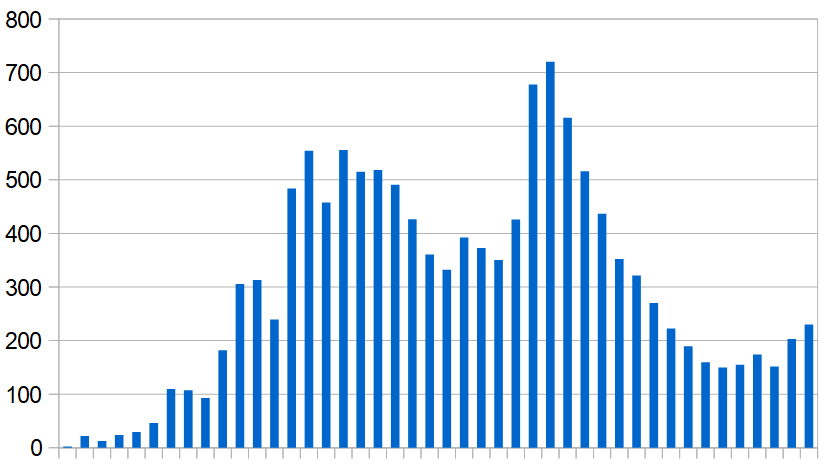 February 25. 2020
The Ministry of Health announced six new cases on Tuesday morning, bringing the total to eight. These were two Bahrainis and four Saudis who arrived at the airport from Iran via Dubai. On Tuesday afternoon the ministry announced a further nine cases (seven Bahrainis and two Saudis, all arriving from Iran via the UAE). Six more cases were announced on Tuesday evening, bringing the total to 23. An unspecified number of others have been placed in quarantine. Bahrain has now suspended flights from Dubai and says this will continue for 48 hours.
February 26
Bahrain reported three more cases on Wednesday, bringing the total to 26. The latest cases are three women who had arrived on indirect flights from Iran before travel restrictions were introduced. The Ministry of Health has called on everyone who has visited Iran during February to come forward for testing. All schools, universities and nurseries in Bahrain were closed on Tuesday and will remain closed for the next two weeks.
February 27
The Ministry of Health confirmed seven new cases, bringing the total to 33. All these cases have been linked to visits to Iran and on Thursday a ministry official said most were detected through airport checks as soon as they arrived in Bahrain. Bahrain's civil aviation authority announced on Thursday that it was extending the suspension of flights arriving from Dubai and Sharjah for a further 48 hours. It has also reduced the overall number of incoming regional flights.
February 28
The Foreign Ministry announced on Thursday that it has "begun implementing" a plan to evacuate its citizens from Iran. The plan includes screening and quarantine procedures. Meanwhile, the Health Ministry said the 33 cases currently being treated in Bahrain are showing "positive signs of recovery".
February 29
Bahrain confirmed five new cases on Friday: four Bahraini women and a Saudi woman, all of whom had been in Iran (details here and here). The interior ministry is concerned about 2,292 people who arrived in the country from Iran before the announcement of the outbreak there. Of those, only 310 have come forward for testing. The authorities say they will prosecute "anyone who returned from Iran in February and didn't call to make appointments for the tests".
March 1
Three new cases have been confirmed, bringing the total to 41. The latest three are Bahraini citizens – two women and a man – who were diagnosed on arrival via indirect flights from Iran.
March 2
Five Bahrainis and a Saudi tested positive after arriving from Iran, bringing the total of confirmed cases to 47. Nine Saudis are now known to have been infected, though all the reported cases have occurred outside the kingdom.
March 3
Bahrain reported two new cases – a Bahraini woman and a Saudi man – bringing the total to 49.
March 4
The health ministry has set up a web page to provide the latest information. It currently shows 49 "active" cases – only two of which need medication. Two people tested positive while in quarantine, while 3,709 people have tested negative.
March 5
The health ministry says there are now 51 cases – an increase of two on the previous day.
March 6
Bahrain has halted ticket sales for the Formula 1 Grand Prix which is due to start on March 20. It's not yet clear whether the race will be cancelled but travel restrictions look like becoming a major problem for competitors.
March 8
The health ministry reported on Sunday morning that there are now 79 confirmed cases – an increase of 23 – but gave no further details.
March 9
Bahrain says the Formula 1 Grand Prix, which is due to start on March 20, will go ahead – but without spectators. Ticket sales were suspended last week.
March 10
The health ministry closed a cafe in Sanad because it had been frequented by two people who were supposed to be in self-isolation. A hospital ward at Salmaniya Medical Complex was also closed after a doctor tested positive. A dentist at a private clinic has been suspended and reported to the public prosecutor for breaking the self-isolation rules.
March 11
On Wednesday Bahrain's govermnent announced the start of its "International Covid-19 Repatriation Programme". A chartered aircraft brought 165 people back from Iran – 77 of whom have been diagnosed with the virus. The returnees will now be "clinically segregated" at a "Specialist Repatriation Containment Facility". In line with al-bab's previous practice, these 77 cases are not included in the statistics above because they were diagnosed outside the country. [Update, 7pm March 11: It now seems they were diagnosed on arrival in Bahrain, so the 77 will be added to tomorrow's figures.]
March 12
In some ways Bahrain's increase is less alarming than Qatar's. In effect, Bahrain is importing existing cases from Iran – deliberately but under controlled conditions.
The government has launched an "International Covid-19 Repatriation Programme" to bring Bahraini citizens back from affected countries. As part of this, the health ministry chartered an aircraft which brought 165 people from Iran under "specialist" supervision. Of these, 77 tested positive on arrival.
There is little risk that any of the returnees will infect others in Bahrain. Those who tested negative were taken to a "Specialist Repatriation Containment Facility" and will not be released until the quarantine period is complete.
However, the fact that almost half the people on the flight were found to be infected is a further indication that Iran's official figures, high as they are, do not reflect the reality there. The Bahrainis appear to have been surprised by "the high volume of passengers testing positive" and say they will be making some revisions to their repatriation programme as a result.
March 13
The government news agency reported that the king has pardoned 901 prisoners "due to humanitarian reasons and under current conditions". The decision appears to be virus-related.
March 14
Bahrain reported 13 new cases. The health ministry also said "a number" of workers in shared accommodation had been tested for the virus. The results so far are negative and the health ministry says they will be quaratined for two weeks in their accommodation (which is provided by their employer) and will continue to be paid. No further details were given but it's likely they are a group of migrant workers.
March 15
An unnamed person has been placed in compulsory quarantine and will be prosecuted for failing to comply with the rules for self-isolation at home, the government news agency reported. It quoted the public prosecutor as saying the authorities will take "immediate action" against any violations.
March 16
A Bahraini businessman – as yet unnamed – is reported to have acquired the right to "franchise and import" rapid tests for coronavirus which give a result in minutes rather than hours.
Meanwhile, Kuwait has ordered 400,000 rapid test kits. These are expected to arrive on Wednesday and could be in use by next Sunday.
So far, though, the reliability of these tests is unproven and at this stage they are intended to be used only for research purposes. This is clearly stated in the instructions for one such test:
Instructions say "For research use only. Not for use in diagnostic procedures."
One rapid test, developed by BioMedomics, has been widely used in China but the company warns that the results it gives should not be the only basis for diagnosis: "Results should be used in combination with clinical observations and other testing methods such as nucleic acid PCR test."
In Britain on Saturday, Public Health England advised against using rapid tests "in community settings, such as pharmacies".
The tests could be useful in identifying people who may be positive and thus need further checks. But there's a danger that false negative results could lead some people to think they are in the clear when they are not.
March 18
Bahrain is discouraging people from searching for information about coronavirus on the internet. The General Directorate of Anti-Corruption and Economic and Electronic Security warned that "suspicious websites" may exploit the situation in order to hack personal data and control users' computers.
March 20
Bahrain has called a halt to Friday prayers and sermons in mosques, until further notice. However, mosques will remain open for the five daily prayers.
March 23
Bahrain reported its second coronavirus-linked death – a 51-year-old Bahraini woman who had chronic health problems.
March 24
Bahrain: Police have started patrols to enforce social distancing. Public gatherings of more than five people are forbidden and individuals must stay at least one metre apart. Penalties for violators are up to three months in jail and/or a fine of up to 10,000 dinars ($26,000). Last Friday's congregational prayers were cancelled and a further announcement on Monday suspended all prayers in mosques.
March 25
Bahrain: The central bank has ordered foreign exchange companies to sterilise banknotes. The instructions are to expose them to ultraviolet germicidal irradiation, high temperatures or isolate them for at least three days. Staff are also being told to wear protective gear when handling coins.
At least three countries in the Middle East are resorting to technology based around mobile phones in their efforts to halt the spread of coronavirus.
The three – Bahrain, Israel and the UAE – are using it in different ways but the underlying principle is the same in each of them. Mobile phones can tell the authorities where you are, and where you have been.
In the midst of an epidemic this can be used for several purposes: to check that people who are supposed to be in quarantine remain in quarantine, to detect others who are not observing the rules of social isolation, and to identify those who have been in contact with an infected person.
It began in Israel on March 14 when prime minister Binyamin Netanyahu announced that the authorities would be relying on technology previously used for counter-terrorism purposes in order to track carriers of the disease.
This led to the revelation that the Shin Bet security service maintains a secret database known as "The Tool" which monitors the locations of all mobile phones and all the numbers called.
Aside from counter-terrorism, The Tool can be used to identify those who have been in the "vicinity" of anyone known to be infected and send them text message telling them to self-quarantine.
Ten days after Netanyahu's announcement, Shin Bet said its mass surveillance efforts had so far detected 500 contacts of coronavirus carriers.
While Israel is using technology to trace contacts, the United Arab Emirates is using it mainly to prevent flouting of the social isolation rules (see previous report).
In the UAE, people who are not classified as essential workers are forbidden to leave home without a permit. The process of applying for a permit (which has to be repeated for every trip outdoors) starts with registering the applicant's mobile phone number on a police website.
Applicants then have to provide details of where they want to go, what time they will set out, and what time they expect to return home. Records of the phone's location can be checked to see whether the user has complied with the permit.
Meanwhile, the government of Bahrain has launched a phone app called "BeAware Bahrain". The app is partly intended to give health information relating to the virus but it has other purposes too.
As in Israel, it will notify people if they come close to someone who is known to be infected.
It will also track people who are in compulsory home quarantine – and in this case it is combined with GPS technology, which the Bahrainis believe will make it more effective.
According to Gulf News, users of the app must set their location via their phone when they start the quarantine but they are also required to wear a GPS wristband. An alert is sent to the authorities if the wearer of the wristband moves more than 15 metres from the relevant phone.
Removing the wristband or tampering with it can result in a minimum jail sentence of three months, and/or a fine of 10,000 dinars ($26,000).
There will also be spot checks, Gulf News says. The health ministry can demand selfies from quarantined people showing both their face and the wristband.
All this is highly intrusive and in some ways scary, though in the current situation its use can be defended on the grounds that it helps to protect the public from a potentially deadly illness. But once the plague has passed the technology can't be uninvented. It will still be there, available for other purposes.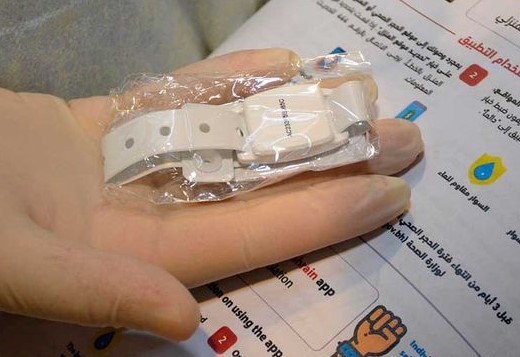 April 10
Bahrain: Shopping malls and some other businesses are re-opening today, but with restrictions. Staff and customers must wear face masks, steps are being taken to maintain social distancing and there is to be "continuous sterilisation". Theatres, sports centres, swimming pools, shish cafes, salons and tourist sites will remain closed adm restaurants are limited to deliveries and takeaways.
April 14
Arab states in the Gulf are reporting large numbers of new Covid-19 infections among migrant workers.
● In Bahrain, foreign labourers account for almost half the confirmed cases – more than 600 have tested positive.
● In Kuwait, 679 of the 1,300 confirmed cases are reported to be Indian workers.
● In Saudi Arabia, according to the health minister, "most cases" have arisen in migrant worker communities and other densely populated areas. "We have noticed an increase in coronavirus infections in the accommodation of workers and we called upon them to apply the highest degree of precaution," the minister said.
Migrant workers are especially vulnerable to infection because they often live in compounds with shared sleeping quarters where it's impractical to follow the precautions urged by governments.
Journalist Ben Hubbard takes a detailed look at their problems in an article for the New York Times.
Hubbard quotes a Kenyan oil worker in Qatar (interviewed by phone) as saying he shares a room in a company compound with three others, in a ward with only six bathrooms for 450 men: "Crowding is the problem, and washing hands is almost unrealistic."
His company provides food, but in a communal dining hall. "It is not in any way social distancing," the worker says.
June 18
Amnesty International has accused Bahrain and Kuwait of running "roughshod over people's privacy" in their use of surveillance technology during the coronavirus pandemic.
The human rights organisation carried out a detailed technical analysis of phone apps in seven Arab states plus France, Iceland, Israel and Norway.
It singled out those used by Bahrain, Kuwait and Norway as the most alarming, with all three "actively carrying out live or near-live tracking of users' locations by frequently uploading GPS coordinates to a central server".
"They are essentially broadcasting the locations of users to a government database in real time," Amnesty says. "This is unlikely to be necessary and proportionate in the context of a public health response.
"Technology can play a useful role in contact tracing to contain Covid-19, but privacy must not be another casualty as governments rush to roll out apps."
Norway suspended use of its "Smittestopp" app after being presented with Amnesty's findings.
The World Health Organisation has also warned about potential dangers in such apps. In a report earlier this month it said:
"WHO recommends that users of digital tools should participate on a voluntary basis and that written consent is always obtained. Privacy concerns about the disclosure of personal data need to always be addressed. Data processing agreements must disclose which data are transmitted to third parties and for what purpose."
One fear is that the apps could be used to track people for non-medical purposes – such as monitoring of political dissidents by authoritarian regimes.
Coronavirus apps can use location data for several purposes connected with the pandemic. The most common one, related to contact-tracing, is to trigger an alert when app users come close to another user who is known to be infected. The less intrusive types of app just store this on the phone but others send the information to a central database where the authorities can make use of it – which is what the Bahraini and Kuwaiti apps do.
The WHO describes this technology as "proximity tracing" rather than "contact tracing", cautions against over-reliance on it and says its use should always be voluntary. "Digital tools should be considered a way to augment and optimise contact tracing rather than a replacement of contact tracing teams," it says.
"The potential contribution of proximity tracing tools depends on widescale adoption of the same tool, which in turn depends on people having a suitable smartphone that is always charged and working, has a reliable connection to a mobile network, and is always accessible to them. Over-reliance on proximity tracing tools may result in the exclusion of contacts such as children or people who do not have a suitable device."
Proximity alerts are not the only function of the Bahraini and Kuwaiti apps, however. Both countries have been repatriating thousands of citizens from abroad – all of whom need to be quarantined on arrival.
There are two options for quarantining these returnees. One is to confine them in supervised accommodation (as some countries, such as Jordan, have been doing). The other – less restrictive – option is self-quarantining at home and Kuwait's "Shlonik" is designed to monitor compliance with that:
"The app is linked with a smart bracelet in order to track movement and notify the [health] ministry if people break the quarantine rules ...

"The returnees are each given a bracelet upon their arrivals at the airports.

"Shlonik notifies the medical teams in the event of breaking home quarantine and sends questions to the quarantined twice a day regarding the symptoms of coronavirus such as cough, temperature, and shortness of breath.

"The app also asks the users to submit random selfies."
Bahrain's "BeAware" app is also used in combination with a bracelet when tracking people who are in compulsory home quarantine.
An alert is sent to the authorities if the wearer of the wristband moves more than 15 metres from the relevant phone. The health ministry can also carry out spot checks by demanding selfies from quarantined people showing both their face and the wristband.
Removing the wristband or tampering with it can result in a minimum jail sentence of three months, and/or a fine of 10,000 dinars ($26,000).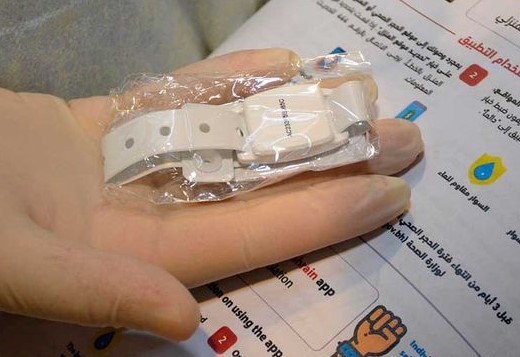 This is certainly intrusive but is it necessarily an abuse of human rights? It's not unreasonable to quarantine people compulsorily during an epidemic if they are potentially infected. Most would probably regard home quarantine as preferable to being locked in an isolation centre, and the apps allow that to happen while providing some safeguards against cheating.
Non-compliance has been a serious problem in most of the Middle East and the UAE has also been using mobile phone technology – though not an app – to monitor people's activity during its lockdown.
Under rules announced in April people were not allowed to leave their homes except for buying food and medicines and visiting a hospital or a doctor. To do that, though, they needed permission from the police.
The process began by registering their mobile phone number on a police website which then gave access to an online application form.
The form asked for their address, ID details, and car registration number. They also had to tell the police where they intended to go, at what time, and at what time they expected to return home. The process had to be repeated for every trip outdoors.
This of course made it much easier for the police to check if people on the streets had a permit and whether they were complying with its terms. Speed cameras were also adjusted to photograph all vehicles using the roads during the night curfew – even if they were not speeding.
The loss of privacy was scary, though its purpose can be defended as benign – protecting the public from a potentially deadly illness. But once the pandemic is over the technology will still be there. And who knows what purposes it might be used for then?
July 11
Of 610 new cases reported on Thursday, 339 (56%) were expatriate workers. This broadly reflects the country's population balance between citizens and expatriates.
July 18
Official figures indicate that 2% of Bahrain's 1.7 million population has so far been infected.
On Wednesday the Supreme Council for Islamic Affairs announced that mosques will remain closed for at least a further two weeks. It said they will not reopen until "the required decrease" in infections is achieved. It did not elaborate on how big a decrease is required but said the decision would be left to the medical authorities.
From next Tuesday travellers to Bahrain will be charged $80 for a Covid-19 test on arrival. They must then spend 10 days in quarantine and pay another $80 for a "quarantine expiry examination".
July 25
Bahrain has 22,000 known cases per million inhabitants. This makes it the world's third most infected country after Qatar and French Guiana. However, Bahrain is also one of the world leaders in Covid-19 testing. So far, 45% of its 1.7 million population have been tested.
New infections have been declining recently. This week new cases averaged 426 a day, compared with 518 a day two weeks ago.
Migrant workers account for a high proportion of Covid-19 cases in Bahrain (discussion here).
Gyms and other privately-owned sports facilities in Bahrain are facing a financial crisis as a result of the shutdown and almost half of them may soon go out of business, according to a survey.
On Wednesday the authorities announced that travellers who have valid visas can now enter the country without having to obtain prior permission.
The 25-km causeway linking Bahrain and Saudi Arabia, which was closed on March 7 to prevent spreading the virus, reopened on Thursday.
August 1
New infections have been declining recently. This week new cases averaged 361 a day, compared with 426 in the previous week.
Cafes and restaurants remain closed but on Wednesday the authorities announced plans for a phased reopening in September. The education ministry has also issued a circular to private schools setting out "procedures" for the new academic year.
Migrant workers account for a relatively high proportion of Covid-19 cases in Bahrain (discussion here).
August 15
Bahrain's budget deficit has almost doubled in the first half of the year due to the combined effects of the pandemic and low oil prices. Forbes magazine reports: "Government revenues in the first half of 2020 fell to BD910 million ($2.4 billion), down 29% compared to the same period last year. Oil revenues were down 35%, as the price of crude plummeted amid lower global demand and a price war led by Saudi Arabia and Russia."
August 22
Bahrain no longer requires people arriving in the country to isolate themselves. In recent tests only 0.2% of new arrivals were found to carry the virus.
August 29
Cafes and restaurants remain closed but the authorities have announced plans for a phased reopening in September.
September 5
Bahraini citizens accounted for 53% of cases recorded between July 9 and August 26 – the remainder were expatriates.
After a closure lasting more than five months, cafes and restaurants were allowed to reopen on Thursday, but only for customers seated outdoors.
Six thousand people in Bahrain are reported to be taking part in trials of a vaccine on behalf of the Chinese company Sinopharm.
September 19
On Thursday, 34 people were ordered to pay fines ranging from 1,000 to 3,000 dinars ($2,650–$7,960) for violating home quarantine. Their offences were reportedly detected by Bahrain's electronic monitoring system.
Cafes and restaurants reopened for outdoor dining earlier this month but the resumption of indoor dining has been postponed until October 24. The return of in-person teaching in state schools has also been postponed until October 11.
Bahrain is taking part in trials of a Covid-19 vaccine on behalf of the Chinese company Sinopharm, and Crown Prince Salman bin Hamad was among those vaccinated on Wednesday.
September 26
In the early stages of the outbreak almost half of Bahrain's known cases were among expatriate workers but they now account for a much smaller proportion: 145 out of 650 cases reported on Tuesday and 111 out of 612 on Wednesday.
Cafes and restaurants reopened for outdoor dining earlier this month and on Thursday the authorities in Dubai issued a seven-page set of safety regulations for eating establishments.
Six weeks ago Bahrain began trials of a Covid-19 vaccine on behalf of the Chinese company Sinopharm, and this week reached its target of vaccinating 6,000 volunteers.
November 1
After several ups and downs, Bahrain's outbreak reached a peak in the third week of September when new cases were averaging more than 700 a day. There has been a sharp drop since then and new cases in the past week averaged 239 a day.
Bahrain has recorded more than 47,000 cases per million inhabitants. This makes it the world's second most infected country (the tiny state of Andorra is first). However, Bahrain has also carried out very high numbers of tests in relation to the size of its population.
November 18
Update on vaccines: Bahrain has begun vaccinating front-line health workers after giving emergency approval to a vaccine developed by the Chinese Sinopharm company. More than 7,000 volunteers in Bahrain have already taken part in Phase III trials of the same vaccine.
Bahrain is reported to have ordered more than a million doses of Covid-19 vaccines – some of them from Pfizer/BioNTech and AstraZeneca as well as Sinopharm.
February 6, 2021
Update on vaccines: Bahrain has already vaccinated 10% of its small 1.7 million population. It took part in Phase III trials of a Chinese Sinopharm vaccine and began vaccinating frontline workers early in November, having granted emergency approval before all the checks were completed.
Since then, Bahrain has also approved the AstraZeneca and Pfizer/BioNTech vaccines for emergency use. It received an initial consignment of the AstraZeneca vaccine, manufactured by the Serum Institute of India, towards the end of January.