Migrant workers are bearing the brunt of the coronavirus epidemic in the wealthy Gulf states. Often living in over-crowded accommodation, they are at particular risk of infection. Many are now also jobless. Some have been deported. Thousands more want to return home – but can't.
India rejects its expatriate citizens
Indian citizens in the UAE have been receiving messages inviting them to apply to their consulate for repatriation, but both the consulate in Dubai and the embassy in Abu Dhabi say the messages are fakes. At present, India has no plans to repatriate its citizens.
The UAE has offered to help with repatriation of Indians and others, so long as they test negative before leaving. A Sharjah-based airline, Air Arabia, is willing to fly them home but at present its flights to India are carrying only cargo.
India's Supreme Court has ruled that citizens stranded abroad cannot return home for at least another month. This is due to fears that they will bring infection with them. Government figures in the Indian state of Kerala, for example, indicate that Dubai was the source of 89 out of 119 Covid-19 cases that arrived from abroad.
The Indian authorities are facing pressure from several directions – internally from those who see keeping expatriates out as a necessary protection, from expatriates who see it as an infringement of their rights as citizens, and from the Emiratis who are now threatening to revise their labour relations with India if it doesn't become more cooperative.
Among the large Pakistani community in the Emirates, 40,000 have now registered for repatriation, according to their consulate in Dubai. Pakistan is due to start flying them home on Saturday but warns that the process will be slow because of the numbers involved and the limited facilities for testing and quarantining them when they arrive. In the meantime, the consulate has distributed food rations to 8,500 Pakistanis but a further 11,000 are still waiting because of delivery problems "due to the situation".
Figures published by the Times of India yesterday show that among Indian citizens who have tested positive for Covid-19 while abroad, more than 60% are in the Gulf states. The paper listed the numbers of known cases:
Bahrain 135
Kuwait 785
Oman 297
Qatar 420
Saudi 186
UAE 238
Based on those figures, Indian citizens account for more than half of all Covid-19 cases reported in Kuwait.
Also in Kuwait, some 300 Turkish workers constructing a new airport terminal are reported to be holding a sit-in in their encampment. They say they were asked to resign when coronavirus arrived in Kuwait but fear they will not receive compensation.
Their Turkish employer, Limak Construction, says it is "prioritising" human resources "in order to minimise negative impacts of the global pandemic". Before the virus arrived, the firm was employing 3,800 Turkish workers in Kuwait and it says 504 of them have now been repatriated "with all rights given".
The Turkish workers also accuse the firm of "constantly bringing new workers from outside" – Indians, Bangladeshis and Nepalese – and fear this influx could spread the virus further.
Yesterday, Qatar reported 392 new Covid-19 cases and according to Gulf News most of them were "related to expatriate workers".
Amnesty International has interviewed 20 migrant workers from Nepal who say they were rounded up – along with many others – by Qatari police and then deported after being tricked into thinking they were just being given coronavirus tests. In a report issued on Wednesday, Amnesty said:
"On Thursday 12 and Friday 13 March, hundreds of migrant workers were rounded up and detained by police in parts of Doha including the Industrial Area, Barwa City, and Labour City. They were apprehended whilst away from their accommodation, carrying out errands or shopping for groceries ...

"One man told Amnesty International: 'We were asked to stop to test for the virus. Police told us that the doctor would come and check the virus. But they lied to us.'

"The men were then crammed on to buses, and taken to a detention facility in the Industrial Area ... One Nepali man told Amnesty International: 'The jail was full of people. We were given one piece of bread each day, which was not enough. All the people were fed in a group, with food lying on plastic on the floor. Some were not able to snatch the food because of the crowd'."
According to Amnesty, none of the men were able to challenge their detention or expulsion and some only learned about it while being taken to the airport.
Saudi Arabia is planning to deport 200,000 Ethiopian migrants, Reuters news agency reported earlier this week. So far, 2,870 of them have been expelled from the kingdom.
"They have been deported in a very congested way, with 300 to 500 squeezed on to single flights," the Ethiopian health minister was quoted as saying.
The UN has called on Saudi Arabia to suspend the deportations – at least until they can be better organised.
"Large-scale migratory movements which are not planned make the transmission of the virus much more likely to continue," Catherine Sozi, the UN humanitarian coordinator for Ethiopia, told Reuters.
---
Regional updates
New cases
More than 4,000 new Covid-19 infections have been reported in the Middle East and North Africa since yesterday's update. Of those, 1,606 were in Iran and 2,460 in the rest of the region.
Saudi Arabia reported the largest number of new cases (518), followed by the UAE (460) and Qatar (392).
The list below shows cumulative totals (excluding Iran) since the outbreak began, with day-on-day increases in brackets.
Algeria 2,268 (+108)
Bahrain 1,700 (+27)
Egypt 2,673 (+168)
Iraq 1,434 (+19)
Israel 12,855 (+264)
Jordan 402 (+1)
Kuwait 1,524 (+119)
Lebanon 663 (+5)
Libya 49 (+1)
Morocco 2,283 (+259)
Oman 1,069 (+50)
Palestine 402 (+27)
Qatar 4,103 (+392)
Saudi Arabia 6,380 (+518)
Sudan 32 (-)
Syria 33 (-)
Tunisia 822 (+42)
UAE 5,825 (+460)
Yemen 1 (-)
TOTAL: 44,517 (+2,460)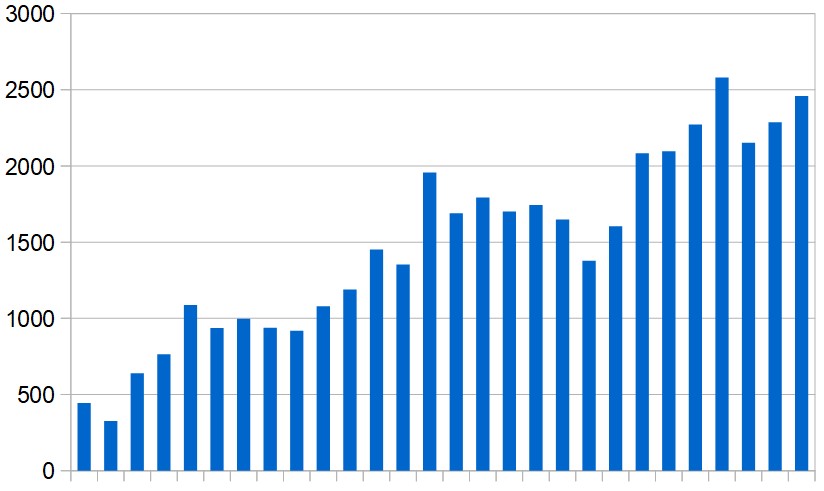 Death toll
Iran reported 92 coronavirus-related deaths yesterday – a modest fall for the fifth day in succession.
Elsewhere in the region a further 46 deaths were reported – 13 of them in Egypt and 12 in Algeria.
The list below shows cumulative totals of reported deaths in the region outside Iran, with day-on-day increases in brackets.
Algeria 348 (+12)
Bahrain 7 (-)
Egypt 196 (+13)
Iraq 80 (+1)
Israel 148 (+8)
Jordan 7 (-)
Kuwait 3 (-)
Lebanon 21 (-)
Libya 1 (-)
Morocco 130 (+3)
Oman 5 (+1)
Palestine 2 (-)
Qatar 7 (-)
Saudi Arabia 83 (+4)
Sudan 5 (-)
Syria 2 (-)
Tunisia 37 (+2)
UAE 35 (+2)
Yemen 0 (-)
TOTAL: 1,117 (+46)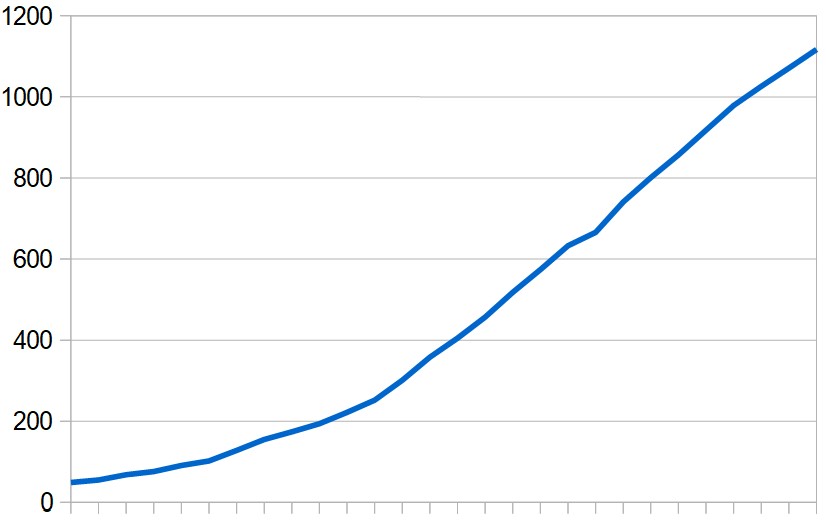 CLICK HERE for previous updates
For anyone interested: A spreadsheet documenting the new coronavirus cases and deaths reported in the region each day can be viewed here.
This work is licensed under a Creative Commons Attribution-NonCommercial 4.0 International Licence.