Country narrative: Algeria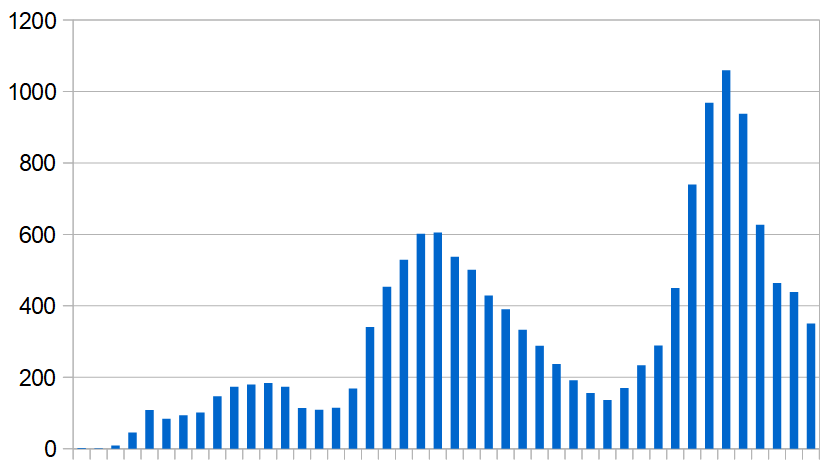 February 26, 2020
Algeria has reported its first coronavirus case – an Italian man who arrived in the country on February 17.
February 28
The national airline, Air Algérie, has suspended flights to "the holy places of Islam".
March 1
An Italian employee of the energy firm Eni who tested positive on arriving in Algeria on Tuesday has been flown back to Italy. No other cases have been confirmed in Algeria so far.
March 2
Algeria confirmed two new cases on Monday morning – a mother and daughter aged 53 and 24 in Blida province. Last month the women hosted two people from France who have since tested positive. This brings Algeria's total of cases to three.
March 3
Algeria reported two new cases – a father and daughter who were living in France – bringing the total to five.
March 4
Algeria confirmed three new cases, bringing the total to eight. All but one are from the same family which hosted two people from France who have since tested positive. The other case, reported earlier, is an Italian employee of the energy firm Eni who tested positive on arriving in Algeria.
March 5
Algeria reported nine new cases on Wednesday, bringing the total to 17. All but one of the 17 cases are members of a family in Blida who hosted relatives from France in February.
March 8
Algeria confirmed two more cases – one person in Bleda whose relatives have previously been diagnosed, and a man who recently arrived from Europe. On Saturday a 40-year-old man escaped from quarantine in Boufarik Hospital.
March 9
Algeria now has 20 cases – 17 of them among members of the same family. The latest unrelated case is an Algerian who had been in Spain. A 40-year-old man with symptoms who escaped from a hospital on Saturday (see previous report) has been "put back under observation".
March 11
The health minister announced that "all sports, cultural, political and economic gatherings are cancelled". This raises questions about whether the authorities will try to ban the street protests against the government that have been taking place for more than a year.
March 15
The country's third coronavirus death was that of a 51-year-old woman in Blida. She was a member of a large family that became infected after hosting two visitors from France.
March 16
Algeria registered its fourth coronavirus death on Sunday – a 84-year-old woman living in Blida.
March 18
President Tabboune announced a ban on street protests, ostensibly to prevent the spread of coronavirus. The demonstrations, which earlier toppled President Bouteflika, have been continuing for more than a year. It remains to be seen whether protesters will observe the ban. A fifth death was reported in Algeria – a 50-year-old man who is said to have been chronically ill.
March 21
For the first time in more than a year, Algerians suspended their usual Friday protests against the government. Instead, photos posted on social media showed young volunteers spraying the streets with disinfectant.
March 22
Algeria reported 49 new cases, bringing the total to 139. This is the biggest daily increase so far. The health ministry notes that 78 of the 139 cases and eight of the 15 deaths have occurred in Blida province. The outbreak in Blida started at the beginning of March among members of a large family that hosted two visitors from France who later tested positive for the virus.
March 23
Algeria reported 62 new cases – the biggest daily increase so far. A further 340 suspected cases are in hospital awaiting the results of tests.
March 24
With new coronavirus cases in Algeria increasing at an alarming rate, on Monday President Abdelmadjid Tebboune announced a complete curfew in Blida province which is the seat of more than half of the 230 confirmed infections.
Across the whole country, all non-food shops, restaurants and cafes are being closed. Taxis are banned, as are gatherings of more than two people. The capital, Algiers, has been placed under a night-time curfew (7pm to 7am) and this may be extended to other areas as the situation develops.
The number of known cases in Algeria is still relatively small but because of a shortage of testing kits the problem is almost certainly a lot bigger than the published figures suggest. Since the start of the outbreak there a month ago only 1,500 tests have been carried out, according to the health minister.
China is reported to be donating 50,000 test kits, along with other medical equipment, but the first consignment is not expected until Friday.
March 25
Algeria has reported substantial rises in new cases over each of the last four days, bringing the total to 264. However the relatively large death toll – 19 – is probably a sign that many more cases are going undetected (see yesterday's report on shortage of test kits).
April 2
Algeria now has 847 confirmed cases – the second-largest number of infections in Africa. (South Africa has the highest number: 1,380 reported cases but only five deaths, compared with 58 deaths in Algeria.) Blida province is under total lockdown and the 12-hour night curfew previously introduced in 11 of the 48 provinces has now been extended to cover four more.
April 3
In the Middle East and North Africa region, Algeria now has the highest death toll linked to coronavirus outside Iran. So far, 83 people have died in Algeria and the 25 deaths reported yesterday accounted for almost half of those in Arab countries.
A major factor behind Algeria's high death rate appears to be the state of its health services. While patients in the Gulf can expect high-quality care, in Algeria seriously ill patients are being treated with the anti-malaria drug chloroquine because – in the words of the health minister – the country "has no other choice".
The benefits of chloroquine are unproven and the World Health Organisation has advised caution regarding its use for treating COVID-19.
A further 139 new cases were confirmed yesterday in Algeria, bringing the total to 986 – the second highest in Africa.
Blida province – a major hotspot – is under total lockdown and yesterday the 12-hour night curfew previously introduced in 11 of the 48 provinces was extended to cover four more.
Despite that, living conditions in many parts of the country make isolation and social distancing difficult and the North Africa Journal reports "mass gatherings" of people trying to buy flour and couscous:
"There have been scenes of fights in many stores across the country, in stores and areas that have taken no precaution to avoid a possible spread of the devastating disease.
"The problem has been magnified by the challenges facing the commerce ministry in coordinating the supply of food and necessities, forcing people to congregate in stores."
Last Friday, a 12-member team sent by China State Construction Engineering Corporation (CSCEC) arrived in Algeria on a chartered plane bringing medical supplies. This has led to a diplomatic row between Algeria and France following allegations about the Chinese aid which were broadcast on the France24 TV channel.
Francis Ghilès of the Barcelona Centre for International Affairs told viewers the aid had been sent to a military hospital in Ain Naâdja – implying that the military were being given privileged treatment at the expense of the general population. This prompted a furious reaction from the authorities in Algiers.
The Chinese embassy in Algiers says the medical team did not go to Ain Naâdja and the aid was intended for the employees (both Chinese and Algerian) of Chinese companies operating in the country. This was also the purpose stated by the head of the team when they arrived last week.
April 6
Algeria now has 1,320 confirmed cases. Health ministry figures show 35% of these are in Blida province where the outbreak began with a family visit by two people from France. The capital, Algiers, accounts for 17% of known cases.
April 10
There are repeated complaints that the Algerian authorities are using the coronavirus epidemic as an excuse to suppress independent media published online. Journalists on state-run and pro-government media are allowed to work during the 3pm to 7pm curfew, but those on independent/web-based media are restricted. Separately, in an article for the Tahrir Institute, Yasmina Allouche looks at Algeria's coronavirus epidemic in the light of the country's political and economic problems.
April 15
The coronavirus situation in Algeria is "under control" according to President Tebboune, and "stable" according to the health minister. Despite these assurances, the level of testing for Covid-19 in Algeria remains low and of the 2,070 people so far confirmed as having been infected, 326 – 16% of them – have died. This is the highest death toll of any country in the region apart from Iran.
The situation in Algeria is clearly not under control, though the official figures suggest it isn't worsening rapidly. The current total of confirmed cases shows a 41% increase over the past week, which – to put a positive spin on it – is lower than in many other countries.
Meanwhile, the health minister has made some startling claims about the benefits of chloroquine as a treatment for the virus. "Patients who have been subjected to the chloroquine treatment protocol can now leave the hospital after five days (instead of ten) and continue their treatment at home," he said on Tuesday.
Chloroquine has the advantage of being produced locally and available in large quantities. According to President Tebboune there is enough in stock to treat 230,000 people. There are plans to increase this further "once the raw material ordered from India is received", the president added.
Last month the health minister defended the use of chloroquine on the grounds that Algeria "has no other choice".
The effectiveness chloroquine as a treatment for Covid-19 is disupted by experts. An article in the British Medical Journal summarising the scientific research describes its use as "premature and potentially harmful".
April 27
In a controversial move to mark the start of Ramadan, the Algerian government has eased restrictions in Blida – the province at the centre of the country's Covid-19 epidemic. A total lockdown of Blida imposed on March 23 has now been reduced to a partial curfew running from 2pm to 7am daily.
This relaxation has raised fears among medical professionals that progress made over the last few weeks could be reversed by a surge of new infections.
"It is dangerous, and whoever thinks we have overcome the epidemic is mistaken," Mohammed Yousfi, head of the Infectious Diseases Department at the Boufarik Hospital in Blida was quoted as saying.
Other Algerian doctors have expressed similar concerns. Their main fear is that people will treat the relaxation as a signal to ignore preventive measures and social distancing. People who throng markets and other public spaces are at risk of ending up in hospital, Abdulrazzak Bouamra, head of epidemiology at the Mustafa Pasha Hospital warned.
A photo circulated by Reuters last week shows the government's idea of how outdoor markets are supposed to be set up in order to maintain social distancing, but a video broadcast by Algerian television at the weekend shows the reality in Blida is very different.
There are scenes from a bustling market where – apart from a few face masks – there is little sign of people taking precautions. It looks very much like business as usual.
A clothes shop does appear to be taking more care. Beneath a sign saying "Masks are essential", customers are handed face masks and have their temperature checked.
Blida is a prime example of how quickly the virus can spread. The outbreak there began in February with a family visit by two people from France who later tested positive for the virus. On March 1 two members of the family were diagnosed and a week later the number of infected family members had risen to 17.
By March 22 Blida accounted for more than half of the known Covid-19 cases in Algeria and more than half the deaths.
According to the latest tally, out of 3,382 confirmed cases in Algeria, 749 have been in Blida – far more than in the capital or any of the other provinces.
Two weeks ago President Tebboune claimed that the coronavirus situation in Algeria is "under control". It clearly isn't, though there have been some encouraging signs.
The virus is still spreading, but not as quickly as it was. The number of active cases has grown by 17% in the last six days – which is a lot less than in neighbouring Morocco.
However, the official figures should be viewed with caution because testing for the virus has been very limited and there are likely to be undetected cases. According to Worldometer only 6,500 tests have so far been carried out in Algeria.
May 28
Health authorities in Algeria and Morocco say they intend to continue treating Covid-19 patients with anti-malaria drugs despite safety concerns raised by the World Health Organisation (WHO).
Algeria claims to have had "great success" using hydroxychloroquine in combination with antibiotics and says it has "not noted any adverse reactions" among several thousand patients who have been given this treatment.
Hydroxychloroquine and the related drug chloroquine are mainly used for malaria but there have been claims they can speed up the recovery of coronavirus patients. Last week, however, WHO suspended medical trials of hydroxychloroquine amid fears that it can increase the risk of death.
WHO was also worried that people might be tempted to self-medicate with the drug after Donald Trump revealed that he was taking it in the belief it would protect him from Covid-19.
A study in the medical journal The Lancet found "no evidence of benefit of hydroxychloroquine or chloroquine when used either alone or with a macrolide [antiobitic]." It suggested there was "not only an absence of therapeutic benefit" but also a possibility of patients being harmed.
Algeria's decision to use chloroquine/hydroxychloroquine was questioned two months ago, in the early stages of the outbreak, but health minister Abderrahmane Benbouzid defended by saying the country had "no other choice".
Several Algerian doctors have claimed the treatment is very effective. Because of the possible side-effects some patients are reportedly given alternative medication in the form of anti-viral drugs normally used for HIV.
Morocco also pinned its hopes on anti-malaria drugs around the same time as Algeria and the government requisitioned all the available stock.
Morocco has been treating Covid-19 patients with chloroquine since April 8 and, like Algeria, appears to have no intention of stopping.
According to health minister Khalid Aït Taleb, chloroquine has antiviral properties that lead to a faster recovery and save some patients from the need for intensive care.
Egypt has also been using anti-malaria drugs (as well as HIV drugs) to treat Covid-19, though it has warned the public not to self-medicate with them.
Tunisia was initially enthusiastic too, and even started manufacturing its own hydroxychloroquine. Yesterday, though, it announced that the treatment has been halted in all the country's hospitals following the statement from WHO.
These four North African countries appear to have been using chloroquine-based treatments in very similar ways – but with wildly differing results.
If we look at the number of cases that are now closed (as a result of recovery or death), the official statistics show the percentage ending in death was as follows:
Egypt: 13.6%
Algeria: 10.8%
Tunisia: 4.9%
Morocco: 3.9%
Based on that, use of chloroquine does not guarantee a low death rate and the variations between these countries suggest other factors have a bigger role in determining how many people die.
July 18
Algeria has seen a sharp rise in infections during the past three weeks. New cases now average more than 500 a day – twice the level at the end of June. The increase began shortly after lockdown restrictions were eased.
Some of Algeria's hospitals are reported to be full and not accepting new patients.
July 25
About 2,300 healthcare workers have been infected with Covid-19 and 44 of them have died, the health minister said on Tuesday. There has also been an increase in "physical and verbal attacks on medics, paramedics and administrative staff", according to President Abdelmadjid Tebboune, and a new law is planned to protect them.
Former telecoms minister Moussa Benhamadi is reported to have died from Covid-19. He was awaiting trial on corruption charges after being detained last September. According to his brother, the became ill on July 4 and was not transferred to hospital until July 13.
The state airline, Air Algérie, expects to lose $272 million this year as a result of Covid-19.
August 1
On Thursday the EU removed Algeria from its list of "safe" countries whose residents can travel to Europe without restrictions.
A night curfew (8pm to 5am) has been extended until August 12 in 29 wilayas (administrative districts) including the capital, Algiers. Road traffic in and out of these districts is also restricted. The travel restrictions are reported to be affecting farmers who had been counting on selling their sheep for consumption during the festival of Eid al-Adha.
August 8
On Monday, President Abdelmadjid Tebboune said the government "is reviewing the possibility to reopen mosques, beaches and other places for recreation and relaxation for the public." However, the authorities have stressed that this will not signal the end of the epidemic and precautions such as social distancing and wearing of masks will still be necessary.
Protests have been reported in Polisario-run camps in south-western Algeria. The protesters are said to be complaining about lack of compensation for lost income during the lockdown but also about corruption within the Polisario movement.
August 15
Restrictions imposed in 29 of Algeria's 58 wilayas (administrative districts) were eased this week. The ban on travel to and from these areas has been lifted and the night curfew has been shortened by two hours (11pm to 6am instead of 8pm to 5am).
Large mosques (1,000-plus capacity) are being alllowed to open throughout the country from today but only for men, and congregational prayers on Fridays are still banned.
November 1
Algeria's outbreak peaked towards the end of July when more than 600 new infections were being recorded each day. Numbers declined through August and September, reaching a low point of around 134 cases a day in the second week of October, according to the official figures. Since then they have been rising again, averaging 295 new cases a day during the past week.
On October 24 Algeria's APS news agency reported that President Abdelmadjid Tebboune, who is 75, had been advised to spend five days in isolation after "many senior officials" had shown symptoms of Covid-19. He was said to be well and carrying out presidential duties remotely. On October 28 he was transferred to a hospital in Germany for what state TV described as medical checkups. It's unclear whether he has the virus.
The number of tests carried out has not been disclosed but is thought to be low. This may be one reason for the relatively low numbers of recorded infections. However, Algeria has been slower than many countries in easing restrictions – which may be another explanation. A note posted by the US embassy in Algiers on October 23 gives details of the restrictions still in place:
● A night curfew (11pm to 6am) is still in place in 29 of Algeria's 48 provinces, including the capital itself.
● All land borders remain closed and non-cargo transport by air and sea is still suspended, though there are some exceptions for repatriation flights.
● There are various travel restrictions within the country.
● Face masks must be worn in public.
November 18
Update on vaccines: Algeria's health minister told a news conference on November 5: "As soon as it is marketed, Algeria will acquire the vaccine to protect its citizens, whatever the cost."
Algeria doesn't appear to have struck deals with any specific manufacturers but has joined the Covax initiative which aims to provide "equitable access to safe and effective vaccines" worldwide.
February 6, 2021
Update on vaccines: The first consignment of Russia's Sputnik-V vaccine arrived on January 29 and vaccinations began next day in Blida, the original epicentre of Algeria's conoranvirus outbreak.
The Algerian government has said it ordered 500,000 doses from Russia, though reports did not indicate how many were delivered in the first batch.
In addition, Algeria is reported to be seeking supplies of Sinopharm and AstraZeneca vaccines.