Four Arab countries have now declared nationwide curfews in an effort to check the spread of coronavirus.
In Kuwait, a night-time curfew – from 5pm to 4am – came into effect on Sunday. The deputy prime minister said the move was regrettable but had become necessary because people were "failing to comply with the Ministry of Health's instructions to stay indoors".
Violators face up to three years in jail and fines of 10,000 dinars ($32,000). People working in "vital sectors" are exempted and will be issued with special ID cards.
Saudi Arabia has announced a similar curfew – from 7pm to 6am – which will come into effect this evening. As in Kuwait, there are exceptions for "vital activities", which in the Saudi case include allowing muezzins to go to mosques and recite the call to prayer.
The Saudi move came amid growing evidence that large numbers of people have been ignoring the rules for self-isolation and social distancing.
In Jordan, where a round-the-clock curfew enforced by the military began on Saturday morning, more than a thousand violators have been arrested – 392 on Saturday and 693 on Sunday. They could face up to a year in jail.
The Jordan Times quotes media affairs minister Amjad Adaileh as saying the curfew may last for weeks and urging people to get used to "this new lifestyle".
The authorities haven't yet decided how to keep people supplied with food, medicines and other necessities but they are considering home delieveries because "allowing people to leave their homes for set periods of time may result in stampedes and crowding, which would counter the government's preventive measures".
Tunisia has also imposed a night-time curfew which started on Wednesday and runs from 6pm to 6am.
---
Latest updates
On Sunday Iran reported 1,028 new coronavirus cases and a further 129 deaths. This brings the official cumulative totals since the epidemic began to 21,638 cases and 1,685 deaths. The spread of the virus in Iran continues to show signs of levelling off. Although there are daily fluctuations, for the last eight days the number of new cases has remained below the peak of 1,365 reported on 14 March.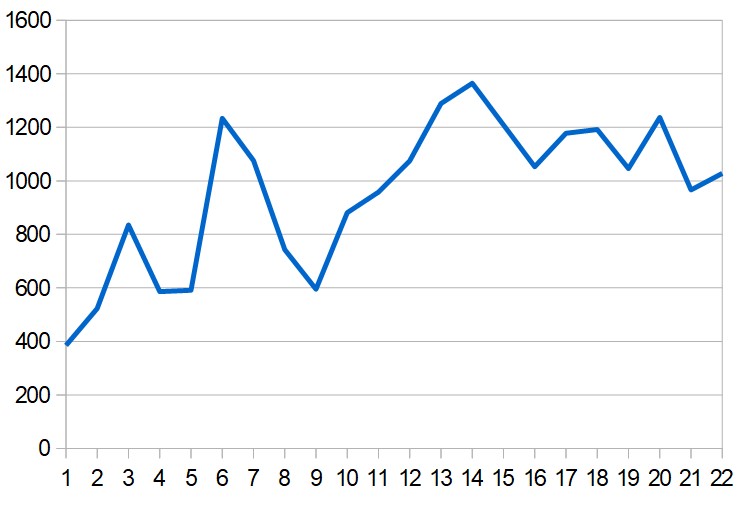 Elsewhere in the Middle East, 640 new cases have been reported since yesterday's update. This is the biggest increase so far and is mainly explained by 289 new cases in Israel where the numbers of people being tested have greatly increased. Saudi Arabia also reported 119 new cases – increasing its cumulative total by 30% in a single day.
Algeria 201 (+62)
Bahrain 334 (+24)
Egypt 327 (+33)
Iraq 233 (+19)
Israel 1,234 (+289)
Jordan 112 (+13)
Kuwait 188 (-)
Lebanon 248 (+18)
Morocco 115 (+19)
Oman 66 (+11)
Palestine 59 (+4)
Qatar 494 (+13)
Saudi Arabia 511 (+119)
Sudan 2 (-)
Syria 1 (+1)
Tunisia 75 (+15)
UAE 153 (-)
TOTAL: 4,353 (+640)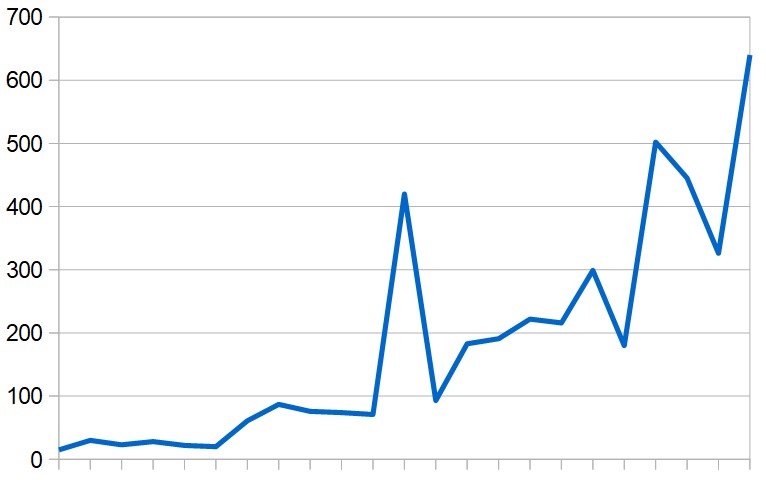 Deaths linked to coronavirus in the Middle East outside Iran now stand at 68 – an increase of 13 on the previous day. Here is the current list:
Algeria 17
Bahrain 2
Egypt 14
Iraq 20
Israel 1
Lebanon 4
Morocco 4
Sudan 1
Tunisia 3
UAE 2
CLICK HERE for previous updates
---
Country-by-country round-up
● Algeria reported 62 new cases – the biggest daily increase so far. A further 340 suspected cases are in hospital awaiting the results of tests.
● Bahrain reported its second coronavirus-linked death – a 51-year-old Bahraini woman who had chronic health problems.
● Israel has confirmed 289 new cases in the last 24 hours, but the health ministry had been predicting a rapid rise because of increased testing. Initially the ministry was testing about 750 people per day but by the weekend this had risen to more than 5,000 and the aim is to increase it to 10,000 per day within the next two weeks.
● Morocco: The authorities are investigating a doctor in Tetouan who tested positive after returning from abroad but resumed medical work instead of staying in quarantine.
● Syria registered its first coronavirus case on Sunday – a person in their twenties who arrived from an unnamed country "where there are infections". The health ministry said the person had not shown symptoms when arriving in Syria but has since tested positive.
* * *
For anyone interested: A spreadsheet documenting the new coronavirus cases reported each day in the Middle East (excluding Iran) can be viewed here.
This work is licensed under a Creative Commons Attribution-NonCommercial 4.0 International Licence.