Country narrative: Tunisia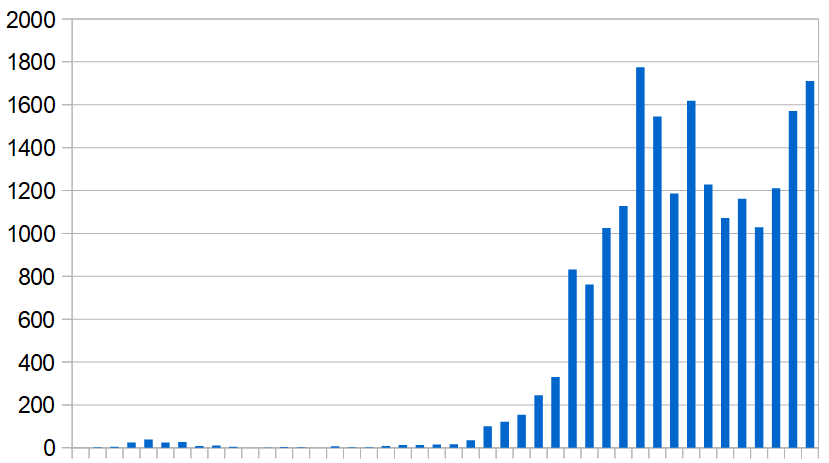 March 3, 2020
Tunisia reported its first case – a 40-year-old Tunisian man who had returned from Italy by boat on February 27.
March 4
The first – and so far only – case is a Tunisian man who arrived from Italy by boat on February 27. It now turns out that the boat was a large one, with 247 passengers and crew who are all "subject to preventive measures and testing". In the seaside resort of Hammamet there are complaints from five people (two of them French) who have reportedly been told to quarantine themselves for two weeks on three small yachts.
March 9
Tunisia reported that a 65-year-old man has become its second coronavirus case. This is causing some alarm because he arrived from Italy two weeks ago, before screening began, so it's possible he has passed the infection to others. He was not quarantined until Saturday.
March 11
Tunisia reported one new case among 44 people who were tested for the virus.
March 13
Tunisia has six new cases – four of them linked to travel in Italy and France. The other two are relatives of a man who travelled to Egypt to watch a football match between Zamalek and a Tunisian team.
March 16
Tunisia reported two new cases – both of whom had returned from France. Of the 20 cases confirmed so far, 11 are said to have been infected abroad.
March 19
Of the 29 confirmed cases, 17 are described as "imported" and 12 as "domestic".
March 20
Tunisia reported its first coronavirus death – a 72-year-old woman with chronic illnesses. She is said to have returned from Turkey recently.
March 24
Fourteen new cases were detected as a result of 126 tests carried out, raising the total to 89 confirmed cases. Nissaf Ben Alaya, director of the National Observatory for New and Emerging Diseases, spoke about problems of non-compliance with the government's restrictions. She urged people not to leave their homes, especially Djerba, La Marsa, Berges du Lac and Soukra, which are considered high-risk areas.
May 12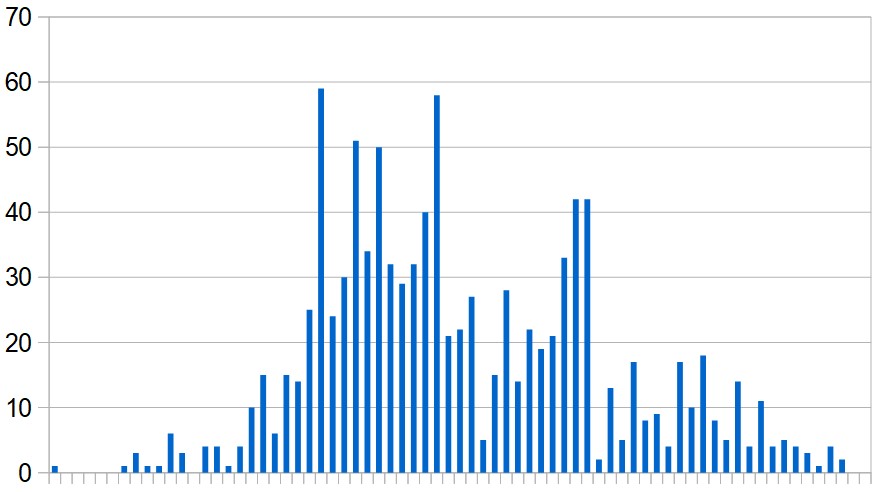 Yesterday, for the first time since March 8, Tunisia reported no new cases of Covid-19. This is just one of several hopeful signs that the virus is receding. Official figures show the recovery rate is now higher than the infection rate, and the number of currently-active cases has more than halved since the beginning of this month.
There's still a chance of the virus surging back as the North African country relaxes its restrictions but so far Tunisia is looking like a success story – a least on the medical front. The economic reckoning is yet to come.
Despite having limited testing capacity, Tunisia benefited by taking preventive action early – thus keeping the number of infections to manageable levels. Only 1,032 cases have been reported since the first one emerged on March 2 (a Tunisian man who had returned from Italy).
By March 16 the number had risen to 20 cases – almost all of them coming from abroad – and Tunisia responded by suspending international flights and closing its land borders. Other measures included closure of schools and mosques and the cancellation of sporting and cultural events.
This was followed, on March 18, by the start of a daily 6pm to 6am curfew. It might have seemed like a premature decision at the time, since there were still only 25 known cases, but it clearly paid off.
Tunisia has also made some use of hotels for quarantine purposes – which seems to be more effective than relying on people to isolate themselves at home.
Even if Tunisia manages to keep the virus contained there will still be some daunting economic questions to be grappled with. Fairouz ben Salah discusses these in a recent article for Al-Monitor.
"In a bid to soften the economic repercussions of the lockdown and protect jobs, the government vowed financial assistance to low-income families, food distribution to less-privileged areas and incentives to help businesses," Ben Salah writes.
But the government's limited resources mean the amounts are meagre and do nothing to help the vast numbers who work in the informal economy. The result could be social unrest.
So long as the virus continues to circulate – whether inside Tunisia or internationally – there's also little hope of reviving the economically important tourist industry.
May 23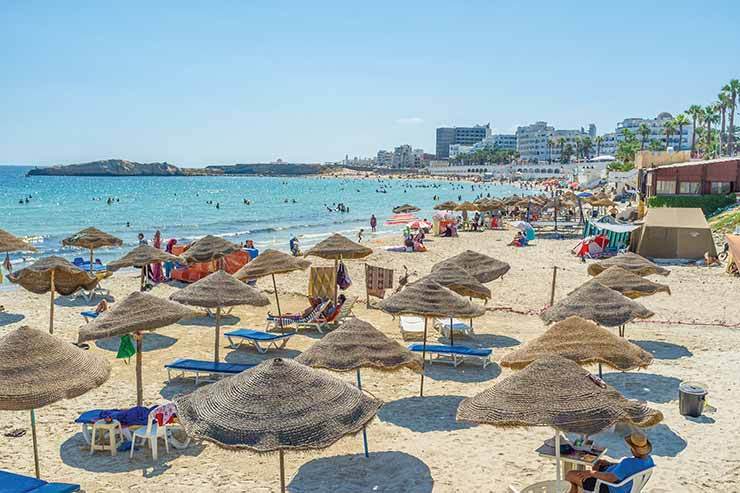 Yesterday Tunisia's health ministry announced the results of 1,320 Covid-19 tests. Only six were positive and of those, only two were new cases. The other four were re-tests of people previously diagnosed with the virus.
"Our country has succeeded in confronting the COVID-19 pandemic," prime minister Elyes Fakhfakh said in a televised speech on Wednesday – and from a medical viewpoint he's probably right.
Tunisia has recorded only 1,048 cases since the outbreak began. Today, new cases are few and recoveries (plus a relatively small number of deaths) mean there are just 98 people currently known to be infected.
The country is now about to enter the second stage in a three-stage lifting of restrictions:
● Nurseries and kindergartens will reopen on Tuesday, though at 50% capacity.
● Secondary school students preparing for baccalaureate exams will resume their classes on Thursday, though the schools will not fully reopen until September.
● Schools will stay closed until September with only baccalaureate preparation classes resuming for a month at the end of May.
● Universities will resume on June 8. Staff and students from areas where this is a "risk" of infection will be tested for the virus.
● Mosques, hotels, restaurants, cafes, museums and cultural centres will reopen on June 4, subject to various safety measures.
● Travel between different provinces, which is currently forbidden, will be allowed from June 14.
Looking further ahead, the government is reportedly working on plans to revive the economy which will be presented to parliament at the end of June. How this will be achieved remains to be seen. The prime minister has specifically said he doesn't want the country to get deeper into debt.
One measure already announced is a loan scheme for the tourism industry which is economically important and has been badly hit.
Hotels that have suffered losses are being offered seven-year loans at 2% interest, with no repayments during the first two years. The scheme is focused on supporting smaller hotels with one to three stars. Five-star hotels are excluded, and those with four stars will be considered "case by case".
While this may help to keep the tourism infrastructure intact there may be a long wait before foreign tourists return in significant numbers.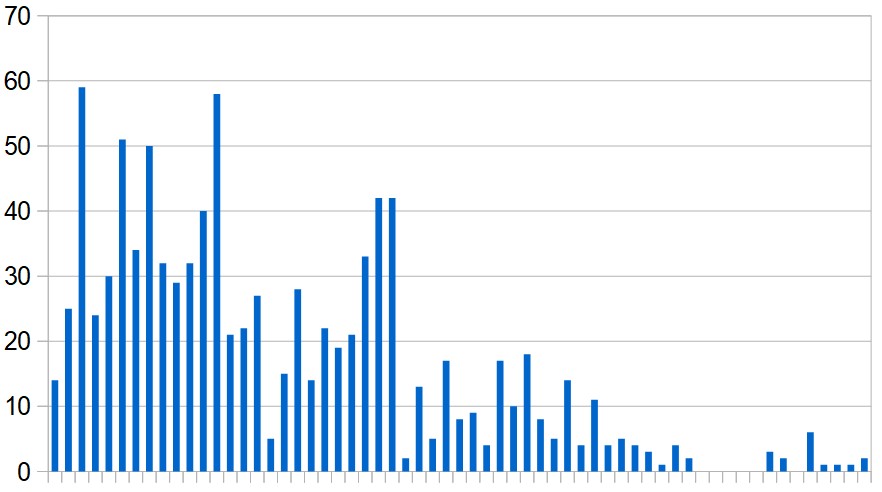 With no new cases reported during the last seven days, Tunisia looks like becoming the first Arab country to emerge from the coronavirus pandemic. This is good news for the tourism industry, raising hopes that European holidaymakers will soon be flocking once again to its beaches.
By global standards, Tunisia's Covid-19 outbreak was never very large, with only 1,087 confirmed cases. As a result of people recovering, plus 49 deaths, the number of those still infected has dwindled to 55.
On the island of Djerba – a popular tourist spot – more than a month has elapsed without any new infections coming to light. A mass screening programme is now under way to check for previously undetected cases and so far none have been found.
Encouraged by all these signs, the government has announced that Tunisia will reopen its borders from June 27 and has begun promoting the country as a "safe" holiday destination. Last year – before the virus arrived – it attracted more than nine million visitors.
There's no talk of tourists being automatically quarantined but they will have temperatures checked on arrival in the country and again on arrival at hotels.
It may not be much fun, though. Social distancing will be enforced on beaches and face masks will be compulsory at indoor tourist attractions, such as museums.
Currently, there's very little chance of foreign tourists being infected by Tunisians but many of the tourists will be coming from places where the virus is still active – and it was tourism that brought Covid-19 to Tunisia in the first place.Various risk-reduction measures have been adopted for hotels, including 50% occupancy, which are said to be in line with World Health Organisation guidelines.
It's hard to imagine that during the course of the summer no infected tourists will slip through. The precautions that have been announced should help to prevent any new outbreaks from spreading very far but they can't guarantee there will be no disrupted holidays.
Tunisia, which recently had more than a week without any new cases, has reported a further nine over the last few days. One was a contact of someone previously diagnosed and the other eight were among returnees to the country who had been quarantined since arriving.
June 27
This morning Tunisia reopened its land, sea and air borders after a closure of more than three months. It is seeking to revive the economically important tourism industry and has begun promoting the country as a "safe" holiday destination.
There is currently little or no transmission of the virus inside Tunisia. The seven-day average of new cases has been in single figures every day since May 4.
July 18
There is currently little transmission of the virus inside Tunisia. New cases during the past week averaged 14 a day.
July 25
There is currently little transmission of the virus inside Tunisia. New cases during the past week averaged 13 a day.
August 1
At present there is little transmission of the virus inside Tunisia. New cases during the past week averaged 16 a day.
Tunisia has been trying to encourage tourists to return but on Thursday it removed Spain from its "green" list. This means travellers from Spain can no longer enter the country without undergoing quarantine.
August 8
At present there is little transmission of the virus inside Tunisia. The head of the National Observatory of New and Emerging Diseases told a news conference this week that since Tunisia reopened its borders on June 27 a total of 346 Covid-19 cases have been detected among people entering the country, while only 66 local cases have been recorded.
New cases during the past week (including arrivals from abroad) averaged 17 a day.
August 15
New cases this week averaged 35 a day – twice as many as in the previous week.
Until recently most infections were among people arriving from abroad and there was little transmission of the virus inside the country. That now seems to be changing. Of the 56 cases recorded on Friday, only seven were imported – all the rest occurred locally. Gabes province is reported to be a particular hotspot.
August 22
New cases this week averaged 101 a day, compared with only 35 in the previous week.
On Wednesday the authorities announced that people arriving in the country must present evidence of a negative RT-PCR test result. This applies to everyone, including those arriving from low-risk countries.
A controversial LGBT+ film festival, originally due to have been held in Tunis last March, has now been postponed for a second time because of the Covid-19 outbreak. The first such festival was held in secret in 2018 because of local opposition.
November 1
New infections have been increasing again since August and during the past week they averaged 1,784 a day.
November 18
Update on vaccines: In August, Tunisia's Pasteur Institute announced that it is developing a DNA-based vaccine which it expects to be ready for use "early" next year.
Tunisia is also eligible to receive vaccines through Covax, with Covax covering at least part of the cost.
February 6, 2021
Update on vaccines: A surge of new infections in January put Tunisia's health services under great strain, making the need for vaccines more urgent. As a result, Tunisia (along with Palestine) will be first in the Middle East and North Africa to receive free vaccines through Covax. Tunisia expects to receive four million doses, starting this month.
Neigbouring Algeria has reportedly offered to share some of its supplies of Russia's Sputnik-V vaccine with Tunisia. Apparently in anticipation of that, Tunisia has now approved Sputnik-V for use.
In August, Tunisia's Pasteur Institute announced that it was developing a DNA-based vaccine which it expected to be ready for use "early" in 2021.