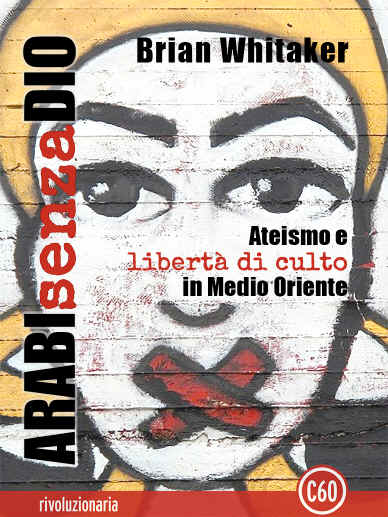 Di Brian Whitaker. Traduzione di Giordano Vintaloro.
€ 6,99
Acquista il file EPUB se hai un iPad/iPhone, un tablet/smartphone Android, tolino o Kobo reader.
Hai un Kindle? Acquista la versione MOBI.
Scarica gratis il primo capitolo
ISBN 978-88-940589-2-5 Dimensione file EPUB: 1,5 MB
Click here for English edition
Nei Paesi arabi, dichiarare apertamente di non credere in Dio significa compiere un atto clamoroso e talvolta pericoloso, a volte equivale a firmare la propria condanna a morte. Eppure sempre più persone, incoraggiate dalle rivolte delle Primavere arabe e dalla diffusione del social media, trovano la forza di esprimere le loro idee.
In questo libro vengono descritte le mille sfaccettature del problema della fede e il dibattito in corso nei paesi mediorientali secondo il metodo dell'inchiesta giornalistica e dello studio sociale. I grandi fermenti e la diversità di vedute pongono governi e autorità religiose di fronte a una sfida alla loro autorità divina che non si può più semplicemente reprimere o ignorare. Il Medio Oriente di oggi non parla più con una sola voce: in questo libro, Whitaker non commenta sul "sentito dire" ma raccoglie testimonianze dirette di chi combatte quotidianamente per la libertà di culto in quelle zone, tracciando un ritratto sorprendente dell'ateismo e del non credere dagli albori dell'Islam ai giorni nostri.
Brian Whitaker è un giornalista inglese. Dal 1999 al 2006 è stato caporedattore per il Medio Oriente del Guardian, in seguito è diventato freelance e ha continuato a scrivere sui temi mediorientali per la rubrica Comment is Free. Ha pubblicato What's Really Wrong with the Middle East (Cosa c'è davvero che non va in Medio Oriente, 2009) e L'amore che non si può dire. Storie mediorientali di ragazzi e ragazze (2008). Dal 1998 cura il suo blog al-bab.com sulla società e la politica araba.
"Arabi senza Dio. Ateismo e libertà di culto in Medio Oriente" di Brian Whitaker
di Beatrice Tauro, Arab Press, il 20 gennaio 2016
Pietra dopo pietra, voce dopo voce per demolire i luoghi comuni: "Arabi senza Dio" di Brian Whitaker
di Mattia Nesto, Critica Letteraria 23.7.15
Un penny per gli arabi senza dio
MicroMega, 23 febbraio 2015
Arabi senza Dio. Ateismo e libertà di culto in Medio Oriente, di Brian Whitaker
Letteratour
"Arabs without God", un progetto italiano per conoscere il mondo arabo
Crudiezine, 14 febbraio 2015