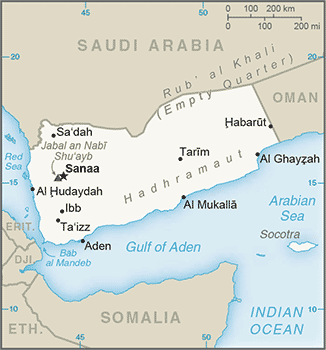 News reports and articles
Brian Whitaker's blog posts and other articles about Yemen
Online news sources for Yemen
Latest news about Yemen
A compilation from multiple sources
Articles about Yemen from Middle East International (1993-2004)
---
Special features
Saudi Arabia and Yemen
History of a tangled relationship
The Houthi rebellion
How it began, and why
Abu Hamza and the Islamic Army
Bomb plot and kidnapping: a story of Yemen and jihadists from Britain
Bombing of the USS Cole
Contemporaneous reports of the attack on an American warship in Aden harbour, October 2000
The fall of President Saleh
Contemporaneous blog posts documenting the 2011-2012 popular uprising in Yemen
The Birth of Modern Yemen
The unification of north and south Yemen, and its aftermath (1990-1994)
---
Basic information
CIA World Factbook – Yemen
BBC country profile – Yemen
Yemen chronology
Key events since the 16th century
Maps of Yemen
(University of Texas)
Images of Yemen
Large collection of colour photographs
Currency converter
Yemeni riyal (QAR)
National anthem
Audio and lyrics and sheet music

More about the national flag of Yemen
Plus historical flags of north and south
Documents
Historical and political texts relating to Yemen
Other Yemen pages: Architecture, Environment, Food & drink, History, Music & poetry, Politics, Qat, Society
---
Yemen-related organisations
British-Yemeni Society
Latest issue of the society's journal is online now.
American Institute for Yemeni Studies
Numerous articles and book reviews
Friends of Hadhramaut
British charity promoting development in Hadhramaut.
Yemeni Community Association
Sandwell, West Midlands
---
Travel
US State Department
Consular information and travel advice
British Foreign Office
Travel advice
Lonely Planet
Online tourist guide to Yemen
Electricity, plugs and sockets
Yemenia
The national airline
Tourism in Yemen: a view
by Jack Jackson (British-Yemeni Society Journal, 1993)
Tourism statistics 1988-1997
---
Economy
World Bank: Yemen
Comprehensive economic data
Water and agriculture in Yemen
FAO country profile
USAID
Overview of American programmes in Yemen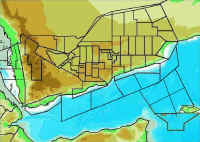 Oil concessions in Yemen
Map with details of blocks and companies, plus overview. (Source: PEPA). See also earlier map (circa 1997)
Oil and gas in the Yemen
by Michael Whittall (British-Yemeni Society Journal, 1995)
The development of the Port of Aden
by Capt. Roy Facey (British-Yemeni Society Journal, November 1998)
Key issues in the Yemeni economy
by Gerd Nonneman, Lancaster University
Reformative process in the market and state in Yemen
by Prof Mohammed al-Maitami
Efforts of Economic Program and structural adjustment
by Prof Mohammed al-Maitami
The Bank Notes of Yemen
Extracts from an illustrated book by Peter Symes, Murray Hanewich and Keith Street - the definitive work on this subject.
---
Why Yemen Matters: A Society in Transition
by Helen Lackner, 2014. See review. Available from amazon.com or amazon.co.uk
The Last Refuge: Yemen, al-Qaeda, and America's War in Arabia
by Gregory D. Johnsen, 2014. Available from amazon.com or amazon.co.uk
Yemen: The Unknown Arabia
by Tim Mackintosh-Smith, 2014. Available from amazon.com or amazon.co.uk
Yemen: Dancing on the Heads of Snakes
by Victoria Clark, 2010. Reviews: The Guardian; The Economist. Available from amazon.com or amazon.co.uk
Yemen, A Photographic Journey
by Mahmoud Al-Shaibani and Victor Henderson, 2016. Available from amazon.com or amazon.co.uk
Yemen Chronicle: An Anthropology of War and Mediation
by Steven C. Caton, 2006. Available from amazon.com or amazon.co.uk
Arabia Incognita: Dispatches from Yemen and the Gulf
by MERIP and Sheila Carapico, 2016. Available from amazon.com or amazon.co.uk
Don't Be Afraid of the Bullets: An Accidental War Correspondent in Yemen
by Laura Kasinof, 2014. Available from amazon.com or amazon.co.uk
Yemen: Revolution, Civil War and Unification
by Uzi Rabi, 2015. Available from amazon.com or amazon.co.uk
Yemen Divided: The Story of a Failed State in South Arabia
by Noel Brehony, 2013. Available from amazon.com or amazon.co.uk
Salmon Fishing in the Yemen
A novel by Paul Torday and Susan Howe, 2008. Available from amazon.com or amazon.co.uk
Eating the Flowers of Paradise: A Journey Through the Drug Fields of Ethiopia and Yemen
Kevin Rushby, 1998. See review. Available from amazon.com or amazon.co.uk
A History of Modern Yemen
Paul Dresch, 2000. See review. Available from amazon.com or amazon.co.uk
Motoring with Mohammed
Eric Hansen, 1992. Amusing tale of a bemused American's hunt for buried treasure in Yemen. Available from amazon.com or amazon.co.uk
The Southern Gates of Arabia: A Journey in the Hadhramaut
Freya Stark. A classic travelogue from 1934. Available from amazon.com or amazon.co.uk
Civil Society in Yemen
Sheila Carapico, 1998. See review. Available from amazon.com or amazon.co.uk