Blog post, 11 September 2017: The controversial and much-heralded "Qatari opposition" conference due to be held in London on Thursday will be attended by "hundreds of world-renowned political figures, policy makers, academics, commentators and Qataris", according to a press release. However, the venue, conference programme and names of speakers are all a closely-guarded secret and the organisers say they will not be revealed until the day before the event.
The press release also says discussion at the conference will focus on "democracy, human rights, press freedom and counter-terrorism in Qatar" but there is reason to be doubtful about this.
First, Saudi Arabia and the United Arab Emirates have been actively promoting the conference – and neither country has shown much enthusiasm for democracy, human rights and free speech in the past. Normally they would be horrified by such stuff, not encouraging it.
Secondly, there is the context. For the last three months a ferocious war of words has been raging in the Gulf, aimed mainly at bringing Qatar's foreign policies more into line with those of Saudi Arabia and the Emirates. The London conference can be seen as one way of stepping up pressure on Qatar's ruler to comply.
Thirdly, it's not a new tactic. The same thing happened during a very similar Gulf squabble with Qatar in 2014.
The public face of the London conference is Khalid al-Hail, a Qatari exile who is variously described as a businessman, philanthropist, reformist and "leader" of Qatar's political opposition.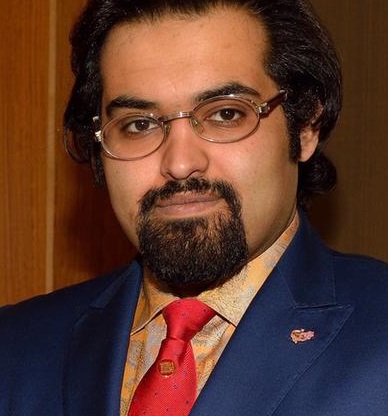 Hail previously announced himself as leader of the opposition in June 2014, surfacing in Cairo to launch the "Youth Movement for the Rescue of Qatar". Claiming it had 32,000 supporters in Qatar, he said its work would "not be restricted to holding press conferences". A few articles attacking Qatar later appeared on Hail's website but the organisation seems to have quickly fizzled out.
Hail's 2014 announcement was reported by Anadolu, Turkey's state-run news agency, which commented:
"Launching the new opposition movement from Cairo raised many questions, especially given the fact that few had ever heard about it before."
As with this week's "opposition" conference in London, Hail's "Rescue of Qatar" movement was born in the midst of a Gulf diplomatic crisis. In March 2014, Saudi Arabia, the UAE and Bahrain withdrew their ambassadors from Doha in a dispute that was partly about Qatar's support for the Muslim Brotherhood. It wasn't until nine months later that the issue was resolved and the ambassadors returned. 
At the same time, relations between Egypt and Qatar had also reached a low ebb – particularly over the Muslim Brotherhood and the imprisonment of three al-Jazeera journalists – and this probably explains why Hail chose to launch his Qatari opposition movement in Egypt.
Ousting the emir?
Although themes of democracy and human rights have been prominent in the marketing of this week's London conference, its actual title is "Qatar, Global Security and Stability" – suggesting a focus that could be more to the liking of Gulf autocrats. 
In this context, though, "stability" seems to mean instability in Qatar. The conference website has a "publications" section containing only one document: a 27-page paper "exploring the possible outcomes of the Qatari leadership crisis".
Of the three possibilities it considers, one sees "economic and political repercussions" forcing Qatar to compromise with its neighbours. The other two envisage the emir being ousted – either by disgruntled members of his own family (with support from Qatar's armed forces), or as a result of military intervention by "regional states". 
All three scenarious imply that one way or another Qatar's foreign relations will shift in a Saudi/Emirati direction (it may not actually do so) but none of them suggest democratic reform inside Qatar is a likely result. 
The risk for the Saudis and Emiratis, having given the conference a big build-up, is that it could be a flop. Unless it can provide evidence of serious opposition to the emir within Qatar it's liable to be dismissed as just another episode in the Gulf's fantasy politics.
Meanwhile, Qatar's own actions have given the conference an accidental boost. Instead of trying to appear composed and unruffled by Hail's activities, it went on the attack.
The attack was channelled through the London Centre for Public Affairs (LCPA) – a strange and previously unheard-of organisation using a fake address and phone number. Though posing as a PR/consultancy firm, LCPA is clearly a propaganda arm of the Qatari government: al-Jazeera and other Qatar-related media have been quoting its statements seriously.

Last week, LCPA wrote to British members of parliament expressing "concern" about the conference and suggesting it could have a "negative" effect on Qatari investment in Britain.
It also sent a letter to the House of Commons Foreign Affairs Committee demanding the suspension or expulsion of one of its members, Daniel Kawczynski, a notoriously pro-Saudi MP who had expressed support for the conference.
Aside from the comical nature of LCPA, the main effect of its crude lobbying tactics was to make people wonder why Qatar was so nervous about the conference.
Further to my blog post last week, LCPA has now removed the bogus "staff" photos from its website. LCPA initially claimed its London office was at Marble Arch Place, which turned out to be a construction site. The website now says Marble Arch Place was its "old address" but it doesn't say what the new one is.
---
Blog post, 13 September 2017: Despite having assistance from two PR firms – one headed by an American who used to organise events at the White House – the controversial and much-heralded "Qatar opposition" conference due to be held in London tomorrow is looking rather shambolic.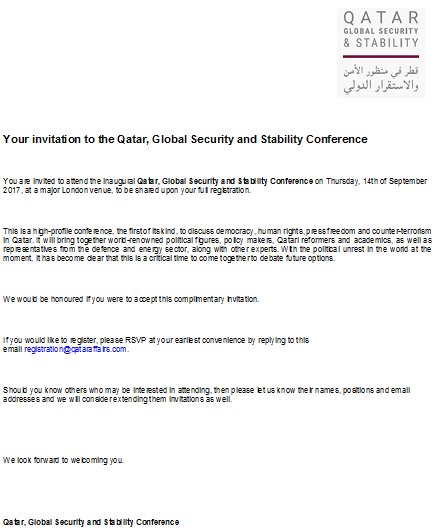 After sending out vaguely-worded "complimentary" invitations last week, the organisers have now provided a few more details of the programme. 
There is still no word about the line-up of speakers – which is an odd way to run a conference, especially one that is supposedly going to be attended by "hundreds of world-renowned political figures, policy makers, academics, commentators and Qataris".
Unhelpfully, yesterday's press release also omitted to mention what time the event will start, though a countdown clock on the conference website suggests it will be held under cover of darkness, starting at 00.20 on Thursday morning.
There was confusing information too about the venue, which the press release gave as "the Intercontinental Hotel at the 02 Centre in London". Visiting Qataris who look up "O2 centre" on Google are liable to find themselves at a shopping mall on the Finchley Road in North London which has no Intercontinental Hotel nearby. They should aim instead for the O2 arena in Greenwich (just next to the cross-Thames cable car known as the Emirates Air Line).
The conference, which is being held in the midst of a vicious political political spat among Gulf states, was initially billed as a discussion of "democracy, human rights, press freedom and counter-terrorism in Qatar". The latest form of words is that it will "highlight Qatar's sponsorship of Islamic terrorism, human rights abuses and use of soft power".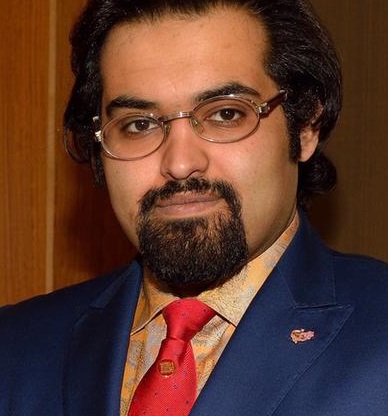 The public face of the conference is Khalid al-Hail, a Qatari exile who has proclaimed himself leader of the country's opposition, and there had been some expectations that tomorrow's event would signal the birth of a reform-and-democracy movement in Qatar. Hail made a similar attempt to launch a Qatari opposition movement during a similar Gulf quarrel in 2014.
However, it looks as if the actual conference will be less about developing internal opposition in Qatar than stirring up hostility towards Qatar internationally. According to the programme there will be five panel discussions – all of them reflecting familiar Saudi/Emirati talking points in their quarrel with Qatar:
1. Qatar: Political Islam and terrorist support
Addressing the contradictory stand that Qatar has taken in opposition to other Gulf states in its support of Political Islam and terrorist groups.

2. Qatar and Iran's Foreign Policy: A Source for Regional Instability
Focussing on how Qatar and Iran's foreign policy has contributed to the general instability and insecurity that now characterises the regions of the Middle East and North Africa. It will look at the extent to which Qatar and Iran, in pursuit of their own self-interest, have had a detrimental effect on stability in the region.

3. A forbidden debate: Qatar's aspirations for global prestige, democracy and human rights
This panel will look at Qatar's abuses of human rights in the context of the 2022 Football World Cup as well as examining its breaking of international human rights laws.

4. Al-Jazeera: Free Press vs. Voice of terror?
In the early days of Al-Jazeera it was considered a beacon of free press and a challenge to authoritarian Middle East regimes. Recent coverage shows a more biased coverage synergetic to Qatar's foreign policy. Using a number of exclusive sources, this panel will examine the spectrum of thought about Al-Jazeera.

5. A Vicious Circle: Economy, Geopolitics and Global Energy Security
Addressing some of the chief characteristics of Qatari foreign policy including its diplomatic ambivalence, its quest for security and subsequently regional hegemony and the manner in which Doha has used its economic largesse and natural gas reservoirs to carve itself a larger role in the region, often to the detriment of its neighbours and allies.
Meanwhile, an email written in extremely bad English and apparently addressed to African journalists and civil society members is circulating on the internet. Purportedly sent by a journalists' organisation in the UAE, if offers expenses-paid trips to attend the London conference. Given the amount of fakery, disinformation and subterfuge that has so far characterised the Gulf quarrel, it should probably be viewed with extreme caution.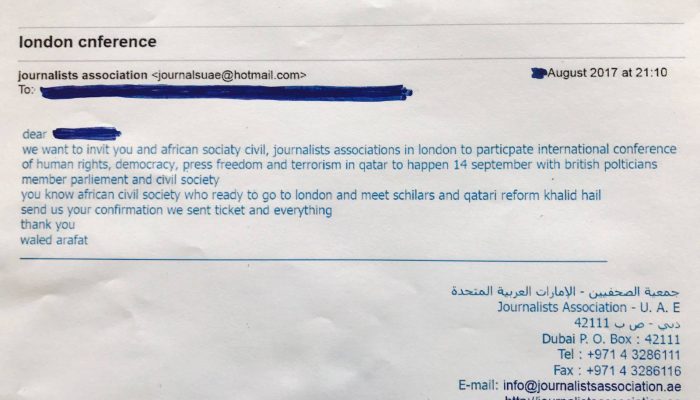 More Qatari machinations
There are also more strange goings-on on the Qatari side. Statements attributed to the London Centre for Public Affairs (LCPA), a bogus PR/consultancy firm which has been attacking tomorrow's conference, continue to be quoted in Qatari media as if it were a genuine organisation.
Last week, a news item published only in Arabic on al-Jazeera's website quoted LCPA as saying the conference was being funded by the UAE and organised by "pro-Israel advertising companies and the Zionist lobby in America". However, there was no trace of this statement among the press releases on LCPA's website.
One LCPA press release, issued last week, urged British journalists to be "vigilant" and proposed five questions they should ask about the conference:
1. Which PR companies organise this event?

2. Why there is no paperwork and agenda for the event?

3. Why no names for speakers were announced, despite the claim of organisers that hundreds are due to attend and dozens to speak?

4. Who are the Qatari opposition figures? When did they become opposition? Who funds them?

5. Why the UAE ministry of information is securing flights and accommodation for participants? 
(For the record, the UAE does not have a ministry of information.)
Strangely, this has been reported in Qatari media (here and here) as a list of SIX questions. According to them the sixth question is:
6. Who is Khalid al Hail? What's his history? Is there any Interpol warrant against him? Has he been criminally convicted before in Qatar for financial crimes?
This looks like a deliberate smear. Neither of the Qatari reports gives any information to suggest it is an appropriate question for journalists to ask.
---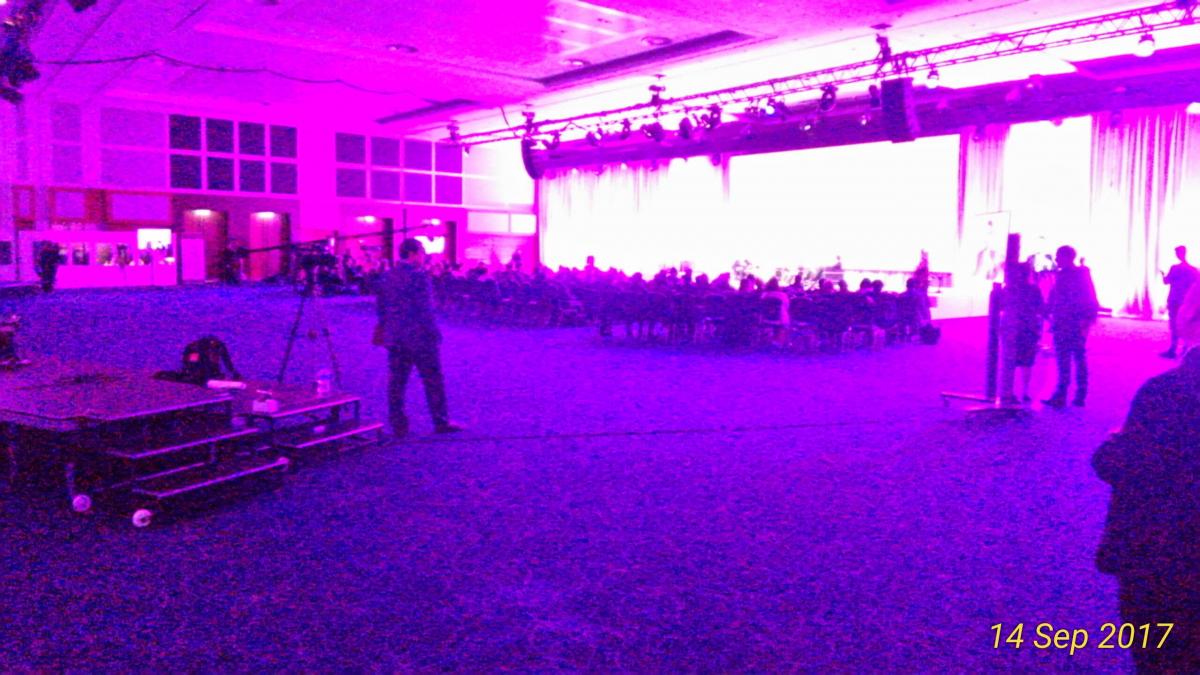 Blog post, 15 September 2017: The London conference on Qatar, which has caused much hullabaloo over the last couple of weeks, took place yesterday – attended by numerous video cameras and a rather sparse audience of around 150 people, many of whom had badges saying "staff" or "press".
The controversial event had been dubbed as an "anti-Qatar" conference and as a "Qatari opposition" conference but on both counts it was something of a let-down. Although speakers repeatedly criticised Qatar – which after all was the main intention – the overall tone was far from strident. As for the Qatari "opposition", only two of them showed a public face.
Khalid al-Hail, the Qatari exile who had not only hired a ballroom for the conference and bathed it in eery purple light to match Qatar's flag but also employed dozens of helpers, a team of security men, three red-coated toastmasters and two PR firms, and provided everyone with a free lunch and a bulky dossier about Qatar – all of which he claims to be paying for out of his own pocket – may be wondering if it was worth the money. Likewise, the Qatari government ought to be wondering if it really needed to kick up such a fuss about the conference beforehand.
For Qatar's opponents, persuading the world that the "crisis" over Qatar is more than just a feud among the Gulf's royal families is not an easy task and, if anything, yesterday's conference brought the difficulties into sharper focus.
The biggest problem is that most of the accusations levelled against Qatar by Gulf states – lack of democracy, abuse of human rights, support for terrorism, etc – can also be levelled against its accusers, in some cases with more justification.
This became apparent with the very first speech – from Thomas Mace-Archer-Mills of the British Monarchist Society. Mr Mace-Archer-Mills is a big fan of monarchies, but he prefers the constitutional kind, with elections and so on. "Democracy as we know it in the west is not happening in the Middle East in Qatar," he said. "The reason to have a monarch is to ensure that the public has a voice, that democracy reigns supreme – and that only happens when a parliament is given a proper seat at the table."
The problem here is that the more Qatar is criticised for having autocratic rule, the more people are likely to ask why, if Qatar needs democracy, its main foes in the region, Saudi Arabia and the UAE, don't need democracy too.
The same can be said of human rights and free speech. Other speakers (who in line with Gulf tradition were all male) criticised Qatar for its ill-treatment of dissidents and migrant workers – charges which apply throughout the Gulf.
Mohamed Fahmy, a former al-Jazeera journalist, complained that the Qatari TV station is manipulated by the emir and his henchmen, as if the rulers of Saudi Arabia or the Emirates would never even contemplate doing such a thing.
On terrorism too, it's difficult to single out Qatar as uniquely bad. James Rubin, formerly of the US State Department, commented:
"You ask the average American, for example, and they say terrorism is supported by all those Gulf governments, and they don't make the distinction between private citizens in Saudi Arabia, maybe funnelling money to the wrong people, and the government of Qatar which may be funnelling money to the wrong people."
Lord "Paddy" Ashdown (a Liberal Democrat peer) talked of a report on Saudi funding of terrorism in Britain which the British government compiled but then suppressed.
Ashdown saw an "odd contradiction" in this. "On one hand we believe we are in a partnership with Saudi Arabia and with Qatar and the other Gulf states in fighting terrorism but on the other we know that they are funding terrorism in certain areas." The usual get-out is to claim the funding comes from businessmen, not the government, but Ashdown asked: "In a nation like Saudi Arabia do you really believe that the businessmen would be able to fund terrorist organisations if the government did not want that to happen?"
Presumably these were not the kind of views the conference organisers had been hoping to hear.
Chairing a panel discussion, Rubin wondered where to draw the line on a broad spectrum that includes groups which were once considered terrorist but are now accepted (such as the PLO), the Muslim Brotherhood which governed Egypt for a while, political groups that may have a terrorist wing, and groups like al-Qaeda whose main business is terrorism: "Clearly the government of Qatar did support Hamas and the Muslim Brotherhood but sometimes people lump all this stuff together."
Charles "Chuck" Wald, a retired American general, suggested it "boils down to a fair distinction between what is acceptable political governance and what isn't. What isn't acceptable is what we would describe as terrorism."
What to do about Qatar?
But if Qatar is deemed guilty as charged, what should be done about it? Saudi Arabia and the UAE, along with Bahrain and Egypt, have all ostracised Qatar and want other countries to do the same. At yesterday's conference there didn't seem to be much appetite for that, or for the hardline approach adopted by the Saudis, Emiratis and their allies in the ultimatum issued last June.
On the question of how to respond to governments that allow businessmen to sponsor terrorism, British Conservative MP Daniel Kawcynksi brought up the interesting example of the United States in the 1980s. Margaret Thatcher, he said, had been lobbying Ronald Reagan to prevent businessmen in Boston from giving money to the IRA thinking that these were freedom fighters seeking to free Ireland.
"We, in the United Kingdom, who were at the [receiving] end of the bombing campaign did not consider them as freedom fighters. We considered them as terrorists, and it was that partnership between Margaret Thatcher and Ronald Reagan that actually managed to be the prelude to the peace process."
Ashdown, who said the balance should always be in favour of dialogue, added:
"Just because a government does one or two things that you do not like does not mean that it's a government you cannot speak to.

"The United States' record on handling some of the IRA funding is a pretty spotty one. We do not say 'We're never going to speak to the United States government because they look as though they are funding terrorism'.

"That's also true of the Muslim Brotherhood, it's also true of Hamas. If they have the democratic support of people in their own community you cannot say 'We are never going to talk to you' ... Taking a black and white position on this isn't a solution."
General Wald chipped in: "There needs to be a consequence for bad behaviour but it doesn't mean you don't have a dialogue."
Unexpected sympathy for Qatar – from Israel
Surprisingly, the contribution that seemed most supportive towards Qatar came from an Israeli, Brigadier General Shlomo Brom.
Describing Qatar as "a frenemy" of Israel, he said the relationship "like most things in the Middle East, is complicated and full of contradictions" but Qatar always supported the peace process. It was one of the first Arab countries to establish a direct relationship with Israel in the 1990s and there was "a kind of Israeli office" (a pseudo-embassy) in Qatar for a number of years.
Asked if the two countries had been sharing intelligence, he replied: "Well, those kinds of things are not for [public] consumption" but he assumed they would have shared "information that deals with our shared interests".
Following the outbreak of the Arab Spring, Qatar's relations with Israel had taken a downturn, mainly over its support for political Islam.
"I don't think Qatar is directly supporting terrorism," Brom said. "But if you give money to Hamas for other purposes it means Hamas has more resources to support its terrorist and military activity."
Even so, he saw two reasons why Qatar is still "useful for Israel":
"First, sometimes it is convenient that you have a partner that talks with everyone. We don't have direct dialogue with Hamas, for example, but sometimes we need to exchange views with Hamas on things like exchanges of prisoners.

"The other issue is that the terrible situation in the Gaza strip doesn't serve the purposes of Israel. Actually, it is a threat to Israel. If the Gaza strip explodes it will be turned at Israel, not at Egypt or any other actor. So our interest is to support the reconstruction of the Gaza strip and to prevent a humanitarian disaster. So far, Qatar was the most credible partner in this area."
For those reasons he was unhappy about recent attempts by the UAE and Egypt to push out Qatar from involvement in Gaza and try to replace it. "I don't know how much it will be successful," he said. "Presently we are feeling quite dependent on Qatar when it concerns financing the reconstruction of Gaza."
Brom saw Qatar's behaviour as driven partly by survival – "It's a small country in the Gulf surrounded by much larger threatening countries" – and partly by ambition.
"From our point of view we can understand the survival part, and even support it. When it comes to ambition or towards the area called 'trying to punch above your size', that is a problem. Then you are becoming a juggler and juggling too many balls at the same time, and some of them fall."
He continued:
"The current trend, which is accelerated by the crisis between Qatar and the other Gulf states is pushing Qatar more and more away from cooperation ... towards two other actors with whom we have a problem. One of them is Iran and the other one is Erdogan's Turkey. That, I assume, will push Qatar away from Israel even further.

"I can see a way out [of the current situation] ... but Saudi Arabia and its allies have to give up demands that Qatar cannot accept. It's difficult for me to foresee a situation in which Qatar will give up al-Jazeera. They can ask for some modifications in the way that al-Jazeera is operating, but not for closing it.

"If the parties reach this kind of compromise agreement I think it will be possible to draw Qatar from its present location to a more reasonable place in the middle. Although I am Israeli I don't ask Qatar to give up completely its relationship with Iran. It's a matter of survival – they have a shared gas field which is the source of most of the income of Qatar."
Other speakers at the conference were Roger Evans, Iain Duncan Smith, Dov Zakheim, Alan Mendoza and Bill Richardson. John Simpson, the veteran BBC journalist, interviewed Mohamed Fahmy about his experiences working for al-Jazeera.
---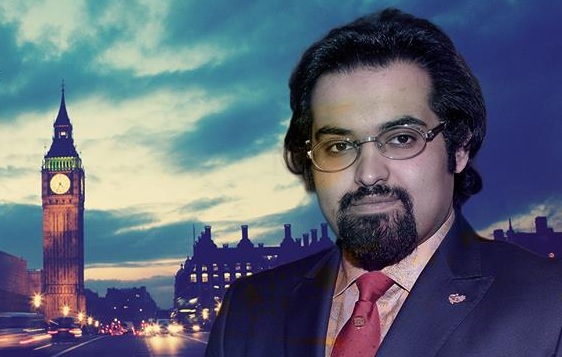 Blog post, 17 October 2017: Khalid al-Hail, a 29-year-old Qatari living in exile in London, is a man with grand ideas. People address him as "Sheikh Khalid", though on Facebook he prefers to call himself "His Excellency".
Variously described as a businessman, philanthropist and reformist, al-Hail is best known as the self-appointed leader of "the Qatari opposition". His demands for the current emir to be replaced have found favour in Saudi Arabia and the UAE (both of which are pursuing their own quarrels with the emir) but in Qatar itself there is scant evidence of support for al-Hail or his opposition movement.
Meanwhile, a hugely expensive "Qatar opposition" conference hosted by al-Hail in London last month – which had been billed as bringing together "hundreds of world-renowned political figures, policy makers, academics, commentators and Qataris" – was sparsely attended.
Since moving to Britain a couple of years ago, "His Excellency Sheikh Khalid" has continued to show aspirations of grandeur. Gripped by what looks like a sort of reverse Orientalism, he became enamoured with the more exotic side of British life – pomp, circumstance and ceremony – and wanted to share in them.
Suddenly, as if some fairy godmother had waved a magic wand, these dreams started to come true. Before long, Khalid al-Hail had been installed as a Freeman of the City of London, a Knight in the Order of St Stanislas, and a Patron of the British Monarchist Society.
Impressive as they might sound, these titles are virtually meaningless. "Freeman of the City of London", for instance, is an institution dating back to the 13th century but nowadays brings no particular privileges though in theory it does give al-Hail the right to stop traffic on London Bridge while he drives sheep or cattle across it.
Nevertheless, al-Hail was clearly thrilled to receive the Freedom of the City and, after a traditional ceremony in the medieval Guildhall, he posted a photo of himself on Facebook holding his certificate.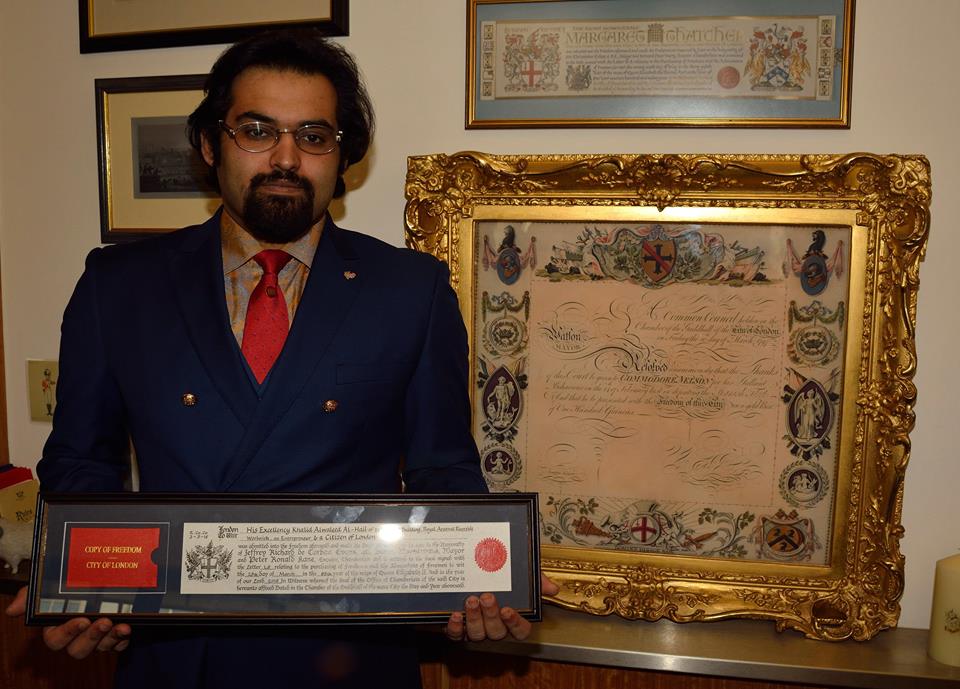 The Facebook photo attracted several messages of congratulation, one of which appeared at first glance to have been posted by Prince Harry, fifth in line to the British throne:
"Your Excellency, Congratulations on becoming a Citizen of the City of London. The Freedom of the City of London is a great honour and your work to help unite the East/West cultural divide is to be commended. God Save The Queen!"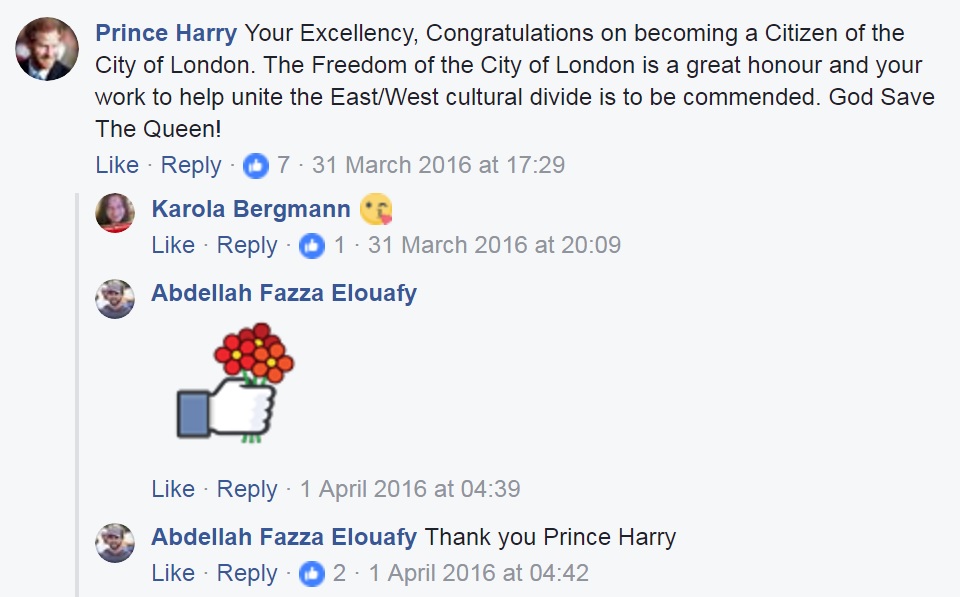 On closer inspection, however, the message had not come from the Queen's grandson but from the Prince Harry Fans Page, an offshoot of the British Monarchist Society.
In fact, it was through the British Monarchist Society, an obscure organisation infatuated with royalty, that al-Hail had acquired his Freedom of the City, along with his other British titles.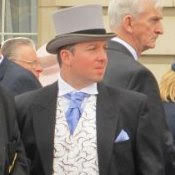 The society is run by Thomas James Mace-Archer-Mills, an American citizen with a posh English accent who previously used the name Thomas James Muscatello Delacroix Mills. Mills is assisted by 79-year-old "Dame" Mervyn Redding who also happens to be a Liveryman [sic] in the Worshipful Company of Basketmakers. As a member of that historic body she is entitled to nominate people for Freedom of the City – which is what happened in al-Hail's case.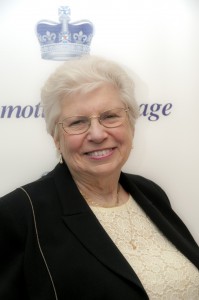 In another of her many roles "Dame" Mervyn is Grand Prior and "Dame Commander with Collar" in the Order of St Stanislas – an unofficial order of chivalry whose members do charitable work and hold ceremonies dressed in regalia. This explains how al-Hail became a "knight" of St Stanislas.
For good measure, Al-Hail also became a patron of the British Monarchist Society itself – it has more than 30 of them, mostly Conservative MPs, plus former UKIP leader Nigel Farage.
Hail's relationship with the British monarchists was at least partly a business one. In January 2016, Mace-Archer-Mills, al-Hail and "Dame" Mervyn all became directors of a newly-formed company called Orb and Sceptre Communications. Rather oddly, though, documents filed at Companies House a few weeks later state that Mace-Archer-Mills and al-Hail both resigned as directors on the day they were appointed. Orb and Sceptre was compulsorily wound up in June this year, but not before it had registered a web address called qataraffairs.com. This was the website later used by al-Hail to promote the conference on Qatar held in London last month.
A letter ostensibly written by Mills last December describes the relationship with al-Hail in more detail. It says al-Hail offered to sponsor the society's magazine, Crown and Country, and came up with the idea of presenting a copy of it to the Queen in "a bejewelled wooden case".

According to the letter, that plan fell through – as did another apparently collaborative venture to produce a mobile phone game.
Al-Hail and the society also worked together on a failed documentary entitled Spectra which, according to the letter, was supposed to set out al-Hail's position on "democracy and the positive attributes of constitutional monarchy". Some filming took place but the project appears not to have been completed.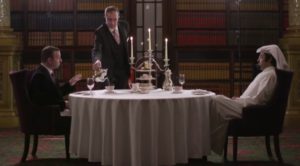 A copy of the letter, which was addressed to the Qatari ambassador in London, has been circulated on the internet. If genuine, it indicates a major falling-out between Mills and al-Hail towards the end of last year. Neither Mills nor the British Monarchist Society have responded to emails inviting them to confirm or deny the letter's authenticity.
Within a few months, though, Mills and al-Hail appear to have patched up any differences: Mills was the opening speaker at al-Hail's "Qatar opposition" conference in September.
A talent for networking
When al-Hail received his Freedom of the City, "Prince Harry" was not the only one to congratulate him on Facebook. Another celebratory message came from Jack Soames, an Old Etonian with high-society connections. Soames, who has also flatteringly described al-Hail as a "very handsome gentleman", runs an unusual kind of business enabling wealthy clients to "become integrated into the special and entertaining world of the English elite".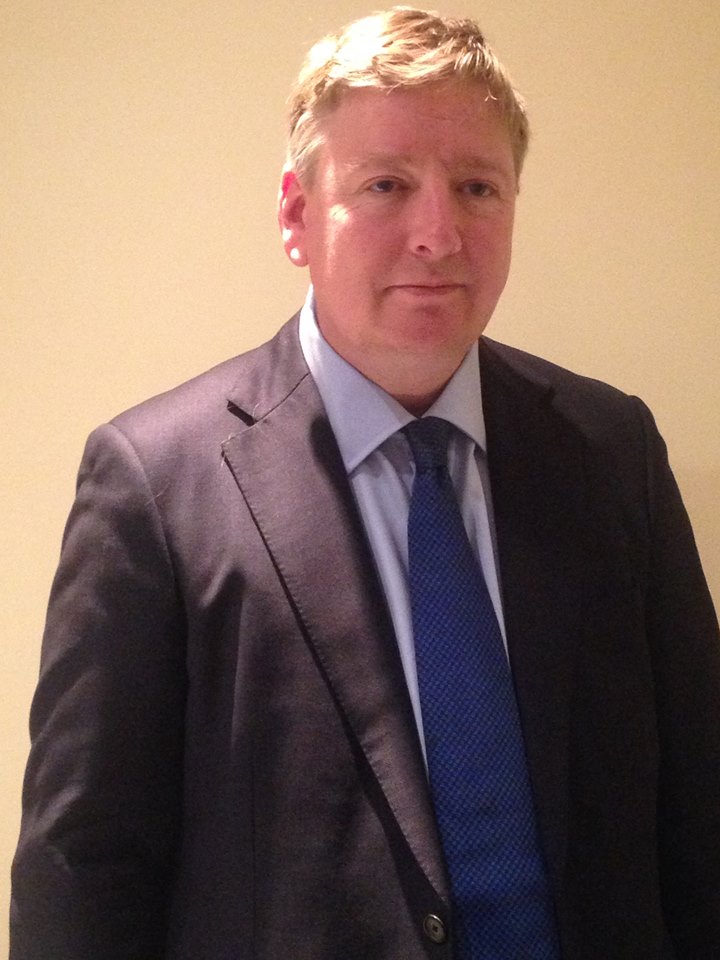 Soames works with what are known in the trade as UHNWIs – Ultra High Net Worth Individuals – and his website explains how his "talent for networking" can help them rub shoulders with the British establishment and perhaps acquire a touch of class.
"You too will be able to enjoy the activities and customs associated with royalty, the English countryside and high society. You will be able to participate in the London Season; stay as the guest of a Lord and Lady in their castle for golf or pheasant shooting; play or watch polo; take a box for premiership football; or race classic sports cars. With us, you will discover and gain access to the most agreeable and enjoyable lifestyle in the world."
That's not all. Should you be thinking of purchasing a yacht, a private jet or just a diamond necklace, Soames can take care of it. And if you are in need of a "discreet and trusted" banker, lawyer or accountant, he can provide introductions.
Soames's services do not come cheap, however, and according to the letter said to have been written by Mills, his fees for work done on al-Hail's behalf amounted to £35,000. 
Some of it was PR-type work connected with al-Hail's Qatari opposition activities. Considering the strained relations between the UAE and Qatar, the Emiratis might have been expected to welcome this, but instead it rang alarm bells. The problem was a potential conflict between al-Hail's political lobbying and another of the UAE's Qatar-related interests: the Mohamed Fahmy case.
Fahmy, an Egyptian-born Canadian citizen, had served as al-Jazeera's bureau chief in Cairo. In 2013, following the military takeover in Egypt, the Sisi regime cancelled the Qatari broadcaster's licence and imprisoned Fahmy along with two colleagues.
Later, Fahmy filed a lawsuit in Canada against al-Jazeera claiming $100 million in damages, on the basis that it had failed to take proper care of its employees.
Apparently seeing some political mileage in this, the Emiratis were supporting Fahmy's legal claim. At the same time, though, al-Hail and Soames were wooing Fahmy too. The risk in this, from an Emirati viewpoint, was that it could harm Fahmy's case. His claim against al-Jazeera was about his former employer's duty of care and, ostensibly, had nothing to do with politics. If Fahmy became publicly associated with the Qatari opposition, his motives in bringing the lawsuit would be open to question.
Private discussions about this came to light recently in a series of leaked emails.
A British PR firm, The Cape Partnership, had been working with Fahmy's legal team since his imprisonment in Egypt. Andrew Wigley, one of Cape's staff, was monitoring progress on the Canadian lawsuit and liaising with Simon Pearce in the UAE's Executive Affairs Authority (which provides "strategic policy advice" to Mohamed bin Zayed, the Crown Prince of Abu Dhabi).
In an email to Pearce dated 5 October 2015, Wigley reported that he had arranged a series of meetings and speaking engagements for Fahmy who was on a visit to London.
"I will accompany him," Wigley wrote, "although will not join him for the meeting with the [Qatari] opposition figure he wants to meet – Khalid al-Hail and his PR man Jack Soames. I am advising against this meeting."
In another email to Pearce, dated 11 December 2015 and marked "urgent", Wigley complained that Fahmy seemed "enthralled to this Qatari Khalid al-Hail":
"He met him in London in October. He tweets his stuff ... I think he's in very frequent contact with him. I've repeatedly told him to steer clear. He argues there are mutual benefits. He's trying to play both teams. My fear is the risk of being set up."
Wigley's immediate concern was that Fahmy had drafted an op-ed article about Qatar's domestic politics which he hoped to place in the New York Times – and was asking for help to make it suitable for publication. "It makes me concerned how this manner of material impacts his legal action – which I have raised this evening with his lawyers," Wigley wrote.
Reporting to Pearce in an email dated 6 February 2016, Wigley again complained: "Fahmy continues to engage with self-styled Qatari opposition leader Khalid al-Hail."
Al-Hail had turned up at an event in Soho House, London, where Fahmy and his lawyer were speaking. Wigley commented:
"In what looked like a choreographed exchange, Fahmy gave him the floor and KAH [Khalid al-Hail] asked him questions about Qatar's domestic political situation. My interpretation of that exchange was that KAH sought to lead Fahmy to talk about domestic Qatari affairs in a public setting."
In the meantime, an article about Qatar which was far more polished than the one Fahmy had been touting earlier had appeared in the New York Times under Fahmy's name.
According to Wigley, al-Hail alluded to the article and its content during the Soho House event, "fuelling my belief that people around KAH penned the article and handed it to Fahmy to place. Bluntly, Fahmy doesn't have the writing skills to produce that type of content."
Wigley ended his email saying he had "cause for concern about continuing to support Fahmy" and would like to discuss it further with the Emiratis. Fahmy, on the other hand, seems to have no qualms about continuing to support al-Hail: he was one of the star speakers at al-Hail's conference in London last month.
---
Blog post, 22 October 2017: The shadowy figures behind the London Centre for Public Affairs – an apparently bogus PR firm with Qatari connections – have now set up a second organisation. This time it's a mysterious NGO which purports to be monitoring the activities of the United Nations.
The new body, known as Independent UN Watch (IUNW), says its "prime objective" is to "observe the performance of the United Nations' different organs to make sure they achieve the noble goals of the international agency". So far, though, IUNW has devoted most of its efforts to criticising the UAE and Saudi Arabia – both of which are currently engaged in a political feud with Qatar.
IUNW and the London Centre for Public Affairs (LCPA) are clearly sister organisations, since they are linked together through a shared email address.
The previously unheard-of LCPA became embroiled in controversy last month when it lobbied British MPs in an attempt to stop Khalid al-Hail, the self-styled leader of Qatar's opposition, from hosting a conference in London.
LCPA's website tries to give the impression it is a typical PR-and-public-affairs consultancy business but none of its staff have yet been identified and the address of its office turned out to be a construction site.
IUNW's website is similarly puzzling. It claims to be "an international initiative launched by a number of former UN experts, figures and diplomats" – though none of them are named. Unusually for an NGO, it doesn't invite donations from the public, either.
IUNW has, however, been slightly more careful than LCPA with the location of its offices. It claims to have three – in New York, Geneva and Vienna – and this time at least the addresses are real buildings.
The addresses, though, are not quite what they seem. The one in New York, at 244 Fifth Avenue, is advertised on the internet as a "mailbox center" and a "virtual office address":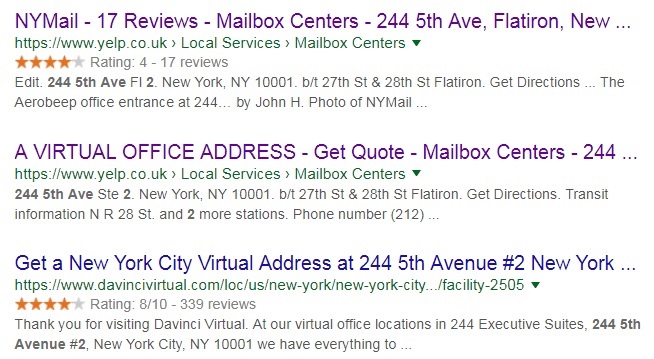 Checks on IUNW's Geneva and Vienna buildings show they are used for similar purposes.
IUNW's website was registered a month ago by someone using the name Ob Aguillard (which doesn't show up on Google) at an address in Paris: Haussmann - Opéra Lafayette.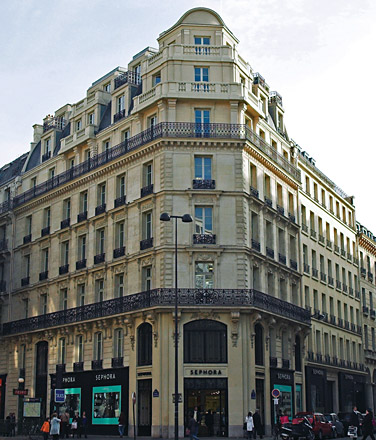 Needless to say, this is yet another building with "virtual" office space where meeting rooms can be rented for anything from 10 minutes to a whole day.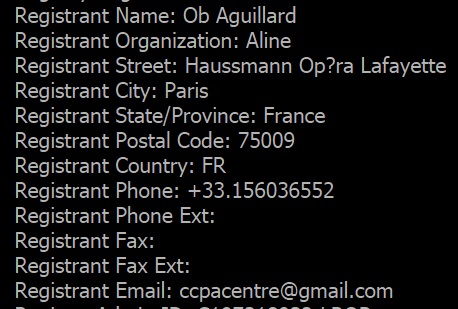 The phone number given in IUNW's web registration documents appears to be a direct line to one of more than 60 extensions in the Paris "virtual office" building but the documents do include a real email address: ccpacentre@gmail.com.
Significantly, this is also one of the email addresses used by the LCPA (it can be seen by clicking the envelope icon on its website). The letters "ccpa" in the email stand for "Centre for Communications and Public Affairs" – the name initially adopted by the LCPA, as seen in this tweet from last year:

First impressions of IUNW's website suggest it is doing more or less what it claims. There are a couple of dozen articles and press releases; some are specifically about the UN while others – about Korea, Myanmar and the Rohingya, human rights violations in Iran, and female genital mutilation – could be considered relevant to UN activities.
However, a closer look shows most items on the website are not the work of IUNW. They have been copied word-for-word from other sources: the BBC, the New York Times, the Washington Post, the Guardian, Huffington Post, Forbes magazine, the Press Trust of India, Amnesty International and several other NGOs, plus the UN website.
The smaller number of items generated by IUNW itself show a much narrower focus: they are all concerned with the Middle East, and Qatar's foes in particular. Three of them criticise the United Arab Emirates:
Another article calls for Saudi Arabia to be removed from the UN Human Rights Council.
Of the remaining four items produced by IUNW itself, two are cryptic press releases (here and here) alleging that "some" member states in the UN Human Rights Council employ NGOs to "bully" other member states. The other two items provide more detail about the alleged bullying.
One is an open letter from "Lynn O'maha" – described as a member of IUNW's observer team in Geneva but not traceable on Google – complaining about the UAE's behaviour at last month's session of the UN Human Rights Council.
The final item is about the Egyptian Organisation For Human Rights (EOHR) which is described as the latest organisation to fall under Emirati influence.
So far, IUNW's critiques of the Human Rights Council have been reported only by the Qatari newspaper The Peninsula and the London-based Al-Arabi al-Jadid which is alleged to have Qatari connections.
IUNW, of course, is perfectly entitled to monitor activities at the UN and to criticise when it sees fit. If it wants to be taken seriously, though, it should start being more transparent about its own organisation and activities.
---
Blog post, 26 November 2017: An anonymously-written book produced by a seemingly fictitious organisation and promoted by a group of French-language websites appears to be the latest weapon in the Saudi-Emirati propaganda war with Qatar.
"Qatar: Le Livre Noir" (Qatar: The Black Book) is said to have been compiled by researchers from the Centre Euro Arabe pour Combattre l'Extrémisme (CEACE) but internet searches have so far failed to locate any details about the organisation or any mention of it except in connection with the mysterious Black Book.
The Black Book itself says CEACE was formed in Paris on 21 April this year, at a meeting of five human rights NGOs. The NGOs are not named, and the book says CEACE has decided "to postpone to a later date the disclosure of the identity of the organisations participating in the project". It says CEACE has also decided to maintain the anonymity of its researchers "for obvious reasons of security".
The Black Book was initially posted online in Arabic under the title "Qatar: Al-Kitaab al-Aswad". A report in the Emirati newspaper al-Bayan on September 27 described it as "an extensive analysis of Qatar's role in supporting terrorism". Al-Khaleej, another Emirati paper, also published an article about it in September. The Saudi newspaper al-Riyadh had two reports (here and here) in October.
GNRD connection
During November several inter-linked French-language websites have been publishing extracts from the book's French edition or articles about it written by journalist René Naba. They include Naba's personal website, En Point de Mire, plus Libnanews where Naba is described as a "partner" and Madaniya, where Naba is the site's "director".
Last year the same three websites published articles by Naba defending the Global Network for Rights and Development (GNRD), a strange organisation funded almost entirely via the UAE which closed down in July 2016.
Naba had several connections with GNRD. He was one of the speakers at a GNRD-organised conference on counter-terrorism in 2015 and is a consultant at the International Institute for Peace Justice and Human Rights (IIPJHR) which was a partner with GNRD in many of its activities. He also belongs to a "consultative panel" for the Scandinavian Institute for Human Rights (SIHR), an organisation which was jointly established by GNRD's founder-president, Loai Deeb, and Haytham Manna, a Syrian exile.
SIHR and IIPJHR are both based in Geneva at 1 Rue Richard Wagner which was also the address of GNRD's Swiss branch before it closed.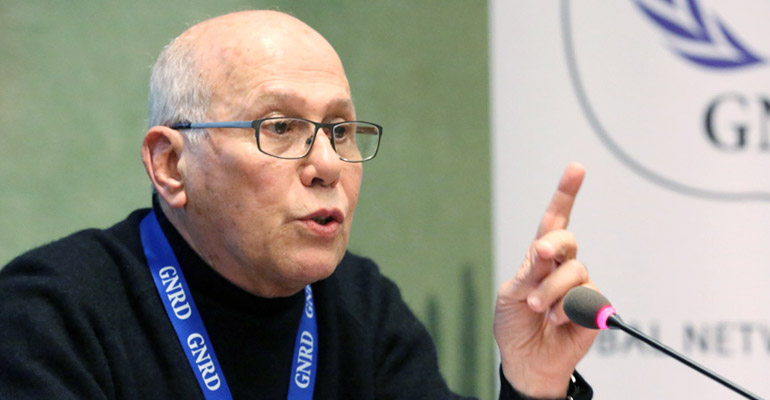 A surprise in Chapter 7
Skimming through the text of the Black Book, I was surprised and amused on reaching Chapter 7 to find myself and my website portrayed as the leading examples of Qatari soft power. The book's anonymous author seems confused about al-bab's web address, variously referring to it as albab.net, al-bab.net and al-bab.com, but maintains that it is "the best embodiment" of Qatar's media strategy:
Le site anglais albab.net, pro Qatar, incarnera le mieux cette politique, pointant les intrusions hostiles sur les sites du Qatar, au moment où Doha réussissait à acquérir auprès de hackers un important lot de messages (mail) appartenant à des diplomates et responsables gouvernementaux des 4 pays arabes en guerre contre le Qatar (Arabie saoudite, Bahreïn, Égypte, Koweït).
The book goes on to say that after setting up al-bab as a website about Yemen I went to Qatar in search of funding and, following my stay in Doha, I expanded the site to include the other Arab countries. It seems to be implying that the expansion was a result of Qatari funding:
Il se rend au Qatar en quête d'un financement pour son site dédié, dans un premier temps au Yémen, qu'il étendra à l'ensemble du Monde arabe après son séjour à Doha.
That is untrue. I don't remember exactly when the expansion happened but archived web pages show it was sometime between April 1999 and February 2000. At that point, though, I had never been to Qatar. My first visit was in 2003 and I went again in 2006. Those have been my only visits to Qatar. On both occasions I was reporting for the Guardian and the Guardian covered the full cost.
For readers unfamiliar with al-bab, I run the site myself. It doesn't employ anyone and has never had external funding, though it does generate a small income from Google ads and book sales through Amazon. The website is critical of all Arab regimes, including Qatar's (here, for example).
In 2014, according to the Black Book, I was instructed by Qatari intelligence to launch a campaign "against the institutions of the UAE", with supporting information provided by activists from Hamas and the Muslim Brotherhood:
En 2014, sur instructions des services des renseignements du Qatar, il a mené campagne contre les institutions des Émirats Arabes Unis et contre ceux qui étaient en accord avec la politique hostile d'Abou Dhabi à l'encontre des Frères Musulmans et du mouvement salafiste.

Pour ce faire, il a été en contact avec des activistes du Hamas et des Frères Musulmans chargés de alimenter en informations sa campagne, tels Azzam Tamimi, Directeur exécutif de la Chaîne «Al Hiwar» de Londres, Waddah Khanfar, le frère de ce dernier, chef du Hamas à Jenin (Cisjordanie).
Again, that is untrue and the book provides no evidence to support its claims. The talk of me conducting "a campaign" seems to be alluding to my lengthy investigation of GNRD which began in 2014. Nobody told me to do it. My interest in GNRD was triggered by the discovery that its founder had previously run a fake university and, the more I looked into it, the weirder the organisation became. The resulting articles relied on open sources, as readers can see. I had no need to contact anyone from Hamas or the Muslim Brotherhood about it – and I didn't do so.
In 2015, GNRD was raided by police amid suspicions about its funding. After that, its funds dried up and in 2016 it was declared bankrupt for failing to pay its employees' wages. The Black Book doesn't explain why it closed but says I toppled GNRD while working "in close collaboration" with the Qatari embassy in Norway, the pro-Israel lobby and Qatari intelligence:
Brian Whiteker [sic] a été en outre chargé de mener campagne contre GNRD. En étroite collaboration avec l'ambassade du Qatar en Norvège, le lobby pro-israélien du pays et les services de renseignements du Qatar, Whitker [sic] a réussi à torpiller cette organisation non gouvernementale ...
That's also untrue but apparently my success in toppling GNRD meant I was "naturally destined to occupy a place of choice within the Qatar lobby". For good measure, the book adds that I also maintain contacts with British intelligence services which "turn a blind eye to the considerable sums" that I allegedly receive from Qatar:
Le propagandiste anglais du Qatar passe pour entretenir des contacts suivis avec les services de renseignements britanniques, qui ferment l'œil sur les sommes considérables qu'il reçoit du Qatar.
---
Blog post, 24 July 2018: Largely unnoticed by the British public, the Emir of Qatar has arrived in London for a visit which includes talks with prime minister Theresa May. Visits by Gulf potentates don't generally arouse much interest in Britain and the Emir's arrival is no exception – though it hasn't escaped the attention of Qatar's foes in the Gulf.
"Angry protests greet Qatar emir in London," a headline in the Emirati newspaper Gulf News proclaimed. The National (also Emirati) reported "a barrage of protests" against the Emir while the Saudi-owned Asharq Al Awsat quoted Nigel Farage, "leader of the British Independence Party" [sic], deploring the visit and describing Qatar as the biggest supporter of Iran and terrorist organisations.
The Great Gulf Feud, which pits Qatar against three of its Arab neighbours – Saudi Arabia, the UAE and Bahrain – has been raging for more than a year now, fortunately without bloodshed. For those watching from further afield it has been immensely entertaining, with lots of skulduggery on all sides. Fake news, hacking, Twitter bots, bogus PR firms, embarrassing leaked emails ... you name it, Gulf rulers have the money to pay for it.
On that basis, the Emir's visit to London shows every sign of living up to expectations. Someone, somewhere, appears to have become worried that anti-Qatar protests would not have enough support and turned for help to Extra People, a firm which recruits "background artistes" for walk-on parts in films. Its website says:
"Our team have worked across a variety of sectors within entertainment and have built up years of experience providing background artistes. It might be a butler with a limp or a crowd of baying men in a miners strike ... every day is different."
This time, though, Extra People wasn't looking for anyone to be a limping butler or a baying miner. It circulated a note to artistes saying it was looking for "a large group of people to fill space outside Downing Street during the visit of the president [sic] of Quatar [sic]." It added:
"You will not have to do or say anything, they just want to fill space. You will be finished at 12:30."
For this, the artistes would be paid £20 ($26) from which Extra People would be deducting 20% commission, along with VAT.

Extra People later withdrew its advertisement, though an archived copy is here. A news report in the Guardian quotes the agency as saying it pulled out "upon receiving further information about the event".
Extra People also initially declined to identify the client who was seeking Downing Street space-fillers but – seemingly before anyone had a chance to voice suspicions – a mysterious PR firm stepped forward to deny responsibility. Shortly after 1am this morning Neptune PR posted this tweet: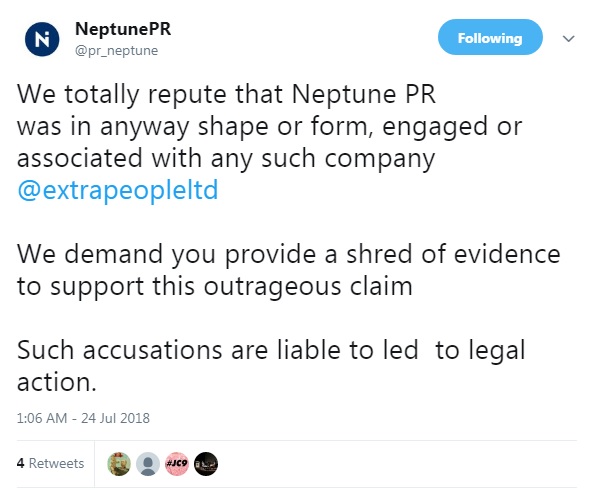 Rather oddly, considering it's a PR firm, Neptune appears to have created its Twitter account specially to issue this denial. A search of the British companies register shows Neptune was set up in April this year and its sole director is Lola Tirand, a French citizen. Again, oddly for a PR firm, Neptune's website has no content.
Extra People has since posted a screen grab of an email purportedly showing Neptune as the company to be invoiced for providing the demonstrators.
The Downing Street demonstration is due to take place today but there were several others yesterday attended by "scores of protesters" plus Khalid al-Hail, the self-styled leader of the Qatari opposition.
Al-Hail, a colourful character who fronted a hugely expensive but sparsely attended "anti-Qatar conference" in London last year, posted a jubilant tweet yesterday saying that out of 650 British MPs invited to hear a talk by the Emir in the Houses of Parliament, fewer than ten had turned up.
"Looks like my awareness campaign is having some effect," he boasted.
Among others attending yesterday's demonstrations in London were a group who had travelled from Birmingham in two coaches. According to Arab News, a Saudi newspaper, the coaches were organised by Egyptian-born Magda Sakr, a freelance PR consultant, and 20-year-old university student Belle Yassin.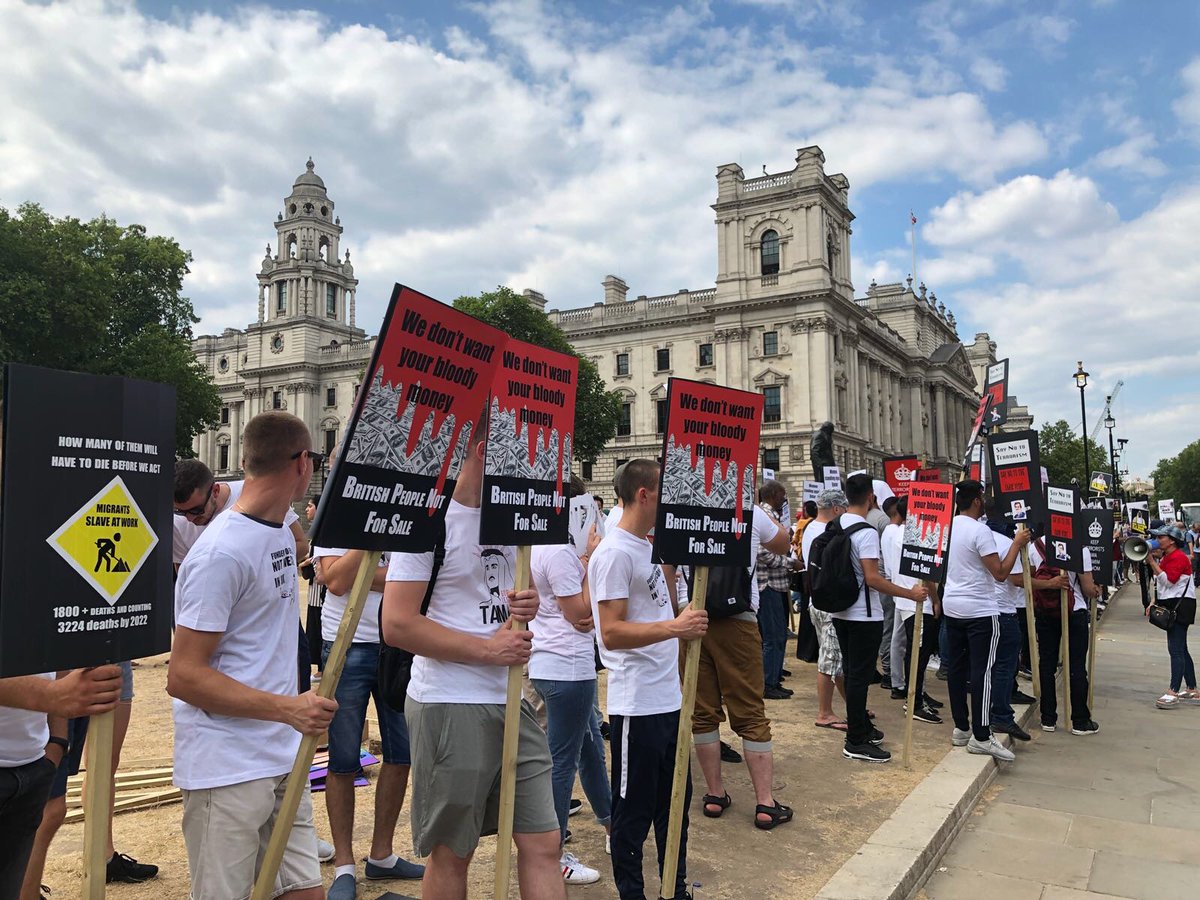 The obvious assumption is that whoever lies behind the ad for Downing Street space-fillers is one of Qatar's foes – most likely Saudi Arabia or the Emirates – but in the Great Gulf Feud things are not necessarily what they seem.
Another possibility, which can't be entirely ruled out at this stage, is that it might be a Qatari ruse to discredit any genuine anti-Qatar demonstrators. One reason for viewing the affair with caution is that Neptune PR, the firm which was so eager to deny involvement, is based at Kemp House in City Road, London – an office block previously associated with some pro-Qatari campaigns.