Re:Orient exhibition, 2013
The pictures on this page are from Re:Orient, an exhibition looking at modernism in Arab art from the 1950s to the 1970s.
The exhibition, organised by the Barjeel Art Foundation, was held in the UAE in 2013. The images and accompanying notes come from the exhibition's online catalogue which contains further information and more examples of art from the period.
---
Boujad, Morocco, 1934-1967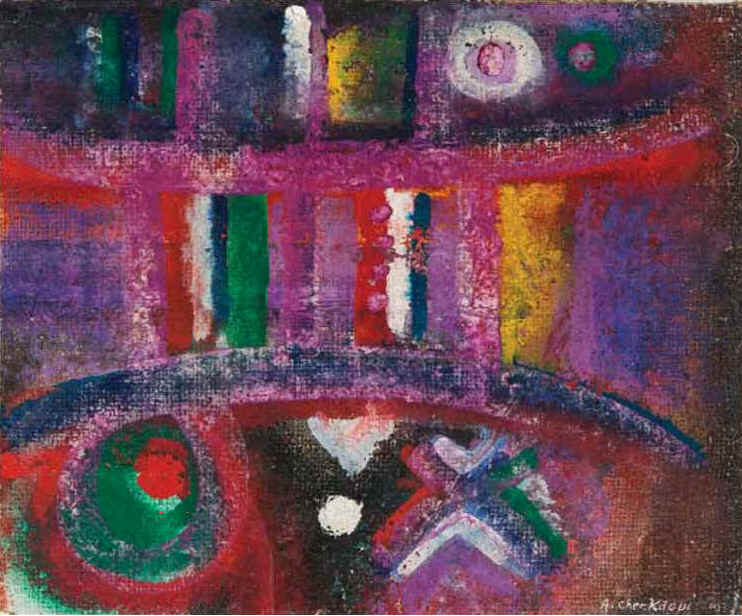 Les Miroirs Rouges, oil on jute on board 23.5 x 28.5 cm, 1965.. Click to enlarge
Ahmed Cherkaoui is remembered as one of Morocco's most prominent modern artists, whose work has been exhibited worldwide to great acclaim and is held in prominent collections such as Institute du Monde Arabe and Musee d'Art Moderne, both in Paris. Born in Boujad, at the foot of the Atlas Mountains, Cherkaoui began his artistic training with a calligrapher in Casablanca before leaving for Paris shortly following Morocco's 1956 independence. After studying at the Ecole des Metiers d'Art and Ecole des Beaux-Arts, he spent a year at Warsaw's College of Fine Arts in 1961.
Cherkaoui's art reflects these cultural experiences. Known for large canvases that are both abstract and symbolically rich, the artist created a distinct modernist aesthetic by drawing on a number of artistic traditions—from Amazigh tattooing and traditional prayer mats to the techniques and formal languages of 21st century Polish and French avant-garde artists. Often painting on burlap, Cherkaoui endows his work with materiality and texture, suggesting both a tactile and visual experience. His art is also recognised for its layers of vibrantly coloured symbols and forms, symmetrically arranged against a dark background, a technique that enhances the painting's sense of depth.
---
Mascara, Algeria, 1919-1996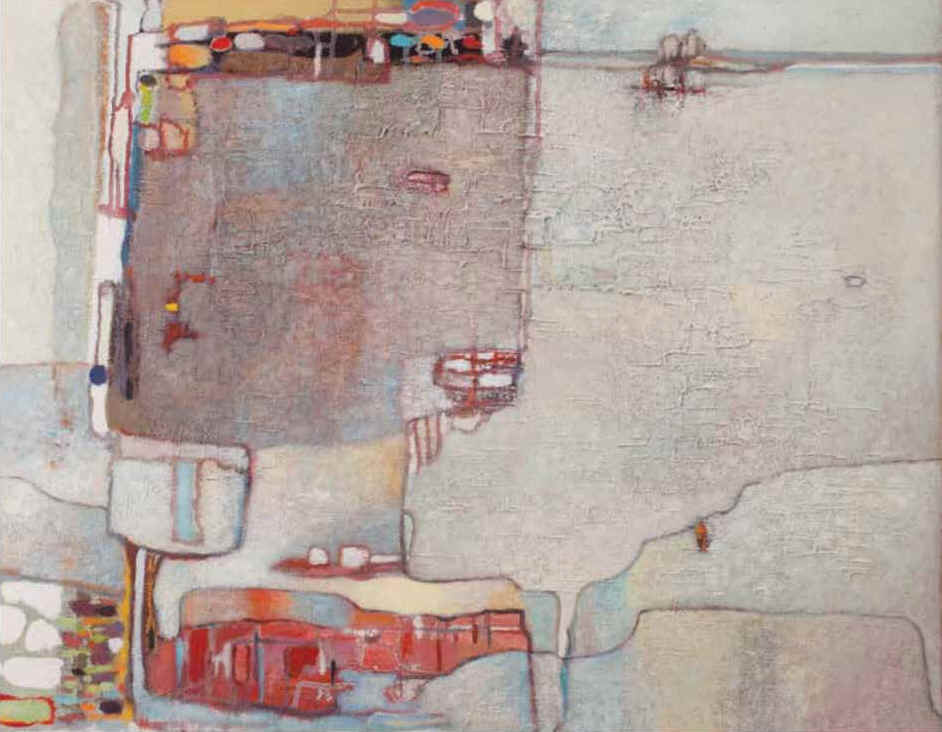 Rêve, oil on canvas 73.5 x 92.5 cm, 1975. Click to enlarge
Abstract shapes and subdued colour schemes dominate the canvases of Abdel Kader Guermaz, a major player in Algeria's modern art movement. Guermaz, who graduated from l'École des Beaux-Arts d'Oran in 1940, emigrated to Paris in 1961 amid his home country's eruptive struggle for independence from France, which succeeded the following year.
The artist, who became associated with School of Paris, befriended French artists such as Bissière, Manessier, Bazaine and Vieira da Silva. Subtlety and minimalism characterise Guermaz' artistic approach, giving form to his spiritual meditations and inspiring French art critic Pierre Rey to call him the painter of silence and light.
Although his most-disciplined work consists of textured white monochrome paintings, Guermaz began incorporating discernible shapes and softened segments of colour after 1975. His careful compositions emerge as weightless and timeless landscapes evoking both interior and exterior spaces. His work Rêve features, perhaps inadvertently, an anthropomorphic shape resembling a woman in profile. Attaining critical success in the late 1960s and early 1970s, the artist was largely forgotten upon the 1981 closure of gallery Entremonde that represented him.
Until his death in 1996, Guermaz continued to produce work probing the metaphysical relationship between visible world and the unseen. His artwork, featured in international museum collections, has been rediscovered in posthumous shows and texts.
---
Baghdad, Iraq, 1932-1985

Martyr's Epic, oil on canvas 91 x 127 cm, 1965. Click to enlarge
Weaving together poetry, allegory and pastoral landscapes, the artwork of Kadim Haidar captures the murmurs of Iraqi sociopolitical history through symbolism and metaphor. The writer, poet and artist painted in a variety of styles, from natural landscapes of Iraq to abstract still life and figures. His work examined important shifts in Iraq's political environment in the 1950s and 1960s, including the military-backed coup that toppled the monarchy in 1958, giving power to the Ba'ath party, a Pan-Arab secular nationalist group that gave form to the rise of Saddam Hussein's regime in the late '70s.
One of Haidar's most-notable series of paintings, Melhamet Al Shahidi (The Martyr's Epic), was based on a poem he wrote in 1965. The series, including a painting in this exhibition, references the Battle of Karbala that brought the defeat of Al Husayn ibn Ali by the Umayyad, a grandson of the Prophet Muhammad (pbuh). Haidar re-contexualises the melancholy of annual mourning rituals performed to commemorate Al Husayn's martyrdom with luminous weeping white horses.
After studying art in Baghdad in the 1950s, Haidar pursued theatre design and graphics at the Royal School of Art and Graphics in London. He returned to Iraq in 1962, founding the department of design at the Institute of Fine Arts and chairing its visual arts department.
---
Antioch, Syria, 1930-1979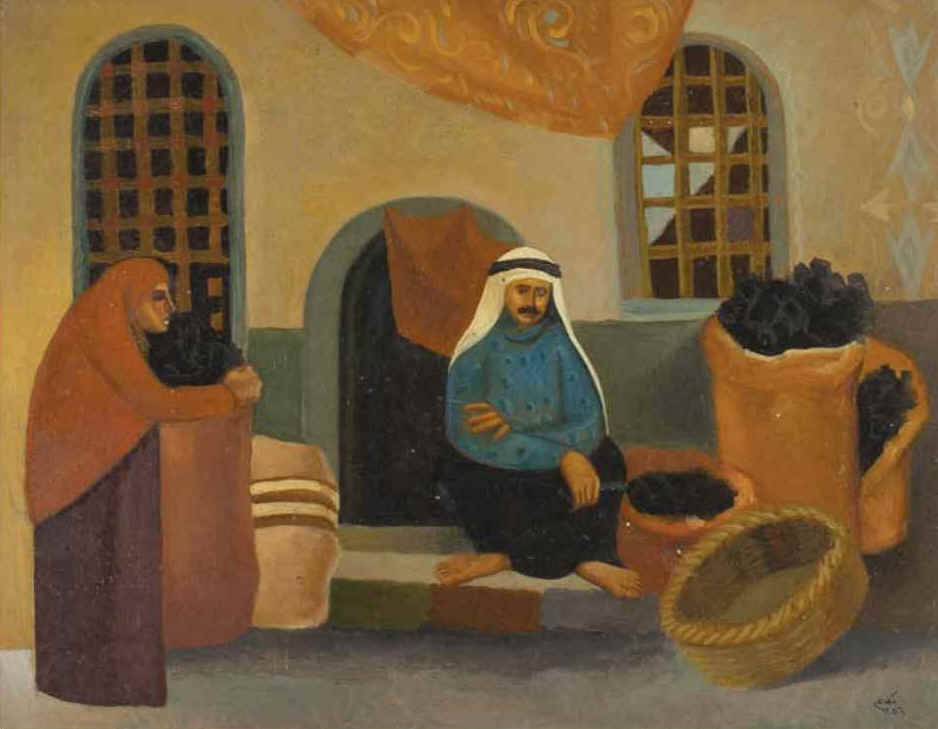 Untitled, oil on wood 50 x 60 cm, 1956. Click to enlarge
Citing scenes from daily life, the paintings of Naim Ismail contributed to a movement in Syria to cultivate a sense of national consciousness through visual culture. Born in the northwestern city of Antioch, Ismail moved south during Syria's annexation by Turkey in 1939. Syria's independence from French mandate in 1944 ushered in a peak period of art production where artists experimented with numerous techniques, styles and subjects. Ismail's older brother Adham, although better known despite his early death, was one of the first modern artists to break free from purely representational artwork by integrating calligraphic signs and abstraction.
Ismail's practice connects past and present through depictions of everyday life, using modernist sensibilities and referencing traditional design. In his 1956 untitled painting, Ismail captures a village scene with a man in traditional Arab attire sitting idly on a doorstep, while a fully veiled woman enters the foreground with a sack of dried goods. His genre scenes often combine Islamic influences, including geometric motifs and defined representational forms.
After receiving formal art training in Istanbul and Rome, Ismail settled in Damascus to work as an artistic director for a magazine before acceding to a high post within the Ministry of Culture in the 1970s.
---
Khanaqin, Iraq, 1944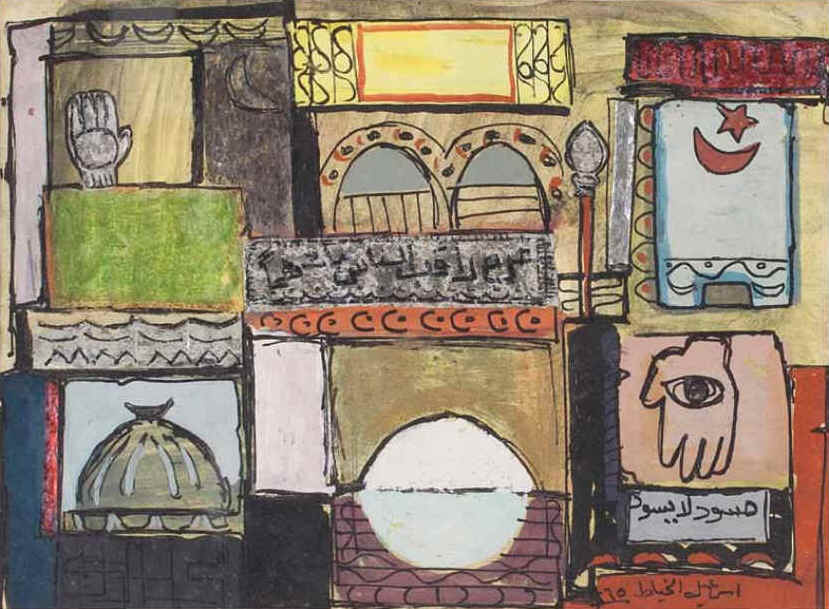 Those Who Watch Other People Will Die of Envy Ink, gouache, foil and collage on paper 21 x 28.2 cm, 1965. Click to enlarge
Combining Kurdish folklore and symbolism, the artwork of Ismail Al Khayat encodes ideas of collective struggle and political isolation. Born in Khanaqin, northern Iraq, Al Khayat is an inspirational figure among Kurdish intellectuals and artists. Rendered in a naïve style, Al Khayat's mixed-media collage Those Who Watch Other People Will Die of Envy (1965) observes superstitions surrounding the evil eye citing common expressions and symbols from the Middle East and North Africa.
Al Khayat illustrates a hamsa, an emblem containing a right hand with an eye, and confronts the viewer with the artwork's Arabic title, questioning their moral judgement and gaze. Representations of birds as metaphors for freedom and the fragility of life are recurrent themes in Al Khayat's artwork. Referencing Kurdish and Iraqi folklore, he investigates the progressive socio-political isolation of Iraq's Kurdish population.
In a series commemorating former President Saddam Hussein's notorious Al Anfal campaign, which used chemical weapons on Kurdish cities and destroyed some 2,000 villages in the late 1980s, Al Khayat depicts abstracted phantom-like birds flying away from dead bodies. The artist joined the Society of Iraqi Plastic Arts in 1965 before graduating from the Teachers College at Baquba in 1966. In 1992, he became art director at the Ministry of Culture in the Kurdistan Region.
---
Cairo, Egypt, 1926-2004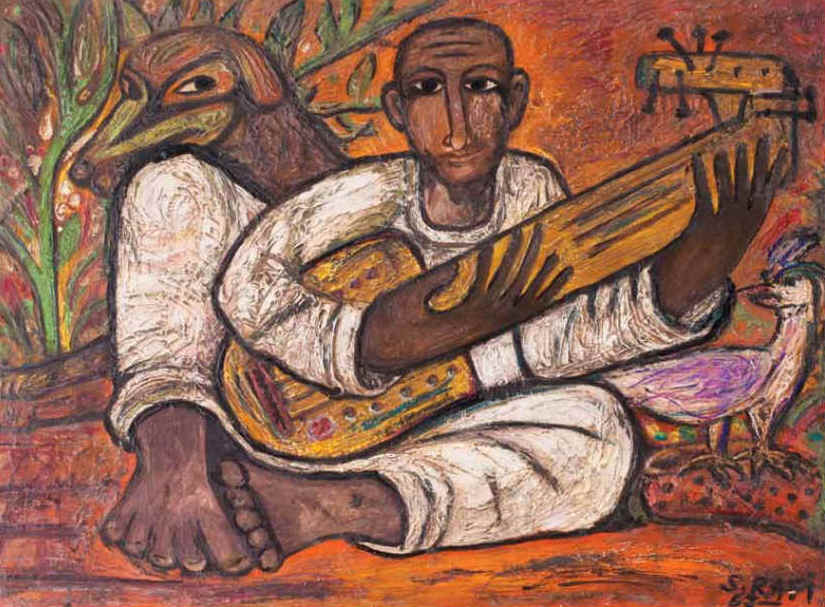 Seated Musician, oil and mixed media on board 50 x 68.2 cm, 1963. Click to enlarge
Representations of Egyptian daily life infused with surrealism and symbolism characterise the artwork of Samir Rafi, who emphatically captured the surrealist movement spearheaded by Ramsis Yunan and Georges Henein. Rafi was a prominent member of the Contemporary Art Group, an artist collective founded in 1946 that emphasised the relationship of art to society and popular culture and adapted modern forms and technique.
The artist received critical acclaim during the 1950s from Aimé Azar, a teacher of aesthetics at Ain Shams University, who noted how Rafi accentuated the tragedy of modern life. In a famous work Les Gardes du Mokattam (Guardians of the Mokattam), Rafi represented figures assembled near the hills in Southern Cairo, a known gathering place for Sufis prior to the 1952 revolutionary coup.
After attending secondary school under the famous art teacher Hussayn Yusuf Amin, Rafi became a graduate of the School of Fine Arts in Cairo. He earned advanced degrees in art and pursued Ph.D studies in art history at the Sorbonne. Exhibiting widely and taking part in numerous international exhibitions during this period, Rafi later returned to Cairo to assume a role as an art professor at the School of Fine Arts and engage in art journalism.
---
Alexandria, Egypt, 1908-1979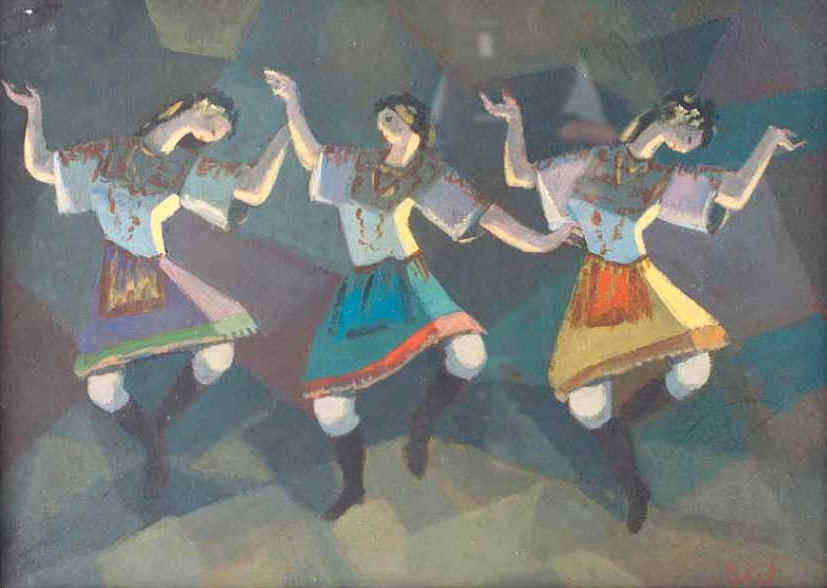 The Russian Ballet, oil on board 30 x 41 cm, 1967. Click to enlarge
Employing a distinct style of bright colours, form and composition, the paintings of Seif Wanly blend the geometry of simplified shapes with Futurist and Cubist influences. Born in Alexandria into an aristocratic Egyptian family, Wanly was privately tutored in art.
In his portraits we find characters in selfreflective gestures detached from the pace of life. While some of his paintings capture live entertainment, theatre and musical performances such as travelling circuses and ballets, as seen in Russian Ballet (1958-60), Wanly's primary concentration was to depict daily life. In Mother and Child (1957), he explores maternal intimacy, while Nocturne (1953) features a reflective scene of a solitary driver dozing on his a horse drawn taxi. The artist established an art studio in Cairo in the 1940s with his brother Adham Wanly that was open to the public and anyone interested in the arts.
In the late 1950s, Wanly travelled to Nubia to produce a series of paintings and drawings portraying life in Upper Egypt for a governmental project to document culture and conditions prior to the relocation that occurred to enable construction of the Aswan High Dam.