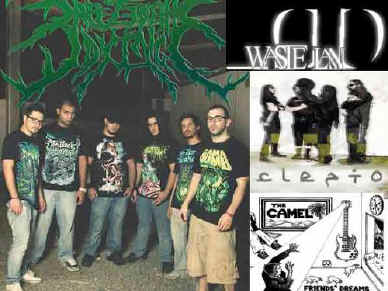 Metal music has a following in Saudi Arabia, despite accusations of Satanism. Picture: Saudi Gazette
In a country where superstition is rife and belief in black magic is
official government policy, the authorities need to demonstrate from time to time that they are actively combating the power of Satan. Maintaining vigilance against these godless forces tends to bring all sorts of unconventional behaviour under suspicion and those who are ultra-vigilant tend to see evidence of the Dark Arts where others see nothing more than groups of people having a good time.
Earlier this month Saudi Arabia's religious police raided a party at a hotel in the eastern city of Khobar. According to the authorities it had been organised "under the cover" of a graduation party, with about 100 young women attending, and included a contest for the best-looking "tomboy".
The police seized a crown which had been due to be presented to the winning tomboy along with a large quantity of energy drinks and "Satanist" items.
Tomboys – boyat in Arabic – are women who adopt a masculine style of dress, usually concealed beneath their abaya. The phenomenon has led to a good deal of hand-wringing in the Gulf states about declining moral values, etc, etc.
Reports don't reveal what the "Satanist" items were (perhaps because they were not very convincing), nor is it clear why the apparently non-alcoholic energy drinks were confiscated. These high-caffeine drinks have caused some controversy in the kingdom but they are not actually banned, except in hospitals.
Last month, 30 people from 11 countries were arrested at a party outside Riyadh. A burning camp fire and flaming torches led the authorities to believe that a Satanic ritual was taking place. The Emirates 24/7 website reports:
Sabq newspaper, quoting a [religious police] member, said three men were caught having sex with women inside a tent while others were seized with drugs.

"They were having drugs and alcoholic drinks and some of them were moving and dancing to strange music," the paper quoted the unnamed member as saying.

"Many of them were dancing around a fire as part of their Satanic rituals. Unfortunately, some of them were Saudis."
Four years ago, a metal music concert on a private residential compound attended by 500 people was broken up by security forces and a number of youngsters were arrested. The authorities later described it as a "Satanist ceremony" (see blog posts hereand here).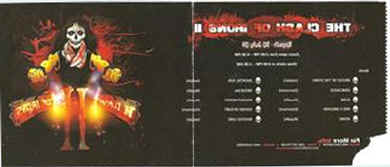 Evidence of Satanism? Saudi concert flyer, 2009

"Strange" music and Satanism are often coupled together in the eyes of the authorities – and not only in Saudi Arabia. There have been similar claims in the past in Morocco, Lebanon and Egypt. But what the authorities regard as "strange" music has a popular following among younger Arabs. In Saudi Arabia it's still mainly underground – recorded and circulated on social media rather than in live performances – and the Saudi Gazette has been publishing a series of articles about it.
The latest article, by Mariam Nihal, looks at the kingdom's metal, rock and punk bands. One of them, a "progressive metal" band called Breeze of the Dying, tells the paper there have been problems with people who "still think that metal is the devil's music or relate us to worshipping Satan".
The previous articles in the series are here, here, and here.

Posted by Brian Whitaker
Monday, 17 June 2013
This work is licensed under a Creative Commons Attribution-NonCommercial 4.0 International Licence.