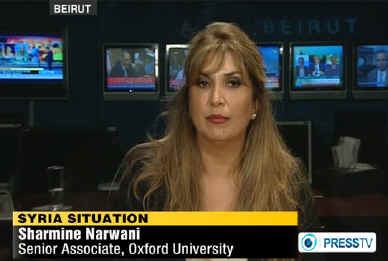 Sharmine Narwani appearing on Press TV  
Sharmine Narwani, the chronically muddled commentator for al-Akhbar newspaper in Lebanon, claims to have uncovered yet another western conspiracy. This time it's a western media plot to label Hizbullah's stronghold in southern Beirut as ... er, a Hizbullah stronghold.
Referring to recent bombings in the city, Narwani writes:
"By calling a residential neighbourhood a 'Hezbollah stronghold', western media softens public opinion to accept these terror attacks as justifiable, and their targets, legitimate."
She continues:
"The only reason [italics added] for characterising civilian Shia neighbourhoods as 'strongholds' of Hezbollah is to justify carnage against those populations most likely to support the Lebanese resistance group."
How does she know this to be the reason? Unfortunately Narwani's article doesn't say. Nor does it explain why she discounted the more banal possibility that journalists reporting the explosions might have looked at the facts and decided that "Hizbullah stronghold" was an accurate description, and one that would provide some helpful context for readers.
"Stronghold", used in a political sense, is defined by the Oxford English Dictionary as a "centre of support for a cause, etc". In Hizbullah's case, its strongholds are areas where it not only has support but also exercises some degree of quasi-governmental control. This is made very clear in one of the news reports criticised by Narwani – a report from Reuters, describing a bomb attack on July 9:
"Reuters and other media outlets were prevented from reaching the area, where Hezbollah gunmen allowed only the group's Al Manar TV to operate.

"Images from the scene showed a crater covered by a blue tarpaulin and surrounded by wrecked cars. Hezbollah men with red caps and yellow arm-bands set up a security cordon around the blast scene along with Lebanese soldiers.

"Hezbollah gunmen were seen arresting two men near the scene."
So what, exactly, is wrong with calling such places a "Hizbullah stronghold"? According to Narwani it's "a phrase that makes Shia civilian life negligible", and she cites a Twitter user whoposted this comment:
"When you write 'Hezbollah stronghold' instead of South Beirut it gives the impression military barracks were bombed and no innocents died."
But it's very hard to see how anyone could get that impression from reading the news reports cited by Narwani in her article and criticised for using the S-word. Regarding last week's deadly bombing, for example, the BBC said:
"The explosion happened in a densely populated part of the capital. Heavy damage was reported to nearby buildings and cars ... the bomb appeared to have gone off between two residential buildings."
Regarding the July 9 bombing, The Associated Press said:
"The car bomb struck a bustling commercial and residential neighbourhood in Beir el-Abed, an area of particularly strong Hezbollah support ... The blast went off in a parking lot near the Islamic Coop, a supermarket usually packed with shoppers."
The Los Angeles Times said:
"Material damage appeared extensive. Numerous vehicles were set ablaze, windows were blown out in nearby apartment buildings and in shops and other structures as far as two blocks away in a densely populated district."
The Washington Post's report stated in its first sentence that the bomb was "in the parking lot of a supermarket" while France 24 
said the blast occurred in "a bustling commercial and residential neighbourhood".
Narwani's efforts to construct a "western" media conspiracy around use of the S-word further unravel as her article continues. She notes in passing that at least two non-western media organisations – Russia Today and Iran's Press TV – also talk about Hizbullah strongholds, though apparently that's not their fault: "Hezbollah stronghold", she says, "has been so mainstreamed that virtually all English-language media utilises the expression".
But there's worse. A search of al-Akhbar's archive reveals an article about Syria that Narwani wrote in May where she describes the Baba Amr district of Homs as "an armed opposition stronghold" and the Khalidiyeh district as the "stronghold" of the Farouq Battalion.
Are we to conclude, then, that she was using this term to soften up public opinion for attacks and justify carnage, etc, etc? Her own logic suggests the answer is yes.
But self-contradiction is nothing new for Narwani. Last year she 
denounced British universities as "old colonials" and suggested Arabs should not study at them, while at the same time highlighting her own rather tenuous connection with St Antony's College, Oxford – presumably to lend credibility to her articles.
She is, or perhaps was, a Senior Associate Member at St Antony's. Senior Associates, the college website explains, "are normally visitors to the College and the University for periods of up to a year who are pursuing a specific research objective of their own". 
    
Posted by Brian Whitaker
Wednesday, 21 August 2013