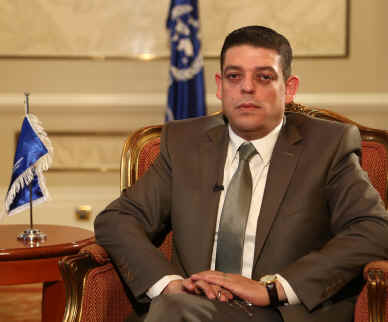 Loai Deeb, president of GNRD
A controversial NGO headed by a man who once ran a fake university from his home has been appointed to monitor Egypt's forthcoming parliamentary elections.
The Global Network for Rights and Development (GNRD), which has strong links with the UAE, is one of only five international organisations chosen by the Supreme Electoral Commission to monitor the Egyptian polls which begin in March.
GNRD seems to have been fortunate in securing this opportunity because the electoral commission allowed only a very short period (January 12-20) for organisations interested in monitoring to apply. The Cairo Post reports: "Many NGOs lamented the limited time available for them to finish required papers to register for monitoring."
---
The GNRD file
Read the full story here
---
Some of the better-known international monitoring organisations had already said they would not take part. Last October, for example, The Carter Center announced that it had closed its field office in Egypt and would not be sending election observers:
"This decision reflects The Carter Center's assessment that the political environment is deeply polarised and that political space has narrowed for Egyptian political parties, civil society, and the media.

"As a result, the upcoming elections are unlikely to advance a genuine democratic transition in Egypt. Both Egyptian civil society and international organisations face an increasingly restrictive environment that hinders their ability to conduct credible election observation."
That hasn't deterred GNRD, however. Last year it took part in a joint mission monitoring the presidential election which legitimised General Sisi's seizure of power – and produced an enthusiastic report.
It said: "the Egyptian people have experienced a unique process toward democratic transition, and despite the fact that minor errors and inaccuracies occurred, these do not shed a negative light on the overall results of the electoral process". It continued:
"The Joint Mission was honoured to be a part of the 2014 Egyptian Presidential Election and contribute to promoting its transparency, integrity, and success. The Joint Mission expresses its hope that these contributions will support Egypt's development and a smooth transition to democracy. We wish success to Egypt, being one of the most influential countries in the Middle East, and commend their achievements thus far towards a path to democracy."
For the presidential election GNRD was working in partnership with Maat for Peace Development and Human Rights (an Egyptian NGO) and the International Institute for Peace Justice and Human Rights (based in Geneva). These three will be working together again to monitor the parliamentary elections, according to Daily News Egypt. The other international NGOs with monitoring permits are the International Institute for Democracy (Sweden), the Electoral Institute for Sustainable Democracy in Africa (based in South Africa) and the Ecumenical Alliance for Human Rights and Development (Switzerland).
The 'Scandinavian University' affair
The president of GNRD is Loai Deeb, a lawyer who previously ran "The Scandinavian University", a bogus educational institution in Norway. It boasted of having 175 professors and more than 300 lecturers, plus a wide range of courses stretching from engineering and economics to sharia and Islamic Studies, but there is no evidence that anyone ever studied there.
The university's headquarters were a single-storey building in Stavanger (see photograph) which also served as Deeb's home, and documents filed with the Norwegian authorities showed that despite the claims of a large teaching staff it had no employees at all.
The Norwegian education ministry became concerned that potential students could be misled into thinking "The Scandinavian University" was an accredited institution and, under the threat of legal action, Deeb closed it down. (More details here.)
Emirati connections
GNRD itself is an obscure but well-funded organisation (to the tune of 3.5 million euros a year) and has offices in Norway, Belgium, Switzerland, Spain, Sudan, Jordan and the UAE. It appears to be active in and around various UN forums and is also registered with the European Parliament for lobbying purposes (fifteen of its staff have official accreditation).
GNRD says most of its funding comes from donations, though the sources of money are far from transparent. On its website, at the bottom of the home page, GNRD has a section headed "Our collaborators and sponsors" with a collection of sixteen logos, some of which are illegible. It is unclear which of these actually donate money but the website says GNRD's "main sponsor" is the GNRD Foundation. In other words, GNRD seems to be sponsoring itself.
The GNRD Foundation (registered in Norway late last year) is a new sponsor on the website and replaces a previous sponsor, Deeb Consulting – an Emirates-based company owned by Loai Deeb.
---

Previous blog posts about GNRD

Britons missing in Qatar: the Emirati connection
4 September 2014

An odd organisation
6 September 2014

Fake university man aims to sort out Yemen
30 October 2014

---
GNRD has good connections with the UAE, which is one of the Gulf states bankrolling the Sisi regime in Egypt. GNRD is particularly fortunate to have an office in the UAE, since civil society organisations are not generally welcomed by the authorities there. All associations and NGOs in the UAE have to register with the Ministry of Social Affairs and, according to the US State Department, they have to follow the government's censorship guidelines and receive prior government approval before publishing any material.
In 2012, Emirati authorities abruptly closed the Dubai office of the National Democratic Institute (an American NGO) and two of its staff were briefly detained. On the same day, the polling organisation Gallup and the German Konrad Adenauer Foundation also closed their offices in Abu Dhabi – apparently at the government's behest.
GNRD produces an international league table of human rights and the most recent one (rather incredibly) ranked the UAE in 14th position worldwide – just one place behind the UK and far ahead of any other Arab country. Following criticism in social media, that league table has now been deleted, though another one is promised in 92 days.
Articles on GNRD's website also portray the UAE's human rights record in a highly positive light. One article comments favourably on the role of women in the UAE. Others talk about the UAE's "achievements in the field of promoting and protecting the family and its members", also praising the UAE for its environmental efforts, and for the way it cares for the disabled and protects the rights of children.
This glowing picture is not one that many others share. The US State Department and Human Rights Watch, for instance, have both been far more critical of the UAE's rights record.
Last August, during a political spat between the UAE and Qatar, Qatar arrested two British men who had gone there on behalf of GNRD to investigate the conditions of Nepalese migrant workers. The pair were eventually released without charges but their report on migrant workers has so far not been published.
Election monitoring in Egypt
International monitoring of elections in Egypt is a fairly recent development. The Mubarak regime objected to it on the grounds that it would be an infringement of national sovereignty, and insisted that the polls could be adequately monitored by Egyptian judges.
The Sisi regime, on the other hand, seems to have recognised that monitoring can have PR value, so long as it doesn't get out of control and become too critical. In addition to the five foreign NGOs, 63 local organisations will be engaged in monitoring the parliamentary election. However, the Supreme Electoral Commission has issued some restrictive rules for monitors. One, noted by Daily News Egypt, says observers cannot spend more than half an hour inside polling stations. The rules also allow judges presiding over polling stations to eject or refuse entry to observers if they thing their presence "could obstruct the electoral process".

Posted by Brian Whitaker
Wednesday, 28 January 2015
This work is licensed under a Creative Commons Attribution-NonCommercial 4.0 International Licence.