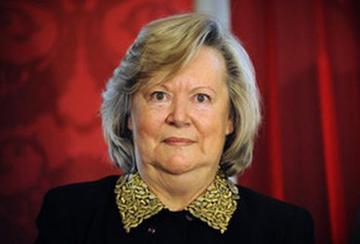 Belgium's supreme court has rejected an appeal by veteran politician Anne-Marie Lizin against her conviction for electoral malpractice. This probably signals the end of her political career in Belgium, though she still has an active globe-trotting role as "High Commissioner" of GNRD, the Emirates-funded quasi-NGO which Norwegian authorities have accused of money-laundering.
Lizin, who served three years as president of the Belgian senate and is currently its honorary president, has been fighting an eight-year legal battle against a suspended prison sentence and a five-year ban on holding public office.
The case relates to her time as mayor in the historic town of Huy – and the use of municipal employees (who are supposed to be politically neutral) for distributing election literature on her behalf. The arrangement was that employees who canvassed for Lizin during working hours would not have any pay deducted or be required to make up the lost time. This meant the municipality, in effect, would be subsidising Lizin's election campaign.
The scandal led to Lizin resigning acrimoniously after 26 years as Huy's mayor. She subsequently became involved in a road rage incident over Town Hall parking spaces between her own car and that of the woman who replaced her as mayor (reports
here and here).
Belgian media also reported that after leaving office Lizin had
retained a mobile phone provided by the municipality. This only came to light when the municipality received a 5,000 euros bill which Lizin reportedly agreed to pay after being threatened with legal action.
Despite her conviction for electoral malpractice, in her GNRD capacity Lizin played a key role in an observer mission for last year's presidential election in Egypt which legitimised General Sisi's seizure of power. The mission produced an enthusiastic report which commended the regime's "achievements thus far towards a path to democracy".
Lizin later met Sisi in person and seems to have been so thrilled that she posted a photo of their handshake on her website.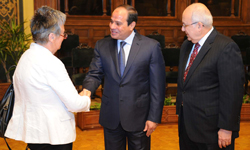 Lizin meets Sisi

In a further controversy last month, she made a formal complaint to the European Parliament after it passed a resolution criticising human rights abuses in Azerbaijan.
She had previously co-authored an article on GNRD's website praising Azerbaijan as "a unique country" which has "introduced many positive initiatives for women's rights and gender equality in the span of only a few years". It added:
"The remarkable efforts of Azerbaijan, the only Muslim country in the Eastern neighbourhood, should be recognised and encouraged by the EU."
This week's court decision means Lizin has now exhausted all avenues for appeal within the Belgian legal system, though she immediately announced that she intends to take her case to the European Court of Human Rights, claiming to be the victim of "a terrible injustice, the result of false testimony". However, she has now formally resigned as a municipal councillor in Huy.
UPDATE: Anne-Marie Lizin died on 17 October 2015 after a short illness.

Posted by Brian Whitaker
Friday, 2 October 2015
This work is licensed under a Creative Commons Attribution-NonCommercial 4.0 International Licence.