GNRD, the strange "human rights" organisation that was declared bankrupt earlier this month, had an unusually favourable view of human rights in the UAE. It was also on friendly terms with Egypt's Sisi regime and the Kurdish PYD. Another of its friendships, though – and one which it sought to keep quiet about – was with the Church of Scientology.
The central figure in the relationship was a leading British Scientologist. Duncan McNair – a hereditary peer officially known as the 3rd Baron McNair – provided GNRD with "consultancy" services. He had a dual role as the organisation's "UK Public Affairs Adviser" and internationally as an "education and political PR" consultant. However, his involvement was not welcomed by all of GNRD's employees, most of whom were Muslims.
In February last year GNRD staff attended "human rights training" workshops in London. The workshops, conducted by McNair himself, took place at Fitzroy House, a museum dedicated to the memory of Scientology's founder, L Ron Hubbard. GNRD reported the workshops on its website at the time but without any mention of the Scientology connection; it described Hubbard merely as an "American writer and philosopher".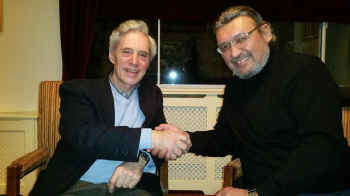 A few days later GNRD returned to the Hubbard museum for a celebration of International Women's Day. The keynote speaker at that event was Mary Shuttleworth, the founder and president of Youth for Human Rights International, one of Scientology's numerous front organisations. Again, GNRD reported this on its website without a word about Scientology.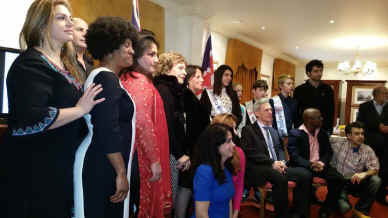 GNRD did mention McNair by name but described him as "a member of the Liberal Democrats Party, which is one of the two parties in the British coalition government" [as it was at the time]. However, McNair has not been an active parliamentarian during the last 16 years and he is better known in Britain as a Scientologist.
McNair took up a seat in the House of Lords in 1990 after inheriting the Baron title from his father. In 1996, during a speech in the Lords, he came out as a Scientologist – the first British parliamentarian to do so. He also made a series of interventions in the Lords which were seen as supporting Scientology but this came to an end in 1999 when the Labour government's reforms reduced the number of hereditary peers who were allowed to take part in House of Lords business. McNair was one of those excluded.
Currently, McNair seems to be mainly working as a consultant. A London-based company called Alchemy Business Management lists him as its "President & Chief Operations for non Profit Sector". A profile on its website says:
"Lord Duncan McNair was a Member of the House of Lords from 1990 to 1999 where he focused on humanitarian issues, campaigning strongly on natural health and education. Since that time Lord McNair has been and continues to be a public affairs consultant to commercial clients and charities and has successfully managed projects for those clients in the fields of consumer products, infrastructure maintenance, international development and human rights.

"He is currently consulting to the Global Network for Rights and Development [GNRD] ... as their UK Public Affairs Adviser and internationally as an education and political PR consultant."
(The profile also describes GNRD as "an international NGO that has UN contracts for ensuring that aid funds are properly used" – which will probably come as news to the UN.)
McNair also has a consultancy called Strategic Resolution ("Communication Strategy in Business and Politics") based at his home in East Grinstead. Describing its "ideal clients", Strategic Resolution says:
"You adhere to the highest standards of honesty and integrity. If you want to succeed by taking unethical shortcuts, we're not for you. If you want to play the game at the highest level, we'd like help you achieve the success you are aiming for."
Apart from the meetings at the Hubbard museum in London there is no further mention of McNair on GNRD's website. However, videos posted on YouTube show him taking part in other GNRD events. One, from May last year, shows him at a media workshop in GNRD's Norwegian headquarters – just a few days before the premises were raided by police in connection with money-laundering allegations. (The case has yet to come to court and GNRD denies wrongdoing.)
GNRD's media workshop in Norway. Lord McNair first appears 23 seconds from the start
Another video shows McNair with GNRD's contingent at the UN Human Rights Council session in Geneva in March this year.
GNRD video from the UN Human Rights Council session last March. Lord McNair can be seen at 2 minutes 10 seconds.
Thomas Bechmann, who was employed by GNRD as a film producer, had been taking photos and making videos of the activities in Geneva and recalls that when he set off for home McNair asked to take possession of them.
"I took photos and recorded everything they did," Bechmann told al-bab. I left about a week before the others and then Duncan [McNair] – he was with us the whole time – asked for the footage and pictures. So I said yes. He was with us, like every day, coming to meetings and stuff.
"I gave it to him and then when I was back in Norway someone [a colleague] asked me for photos or pictures and I said 'Just ask Duncan, because he has everything'."
According to Bechmann, the colleague responded: "Why are you giving him everything? He sends emails to employees with Scientology propaganda."
Bechmann, however, did not see that as a logical reason for refusing to hand over the pictures to McNair, adding that McNair had never tried to recruit him to Scientology: "I talked a lot to Duncan and he never once mentioned Scientology or anything like that."
Bechmann later initiated the bankruptcy case against GNRD when it stopped paying his wages.
Award for an Emirati
Aside from McNair there is a further connection between GNRD and Scientology which may or may not be coincidental. Norwegian police believe almost all of GNRD's funding came via the United Arab Emirates but so far details of only one Emirati payment have become public. A document leaked to al-bab last August shows a transfer of 100,000 euros to GNRD from Al-Mezmaah Studies and Research Center in Dubai.
Al-Mezmaah describes itself as "an independent centre established by Dr Salem Humaid with the aim of concentrating on the regional affairs of the United Arab Emirates and also its repercussion at the Arab and international level and all that which exalt the name of the United Arab Emirates".
Humaid, the founder of al-Mezmaah, has held various government posts in Dubai – most notably with the Dubai Culture and Arts Authority. According to a Scientology website, the Scientologists received an award from the Dubai Culture and Arts Authority "in recognition of Mr Hubbard's vision of a world where arts and the artist may flourish". Exactly when that happened, or what prompted it, is unclear.
Humaid, meanwhile, received an award from the Scientologists. In 2010, he became the first Arab ever to be named as their "Culture Person of the Year". The title was bestowed on him at the Scientologists' "Writers of the Future" awards ceremony in Hollywood. A report of this event also said Humaid had been chosen to "supervise the Arabisation" of books by Ron Hubbard.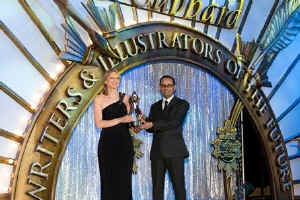 McNair and human rights
McNair has a family connection with the Middle East. During the 1950s his grandfather, Sir Arnold McNair – the first Baron McNair – was a judge at the international court in The Hague who sided with Iran in a legal battle with the British government. A website run by Duncan McNair says:
"Iran had enjoyed a democratic government since 1906. In 1952, after making considerable but fruitless efforts to negotiate a fairer share of the oil revenues for the country and its people, Iran's elected Prime Minister, Mohammed Mossadegh, nationalised the oil country's oil industry, basically the oil assets of what is now British Petroleum, or BP.

"The British Government tried to bring a case against the Iranian Government but the Court decided by nine votes to five that it had no jurisdiction to try the case ...

"Sir Arnold wrote a paper supporting the Iranian position which no doubt helped to convince the Court to take the view it did. The Americans and British decided on regime change and organised a coup against the elected Government of Prime Minister Mohamed Mossadegh. When Iranians meet to discuss this episode in their history they remember the support of Sir Arnold McNair."
According to the same website Duncan McNair was invited to give a talk about his grandfather to an Iranian exiles group in London called Tribon-e-Azad. The discussion turned to questions of democracy and McNair produced some "human rights education materials" which he had brought along to the meeting.
"From that we started human rights education in Farsi," the website says. "Now the educational materials have been translated into Arabic, Farsi, Kurdish, Turkish and Urdu."
It appears that these materials, or something very similar, were also used for the "training workshops" attended by GNRD.
McNair has since established a project called Peaceful Planet which is described as "an educational programme teaching the Universal Declaration of Human Rights". A note from McNair on its website thanks Youth for Human Rights International (a Scientology front) and its sister organisation, United for Human Rights, "for their encouragement to use their manuals, booklets and videos material and for their assistance in translating them into Arabic, Farsi, Kurdish, Turkish, and Urdu".
Through its front organisations, Scientology actively promotes the Universal Declaration of Human Rights, using material that is generally straightforward and factual. However, this also serves its own agenda – part of which is to get Scientology recognised as a religion when many regard it merely as a business selling expensive "self-improvement" courses.
Scientology also opposes psychiatry and associated medication, which it characterises as abusing human rights. It does this through yet another front organisation, the Citizens Commission on Human Rights. The patron and executive director of the Citizens Commission is Lady Margaret McNair – wife of Duncan McNair.
This work is licensed under a Creative Commons Attribution-NonCommercial 4.0 International Licence.