At the end of June the UN Human Rights Council decided it needed someone to monitor "protection against violence and discrimination based on sexual orientation and gender identity" and voted to appoint an "independent expert". In September, the role was assigned to Vitit Muntarbhorn, a professor of international law from Thailand, for a three-year term. Now, however, countries that oppose LGBT rights are seeking to overturn the decision.
On Tuesday, the UN General Assembly will be asked to vote on a resolution calling for "further consultations" – in effect saying the council should change its mind about the new post.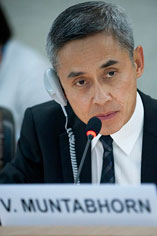 According to Lester Feder, writing for BuzzFeed, this move is unprecedented. The Human Rights Council routinely appoints "independent experts" and "special rapporteurs" to look at specific issues, often controversial ones, and the General Assembly doesn't normally challenge them; it has done so only once before – and that was over a technicality.
The General Assembly resolution, put forward by Sierra Leone on behalf of the 54-member group of African states, is the latest sign that governments which reject LGBT rights are becoming much more organised and assertive in international forums. Typically, their arguments are based on a mixture of cultural relativism and denial that LGBT issues have any connection with human rights. Some of them also reject the concept of sexual orientation.
The original decision to appoint an independent expert was approved in the Human Rights Council by 23 votes to 18, with six abstentions. All Arab members of the council – Algeria, Morocco, Qatar, Saudi Arabia and the United Arab Emirates – voted against, as did Bangladesh, Burundi, China, Congo, Côte d'Ivoire, Ethiopia, Indonesia, Kenya, Kyrgyzstan, Maldives, Nigeria, Russia and Togo.
Seven of the countries opposing it – Bangladesh, Indonesia, Kyrgyzstan, Nigeria, Qatar, Russia and Saudi Arabia – also belong to the "Group of Friends of the Family" which works with right-wing Christian groups in the west to combat progressive social policies internationally.
Under the resolution approved by the Human Rights Council, tasks assigned to the independent expert included:
To raise awareness of violence and discrimination against persons on the basis of their sexual orientation or gender identity, and to identify and address the root causes of violence and discrimination.
To engage in dialogue and to consult with states and other relevant stakeholders, including United Nations agencies, programmes and funds, regional human rights mechanisms, national human rights institutions, civil society organisations and academic institutions.
To work in cooperation with states in order to foster the implementation of measures that contribute to the protection of all persons against violence and discrimination based on sexual orientation and gender identity.
By the time the resolution was approved by the Human Rights Council its text had been weakened by several amendments apparently designed to make the independent expert's job more difficult.
Its preamble talked about "respecting relevant domestic debates at the national level on matters associated with historical, cultural, social and religious sensitivities" and "deplored" attempts to influence countries' policies on LGBT issues by attaching conditions to development aid.
The text was further watered down with an insertion from Pakistan (a non-member of the council acting on behalf of the Organisation of Islamic Cooperation) expressing concern at attempts "to impose concepts or notions pertaining to social matters, including private individual conduct [i.e. homosexuality], that fall outside the internationally agreed human rights legal framework".
Pakistan's claim that LGBT rights fall outside the "internationally agreed" framework is based on an extremely narrow reading of the Universal Declaration of Human Rights which says, in Article 2:
"Everyone is entitled to all the rights and freedoms set forth in this declaration, without distinction of any kind, such as race, colour, sex, language, religion, political or other opinion, national or social origin, property, birth or other status."
Although this doesn't specifically mention sexual orientation or gender identity, any reasonable interpretation would include them under "other status". The types of discrimination listed in Article 2 are clearly not the only ones it covers – a point that was amplified by the Dutch representative at the Human Rights Council meeting:
"Many of us will remember the atrocities during the Khmer Rouge regime in then Democratic Kampuchea between 1975 and 1979. It was very common for people to be shot for speaking a foreign language or wearing glasses as these were traits that were associated with the west. Many were also shot for smiling or crying as it was forbidden to show any kind of emotion.

"So, did foreign observers and lawyers say: 'Well, violence and discrimination based on these factors is not covered by the Universal Declaration so we cannot really condemn it'? Did they say: 'These concepts of smiling and crying are vague, ill-defined and not supported in international law'? No Mr President, they did not! Neither would we say that now."
It wasn't until 2003 that the issue of LGBT rights began to be raised at the United Nations. At a session of the UN Commission on Human Rights (the precursor of the Human Rights Council) Brazil put forward a resolution expressing "deep concern at the occurrence of violations of human rights in the world against persons on the grounds of their sexual orientation".
Speaking on behalf of the 57 countries in the Islamic Conference Organisation (nowadays known as the Organisation of Islamic Cooperation or OIC), Pakistan's ambassador said Muslim nations could not accept the proposal: the draft resolution aimed to create "'new rights" that were in discord with the religious and cultural values of several states and was "not a proper subject" for discussion. In any case, he suggested, the correct term was not "sexual orientation" but "sexual disorientation". He continued:
"This is a question that concerns the fundamental values of our society … It's an attempt to impose one set of values on to people who have another … We say: we respect your value systems, but please handle those within your own countries."
The Pakistani move was narrowly defeated by 24 votes to 22, but next day five Islamic allies – Saudi Arabia, Egypt, Libya, Malaysia and Pakistan – launched a filibuster, with a series of amendments and procedural manoeuvres that resulted in the commission halting further debate.
This set a pattern which continues today and since the start of this year the UN's anti-LGBT lobby has become increasingly vociferous – partly because of the recently-formed Group of Friends of the Family (GoFF). GoFF currently has 25 members: Bangladesh, Belarus, Comoros, Egypt, Indonesia, Iran, Iraq, Kuwait, Kyrgyzstan, Libya, Malaysia, Nicaragua, Nigeria, Oman, Pakistan, Qatar, Russia, Saudi Arabia, Somalia, Sudan, Tajikistan, Turkmenistan, Yemen, Uganda and Zimbabwe.
GoFF's first reported action came in February this year when, at the instigation of Belarus, Egypt and Qatar, it called for the withdrawal of a set of UN-issued postage stamps celebrating LGBT rights with the slogan "Free and equal". The 57-member OIC and the 54-member African Union also protested about the stamps.
Two of the controversial UN stamps
In March, Saudi Arabia – where the OIC has its headquarters – objected to a report from Juan Méndez, the UN special rapporteur on torture, who had been asked to consider how the prohibition of torture in international law could be applied "to the unique experiences of women, girls, and lesbian, gay, bisexual, transgender and intersex persons".
According to the UN's record of the ensuing discussion, Saudi Arabia complained that the report included 65 references to sexual orientation (there were actually 13) and described it as "an attempt to use the eradication of torture to promote other issues".
The UN's rationale in commissioning the report was that this has been a neglected aspect of attempts to prevent torture, and that women, girls and LGBT people "are at particular risk of torture and ill-treatment when deprived of liberty, both within criminal justice systems and other, non-penal settings".
In May GoFF was active again at the UN headquarters when it launched an exhibition of photographs entitled "Uniting Nations for a Family Friendly World". This was supposedly to mark the UN's International Day of Families, which fell on Sunday, May 15. However, by accident or design, the opening ceremony of the exhibition actually took place on Tuesday, May 17 which is the International Day Against Homophobia, Transphobia and Biphobia (IDAHOT).
In June, Egypt succeeded in excluding 11 gay and transgender advocacy groups from a high-level UN meeting aimed at ending the worldwide Aids epidemic by 2030. In a letter to the UN, Egypt gave no reason for objecting to the groups' participation but said it was acting on behalf of the OIC.
This work is licensed under a Creative Commons Attribution-NonCommercial 4.0 International Licence.