BBC video on Yemen's water crisis, 21 August 2013
Yemen's water crisis
"Yemen is one of the oldest irrigation civilisations in the world. For millennia, farmers have practised sustainable agriculture using available water and land. Through a myriad of mountain terraces, elaborate water harvesting techniques and community-managed flood and spring irrigation systems, the country has been able to support a relatively large population. Until recently, that is. Yemen is now facing a water crisis unprecedented in its history.

"The Middle East is an arid, water-stressed region, but Yemen stands out for the scale of its water problem. Yemen is one of the world's ten most water-scarce countries ... Its aquifers are being mined at such a rate that groundwater levels have been falling by 10 to 20 feet annually, threatening agriculture and leaving major cities without adequate safe drinking water. Sanaa could be the first capital city in the world to run dry ...

"Many wells have to be drilled to depths of 2,600 to 3,900 feet, extremely deep by world standards. Yemen also differs from several Arabian Peninsula countries in that the government lacks legitimacy and the people strongly resist regulations and laws imposed from the top down."

– Gerhard Lichtenthaeler, Water Conflict and Cooperation in Yemen, Middle East Report 254, Spring 2010
Water resources and use in Yemen
(Aquastat)
Fact sheet on water in Yemen
(Aquastat)
Yemen's water crisis
By Christopher Ward, of the World Bank (British-Yemeni Society Journal, 2001)
Water scarcity in Yemen: the country's forgotten conflict
Frederika Whitehead, The Guardian, 2 April 2015
Yemen water crisis may be 'bigger problem than war'
By Magdalena Mis, Thomson Reuters Foundation, 29 June 2015
The Water Crisis in Yemen: Causes, Consequences and Solutions
By Nicole Glass, Global Majority E-Journal, Vol. 1, No. 1 (June 2010)
Will Yemen run out of water?
By Chris Fitch, Geographical, 2 February 2015
Options drying up for water-depleted Yemen
Sophie Cousins, Nature Middle East, 15 August 2015
Getting dug into Sheba's Terraces
How Yemen's mountain farmers are learning to control rainwater. By Brian Whitaker, The Guardian, 24 January, 1992
Community development through co-operation
​by A. G. Milroy, Arid Lands Initiative
Water Management in the Sana'a Basin and the Crisis of State Legitimacy
Steven Caton, Yemen Update No. 48 (2006)
Roots of Agriculture: A Season of Excavation and Survey in Wadi Sana'a, Hadramawt
Joy McCorriston, Yemen Update No. 47 (2005)
The qat problem
Around 90% of the country's water is used for agriculture and, of that, an estimated 37% is used for growing qat – Yemen's favourite drug. In some water-stressed areas, qat fields occupy half the total irrigated area.
How Yemen Chewed Itself Dry
Farming Qat, Wasting Water. By Adam Heffez, Foreign Affairs, July 23, 2013
Qat farmers: a drain on the nation's water
by Mutahar Zeid Mutahar, Yemen Times, 18 January 1999
Yemen, water and qat
A conference discussion on possible solutions to Yemen's water problem, January 2013. Report by Brian Whitaker
---
Socotra
Socotra [or Soqotra] is an outpost of Yemeni territory in the Indian Ocean. It contains "one of the richest and best-preserved dry tropical floras in the world. It contains "over 850 flowering plant species, of which some 300 are endemic including such botanical oddities as the cucumber tree (Dendrosicyos socotranus) and the dragon's blood tree (Dracaena cinnabari)". It is designated as a UNESCO World Heritage Site.
Developing conservation capacity on Socotra
Centre for Middle Eastern Plants
Naturalist in Socotra
​Yemen Update No. 36 (1995)
Protecting the land of the Dragon's blood tree
Centre for Middle Eastern Plants
The Socotra dragon tree
Global Trees Campaign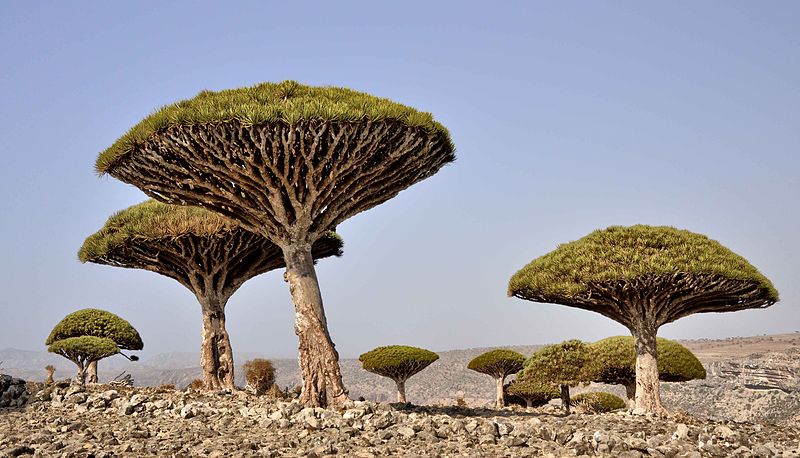 The Socotra Dragon's Blood Tree. Photo: Rod Waddington from Kergunyah, Australia
---
Flora and fauna
Wildlife conservation initiatives in Yemen
by Derek Harvey (British-Yemeni Society Journal, December 1999)
Wildlife in Yemen
Jack Jackson describes the areas most worth visiting (Arabian Wildlife. Volume 2, Number 2)
Tracking locusts - in Yemen and far beyond
by George Popov (British-Yemeni Society Journal, November 1998)
Utmah Wildlife Sanctuary
This area, noted for its natural history, was declared a protected zone in 1999. (Yemen Times, 13 March, 1999)
Birds of Yemen
A brief overview by Richard Porter (British-Yemeni Society Journal)
The birds of Yemen

Summary of a survey conducted by the Ornithological Society of the Middle East (OSME) in Southern and Eastern Yemen and Socotra. Yemen Update No. 36 (1995)
Birds of South Yemen
Yemen Update No. 33 (1993)
The Sodom apple in Yemen
Nigel Hepper, Yemen Update No. 48 (2006)
With Wood among the Flora
Yemen Update No. 45 (2003)
Botany, Incense, and Myrrh
Yemen Update No. 39 (1997)
Wildlife and Conservation in Eastern Yemen
Yemen Update No. 34 (1993)
Arabian Mammals
Book review, Yemen Update No. 33 (1993)
Forsskål's Flora Revived
Yemen Update No. 33 (1993)
The Vegetation of the Republic of Yemen (Western Part)
Yemen Update No. 33 (1993)
Observations on the Baboons in the Garden of the "Bostan Restaurant"
Yemen Update No. 28-29 (1991)