"The pre-eminence of poetry in Yemeni culture cannot be overstated, and its importance to music is illustrated by the story of an accomplished lute player from Baghdad, who visited the Yemen some years ago.
"He was invited to attend a gathering at the house of a well-known amateur poet and musician in Sana'a where he performed, as was his custom, a highly technical and brilliantly executed lute solo lasting nearly an hour.
"When the music stopped, there was a pregnant pause in the room. The guests, who had sat patiently chewing qat throughout, waited expectantly. The Iraqi, it seemed, had finished! To a Yemeni, such an instrumental piece, however interesting, was merely a prelude to sung poetry, without which the performance was simply incomplete."
– A D Bakewell: Traditional music in the Yemen (British-Yemeni Society Journal, November 1995)
---
Fifty years of Yemeni music
Interview withMuhammed Mahmud al-Harithi.Yemen Update No. 33 (1993)
Sounds of Wisdom
by Paul Hughes-Smith. British-Yemeni Society Journal, August 2005
Peaks of Yemen I Summon: Poetry as Cultural Practice in a North Yemeni Tribe
By Steven Caton,reviewed by Najwa Adra.Yemen Update No. 48 (2006)
Poetry: the best expression of Yemen's psyche
Yemen Observer, 14 October 1999
Rediscovering Yafiee songs through Yahya Omer al-Yafiee
Yemen Times, 8 March 1999
Yemeni Mowashaha
A highly classical style of music sometimes known as Sana'ani song. Yemen Times, 1 Feb 1999
Stations of Bewilderment
A poem by Ahmad al-'Awadi, translated by LucineTaminian.Yemen Update No. 47 (2005)
Qasidas on cassettes
Yemen Update No. 39 (1997)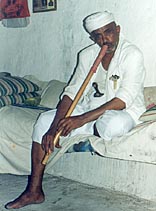 Al-Khallool: the oldest musical instrument in Yemen
The metre-longkhalloolmay look like a cudgel or a walking stick, but actually it's a flute. It is played in the Tihama area and has probably changed little during the last 500 years. There are just two holes - at the far end of the instrument. Yemen Times,17 May 1999

---
Musiciansand poets
Folk poet Shaif al-Khaledi
Yemen Update No. 39 (1997)
Waddah al-Yaman: national poet
by Abdulla al-Udhari (British-Yemeni Society Journal)
Iskander Thabet: a monument in modern Yemeni music history
Yemen Times - Yemen Update 36 (1995: 13, 21)
Muhammed Mahmud al-Harithi: an embodiment of 50 years of Yemeni music
Yemen Times - Yemen Update 33 (1993: 30 -31)

Ahmad Fathi
Born in Hodeidah in the 1950s, Ahmad Fathi (above) became one of Yemen's most famous musicians, noted for his creativity and brilliance in playing the lute. Yemen Times, 15 Feb 1999.
Fadl Kuraidi
A singer from Lahij. Yemen Times, 4 Jan 1999
Faisal Alawi: master of Yemeni folklore song
Yemen Times, 11 Jan 1999
Najib Saeed Thabet
Aden-born singer with a career spanning 25 years. Yemen Times, 18 Jan 1999
Shayef al-Khaledi
Obituary of a folk poet. Yemen Times, 25 Jan 1999