Chapter 6: The Queen of Disinformation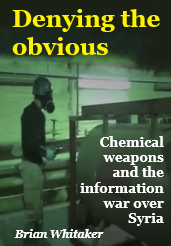 In rebel-held areas of Syria a civil defence organisation known as the White Helmets took on a variety of non-military tasks such as searching wreckage for the dead and injured, guiding civilians from danger areas and making damaged buildings safe. The heroism of its volunteers was much celebrated in the west and they became the subject of an Oscar-winning documentary.
Though the White Helmets undoubtedly saved many lives they soon became a target in the information war. One reason was that they had a secondary role documenting the conflict. Their members were equipped with GoPro cameras – either hand-held or attached to their helmets – and images that they posted online not only revealed the brutality of the conflict but could potentially be used in trials for war crimes. In their search-and-rescue role, the White Helmets also found themselves on the scene of chemical attacks – which placed them in a position to collect evidence and pass it to OPCW investigators.
Discrediting the White Helmets thus became a priority in the regime's propaganda effort, and one line of attack was to characterise them as the agents of western powers. That wasn't difficult because they were largely funded by governments in Europe, the US and Japan. A key figure in the White Helmets' development and training was James Le Mesurier, a former British Army officer, who was subjected to an intense harassment campaign. In 2019 he was found dead in Istanbul, having apparently fallen from the balcony of his home.
The White Helmets often put their own lives at risk in order to help others but among their 3,000-or-so members there were some whose behaviour harmed the organisation's reputation. One example arose from an internet craze known as the Mannequin Challenge. People were videoed posing motionless in the midst of some activity before suddenly resuming whatever they had been doing. In 2015 a Mannequin Challenge video circulated by the Revolutionary Forces of Syria showed two White Helmets members in a staged scene "rescuing" a man who was pretending to be injured. Although it had apparently been intended to publicise the organisation's work, critics used it to question the authenticity of White Helmets videos more generally. Another video showed a public execution carried out by rebels where two White Helmets appeared with a stretcher to remove the body seconds after the fatal shot was fired. This led to claims that they were assisting at executions.
Propaganda against the White Helmets was generated by a handful of sources but amplified on social media, giving an impression that the campaign had widespread public support. A Harvard University study found two clusters of Twitter accounts posting tweets about the White Helmets – one supporting them and the other opposing them. The anti-White Helmets cluster, which included RT's Twitter account and several others linked to the Russian government, dominated the conversation: it was not only larger but a lot more active, producing three times as many tweets.
Among Twitter accounts attacking the White Helmets one stood out as receiving far more attention than any other, generating 63,380 retweets. This was the account of Vanessa Beeley, described by RT as "an independent investigative journalist". According to Beeley's tweets, the White Helmets were not only "NATO's pseudo 'NGO' construct" and a "western propaganda tool" but also a terrorist organisation. They were "embedded" with ISIS/Daesh and the jihadist al-Nusra Front, and were "actually al-Qaeda". This, Beeley repeatedly claimed, made them a legitimate military target.
Beeley's articles attacking the White Helmets appeared on numerous "alternative" websites. One of the sites, 21st Century Wire, had a special section containing more than 250 articles and videos about the White Helmets with an additional 3,000 "research links" to what it said was "likely to be one of the biggest NGO frauds in history". The website also promoted familiar conspiracy theories about George Soros, 9/11, chemtrails, Covid 19 and the shooting down of flight MH17 over Ukraine. For a time, Beeley was 21st Century Wire's Associate Editor. The White Helmets were not the only topic she wrote about but her efforts to denigrate them were what brought her to prominence.
Her father was the late Sir Harold Beeley, a diplomat and Arabist who had served as Britain's ambassador to Saudi Arabia and Egypt in the 1950s and 1960s but she didn't appear to have taken an active interest in the region's politics herself until reaching her late forties. She had "a corporate, marketing background" according to her biographical notes and had worked "predominantly in the engineering and plastics recycling sector in UK and Central Europe". That changed around 2012 with the start of her transformation into a self-described "writer, photographer, peace activist and investigative journalist".
From Gaza to Moscow
Beeley's initial interest was Palestine rather than Syria and in 2012 she visited the besieged enclave of Gaza. According to her own account, she found the border closed but managed to enter through the tunnel system used by smugglers. While there, she witnessed the Israeli bombardment known as Operation Pillar of Defence which clearly left a strong impression.
Another activist in Gaza at the same time was Eva Bartlett, a Canadian living with a Palestinian family near Deir al-Balah refugee camp, "enduring the same extreme power outages, lack of water and Zionist warplane flyovers and bombings" as the local inhabitants. Though younger than Beeley, Bartlett was considerably more experienced. In 2007 she had spent eight months blogging from the West Bank until the Israelis arrested and deported her. A year later, together with a group of European politicians, she entered Gaza aboard a small vessel which defied an Israeli gunboat to symbolically break the siege.
Beeley seems to have viewed Bartlett as a role model and the two women became close friends. Bartlett later had a regular slot on RT's website and visited Syria 14 times between 2014 and 2020. Like Beeley, she disparaged the White Helmets, accusing them of faking their rescue videos. In 2017 Bartlett went on a government-sponsored trip to North Korea and came back impressed.
After her initial visit to Gaza, Beeley spent some time in Egypt where demonstrations were taking place against Mohamed Morsi, the Muslim Brotherhood figure who had been elected president in the wake of the uprising against Hosni Mubarak. "I returned [to Egypt] in 2013 and was witness to many of the anti-Morsi demonstrations where friends of mine were targeted by security forces and imprisoned during protests," she wrote.
Beeley apparently viewed the anti-Morsi protests as a form of resistance to American influence and in a Facebook post dated 26 June 2013 she commented: "The positive revolutionary impetus has been cynically hijacked by the US who lost a puppet in Mubarak and have simply manouvered Morsi into the same role. They are deliberately creating division in the Middle East and put very simply the People of Egypt are UNITING against this amongst many other things. It is a truly momentous time and one I feel very privileged to witness." Shortly afterwards, the Egyptian military seized power. Morsi was toppled and replaced by defence minister Abdel Fattah el-Sisi – later referred to by President Trump as "my favourite dictator".
In the meantime Beeley had continued visiting Gaza. She became involved in the Global Campaign to Return to Palestine and started a couple of projects herself. One was Gaza Without Walls, intended to help students improve their English or French by linking them up with teachers in other parts of the world via Skype. Her second venture, launched in 2014, was the Gaza Smile Project "to raise funds enabling children to return to school after the devastating Israel aggression". She also set up a Facebook page called The Wall Will Fall – which later became the name of her personal website. Her purpose, she wrote, was to raise awareness "but also to convey the idea that through education, awareness and the development of our own consciousness we can bring down all walls that keep us in ignorance and far from the Truth".
In January 2015 Beeley began posting articles about Syria on her website, though initially she didn't write them herself – they were reposted from other sites and several of the early ones were written by Bartlett. In July 2015 Beeley attended a conference organised by the Centre for Syrian Studies at the University of St Andrews in Scotland. Another of those attending was Mother Agnes, the Assad-friendly nun whose claims that videos from the Ghouta sarin attack were faked had been taken up by Russia's foreign minister. A photo of Beeley and Mother Agnes embracing at the Scottish conference could be seen on Beeley's website.
Originally named Marie Fadia Laham, Mother Agnes had been born in Beirut to a Lebanese mother and a Palestinian father. In her youth she was said to have gone on the hippie trail to India and Nepal before receiving a call from God. In the early 1990s she moved to Syria with a project to restore the ruined Monastery of St James the Mutilated, which dated back to the sixth century. She became head of a small religious community there and her Christianity proved useful to the regime. Shortly after the events in Ghouta she went on a speaking tour of North America which had particular appeal for churchgoers.
Mother Agnes's North American tour was organised by the California-based Syria Solidarity Movement where Bartlett was a co-founder and the administrator of its website. In 2015 Beeley joined Bartlett on its steering committee.
Beeley's proudest moment
In July 2016 Beeley made her first trip to Syria with a delegation from the US Peace Council, an organisation headed by 94-year-old Alfred Marder who was notable for being the oldest living member of the American Communist Party. During their visit the group had a two-hour meeting with Assad and posed for a photograph with him. Beeley, who was seen standing next to the Syrian president, later described it as her proudest moment.
She had clearly made a favourable impression in Damascus because the following month she was granted a visa for a second visit, this time lasting three weeks. Its main purpose, she wrote, was for research "into the multi million Nato and Gulf State funded, terrorist-linked White Helmets". The following November, together with Mother Agnes, Beeley was invited to visit Russia to "report on the illegal Nato state intervention and dirty war on Syria". While in Moscow the pair were treated to meetings with Mikhail Bogdanov, the deputy foreign minister and Maria Zakharova, head of the ministry's press department.
The transformation of the former "corporate, marketing" person was now complete. Beeley had been recognised at the highest levels in both Syria and Russia as someone who could be useful.
A social media celebrity
Before long Beeley's writing had turned her into a social media celebrity. To her admirers on Twitter she was almost a goddess and criticising her work was little short of blasphemy. She was on the ground in Syria "putting the truth out there", they said. She was a brilliant reporter and a "real journalist". She deserved a Pulitzer and possibly a Nobel Peace Prize too. Those singing her praises ranged from investigative journalist John Pilger, who gave her his "unqualified endorsement", to Katie Hopkins, a far-right "media personality", and Professor Tim Hayward, of the Working Group on Syria, Propaganda and Media, who had "great respect" for her.
The truth, though, was that her reports from Syria were misleading and often demonstrably wrong. While refusing to believe evidence that the regime was using chemical weapons she readily accepted claims that rebels were doing so. One of her reports talked about "an unidentified gas attack" in the Old City of Aleppo two years earlier. The attack, she said, had killed 20 government soldiers and three members of the Syrian government's civil defence team. "I was able to talk to two surviving crew members who pieced together the events of that day," she wrote. "They told me that the terrorists had been tunneling to reach SAA [Syrian army] positions in the Old City and that SAA special forces had discovered the tunnels and had entered them ... Both men were clearly still struggling with their memory of that day in August 2016 but piecing together what they could remember and combined with the lasting physical side effects, there seems no doubt that a CW [chemical weapon] of some kind was used against them."
Beeley asked her readers: "Why was it never reported by western media nor listed as a war crime by the UN organisations that are mandated to document such crimes?" In fact it had already been investigated by the OPCW's Fact-Finding Mission which found no evidence of chemicals that were likely to have caused the reported deaths. Despite that, based on "fragments of memory" from the two men she spoke to, Beeley was in no doubt that a chemical weapon had been used by rebels.
Where allegations against the rebels were concerned Beeley's threshhold of proof was so low as to be almost non-existent. For allegations against the regime it was so high that it could never be reached. In addition to chemical weapons, pro-government forces were using incendiary weapons but even after a Russian TV report from Khmeimim airbase accidentally showed a warplane fitted with them Beeley continued to dispute their use.
In 2018 she described visiting a rebel "chemical weapons facility" in the company of government forces who had captured it. "I am grateful that they care enough about our safety to be with us on these trips and to provide answers to any questions we have," she wrote. Her article included photos of what she claimed were "chemical weapon ingredients" – though it was clear from the article that she had no idea what most of them were. "Some of the bags containing the chemical ingredients were still booby trapped and therefore it was not possible to pick them up to show the labels more clearly," she wrote. "It was also very dark but I did my best to photograph everything I saw there ... One of the bags contained the chemical compound RDX." Based on what Beeley saw, it was hard to imagine how this could be justifiably described as a "chemical weapons facility". The only "chemical" she seemed sure of was RDX, which had nothing to do with chemical weapons: it was a common type of explosive.
Continue reading >>>