The strikes and street protests seen in Algeria over the last couple of weeks bore fruit on Monday with the announcement that President Abdelaziz Bouteflika, who is 82 and in poor health, will not be seeking a fifth term in office after all.
At first sight, this is a significant victory for the protesters, but there's a catch. The official statement (full text here) also postponed the presidential election scheduled for 18 April until an unspecified date. In the meantime Bouteflika will remain in office, ostensibly supervising political reforms.
One problem with that is it's illegal. Bouteflika's mandate expires in April and legalising an extension would mean amending the constitution.
Although no date has been mentioned for the rescheduled election, the text of Monday's statement indicates it will not be held before 2020 – at the earliest. First there will be an "Inclusive and Independent National Conference" to discuss and propose reforms which "should strive" to complete its work by the end of this year. Following that, a new constitution will be drafted (the current one is only three years old) and elections will not take place until that has been approved in a referendum.
---
CLICK HERE for a compilation of blog posts about the developing situation in Algeria
---
The reform proposals themselves are not very different from those put forward on 3 March in a letter circulated in Bouteflika's name. The main difference is that the earlier proposals were conditional on Algerians electing Bouteflika for a fifth term (with the understanding that he would step down before its end).
The latest proposals will have much the same effect – keeping Bouteflika in office for a year or two longer. By extending his term rather than holding an election they may also spare the regime some embarrassment, since an election in the current political climate would have been dogged by more street protests and controversy about the president's ill-health.
The big unanswered question is how far this will go in placating the demonstrators. On Monday night some were celebrating victory but others were more cynical. It didn't take long for someone to replace the popular symbol opposing a fifth term with another one opposing an extended fourth term: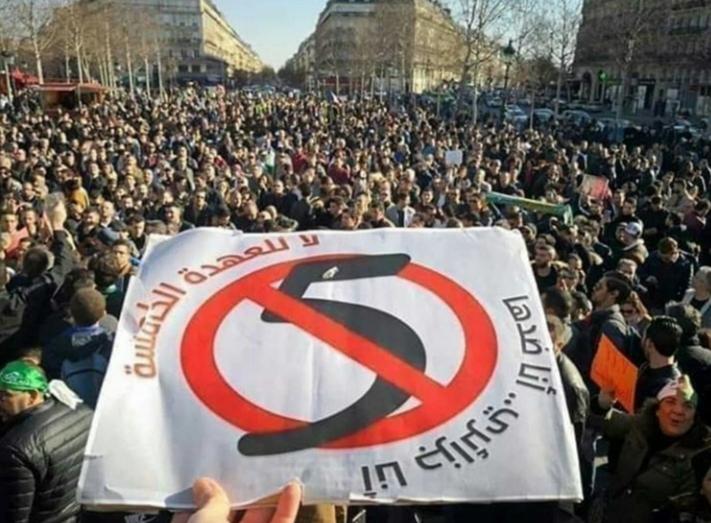 Cartoonist Dilem Ali made a similar point: that an extended fourth term may amount to much the same as a the fifth term that Bouteflika has now renounced:
Another suggested trickery, depicting Bouteflika's withdrawal from the election as a Trojan horse:
Taken at face value, however, the proposals set out on Monday could provide a sensible way forward to a more open and inclusive political system. There's a window of opportunity but unfortunately Arab states have a long history of failure in this area. Look at Yemen which went through a similar process before it was plunged into war.
The likelihood in Algeria is that once the question of Bouteflika's successor has been resolved the regime will try to reassert itself and continue much as before. To prevent that happening the public will have to remain vigilant, engaged and, above all, persistent.
This work is licensed under a Creative Commons Attribution-NonCommercial 4.0 International Licence.