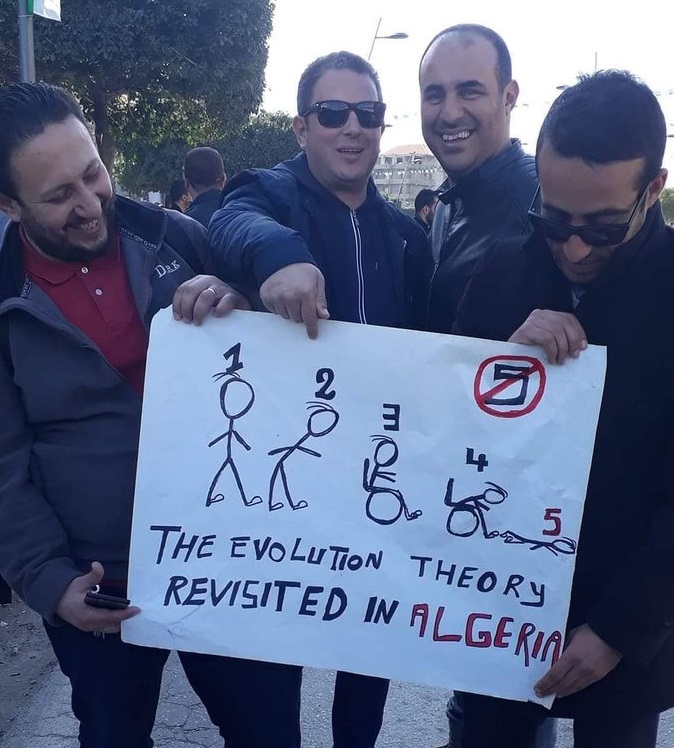 Blog post, 24 February 2019: Abdelaziz Bouteflika has been president of Algeria since 1999. Now aged 81 and in poor health, he is seeking a fifth term in office. The ruling FLN party has already adopted him as its candidate for the election in April and other sections of the political establishment have declared their backing but the move has provoked a wave of anger among the Algerian public.
On Friday, police used tear gas to disperse protesters in the capital, Algiers, and demonstrations were reported in at least five other cities. Although street protests are not uncommon in Algeria, the scale of Friday's protests, and the apparent support for them among bystanders, suggests that this time they may be difficult to quell.
There's little doubt that Bouteflika will be re-elected if his name is on the ballot paper. On the last occasion, in 2014, he won with 81% of the votes despite not taking part in his own campaign. He cast his vote from a wheelchair and almost half the electorate stayed away from the polls.
Regardless of politics, it's clear that Bouteflika is incapable of carrying out presidential duties in the way that Algerians are entitled to expect. He suffered a stroke in 2013 and spent almost four months in hospital in France. Since then he has rarely been seen in public – his most recently public appearance was on November 1. He makes frequent medical trips abroad and is due to travel to Switzerland on Sunday for what are described as routine checks.
Critics refer to him as "living dead" – an idea taken up recently in banners saying the dead should be buried, not elected: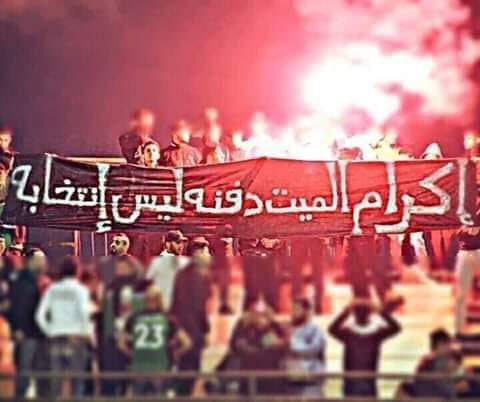 Here is a selection of other images posted on social media. For more, check out this Arabic hashtag on Twitter: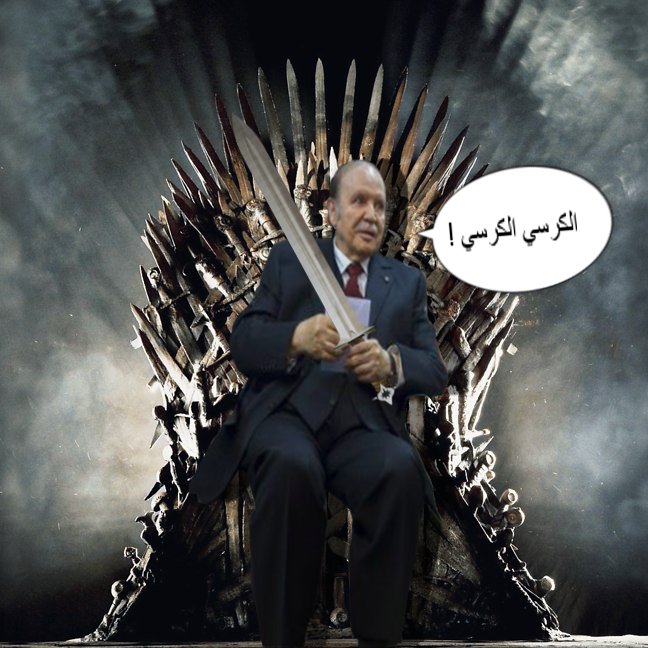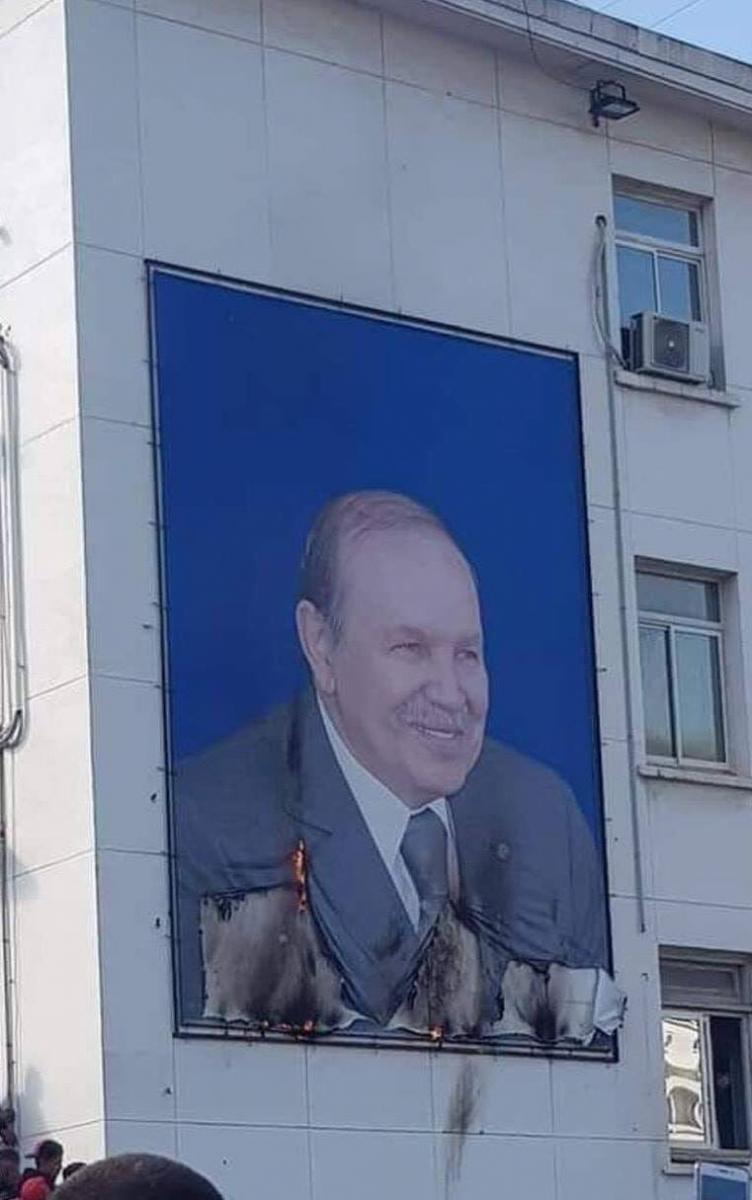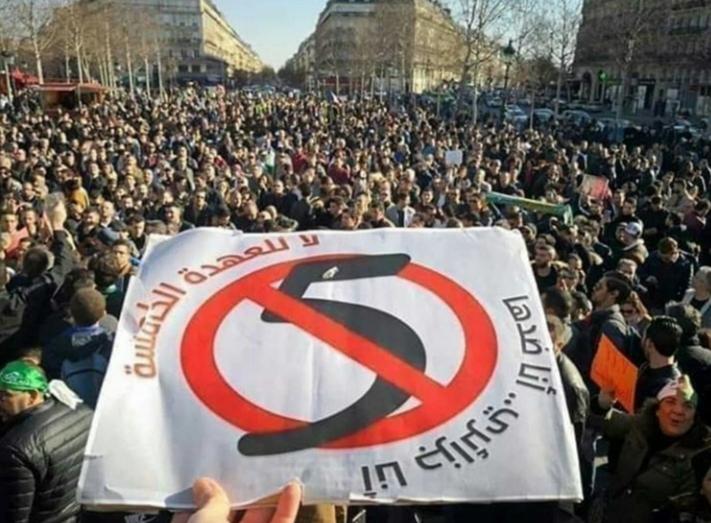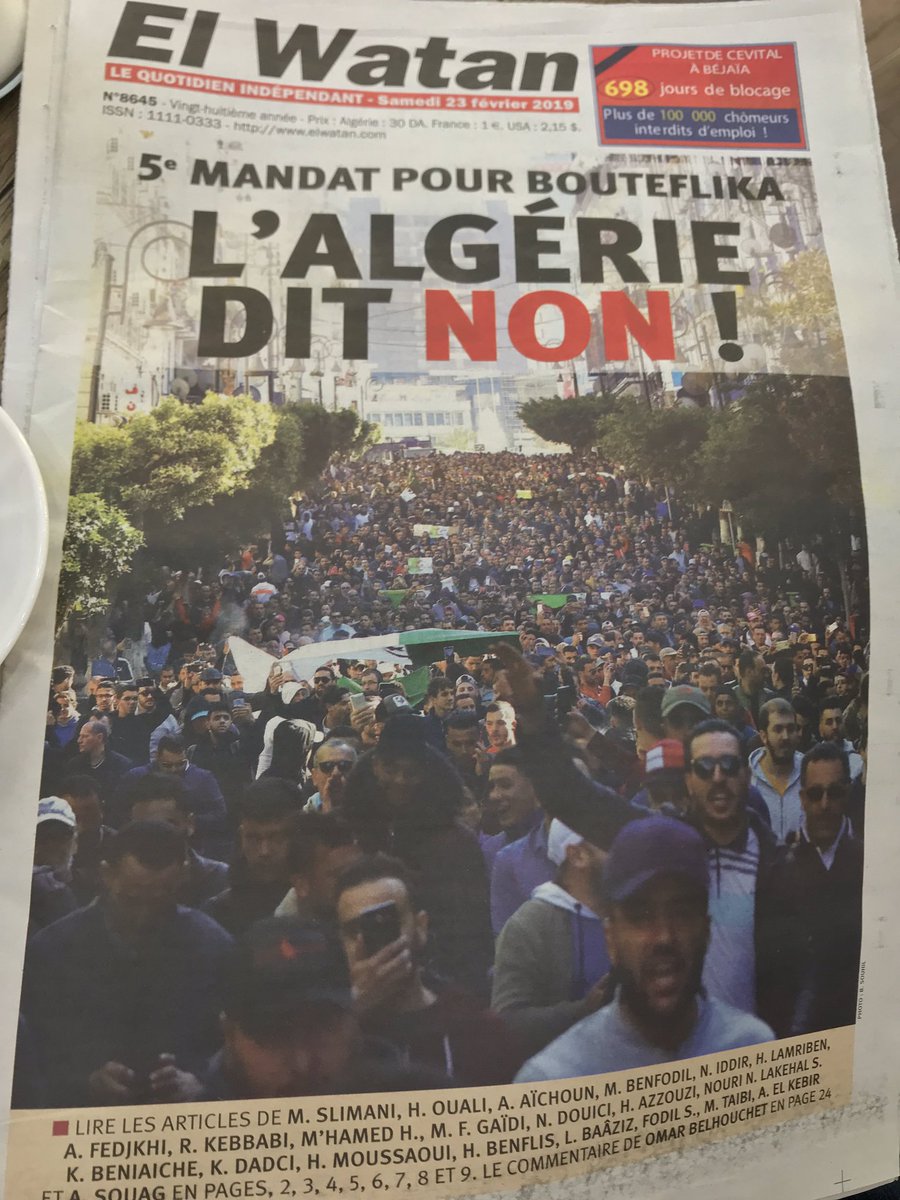 ---
Blog post, 26 February 2019: Large-scale protests are continuing in Algeria against President Bouteflika. Now aged 81 and in poor health, he has been president since 1999 is seeking re-election for a fifth term in office (see previous blog post).
Today student demonstrations are being organised though there are reports of police blockades aimed at preventing them from marching.
Bouteflika, who suffered a stroke in 2013, uses a wheelchair and rarely appears in public, travelled to Switzerland on Sunday for what are described as routine medical checks.
The protests clearly have a lot of public support. They appear to be non-partisan, with a single demand: to deny Bouteflika a fifth term.
Below is a selection of images showing banners and other campaign material posted on social media during the last few days.
The number 5 – alluding to Bouteflika's fifth term – features prominently in the campaigning. Here's one popular example: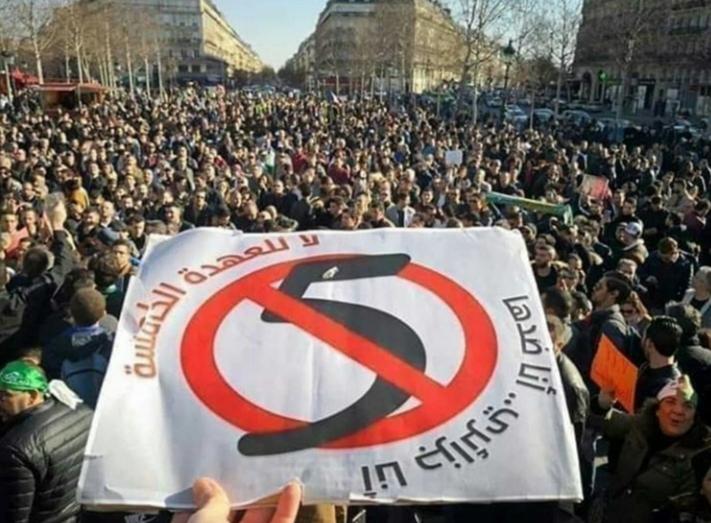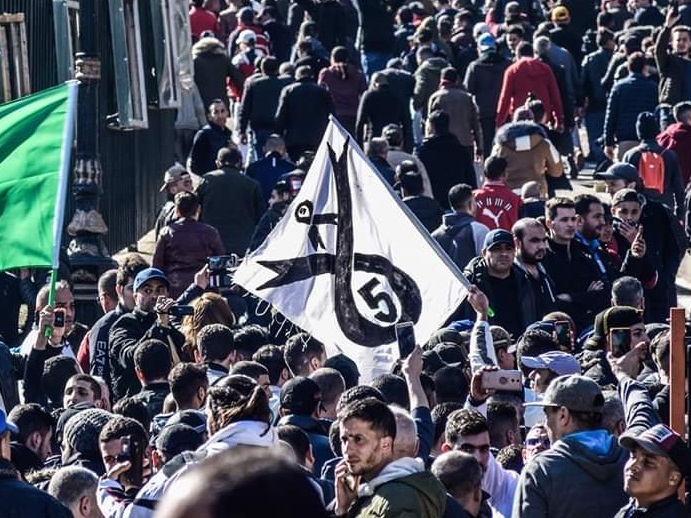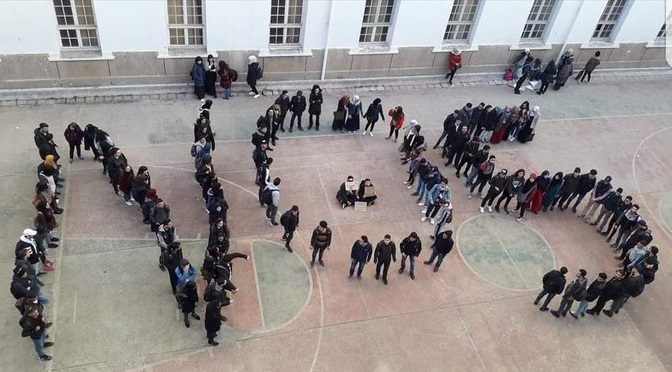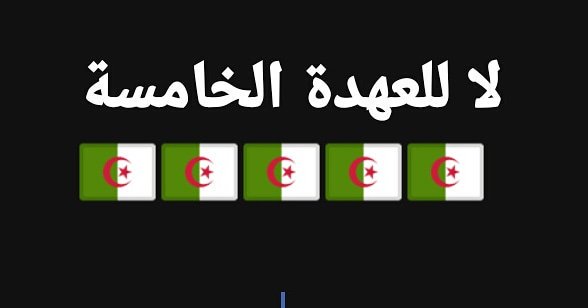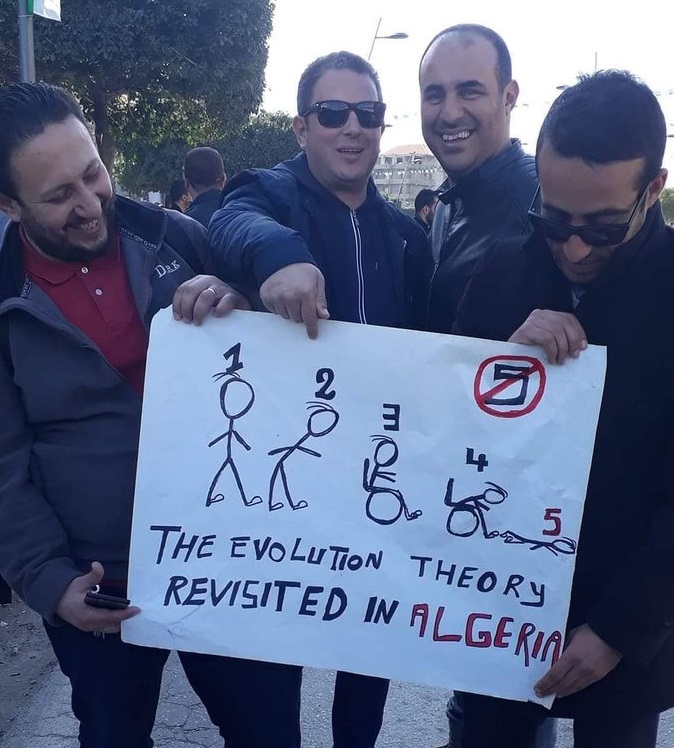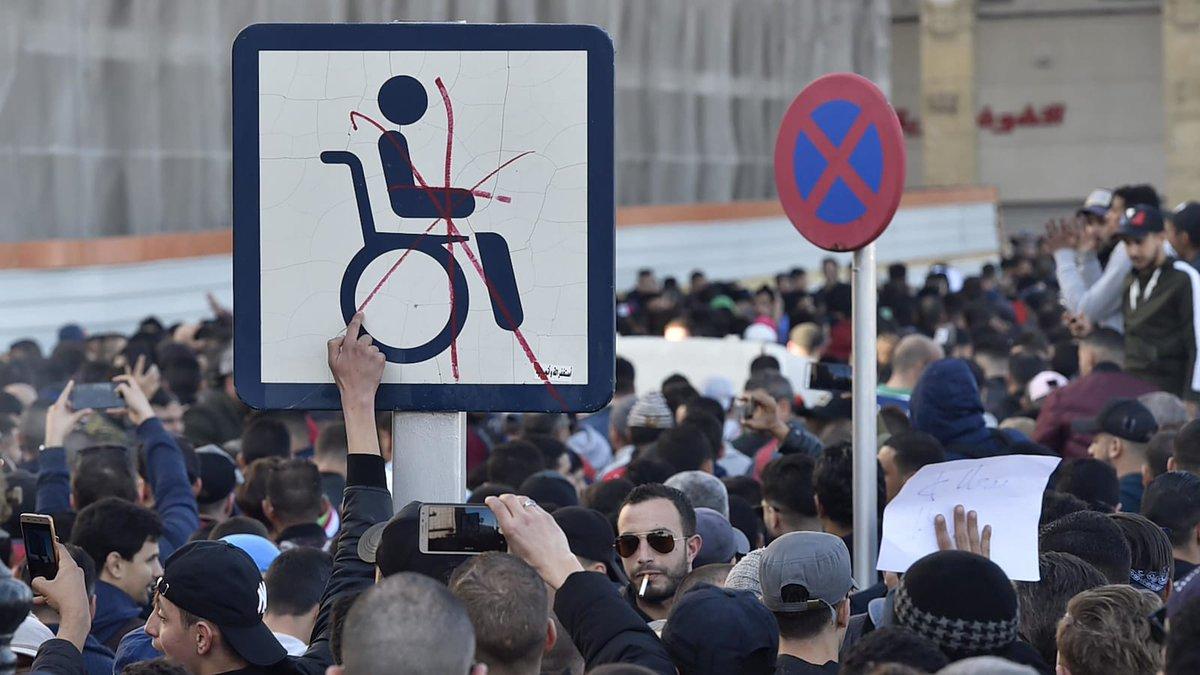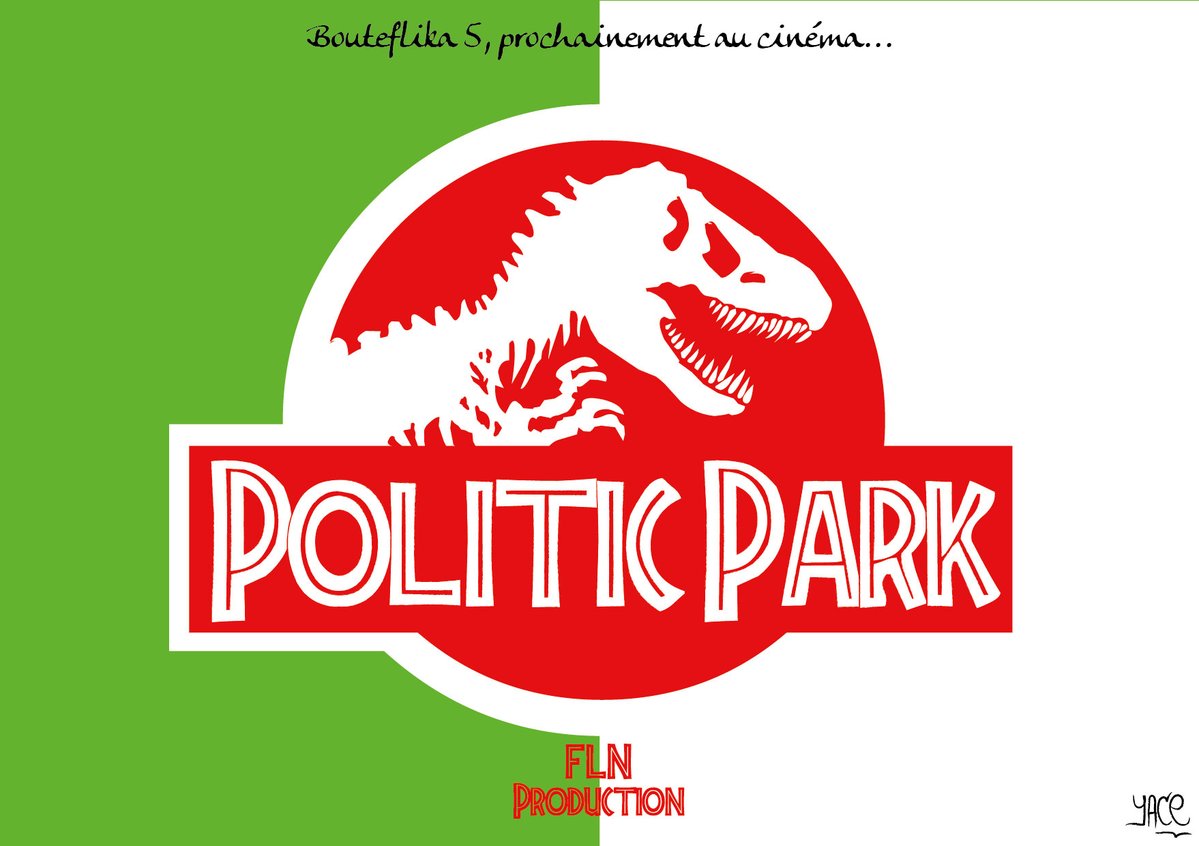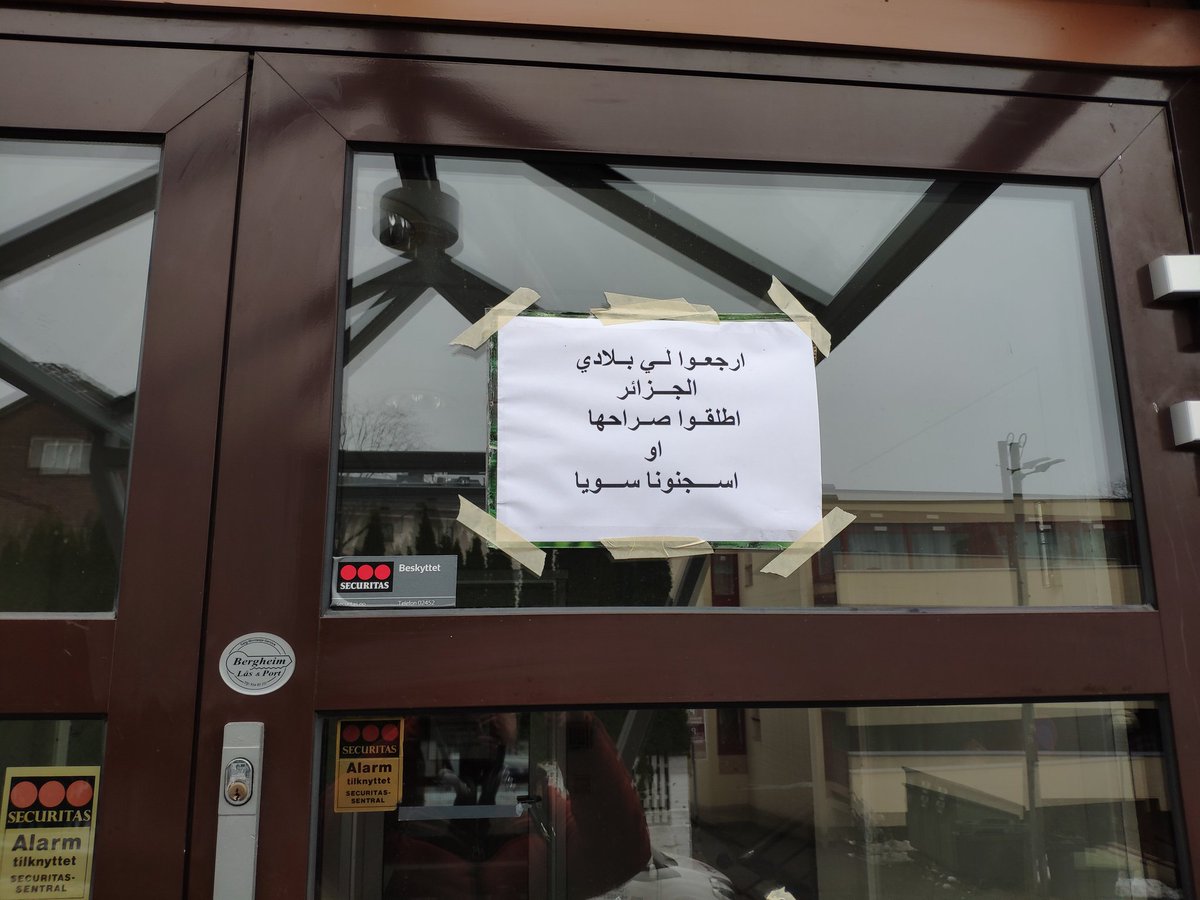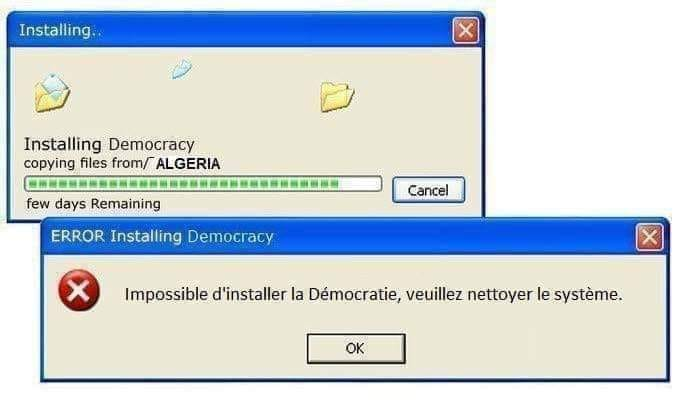 ---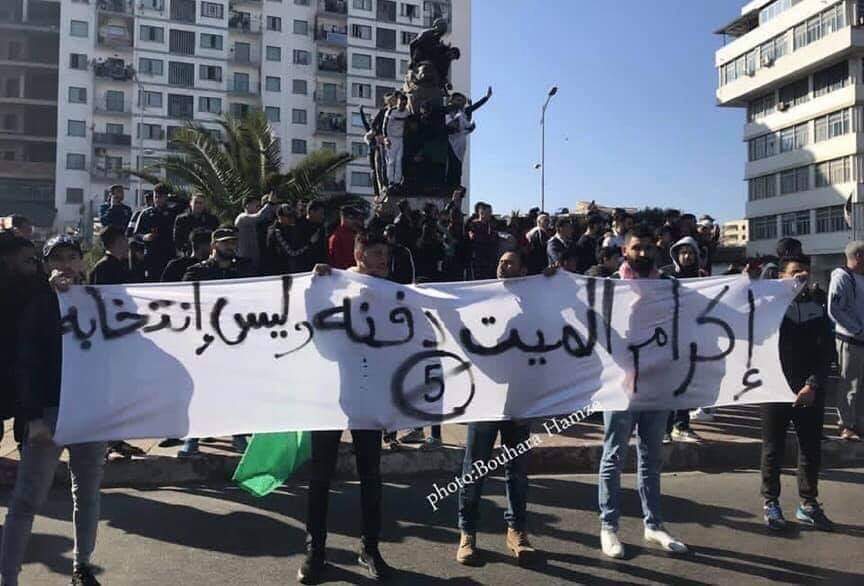 Blog post, 1 March 2019: When the Arab Spring uprisings broke out in 2011 there were riots in Algeria, as elsewhere in the region. But while the leaders of three neighbouring countries – Tunisia, Egypt and Libya – were toppled the regime of Abdelaziz Bouteflika survived relatively unscathed.
Although Algeria had similar socio-economic problems to its neighbours and similar reasons for people to revolt, the regime was able to buy off discontent, thanks to its oil and natural gas resources. A decision to lift the 19-year-old state of emergency probably helped too, as did bitter memories of the country's armed conflict in the 1990s that cost 100,000 or more lives.
Now, however, the regime is facing a new challenge. During the last week there have been widespread protests calling on President Bouteflika to step down and this time they may not be so easy to quell.
The trigger for these protests was a decision by the ruling FLN party, supported by other sections of the political establishment, to adopt Bouteflika as its candidate for the presidential election in April.
By the time of the election Bouteflika will have been in office for 20 years and, in the absence of any credible alternative candidates among the opposition, he is almost certain to win a further five-year term.
The problem with this is that no one seriously expects Bouteflika to be running the country if he wins. His poor state of health makes him incapable of doing so but keeping him in office, if not in power, postpones the question of what to do about a successor for a few more years.
Bouteflika – currently in Switzerland on one of his frequent medical trips abroad – is 81, uses a wheelchair following a stroke in 2013 and is rarely seen in public. Critics refer to him as "The Mummy" and "the living dead". Banners seen during the current protests say: "Respect the dead man by burying him, not electing him."
In effect, anyone who votes for Bouteflika will be voting for the shadowy and unaccountable figures known as Le Pouvoir who wield actual power behind the scenes – including the president's influential youngest brother, Said.
Another cause of resentment is that this will be Bouteflika's fifth term and a crossed-out number five has become a prominent symbol in the protests. When he first became president, in 1999, the constitution stated that he would be limited to two terms. Parliament later changed the rules, however, allowing him a third and and fourth term.
A revised constitution introduced in 2016 brought back the two-term limit but, in the process, reset the clock. Thus it can be argued that his current fourth term is his first under the 2016 constitution and he is therefore entitled to another one. (The late Ali Abdullah Saleh used new constitutions in a similar way in Yemen to overcome term limits and extend his presidency.)
For the regime, Bouteflika's continued presence represents stability. His departure could easily disturb the balance of political, military and business interests that some describe as a "mafiocracy".
Another important element in this is Algeria's clan system and the power-sharing arrangements that have developed around it. The clans have an informal role in decision-making and also negotiate among themselves for government positions, economic benefits and other favours. Bouteflika represents the western group of clans while Gaïd Salah, the 79-year-old army chief of staff represents the eastern group.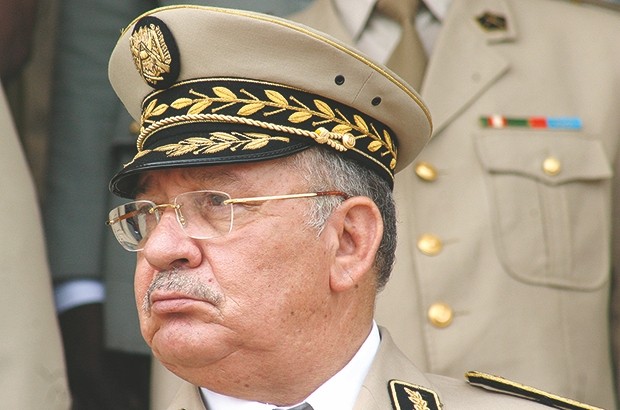 The regime's main claim to legitimacy hinges on its role in the struggle against French colonialism – a struggle in which Bouteflika played an active part. But as time goes on that is becoming less and less relevant. Most Algerians today don't remember the war of independence which ended in 1962 and its heroes are dying out.
Meanwhile, the regime is less well-placed than it was in 2011 to buy off discontent. Since then, crude oil prices have fallen from $94 a barrel to $53 – and the state depends on hydrocarbons for 60% of its revenue. Francesca Caruso writes:
"In four years, Algeria's foreign reserves have fallen from 178 billion US dollars to 90 billion. According to the International Monetary Fund, in 2017 the North African country's economy grew by just 1.6%, youth unemployment stood at 28% and 10% of the population was at risk of falling back into poverty ...

"Among Algerians aged 18–24, nearly two-thirds of men and a third of women are thinking about emigrating for economic reasons or due to a combination of economic and political factors."
Despite that, the regime benefits from the fact that opposition elements are fragmented and so far have been unable to mount a serious challenge. The current protests are an expression of general disaffection, focusing on opposition to Bouteflika's fifth term, but they are not based on any particular ideology or advocating a specific solution.
The regime has also been trying to stir up fears of what might happen if the street demonstrations continue. Up to now, the protesters have been basically nonviolent and in some places have fraternised with the police and given them flowers. This led prime minister Ahmed Ouyahia to issue what might be interpreted either as a warning or a threat. "In Syria," he said, "the protests began with flowers then ended in blood."
It looks as though the regime intends to sit it out over the next six weeks in the run-up to the election – if only because it can't agree internally on any other course. Presumably the hope is that things will quieten down again once Bouteflika has been re-installed as president. But it may not be quite so simple.
According to the constitution, a newly-elected president cannot take office before being sworn in. This has to be done within a week following the election, with the president reciting the oath "in front of the people and in the presence of all the high authorities of the nation".
It's not at all clear whether Bouteflika's health will permit that. In this context it's worth recalling a situation that occurred in Kuwait in 2006 when the emir died and his crown prince, Sheikh Sa'ad, was named as the new ruler. However, it appeared that Sheikh Sa'ad was incapable of reciting the oath (he is thought to have been suffering from Alzheimer's disease) and he was eventually declared unfit for office.
There is also the possibility that Bouteflika's health might worsen further after taking office. If "a serious and lasting illness" prevents him from fulfilling his duties, the head of the upper house of parliament can take over temporarily, for a maximum of 45 days. However, that can only happen if both houses of parliament agree to it by a two-thirds majority (this latter provision seems to be aimed at preventing a "medical coup" of the kind that was used to oust the ailing President Bourguiba of Tunisia in 1987).
If Bouteflika continued to be officially classified as unfit for more than 45 days he would be deemed to have resigned and a new president would have to be elected within 90 days.
It seems likely, therefore, that even if he is re-elected controversy about his fitness for office will continue and perhaps increase. Meanwhile we can expect tensions to grow within the regime as those who have ambitions jostle for position.
---
Document, 3 March 2019: This is an English translation of a letter circulated in the name of President Bouteflika:
In the name of God, the Compassionate and Merciful
Dear citizens,
A few days ago, in response to the requests of citizens, the political class and civil society, in a spirit of accomplishment of a final duty in the service of our country and our people, I announced my candidacy in the presidential election next April.
Millions of citizens have kindly given me their support by actively contributing to the campaign to collect signatures [for the nomination] and granting me their sponsorship.
Serving my country is the greatest honour that has been done to me throughout my life.
First of all, on this occasion I would like to salute, on this occasion, the civic spirit that has characterised the recent popular marches. I also salute the exemplary professional behaviour of the various security forces. I also salute the attitude of all our fellow citizens who have held back from expressing their opinion until election day through the ballot box. Finally, I would like to salute the National People's Army for its mobilisation in all circumstances in the accomplishment of its constitutional missions.
I listen to all the opinions expressed in our society.
I swear that I will not let any force, political or economic, divert the destiny and wealth of our nation for the benefit of personal interests or clandestine groups.
Dear fellow citizens,
Algeria needs to continue its march towards democracy, progress and prosperity without disrupting the process of accumulating its achievements. To do this, it needs a surge of all political, economic and social forces and all categories of the population, in order to give itself a new ambition.
I have listened and heard the cry of the hearts of the protesters and especially the thousands of young people who questioned me about the future of our homeland. These young people, many of whom have the dignity and generosity of age that I had when I joined the ranks of the glorious National Liberation Army, have expressed an understandable anxiety about the uncertainties that animate them. I have the duty and the will to appease the hearts and minds of my compatriots. I do it today as a mujahid faithful to the memory of our brave martyrs and to the oath of all the companions of our epic liberation struggle who are still alive. I also do so as President of the Republic fully respectful of the popular will that granted me the privilege of acceding to the highest office. I am finally doing it as a candidate for the next presidential election, with conviction. I am determined, if Almighty God gives me the opportunity, and if the Algerian people renew their confidence in me, to assume the historical responsibility for the realisation of their fundamental requirement – that is to say the change of the system. In this spirit, in front of God and in front of the Algerian people, I solemnly undertake the following commitments:
First: The holding, just after the presidential election, of an inclusive and independent national conference to discuss, elaborate and adopt political, institutional, economic and social reforms, to form the basis of the new system of renewal of the Algerian national state in harmony with the aspirations of our people.
Second: The preparation and adoption by popular referendum of a new constitution which will consecrate the birth of the New Algerian Republic and the new Algerian system.
Third: Rapid implementation of public policies to ensure a fairer and equitable redistribution of national wealth and the elimination of social marginalisation and exclusion, including the Harga [migrant] phenomenon, as well as effective national mobilisation against all forms of corruption.
Fourth: Taking concrete steps to make all our young people priority actors and beneficiaries in public life at all levels and in all spheres of economic and social development.
Fifth: Revision of the electoral law, including the creation of an independent electoral organisation that will have sole responsibility for organising elections.
Sixth: Organising an early presidential election in accordance with the timetable set by the independent national conference. I undertake not to be a candidate for this election which will ensure my succession in undisputable conditions of calm, freedom and transparency. The date of this early presidential election will be fixed by the national conference.
Dear fellow citizens,
The commitments I have just made before you will naturally lead us to a generational transition in an Algeria reconciled with itself.
I invite you to write together a new page in our history by making the election of April 18 the birth of a new Algerian republic to which the Algerian people aspire.
---
Blog post, 4 March 2019: Algeria's 82-year-old president, Abdelaziz Bouteflika, was formally nominated yesterday for a fifth term in office, even though the current constitution says he is limited to two terms.
Bouteflika, who is in poor health and uses a wheelchair, is reported to be in Switzerland for medical tests and the nomination papers were submitted on his behalf by his campaign manager. The election is due to take place on April 18.
The BBC notes that according to Algeria's electoral commission nomination papers have to be submitted in person, though the Constitutional Council disagrees.
Bouteflika has been in power since 1999 and there have been widespread demonstrations for more than a week, protesting against his effort to cling on until 2024 (see previous blog posts here, here and here).
Bouteflika no longer makes speeches but in a letter circulated yesterday (full text here) he offered a series of concessions to the protesters:
1. A national dialogue for reform
2. A new constitution
3. A fairer economic system which tackles corruption
4. Inclusion of young people in public life
5. Reform of the electoral system
6. A change of president through an "early" election
Not surprisingly, the initial reaction to this on Twitter was scepticism: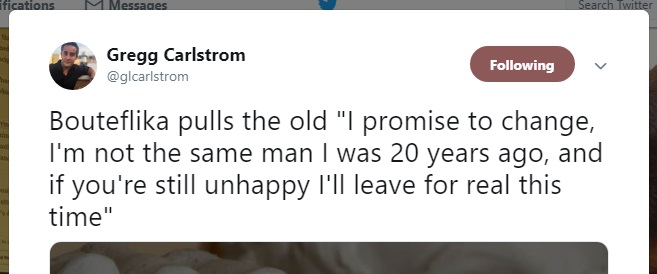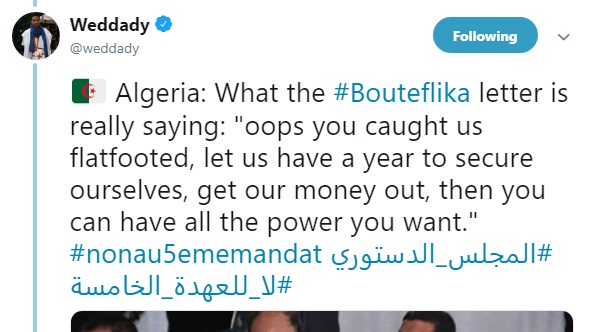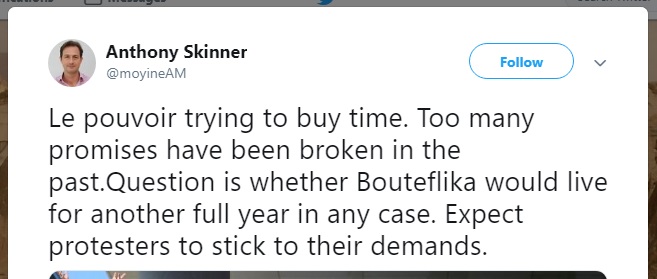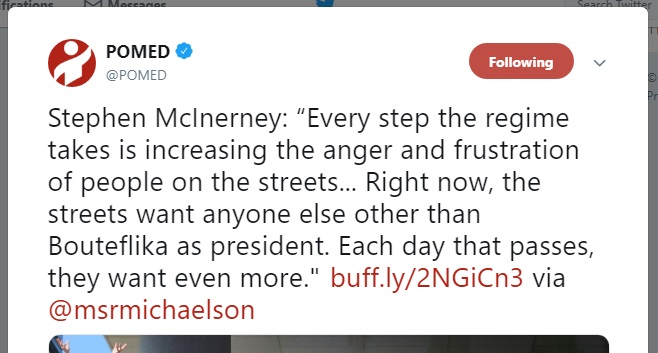 The Algerian system certainly needs reform and the letter's proposal of a national dialogue would be an obvious way of starting the process.
The problem, though, is that the concessions have been offered under duress and in exchange for Bouteflika's re-election. The key question is whether the regime will be eager to implement them once Bouteflika has secured another term.
The letter does indicate that he will step down "early" in his fifth term but there's no certainty it would happen.
We might also ask why, if the regime is serious about reform, Bouteflika needs be in charge of the process, especially when his capacity is limited by his poor state of health.
Given the current mood in Algeria, the public are unlikely to be persuaded of the regime's sincerity without a concrete signal of its commitment to reform. One way of doing that would be to withdraw Bouteflika's nomination and put forward an alternative candidate who would act as a transitional president overseeing the reforms.
On a historical note, it's worth comparing Bouteflika's letter with the speech made by President Ben Ali of Tunisia in response to popular protests in 2010 – a couple of weeks before he was overthrown.
In the early stages of the Syrian conflict President Assad also gave a speech in which he acknowledged the protesters' grievances, touched on most of the key areas where reform was needed and urged a more open, consultational style of government. It didn't happen.
---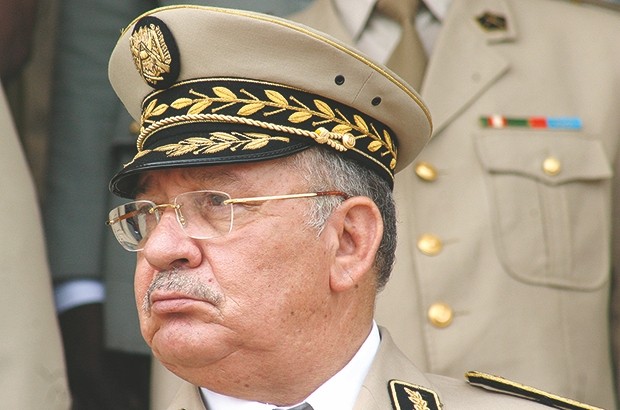 Blog post, 11 March 2019: President Abdelaziz Bouteflika returned to Algeria on Sunday after two weeks at a hospital in Switzerland for what were described as routine medical tests. His plane arrived at a secluded military airfield outside the capital where there was no official welcoming ceremony. He was then whisked away – presumably to the presidential palace – in a convoy of black limousines.
That, at least, is what appears to have happened, though the entire journey was completed without the public or media being allowed a glimpse of the man at the centre of it. There was no word, either, about his current medical condition.
At the age of 82 and in the face of widespread street protests, Bouteflika is seeking a fifth presidential term, though the constitution only permits two terms.
It's also clear that his state of health restricts his ability to carry out presidential duties. He uses a wheelchair following a stroke in 2013 and is rarely seen in public. Critics refer to him as "the mummy" and "the living dead".
The result of this is that Algerians don't know who is really in charge. In effect, anyone who votes for Bouteflika in next month's election will be voting for the shadowy and unaccountable figures known as Le Pouvoir who wield actual power behind the scenes – including the president's influential youngest brother, Said, and the army's chief of staff, Gaïd Salah.
Widespread demonstrations opposing a fifth presidential term have been taking place for more than two weeks and are said to be the largest seen in Algeria for 28 years.
On Friday, in an apparent move to weaken the protests, the education ministry suddenly announced that universities would be closing for their spring break on March 10 – eleven days earlier than originally planned.
Also last week, a letter circulated in Bouteflika's name sought appease the protesters by offering to start a reform process and not to serve a full term if re-elected. This didn't have the desired effect and since then the protests seem to have become stronger rather than weaker.
Within the regime there's recognition that Bouteflika can't carry on for ever, but there's no agreement on a transition process. There are also vested interests that could be jeopardised by a change at the top.
In those circumstances, nominating Bouteflika for a fifth term looked like an easy way for the regime to postpone the day of reckoning – until the public unexpectedly voiced their objection.
The question now is how far the regime's insiders and hangers-on are prepared to go in defending what was clearly an unpopular decision. For those with political ambitions and an eye on the future, there may be more mileage in distancing themselves from the president.
One straw in the wind was a speech on Sunday by Gaïd Salah who, besides being army chief of staff, is an important figure in Algeria's clan system. He is seen as representing the eastern group of clans while Bouteflika represents the western group.
In his speech to military figures, Salah didn't mention Bouteflika by name – an unusual omission – but said "the people and the army have a common vision of the future" and talked of "strong and spontaneous" links between them.
This can be read as a signal that the military will not intervene to save the president. But it might also be an indication that Salah sees himself as a possible replacement for Bouteflika. At 79, though, Salah is only three years younger and, like Bouteflika, is a stalwart of Algeria's "mafiocracy". It remains to be seen how the public would react to that.
---
Document, 11 March 2019: Statement issued in the name of President Bouteflika announcing that he would not seek a fifth term:
Algeria is living through a sensitive stage of its history. On March 8, for the third consecutive Friday, major popular marches took place across the country. I have followed these developments, and as I already announced on March 3rd, I do understand the motivations of the numerous compatriots who choose this way of expression of which I once again hail the peaceful nature.
I particularly understand the message given by youth, in terms of anxiety and ambition for their own future and that of the country. I also understand the gap which may have been the source of concern, between the holding of the Presidential Election on a technically appropriate date, as a milestone of governance in the institutional and political life, and the opening, without delay of a large and high priority undertaking at the political level.
It concerns the conception and the conduct of deep reforms in the political, institutional, economic and social fields, with the largest possible and most representative participation of the Algerian society, with the just share that should be dedicated to women and youth.
I understand that the renovating project of our State-Nation, which I announced the key lines, would benefit from more explanations and preparations, so to clear doubts by providing the conditions for its approval by all the Algerian society's categories and the nation's components.
Loyal to the oath I took before the Algerian people to protect and promote in all the circumstances the interests of our country, and after the institutional consultations needed under the Constitution, I invoke the grace and support of Almighty God to avail myself of the higher values of our people, our glorious martyrs and brave Mujahedeen to announce to you the following decisions:
First: There will be no fifth term and there has never been any question for me, since my health condition and my age assign me as an ultimate duty, to the Algerian people; the contribution to the foundations of a new Republic as part of the new Algerian system that we all strive for. This new Republic and this new system will be in the hands of the new generations of Algerians, men and women, who will naturally be the main actors and beneficiaries of public life and sustainable development in the Algeria of tomorrow.
Second: There will be no Presidential Election on April 18th. This is to meet a pressing request that you have been many to express to me in your concern to remove any misunderstanding as to the desirability and irreversibility of the generational transmission to which I am committed. It is also a matter of making prevail the noble purpose of the legal devices which resides in a sound regulation of the institutional life and in the harmony of the socio-political interactions, on a rigid fulfillment of pre-established rendezvous.
The postponement of the Presidential Election that has been demanded comes therefore to ease the apprehensions that have been expressed in order to pave the way for spreading serenity, tranquillity and public security, with the aim of undertaking together the actions of paramount importance which will make it possible to prepare as quickly as possible the advent of a new era in Algeria.
Third: With a view to greater mobilization from the public authorities and enhancing the effectiveness of the State's action in all areas, I decided to make capital changes within the Government in the near future. These changes are set to be an adequate response to the expectations you voiced to me, as well as an illustration of my receptivity to the requirement of accountability and rigorous assessment, as part of the exercise of senior positions at all levels and in all sectors.
Fourth: The Inclusive and Independent National Conference will be a forum with all the forces necessary for debating, developing and adopting all types of reforms, which are meant to be the foundation for the new system for launching the process of transforming our nation-state, which I consider to be my ultimate mission in completing the work the Almighty God has given me the capacity and the Algerian people have given me the opportunity to do.
This conference will be equitably representative of the Algerian society as well as its trends. Its proceedings will be overseen by a plural presidential body, chaired by an independent, consensual and experienced national figure. The conference should strive to complete its mandate by the end of 2019. The draft Constitution emanating from the Conference will be submitted to a popular referendum. The National Independent Conference will fix the date of the presidential election, in which I will not be candidate.
Fifth: The Presidential Election, which will take place in the wake of the Inclusive and Independent national conference, will be organized under the exclusive authority of an Independent National Electoral Commission whose mandate, composition and mode of operation will be codified in a legislative text, based on the most established experiences and practices in the world.
The creation of an Independent National Electoral Commission is decided in response to a demand largely upheld by the Algerian political parties as well as to a constant recommendation of the electoral observation missions of the international and regional organizations, invited and received by Algeria during the previous elections.
Sixth: In order to optimally contribute to the holding of the presidential election under indisputable conditions of freedom, regularity and transparency, a Government of national competencies will be formed with the support of the components of the National Conference. This Government will supervise the missions of the public administration and the security services and will fully collaborate with the Independent National Electoral Commission. For its part, the Constitutional Council will assume, in complete independence, the powers conferred on it by the Constitution and the law on the presidential elections.
Seventh: I solemnly pledge before the Almighty God and in front of the Algerian people to spare no effort so that the State institutions, structures, dismemberments and local authorities mobilize to contribute to the full success of this action plan. I also undertake to ensure that all the constitutional institutions of the Republic scrupulously pursue the accomplishment of their respective missions and exercise their respective authorities in the exclusive service of the Algerian people and the Republic.
Finally, I pledge to hand over the prerogatives of the President of the Republic to the successor that the Algerian people will freely elect.
---
Blog post, 12 March 2019: The strikes and street protests seen in Algeria over the last couple of weeks bore fruit on Monday with the announcement that President Abdelaziz Bouteflika, who is 82 and in poor health, will not be seeking a fifth term in office after all.
At first sight, this is a significant victory for the protesters, but there's a catch. The official statement (full text here) also postponed the presidential election scheduled for 18 April until an unspecified date. In the meantime Bouteflika will remain in office, ostensibly supervising political reforms.
One problem with that is it's illegal. Bouteflika's mandate expires in April and legalising an extension would mean amending the constitution.
Although no date has been mentioned for the rescheduled election, the text of Monday's statement indicates it will not be held before 2020 – at the earliest. First there will be an "Inclusive and Independent National Conference" to discuss and propose reforms which "should strive" to complete its work by the end of this year. Following that, a new constitution will be drafted (the current one is only three years old) and elections will not take place until that has been approved in a referendum.
The reform proposals themselves are not very different from those put forward on 3 March in a letter circulated in Bouteflika's name. The main difference is that the earlier proposals were conditional on Algerians electing Bouteflika for a fifth term (with the understanding that he would step down before its end).
The latest proposals will have much the same effect – keeping Bouteflika in office for a year or two longer. By extending his term rather than holding an election they may also spare the regime some embarrassment, since an election in the current political climate would have been dogged by more street protests and controversy about the president's ill-health.
The big unanswered question is how far this will go in placating the demonstrators. On Monday night some were celebrating victory but others were more cynical. It didn't take long for someone to replace the popular symbol opposing a fifth term with another one opposing an extended fourth term: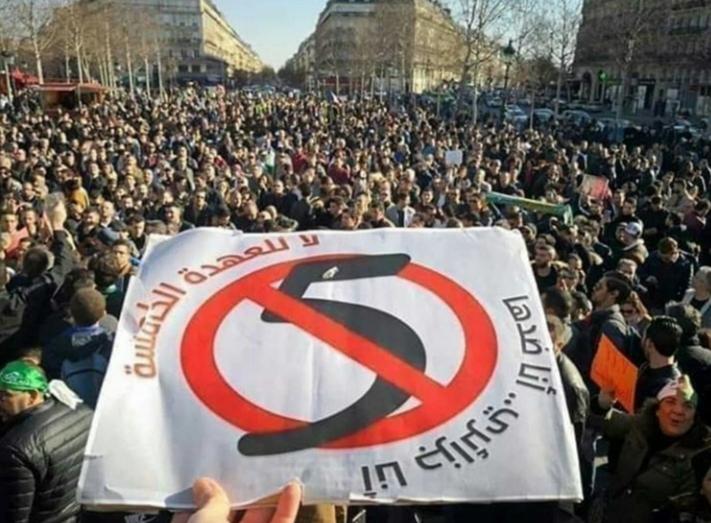 Cartoonist Dilem Ali made a similar point: that an extended fourth term may amount to much the same as a the fifth term that Bouteflika has now renounced:
Another suggested trickery, depicting Bouteflika's withdrawal from the election as a Trojan horse:
Taken at face value, however, the proposals set out on Monday could provide a sensible way forward to a more open and inclusive political system. There's a window of opportunity but unfortunately Arab states have a long history of failure in this area. Look at Yemen which went through a similar process before it was plunged into war.
The likelihood in Algeria is that once the question of Bouteflika's successor has been resolved the regime will try to reassert itself and continue much as before. To prevent that happening the public will have to remain vigilant, engaged and, above all, persistent.
---
Blog post, 13 March 2019: Protesters returned to the streets of Algeria with renewed anger on Tuesday, accusing President Bouteflika of trickery.
For a brief moment on Monday night it seemed that their key demand had been granted, and that the 82-year-old president, who is in poor health, would not after all be seeking a fifth term in office.
But it soon became clear this was not what it seemed. In renouncing his ambitions for a fifth term, Bouteflika had cancelled the presidential election due on 18 April – thus extending his current fourth term indefinitely.
The result is a constitutional tangle which is likely to further inflame the protests. Bouteflika's presidency will become illegitimate if he doesn't leave office when his term officially expires next month. There are a couple of ways his position might be legalised though one of them – a constitutional amendment approved in a referendum – is impractical within the time frame and the other – invoking Article 107 of the constitution – looks decidedly dodgy.
Article 107 allows the president to take unspecified "exceptional measures" if there's "an imminent threat" to the country's institutions, independence or territorial integrity. The problem with using this in the current situation is that the only imminent threat to Algeria's institutions comes from the president himself in trying to extend his term by cancelling the election.
Although it's not uncommon for authoritarian states to cancel an election, in Algeria there are dark memories of 1992 when cancelling legislative elections (to prevent the Islamists from winning) led to an extremely bloody civil war.
Hopefully, violence will be avoided this time but it's difficult to reconcile Bouteflika's sleight-of-hand over the election and extension of his presidential term with the political reforms that he is promising (under pressure) to the demonstrators.
In a statement issued on Monday, he vowed in future "to ensure that all the constitutional institutions of the republic scrupulously pursue the accomplishment of their respective missions". But in the light of his current less-than-scrupulous approach to elections and term limits, the Algerian public have every reason to be sceptical about his intentions.
---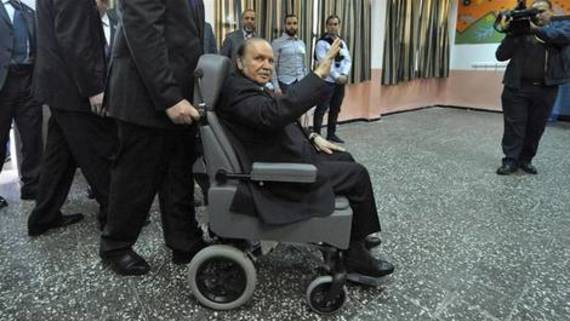 Blog post, 2 April 2019: Algerians who have been demonstrating on the streets for more than a month appear to have achieved their primary goal of toppling President Abdelaziz Bouteflika. On Monday the official news agency reported that the 82-year-old president will resign "before 28 April" – the date when his current mandate expires.
The protests were triggered by an announcement in February that Bouteflika, who has been in power since 1999, would be seeking re-election for a fifth five-year term. Under a revised constitution introduced in 2016, the president is entitled to no more than two terms.
A further objection was his poor state of health – he uses a wheelchair following a stroke in 2013 and rarely speaks or appears in public. It has been apparent for some time that he is not capable of carrying out normal presidential duties and that shadowy figures behind the scenes make decisions on his behalf.
The regime's initial response to the protests was a letter circulated in Bouteflika's name on 3 March offering political reforms in exchange for he re-election. The protesters saw this as a ruse and stepped up their demonstrations.
The next ploy came on 11 March when a statement issued in Bouteflika's name said he would not be seeking a fifth term after all. Instead, the scheduled presidential election would be cancelled and Bouteflika's current fourth term would be extended beyond its legal limit – supposedly to allow him to supervise the promised reforms.
Needless to say, this tactic added fuel to the protests amid signs that the president's customary support base was beginning to crumble.
According to the constitution (Article 102), the procedure now is that once Bouteflika resigns the president of the upper house of parliament, Abdelkader Bensalah, will take over as acting head of state for up to 90 days while an election is organised. During that period existing government ministers cannot be dismissed or reshuffled – which explains why the government was reshuffled on Sunday, ahead of Bouteflika's resignation announcement.
Denying him a fifth term was a clear demand around which protesters with various political opinions could be united, and succeeding in that without significant violence is no mean achievement. But in a way that's the easiest part. Once Bouteflika is gone, things will get more complicated.
The crucial question is what will become of the entrenched political, military, business and tribal interests that Algerians refer to as Le Pouvoir ("The Power"), Can it be dismantled – as it will have to be if genuine reform is to occur – without plunging the country into chaos? Watch this space.