With new coronavirus cases in Algeria increasing at an alarming rate, on Monday President Abdelmadjid Tebboune announced a complete curfew in Blida province which is the seat of more than half of the 230 confirmed infections.
Across the whole country, all non-food shops, restaurants and cafes are being closed. Taxis are banned, as are gatherings of more than two people. The capital, Algiers, has been placed under a night-time curfew (7pm to 7am) and this may be extended to other areas as the situation develops.
The number of known cases in Algeria is still relatively small but because of a shortage of testing kits the problem is almost certainly a lot bigger than the published figures suggest. Since the start of the outbreak there a month ago only 1,500 tests have been carried out, according to the health minister.
China is reported to be donating 50,000 test kits, along with other medical equipment, but the first consignment is not expected until Friday.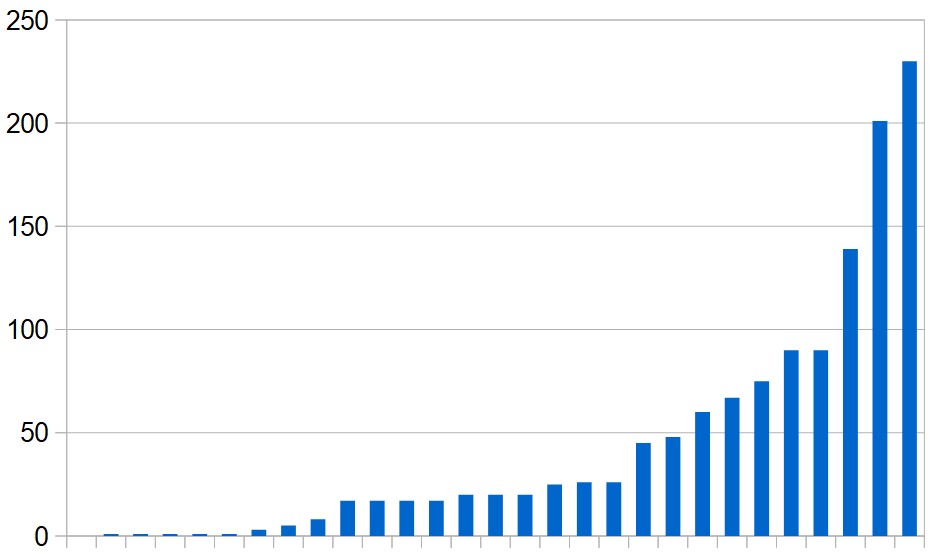 ---
Latest updates
Iran reported 1,411 new coronavirus cases – a sharp increase on the previous day's figure of 1,028 and the highest daily figure so far. This comes after a week when new cases appeared to be levelling off and it may be the result of increased testing. According to the health minister, Iran now has 22 testing laboratories and there are plans for 18 more.
A further 127 deaths were reported. The official cumulative totals for Iran are 23,049 cases and 1,812 deaths.
Elsewhere in the Middle East 764 new cases have been reported since yesterday's update, bringing the cumulative total to 5,117. Among the new cases, 422 were in Israel and are accounted for mainly by increased levels of testing. Three of the Gulf states reported relatively high numbers of new cases: 51 in Saudi Arabia, 45 in the UAE and 43 in Bahrain.
Algeria 230 (+29)
Bahrain 377 (+43)
Egypt 366 (+39)
Iraq 266 (+33)
Israel 1,656 (+422)
Jordan 127 (+15)
Kuwait 189 (+1)
Lebanon 267 (+19)
Morocco 143 (+28)
Oman 84 (+18)
Palestine 59 (-)
Qatar 501 (+7)
Saudi Arabia 562 (+51)
Sudan 2 (-)
Syria 1 (-)
Tunisia 89 (+14)
UAE 198 (+45)
TOTAL: 5,117 (+764)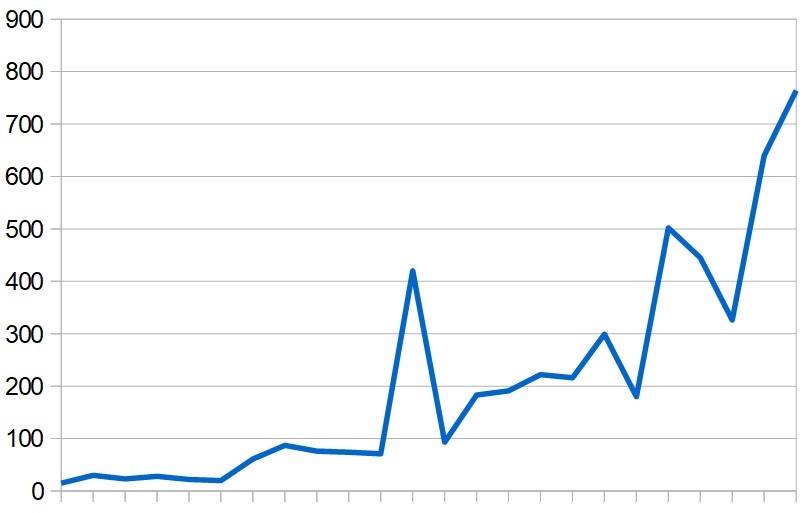 In the Middle East outside Iran eight more deaths were reported – five in Egypt and three in Iraq – bringing the total to 76.
CLICK HERE for previous updates
---
Country-by-country round-up
● Bahrain: Police have started patrols to enforce social distancing. Public gatherings of more than five people are forbidden and individuals must stay at least one metre apart. Penalties for violators are up to three months in jail and/or a fine of up to 10,000 dinars ($26,000). Last Friday's congregational prayers were cancelled and a further announcement on Monday suspended all prayers in mosques.
● Egypt: Government media reported the deaths of two senior military figures: Maj Gen Khaled Shaltout and Maj Gen Shafia Abdel Halim Dawood. Both are said to have "died while fighting the coronavirus", and there are suggestions these are not the only cases among the military. Meanwhile, the interior ministry has dismissed rumours that a curfew is coming.
● Jordan: The authorities have given some details of how they plan to distribute food and other necessities during the round-the-clock curfew which has been in force since Saturday. The aim is to deliver to everyone's door so that people don't need to leave their homes. It sounds like a formidable task.
● Libya: Neither of the two main factions has reported any coronavirus cases but both are taking precautions. The UN-backed Government of National Accord has ordered the closure of restaurants and cafes and banned gatherings for parties, weddings and funerals. On Saturday it imposed a night-time curfew from 6pm to 6am. The Benghazi-based Libyan National Army imposed a similar curfew last Thursday in the areas under its control.
● Syria: Following confirmation of Syria's first coronavirus case on Sunday, on Monday the health ministry said tests on an unspecified number of suspected other cases have all proved negative. "All forms of mass public and private transportation" are due to have been suspended by 8pm tonight.
● Tunisia: Fourteen new cases were detected as a result of 126 tests carried out, raising the total to 89 confirmed cases. Nissaf Ben Alaya, director of the National Observatory for New and Emerging Diseases, spoke about problems of non-compliance with the government's restrictions. She urged people not to leave their homes, especially Djerba, La Marsa, Berges du Lac and Soukra, which are considered high-risk areas.
● UAE: Forty-five new cases were confirmed. The Khaleej Times reports that 17 of these were the result of one person breaking quarantine regulations.
* * *
For anyone interested: A spreadsheet documenting the new coronavirus cases reported each day in the Middle East (excluding Iran) can be viewed here.
This work is licensed under a Creative Commons Attribution-NonCommercial 4.0 International Licence.