Iran reported 1,053 new coronavirus cases on Monday, with a further 129 deaths. This brings the cumulative total to 14,991 cases and 853 deaths, according to the official figures.
Elsewhere in the Middle East, a further 216 cases have been confirmed since yesterday's update, bringing the cumulative total to 1,961. So far 24 coronavirus deaths have been reported in the region outside Iran. The latest two occurred in Egypt.
Israel reported the largest number of new cases (54), followed by Egypt with 40 and Qatar with 38.
Algeria 60 (+12)
Bahrain 229 (+8)
Egypt 166 (+40)
Iraq 133 (+9)
Israel 304 (+54)
Jordan 34 (+19)
Kuwait 130 (+7)
Lebanon 110 (-)
Morocco 37 (+8)
Oman 24 (+2)
Palestine 39 (-)
Qatar 439 (+38)
Saudi Arabia 133 (+15)
Sudan 1 (-)
Tunisia 24 (+4)
UAE 98 (-)
TOTAL: 1,961 (+216)
CLICK HERE for previous updates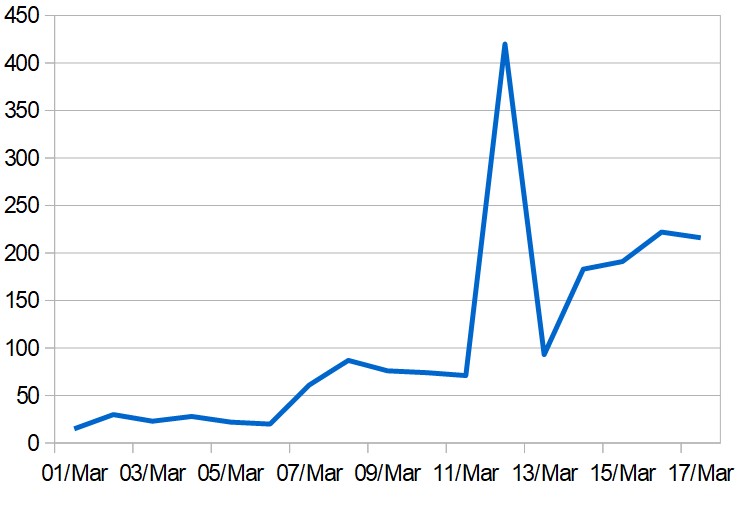 Country-by-country round-up
● Egypt reported 40 more cases, bringing the official total to 166. The health ministry says eight of the new cases are Egyptians who returned from pilgrimages in Saudi Arabia.
A 72-year-old German tourist died in Luxor and a 50-year-old Egyptian died in Daqahliyah on the Nile delta. More than 300 families have now been quarantined in Daqahliyah.
Schools and universities are suspended and airports will be closed from March 19. A campaign has been launched to sterilise hotels.
Large numbers of government employees are being told to work at home, with the exception of those in the the health sector, transportation, water, sewage and electricity.
● Jordan: The cases recorded so far involve 26 Jordanians, six French tourists and an Iraqi woman living in Jordan.
One of the Jordanians has been re-diagnosed after reportedly recovering. On Thursday, Mohammad al-Hyari – who had apparently caught the virus in Italy – was photographed leaving hospital, accompanied by the health minister. As a result of his discharge Jordan was declared virus-free, but that didn't last long.
● Kuwait: The information minister announced that the administrators of 14 websites are to be prosecuted for "disseminating inaccurate news and rumours that were later refuted by the competent state agencies". The minister did not name the websites but indicated that the prosecutions relate to things they have said about coronavirus.
● Morocco reported nine new cases, bringing the total to 37. The new cases were widely distributed – in Marrakech, Fez, Rabat, Meknes, Agadir and Casablanca – which is not a good sign.
● Qatar reported 38 new cases and according to the health ministry most of these are "related to migrant workers that were under quarantine". About three-quarters of Qatar's confirmed cases are thought to be migrant workers.
● Saudi Arabia: Of the 15 new cases, only one is reported to be a Saudi citizen. The others are said to be from Spain, Morocco, Britain, France, Switzerland, Jordan, Afghanistan, Turkey and Egypt.
● Syria announced that 103 tests on people suspected of having the virus all proved negative. The Assad regime continues to insist that there are no confirmed cases in Syria. Photos on the government website show "strict disinfection measures" at Damascus airport and on buses in Aleppo.
* * *
For anyone interested: A spreadsheet documenting the new coronavirus cases reported each day in the Middle East (excluding Iran) can be viewed here.
This work is licensed under a Creative Commons Attribution-NonCommercial 4.0 International Licence.