IN TODAY'S REPORT:
● Israel calls on Shin Bet to track coronavirus contacts
● Stringent new measures in Saudi Arabia
● Doubts over coronavirus "rapid tests"
---
Israel calls on Shin Bet to track coronavirus contacts
Governments in the Middle East are resorting to increasingly extreme measures in their attempts to control the spread of COVID-19. On Saturday, Binyamin Netanyahu declared that Israel is at war with an invisible enemy and will use counter-terrorism technology to track carriers. Details have now emerged as to how this will be done.
When someone tests positive, the Shin Bet security service will check their mobile phone records to see where they have been during the previous 14 days. Shin Bet will then check other phone records and people who are found to have been in the "vicinity" of the infected person will receive a text message telling them to self-quarantine.
According to Haaretz newspaper, this has been approved by the Israeli cabinet and the attorney general and surveillance can be carried out without a court order.
---
Shortly before midnight on Sunday, Saudi Arabia's interior ministry issued an eight-point decree, effective from today:
1. Attendance at the workplace is suspended for government employees except for the military, those working in security, and teachers working remotely.
2. Markets and malls are closed except for the sale of food and medicines. Shops outside malls can remain open, except for barbers and beauty salons. Shopping trolleys must be disinfected after use by each customer.
3. Takeway food services can operate 24 hours a day but customers must not sit inside while waiting for their order.
4. No "gatherings" are allowed in public recreational places such as parks and beaches.
5. Auctions are not allowed.
6. To reduce physical contact, electronic and telephone communication is to be used as much as possible.
7. Companies and non-government bodies should reduce the number of employees attending workplaces. Pregnant women, people with cancer, heart disease, lung disease, HIV, hereditary diseases and those taking immunosuppressive drugs should be allowed to work remotely.
8. Expatriate workers returning to the kingdom must spend 14 days in home quarantine.
---
Doubts over coronavirus "rapid tests"
A Bahraini businessman – as yet unnamed – is reported to have acquired the right to "franchise and import" rapid tests for coronavirus which give a result in minutes rather than hours.
Meanwhile, Kuwait has ordered 400,000 rapid test kits. These are expected to arrive on Wednesday and could be in use by next Sunday.
So far, though, the reliability of these tests is unproven and at this stage they are intended to be used only for research purposes. This is clearly stated in the instructions for one such test: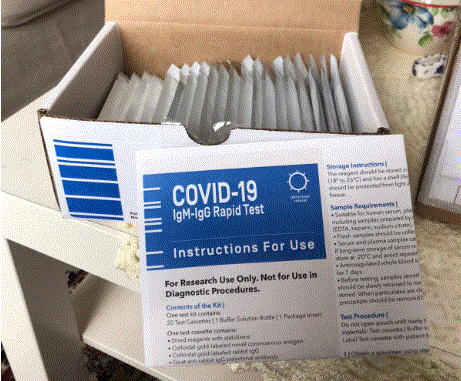 One rapid test, developed by BioMedomics, has been widely used in China but the company warns that the results it gives should not be the only basis for diagnosis: "Results should be used in combination with clinical observations and other testing methods such as nucleic acid PCR test."
In Britain on Saturday, Public Health England advised against using rapid tests "in community settings, such as pharmacies".
The tests could be useful in identifying people who may be positive and thus need further checks. But there's a danger that false negative results could lead some people to think they are in the clear when they are not.
---
On Sunday Iran reported a further 113 coronavirus deaths, bringing the official total to 724 since the outbreak began. Overall, the government says 13,938 people have been infected – an increase of 1,209 since the previous day. The numbers of deaths and new infections continue to rise, and the latest official daily figures are the highest yet.
Elsewhere in the Middle East 222 new cases were confirmed, bringing the cumulative total to 1,745. Two deaths were reported – one in Algeria and one in Bahrain, bringing the regional total (excluding Iran) to 22.
Algeria 48 (+3)
Bahrain 221 (+9)
Egypt 126 (+17)
Iraq 124 (+14)
Israel 250 (+50)
Jordan 15 (+8)
Kuwait 123 (+11)
Lebanon 110 (-) see note
Morocco 29 (+12)
Oman 22 (+2)
Palestine 39 (+1)
Qatar 401 (+64)
Saudi Arabia 118 (+15)
Sudan 1 (-)
Tunisia 20 (+4)
UAE 98 (+12)
TOTAL: 1,745 (+222)
CLICK HERE for previous updates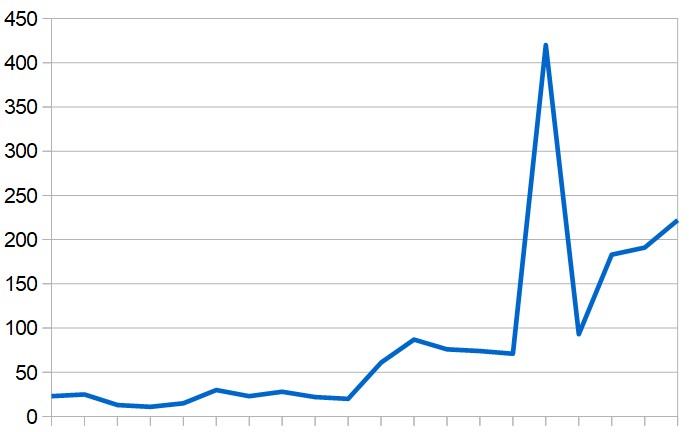 Note on Lebanon: There have been conflicting reports about the number of cases in Lebanon. On Sunday morning, LBC television reported that the total had risen to 110, and this was the figure recorded in Sunday's table here. Later in the day, the health ministry said the number of confirmed cases was 99. The figure of 110 has been retained in today's table, pending further clarification.
---
Country-by-country round-up
● Algeria registered its fourth coronavirus death on Sunday – a 84-year-old woman living in Blida.
● Egypt: Of the 16 most recent new cases, eight are reported to be Egyptians and the other eight are foreigners of various nationalities. All are said to have been in contact with previously confirmed cases, apart from an Egyptian returning from Italy.
● Iraq: The health ministry reported 14 new cases, bringing the total to 124.
● Jordan confirmed 12 new cases, bringing the total to 15. The central bank announced new measures which will inject $705m of extra liquidity to help businesses hit by the epidemic.
● Lebanon: Beirut airport is to be closed from Wednesday, as will points of entry by land and sea.
● Qatar reported 64 new cases but gave no details. During the last six days its cumulative total has leapt from 24 cases to 401.
● Tunisia reported two new cases – both of whom had returned from France. Of the 20 cases confirmed so far, 11 are said to have been infected abroad.
* * *
For anyone interested: A spreadsheet documenting the new coronavirus cases reported each day in the Middle East (excluding Iran) can be viewed here.