Residents of the UAE must cover their mouth and nose and wear gloves at all times when outside their home, the government announced at the weekend. But that's the easiest part. Before you can go out, you also have to get permission from the police.
The first step before a trip outdoors is to register your mobile phone number on a police website. You will then be sent a verification code giving access to an online application form.
The form asks for your address, ID details, and car registration number. You also have to tell the police where you intend to go, at what time, and at what time you expect to return home.
This has to be repeated every time you want to go outside. The only trips allowed are for buying food and medicines and visiting a hospital or a doctor. Only one member of a household is allowed to do essential shopping.
Different rules apply to "essential" workers. They don't need to apply but must carry their ID and a letter from their employer at all times.
Speed cameras have been adjusted to photograph all vehicles using the roads during restricted hours at night – even if they are not speeding.
These latest restrictions follow a sharp rise in the number of confirmed infections. The total has trebled over the last six days and now stands at 1,798 confirmed cases.
The authorities say a rise was expected and is the result of "early, intensive tests on a big scale to identify cases and who they were in contact with".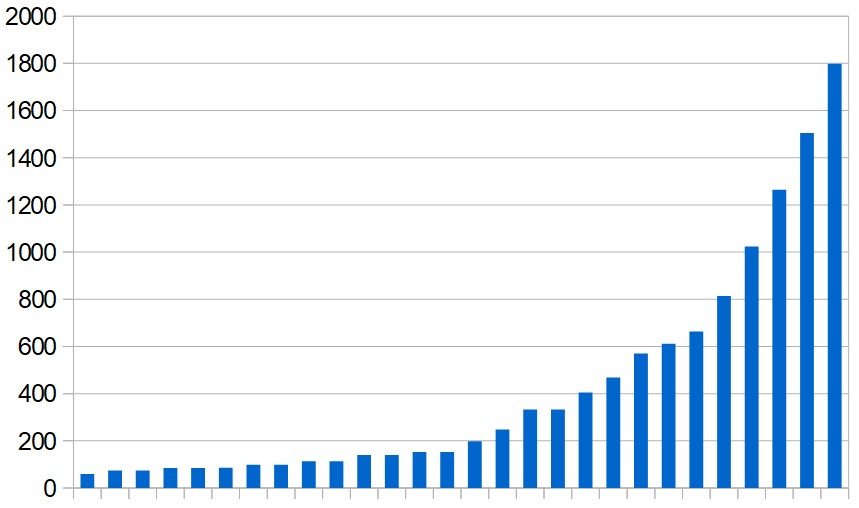 ---
New cases
New Covid-19 infections in Iran continue on a gradual downward trend. Yesterday a further 2,483 cases were reported – 703 below the peak recorded on 30 March. Iran's official total of confirmed cases since the outbreak began is now 58,226.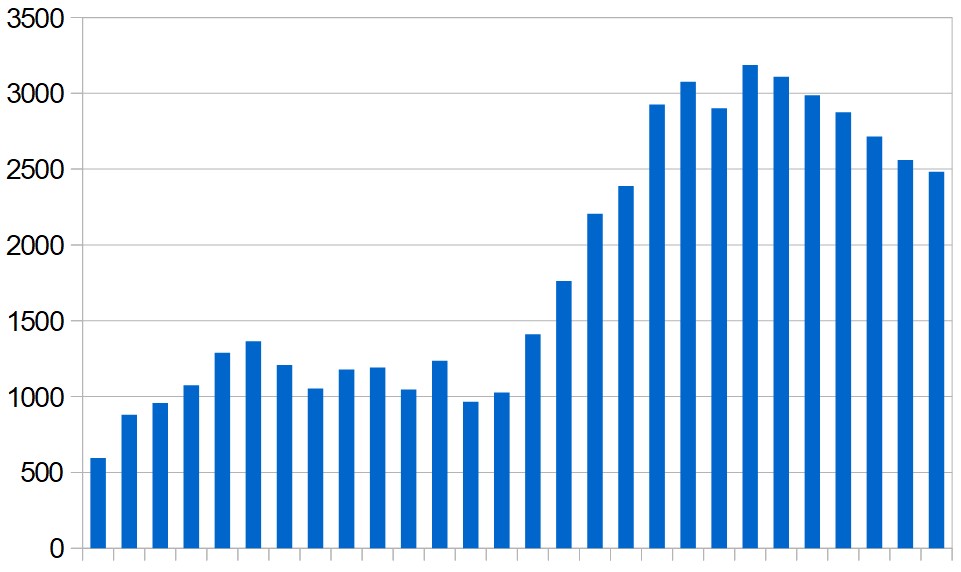 In the rest of the Middle East and North Africa region 1,701 new cases have been reported since yesterday's update, bringing the cumulative total to 22,209. Israel reported the largest number of new infections (527), followed by the UAE (293) and Qatar (279).
The list below shows cumulative totals since the outbreak began, with day-on-day increases in brackets:
Algeria 1,320 (+69)
Bahrain 700 (+12)
Egypt 1,173 (+103)
Iraq 961 (+83)
Israel 8,611 (+593)
Jordan 345 (+22)
Kuwait 556 (+77)
Lebanon 527 (+7)
Libya 18 (-)
Morocco 1,021 (+61)
Oman 331 (+33)
Palestine 237 (+11)
Qatar 1,604 (+279)
Saudi Arabia 2,402 (+32)
Sudan 12 (+2)
Syria 16 (-)
Tunisia 553 (+58)
UAE 1,505 (+241)
TOTAL: 22,209 (+1,701)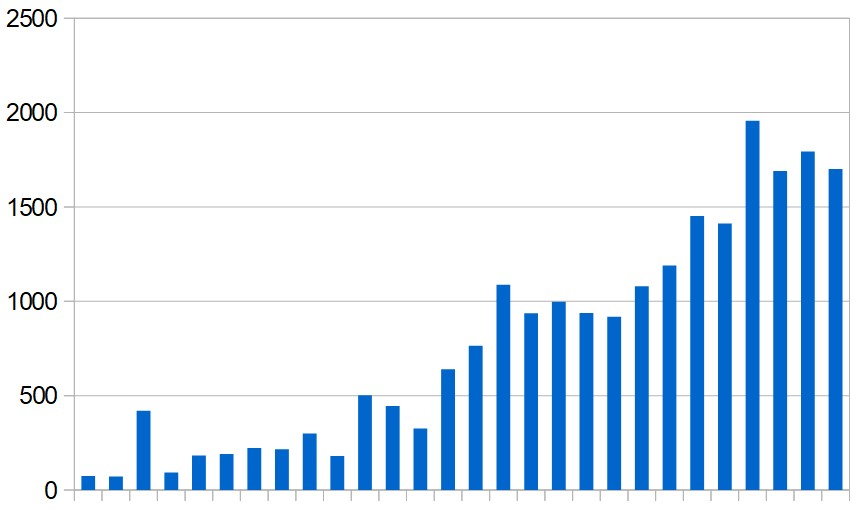 ---
Death toll
Iran reported a further 151 coronavirus-related deaths, bringing the official total to 3,603.
Elsewhere in the region, 61 deaths were reported, making a total of 518. The largest number of additional deaths was in Algeria (22), followed by Morocco (11) and Egypt (7).
This is the current list:
Algeria 152 (+22)
Bahrain 4 (-)
Egypt 78 (+5)
Iraq 56 (+2)
Israel 46 (+7)
Jordan 5 (-)
Kuwait 1 (-)
Lebanon 18 (+1)
Morocco 70 (+11)
Oman 2 (-)
Palestine 1 (-)
Qatar 4 (+1)
Saudi Arabia 34 (+5)
Sudan 2 (-)
Syria 2 (-)
Tunisia 22 (4)
UAE 10 (-)
TOTAL: 518 (+61)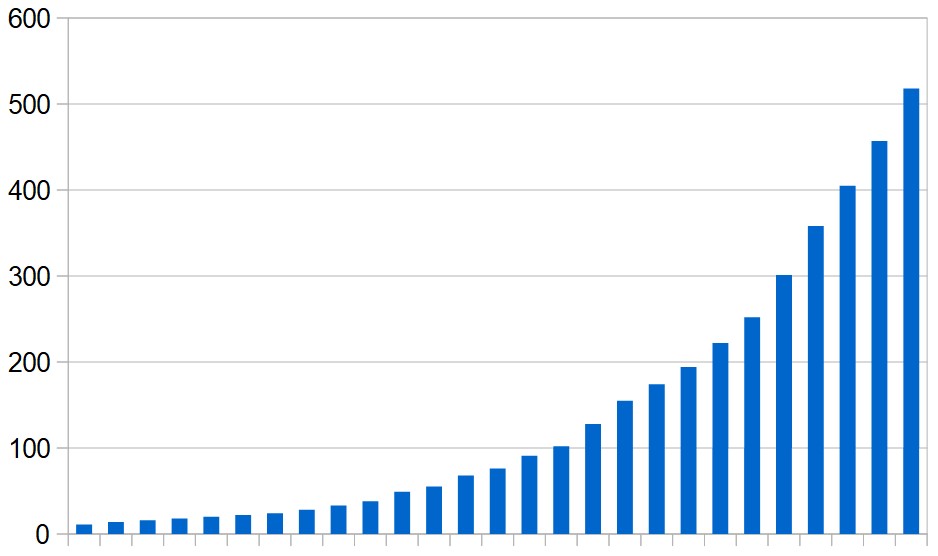 CLICK HERE for previous updates
For anyone interested: A spreadsheet documenting the new coronavirus cases and deaths reported in the region each day can be viewed here.
---
Regional round-up
● Algeria now has 1,320 confirmed cases. Health ministry figures show 35% of these are in Blida province where the outbreak began with a family visit by two people from France. The capital, Algiers, accounts for 17% of known cases.
● Israel has decided to impose further restrictions in selected areas, with details to be announced later today. The Jerusalem Post reports:
"Haredi [ultra-Orthodox] towns and cities continue to represent the hotspot of the coronavirus outbreak in Israel, with the highest number of confirmed cases per 100,000 people located in Efrat (656.1), Kiryat Yearim (634.4), Bnei Brak (622.5) and Kfar Habad (585.6).

"As of Monday morning, the two cities with the greatest number of confirmed cases were Jerusalem (1,316 cases) and Bnei Brak (1,222)."
● Libya: The National Center for Disease Control has so far confirmed 18 cases but testing is limited. Only 186 tests have been carried out during the last four days, bringing the total to 312 tests.
● Saudi Arabia: A police officer died on Sunday after being run over by a vehicle that failed to stop at a curfew enforcement checkpoint in Mecca.
This work is licensed under a Creative Commons Attribution-NonCommercial 4.0 International Licence.