Egypt's health minister, Hala Zayed, arrived in Italy yesterday for a "solidarity" visit, together two military planes bringing medical aid from Egypt.
Her trip was reportedly ordered by President Sisi who on Saturday posted a tweet offering to provide "all possible support" to "the governments and people of the whole world" in the battle against coronavirus.
Despite the doubts expressed by others, Sisi appears confident that the situation in Egypt is under control. Last week he described the country's efforts to check the spread of the virus as "good and reassuring".
However, a lack of transparency has fuelled fears that the regime faces a bigger problem than it is willing to admit. For example, the health ministry has given no information about doctors or other medical staff who have been infected in the course of their work.
Last week the Egyptian doctors' syndicate sent a letter to the ministry which said:
"Due to the infection of several doctors while doing their job combating the coronavirus, the syndicate requests the regular disclosure of data on infected doctors and their health status, in order to communicate with their families and provide the necessary syndicate assistance."
On Saturday the director of the National Cancer Institute in Cairo said fifteen medical staff – three doctors and 12 nurses – have been infected with coronavirus. Efforts are being made to trace patients who were in contact with them.
---
New cases
The number of new Covid-19 infections reported in Iran has fallen on each of the last five days and yesterday's figure of 2,560 new cases is the lowest for nine days.
Elsewhere in the Middle East and North Africa region a further 1,793 new infections have been reported since yesterday's update, bringing the cumulative total to 20,508 cases.
The largest increases were in Israel (429 new cases), Saudi Arabia (331), the UAE (241), Qatar (250) and Morocco (116).
The list below shows cumulative totals since the outbreak began, with day-on-day increases in brackets:
Algeria 1,251 (+80)
Bahrain 688 (+15)
Egypt 1,070 (+85)
Iraq 878 (+58)
Israel 8,018 (+429)
Jordan 323 (+13)
Kuwait 479 (+62)
Lebanon 520 (+12)
Libya 18 (+1)
Morocco 960 (+116)
Oman 298 (+21)
Palestine 226 (+21)
Qatar 1,325 (+250)
Saudi Arabia 2,370 (+331)
Sudan 10 (-)
Syria 16 (-)
Tunisia 553 (+58)
UAE 1,505 (+241)
TOTAL: 20,508 (+1,793)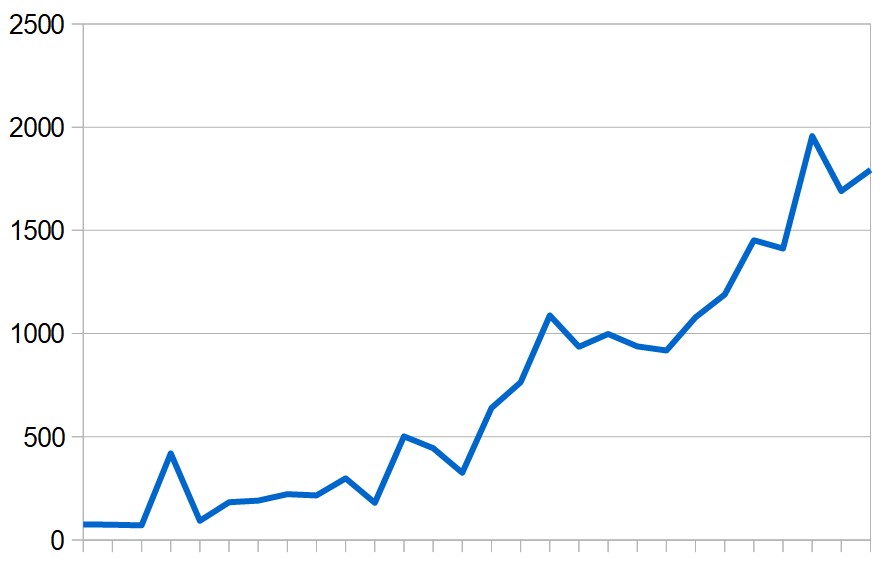 With thousands of new coronavirus infections reported every day, it's easy to forget that cases are also being closed as people recover or die.
To put a positive spin on the situation, several countries in the Middle East highlight the number of recoveries in their daily reports before mentioning new infections or deaths.
Looking at the region as a whole, we can see that more than 76,000 cases have been reported, of which almost 50,000 are still considered "active". This shows that around 26,000 cases have been closed as a result of recovery or death.
The date when the total of confirmed infections passed the 26,000 mark gives a rough indication of how long cases are remaining active – and the overall figure for the region is about 15 days.
Looking at individual countries, though, there are some wide variations. In Bahrain, for example the average time from diagnosis to closure is only 10 days, while in Qatar it's 24 days. The reason for these differences is unclear, and readers' thoughts are welcome.
---
Death toll
Iran reported a further 158 coronavirus-related deaths yesterday – 24 more than the day before, and one more than the previous highest figure recorded on 26 March.
Elsewhere in the region, 52 deaths were reported – 25 of them in Algeria. Kuwait reported its first death. This is the current list:
Algeria 130 (+25)
Bahrain 4 (-)
Egypt 71 (+5)
Iraq 56 (+2)
Israel 46 (+4)
Jordan 5 (-)
Kuwait 1 (+1)
Lebanon 17 (-)
Morocco 59 (+9)
Oman 2 (+1)
Palestine 1 (-)
Qatar 3 (-)
Saudi Arabia 29 (+4)
Sudan 2 (-)
Syria 2 (-)
Tunisia 18 (-)
UAE 10 (+1)
TOTAL: 457 (+52)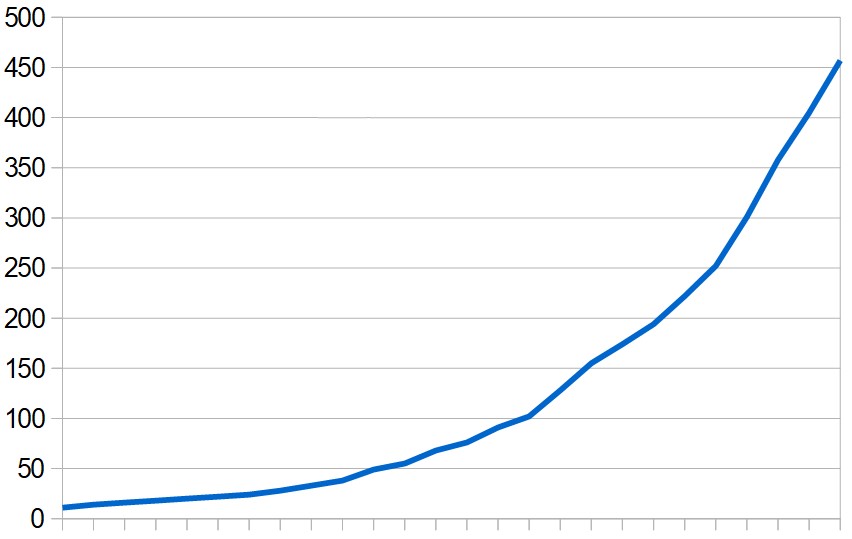 CLICK HERE for previous updates
For anyone interested: A spreadsheet documenting the new coronavirus cases and deaths reported in the region each day can be viewed here.
This work is licensed under a Creative Commons Attribution-NonCommercial 4.0 International Licence.