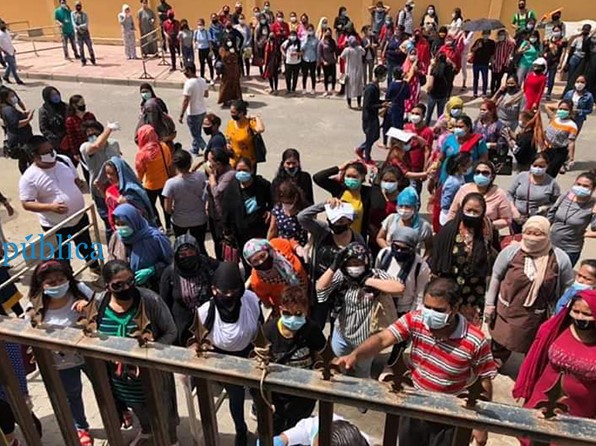 Thousands of undocumented migrant workers are awaiting repatriation from Kuwait under a government scheme aimed at countering the spread of Covid-19.
Crowded living conditions make migrant workers especially vulnerable to infection and the effect of the scheme will be to reduce their numbers.
The government announced an amnesty where people living in Kuwait illegally could apply for repatriation on attractive terms. There would be no penalty charges for infringing residency laws; the cost of their air fare home would be covered by the government; food and accommodation would be provided while they were waiting to be repatriated, and they would not be disqualified from returning to Kuwait legally in the future.
---
CLICK HERE to jump to Middle East updates
---
Officials are expecting 20,000 people to have applied when the amnesty ends tomorrow, and currently there are said to be 15,700 awaiting repatriation in Kuwait's "amnesty shelter facilities".
Five-day slots for applications were allocated according to nationality – Filipinos first, followed by Egyptians, Bangladeshis, Indians, Sri Lankans and finishing with "other nationalities" during the last five days of this month.
Two thousand Filipinos have so far been flown home, though some applicants were rejected because of debts (including unpaid phone bills) or outstanding court cases, according to the Philippines embassy.
Earlier this week two special flights from Kuwait took 247 Bangladeshis back home but it appears that at least one of the flights was for deportation rather than straightforward repatriation. According to the Bangladesh Daily Star it was carrying people who had been imprisoned or held in deportation centres.
Other Gulf states are also repatriating migrants, citing Covid-19 as the reason. But there is resistance from some of the recipient countries. In India, for example, the Supreme Court has imposed a temporary freeze on citizens returning from abroad because of fears they could spread the virus.
In Bangladesh, a letter circulated by a group of 16 NGOs says the host countries should be looking after migrants during the pandemic, not repatriating them:
"Under international law in any crisis situation, it is incumbent upon the state concerned to take care of all people in its land including migrants, irrespective of their status."
Besides the risk of spreading the virus through repatriation, they point out that the home countries have "very limited capacity to rehabilitate the returnees".
However, there's no shortage of people willing to take up the Kuwaiti government's offer, whether or not their home countries want them back.
This week Nepalese workers have been among the "other nationalities" applying for repatriation. There are thought to be about 7,000 in Kuwait who could return home under the scheme – many of them female domestic workers.
Huge crowds gathered outside the Nepal embassy as 2,500 sought travel documents ahead of their repatriation. The embassy does not appear to have been particularly helpful. Volunteers from the Non-Resident Nepali Association (NRNA) tried to manage the queues but said there were "just too many" to maintain social distancing.
On Tuesday, a further 22 Nepalese in Kuwait were diagnosed with the virus, making a total of 51 so far.
Meanwhile, the repatriation scheme is of no help to the 80,000-or-so Nepalese who live legally in Kuwait. Many have lost their jobs while others have no option but to continue working in unsafe conditions.
Anuj Tiwari of the Centre for Migration and International Relations in Nepal writes:
"Despite the lockdown, more than 600 Nepali taxi drivers are compelled to work in order to meet their daily instalment earning quotas, vehicle payments, and other daily services/basic needs. Failure to achieve these daily targets could either lead to the loss of income or termination."
---
New cases
A further 3,928 Covid-19 infections have been reported in the Middle East and North Africa since yesterday's update.
Saudi Arabia reported the largest number of new cases – 1,266 – followed by Iran with 1,112 and Qatar with 677.
The list below shows cumulative totals (excluding Iran) since the outbreak began, with day-on-day increases in brackets.
Algeria 3,649 (+132)
Bahrain 2,811 (+1)
Egypt 5,042 (+260)
Iraq 1,928 (+81)
Israel 15,782 (+193)
Jordan 449 (-)
Kuwait 3,440 (-)
Lebanon 717 (-)
Libya 61 (-)
Morocco 4,252 (+6)
Oman 2,274 (+143)
Palestine 501 (+6)
Qatar 11,921 (+677)
Saudi Arabia 20,077 (+1,266)
Sudan 318 (+43)
Syria 43 (-)
Tunisia 967 (-)
UAE 11,380 (-)
Yemen 1 (-)
TOTAL: 85,620 (+2,816)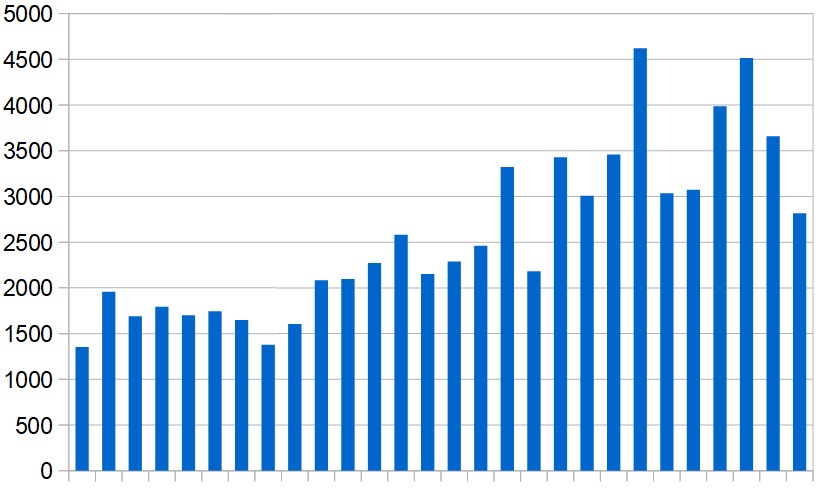 ---
Death toll
A further 119 coronavirus-related deaths were reported yesterday – including 71 in Iran and 22 in Egypt.
The list below shows cumulative totals of reported deaths in the region outside Iran, with day-on-day increases in brackets.
Algeria 437 (+5)
Bahrain 8 (-)
Egypt 359 (+22)
Iraq 90 (+2)
Israel 212 (+4)
Jordan 8 (+1)
Kuwait 23 (-)
Lebanon 24 (- )
Libya 2 (-)
Morocco 165 (+2)
Oman 10 (-)
Palestine 4 (-)
Qatar 10 (-)
Saudi Arabia 152 (+8)
Sudan 25 (+3)
Syria 3 (-)
Tunisia 40 (+1)
UAE 89 (-)
Yemen 0 (-)
TOTAL: 1,661 (+48)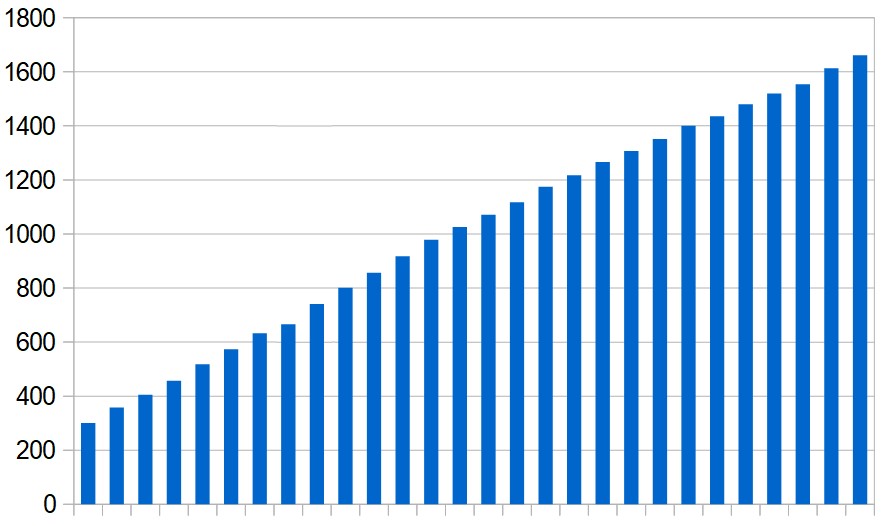 CLICK HERE for previous updates
For anyone interested: A spreadsheet documenting the new coronavirus cases and deaths reported in the region each day can be viewed here.
This work is licensed under a Creative Commons Attribution-NonCommercial 4.0 International Licence.