The coronavirus situation in Algeria is "under control" according to President Tebboune, and "stable" according to the health minister. Despite these assurances, the level of testing for Covid-19 in Algeria remains low and of the 2,070 people so far confirmed as having been infected, 326 – 16% of them – have died. This is the highest death toll of any country in the region apart from Iran.
The situation in Algeria is clearly not under control, though the official figures suggest it isn't worsening rapidly. The current total of confirmed cases shows a 41% increase over the past week, which – to put a positive spin on it – is lower than in many other countries.
Chloroquine claims
Meanwhile, the health minister has made some startling claims about the benefits of chloroquine as a treatment for the virus. "Patients who have been subjected to the chloroquine treatment protocol can now leave the hospital after five days (instead of ten) and continue their treatment at home," he said on Tuesday.
Chloroquine has the advantage of being produced locally and available in large quantities. According to President Tebboune there is enough in stock to treat 230,000 people. There are plans to increase this further "once the raw material ordered from India is received", the president added.
Last month the health minister defended the use of chloroquine on the grounds that Algeria "has no other choice".
The effectiveness chloroquine as a treatment for Covid-19 is disupted by experts. An article in the British Medical Journal summarising the scientific research describes its use as "premature and potentially harmful".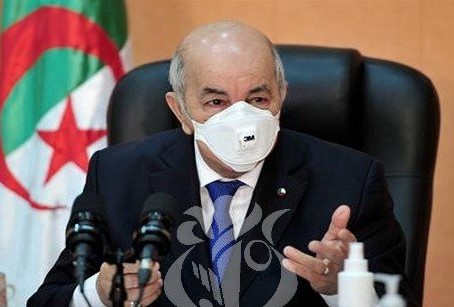 ---
New cases
A further 3,726 Covid-19 cases have been reported in the Middle East and North Africa since yesterday's update – 1,574 of them in Iran and 2,152 in the rest of the region.
For Iran, which has reported almost 75,000 cases since the outbreak began, this is the smallest daily increase in more than three weeks.
Elsewhere in the region, Saudi Arabia reported the largest increase (435 new cases), followed by the UAE (412) and Israel (332).
The list below shows cumulative totals (excluding Iran) since the outbreak began, with day-on-day increases in brackets.
Algeria 2,070 (+87)
Bahrain 1,528 (+167)
Egypt 2,350 (+160)
Iraq 1,400 (+22)
Israel 12,200 (+332)
Jordan 397 (+6)
Kuwait 1,405 (+50)
Lebanon 641 (-)
Libya 35 (+9)
Morocco 1,988 (+150)
Oman 910 (+97)
Palestine 308 (-)
Qatar 3,428 (+197)
Saudi Arabia 5,369 (+435)
Sudan 32 (+3)
Syria 29 (+4)
Tunisia 747 (+21)
UAE 4,933 (+412)
Yemen 1 (-)
TOTAL: 39,770 (+2,152)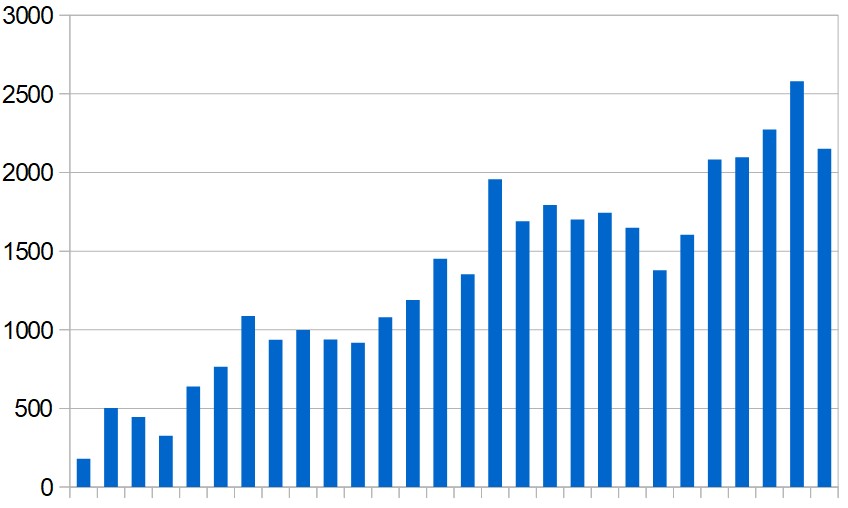 ---
Death toll
Iran reported a further 98 coronavirus-related deaths yesterday. This is the first time in a month that the daily figure has dipped below 100.
Elsewhere in the region, 47 deaths were reported, bringing the total to 1,026.
The list below shows totals of reported deaths, with day-on-day increases in brackets.
Algeria 326 (+13)
Bahrain 7 (+1)
Egypt 178 (+14)
Iraq 78 (-)
Israel 126 (+9)
Jordan 7 (-)
Kuwait 3 (-)
Lebanon 21 (-)
Libya 1 (-)
Morocco 127 (+1)
Oman 4 (-)
Palestine 2 (-)
Qatar 7 (-)
Saudi Arabia 73 (+8)
Sudan 5 (+1)
Syria 2 (-)
Tunisia 34 (-)
UAE 25 (-)
Yemen 0 (-)
TOTAL: 1,026 (+47)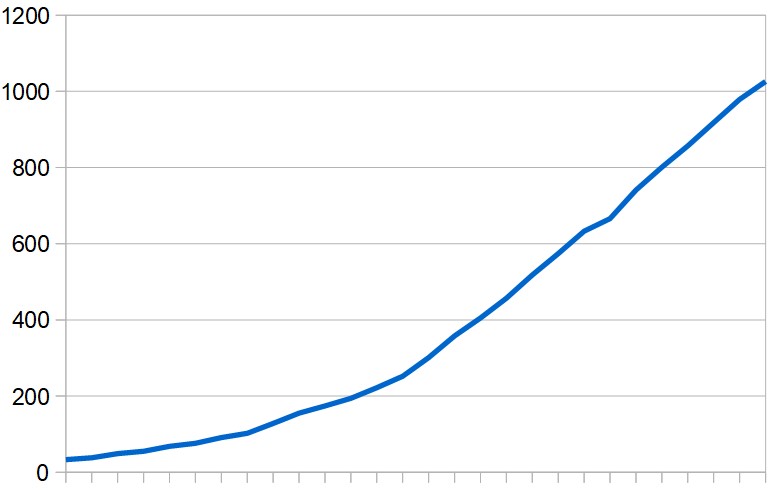 CLICK HERE for previous updates
For anyone interested: A spreadsheet documenting the new coronavirus cases and deaths reported in the region each day can be viewed here.
This work is licensed under a Creative Commons Attribution-NonCommercial 4.0 International Licence.