Arab states in the Gulf are reporting large numbers of new Covid-19 infections among migrant workers.
● In Bahrain, foreign labourers account for almost half the confirmed cases – more than 600 have tested positive.
● In Kuwait, 679 of the 1,300 confirmed cases are reported to be Indian workers.
● In Saudi Arabia, according to the health minister, "most cases" have arisen in migrant worker communities and other densely populated areas. "We have noticed an increase in coronavirus infections in the accommodation of workers and we called upon them to apply the highest degree of precaution," the minister said.
Migrant workers are especially vulnerable to infection because they often live in compounds with shared sleeping quarters where it's impractical to follow the precautions urged by governments.
Journalist Ben Hubbard takes a detailed look at their problems in an article for the New York Times.
Hubbard quotes a Kenyan oil worker in Qatar (interviewed by phone) as saying he shares a room in a company compound with three others, in a ward with only six bathrooms for 450 men: "Crowding is the problem, and washing hands is almost unrealistic."
His company provides food, but in a communal dining hall. "It is not in any way social distancing," the worker says.
---
New cases
Iran continues to report more Covid-19 cases than any other country in the Middle East, though the spread of the virus appears to have slowed considerably. Yesterday's official tally of 1,617 new cases was the lowest for three weeks.
Across the rest of the region, 2,581 new cases have been reported since yesterday's update – the highest one-day figure so far. This brings the cumulative total (excluding Iran) to 37,618 cases, which is a 57% increase over the past week.
Israel reported the largest number of new cases (633), followed by Saudi Arabia (472) and the UAE (398).
The list below shows cumulative totals since the outbreak began, with day-on-day increases in brackets.
Algeria 1,983 (+69)
Bahrain 1,361 (+225)
Egypt 2,190 (+125)
Iraq 1,378 (+26)
Israel 11,868 (+633)
Jordan 391 (+2)
Kuwait 1,355 (+55)
Lebanon 641 (+11)
Libya 26 (+1)
Morocco 1,838 (+177)
Oman 813 (+86)
Palestine 308 (+20)
Qatar 3,231 (+252)
Saudi Arabia 4,934 (+472)
Sudan 29 (+10)
Syria 25 (-)
Tunisia 726 (+19)
UAE 4,521 (+398)
Yemen 1 (-)
TOTAL: 37,618 (+2,581)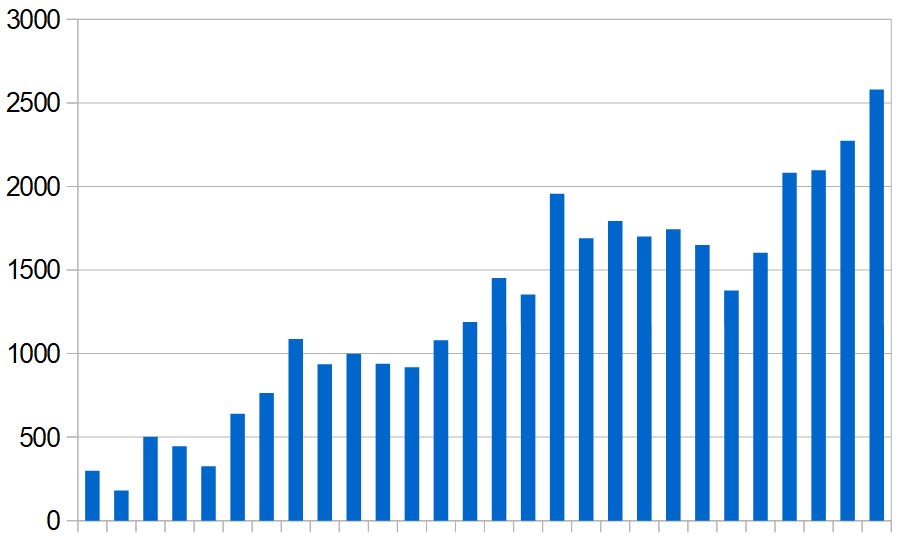 ---
Death toll
Iran reported a further 111 coronavirus-related deaths – the lowest daily figure since March 14.
In the rest of the region a further 61 deaths have been reported – 20 of them in Algeria which continues to have a disproportionately high number of fatalities.
The list below shows totals of reported deaths, with day-on-day increases in brackets.
Algeria 313 (+20)
Bahrain 6 (-)
Egypt 164 (+5)
Iraq 78 (+2)
Israel 117 (+7)
Jordan 7 (-)
Kuwait 3 (+1)
Lebanon 21 (+1)
Libya 1 (-)
Morocco 126 (+8)
Oman 4 (-)
Palestine 2 (-)
Qatar 7 (-)
Saudi Arabia 65 (+6)
Sudan 4 (+2)
Syria 2 (-)
Tunisia 34 (+6)
UAE 25 (+3)
Yemen 0 (-)
TOTAL: 979 (+61)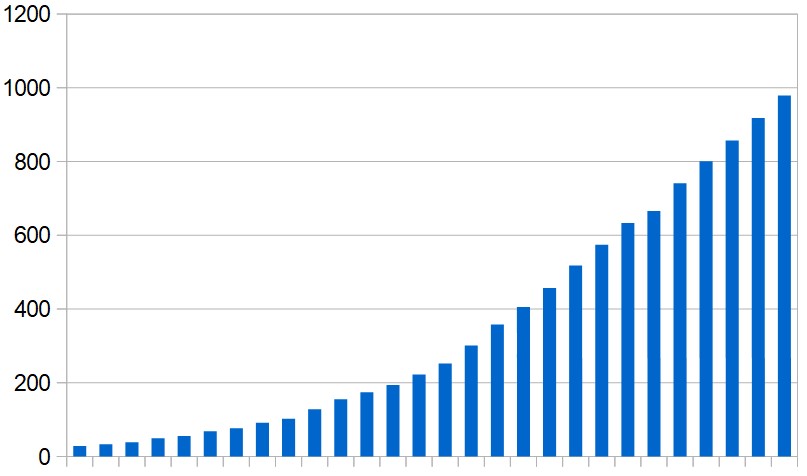 CLICK HERE for previous updates
For anyone interested: A spreadsheet documenting the new coronavirus cases and deaths reported in the region each day can be viewed here.
This work is licensed under a Creative Commons Attribution-NonCommercial 4.0 International Licence.