Police in Egypt used tear gas on Saturday to disperse protesters who were trying to prevent the burial of a doctor who died after being infected by coronavirus. Ahram Online reports that 23 people were arrested.
It was the second attempt to bury the 64-year-old female doctor. Residents in her home town had refused to let her be buried there and the funeral was then switched to her husband's home town.
Protesters blocked the road to the cemetery, claiming that her burial would spread coronavirus in the area. This appears to be a widespread belief in Egypt and Ahram Online says the burials of coronavirus victims often take place in secret, supervised by police.
Meanwhile, the Egyptian doctors' syndicate has been struggling to get information from the government about the numbers of doctors and other medical staff infected with coronavirus. The syndicate has so far identified 43 cases, including three deaths.
---
Syria reported six new Covid-19 cases yesterday, bringing the official total to 25. Although there are many who doubt the official figures, the outbreak in regime-controlled areas looks relatively manageable at present, partly because the regime had begun taking precautions before the first case was confirmed. Even so, there are concerns about how the country will cope if the number of infections grows substantially. In opposition-held areas there are no known cases so far (and reportedly no testing either) but an epidemic there could easily become catastrophic.
A joint report by the World Health Organisation and the UN's OCHA, published on Friday, describes the general situation in Syria and notes some of the economic hardship caused by coronavirus-related restrictions.
There's also a more detailed but slightly older report by Mazen Gharibah and Zaki Mehchy, two researchers at the London School of Economics. It estimates that government and private hospitals have about 350 intensive care beds with respirators that could be available for Covid-19 patients.
In opposition-controlled north-west Syria, where many displaced people have taken refuge, there are only 166 doctors, the researchers say. Idlib Health Directorate has 20 intensive care beds with ventilators.
In north-east Syria, where four million people are living, only two of the 11 public hospitals are still fully functional. There are said to be 22 intensive care beds available.
---
New cases
Iran, the first country in the Middle East to be severely affected by coronavirus, continues to report large numbers of new cases – 1,837 yesterday, though the rate of new infections appears to be gradually subsiding.
In the rest of the Middle East and North Africa region, 2,097 new cases have been reported since yesterday's update. This is the highest daily total so far.
The list below shows cumulative totals since the outbreak began, with day-on-day increases in brackets.
Algeria 1,825 (+64)
Bahrain 1,040 (+42)
Egypt 1,939 (+145)
Iraq 1,318 (+39)
Israel 10,878 (+470)
Jordan 381 (+9)
Kuwait 1,154 (+161)
Lebanon 619 (+10)
Libya 25 (+1)
Morocco 1,545 (+97)
Oman 546 (+62)
Palestine 268 (+1)
Qatar 2,728 (+216)
Saudi Arabia 4,033 (+382)
Sudan 19 (+2)
Syria 25 (+6)
Tunisia 685 (+14)
UAE 3,736 (+376)
Yemen 1 (-)
TOTAL: 32,764 (+2,097)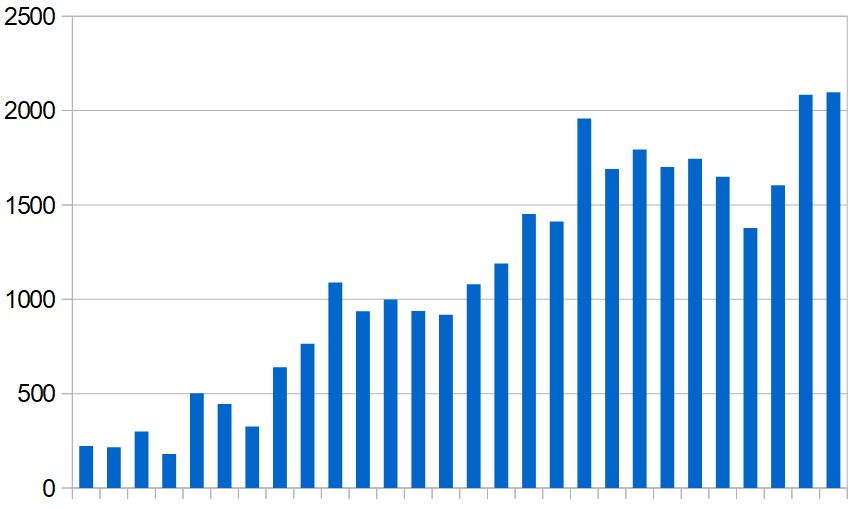 ---
Levels of testing
Official figures show the Covid-19 cases that have been confirmed by testing but a shortage of test kits in most of the region means unknown numbers of infections are not being detected. Changes in the daily totals of confirmed cases can, however, give an indication of how fast the virus is spreading.
The most extensive testing is in the Arab Gulf states and Israel. The UAE – which seems to have plenty of test kits – has now embarked on mass testing.
The list below shows the number of tests reportedly carried out in various countries of the region (figures are not available for Kuwait, Oman, Sudan, Syria or Yemen).
UAE
Israel
Saudi
Bahrain
Qatar
Iraq
Egypt
Jordan
Palestine
Lebanon
Tunisia
Morocco
Algeria
Syria
Libya
648,000
117,500
115,500
60,500
48,000
34,000
25,000
20,500
17,000
14,000
10,500
8,000
3,500
950
500
The numbers of tests also have to be considered in relation to population size. The UAE's figure means that among every million inhabitants around 64,000 people have been tested. In Egypt, though, it's around 224 in every million and in Algeria only 77 in a million. In general, the lower the level of testing the higher the level of undiagnosed cases is likely to be.
---
Death toll
Iran reported a further 125 coronavirus-related deaths, bringing the official total to 4,357. The daily average over the last three weeks has been 133 deaths.
Elsewhere in the region a further 56 deaths were reported, making a total of 857 so far.
Together, Algeria and Egypt account for 30% of the total. The high numbers of deaths in those countries compared with the numbers of confirmed cases, and combined with low levels of testing, suggest many infections are not being detected.
The list below shows totals of reported deaths, with day-on-day increases in brackets.
Algeria 275 (+19)
Bahrain 6 (-)
Egypt 146 (+11)
Iraq 72 (+2)
Israel 103 (+8)
Jordan 7 (-)
Kuwait 1 (-)
Lebanon 20 (-)
Libya 1 (-)
Morocco 111 (+4)
Oman 3 (-)
Palestine 2 (-)
Qatar 6 (-)
Saudi Arabia 52 (+5)
Sudan 2 (-)
Syria 2 (-)
Tunisia 28 (+3)
UAE 20 (+4)
Yemen 0 (-)
TOTAL: 857 (+56)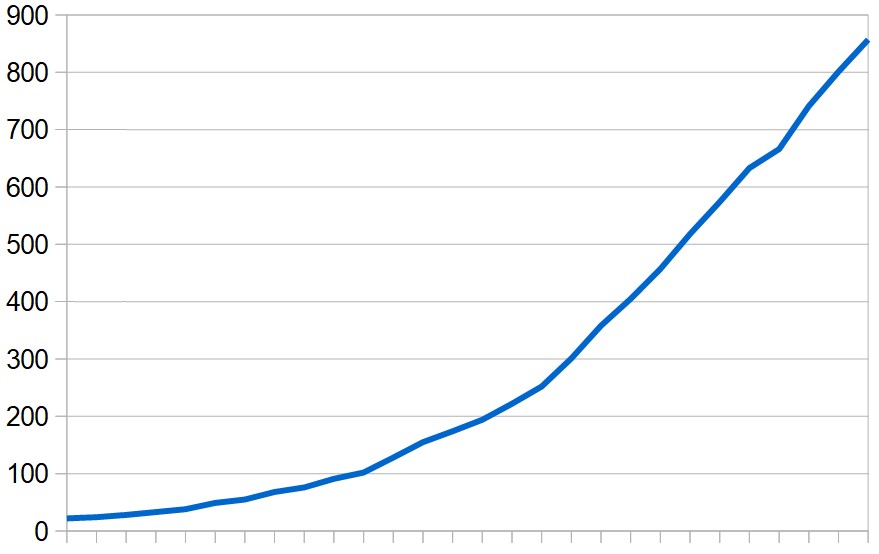 CLICK HERE for previous updates
For anyone interested: A spreadsheet documenting the new coronavirus cases and deaths reported in the region each day can be viewed here.
This work is licensed under a Creative Commons Attribution-NonCommercial 4.0 International Licence.