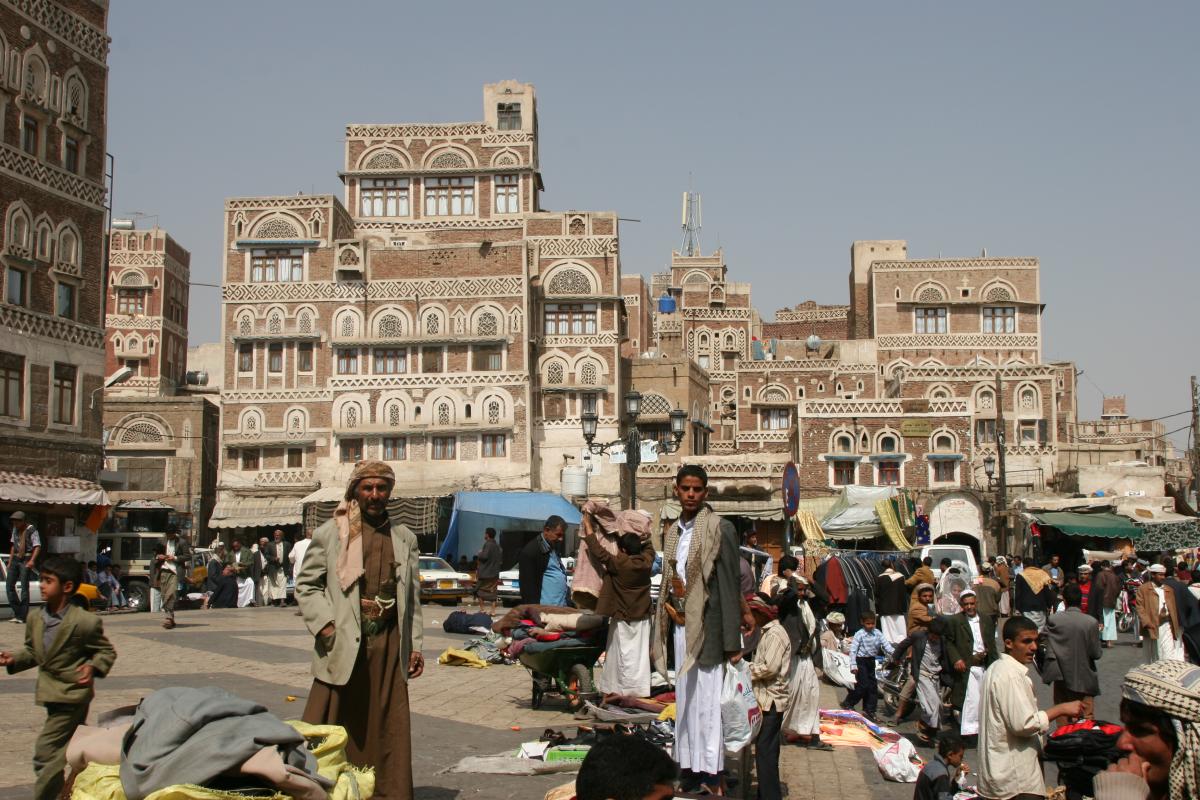 The Houthis who rule over much of northern Yemen have now confirmed what many had long suspected: that the Covid-19 virus is present in the territory they control.
Yesterday their health minister announced that a man found dead in a hotel in the capital, Sana'a, on Sunday had been posthumously tested – and the result was positive.
Doctors in Sana'a have previously described patients with symptoms resembling Covid-19 but have been unable to get confirmation. However, the Houthis are still not acknowledging that any Yemenis in the north have been infected, since the man who died was Somali.
Nevertheless, ten districts of the capital, including the Old City, have been placed under a 24-hour curfew which began at dawn today.
---
CLICK HERE to jump to Middle East updates
---
Meanwhile, nine new cases were reported yesterday in the south which is controlled (up to a point) by the internationally recognised government. This means there have now been 22 confirmed cases in the war-torn country, including four deaths.
As in the north, though, there's anecdotal evidence that significant numbers of cases are not being detected – with the result that they are likely to infect others.
"This is the worst-case scenario we have been fearing," Xavier Joubert, country director of Save the Children, said yesterday. "The coronavirus is spreading across the country and has now reached the north of Yemen, home to some of the most vulnerable children and families in this humanitarian catastrophe. A ceasefire must happen immediately.
"After five years of war and with only half of the health facilities across the country fully functional, Yemen is simply not equipped to handle a full-scale outbreak.
"So far 200 people have been tested for Covid-19, but we do not know the true scale of the outbreak. We need to focus on awareness-raising and making sure people know which measures are needed to limit the spread of the virus, including contact tracing and isolation measures.
"Expert staff must be allowed to travel to all affected parts of Yemen to provide much needed support for these interventions. It's the only way to curb the spread of the virus.
"None of this can be done if the fighting continues, if people are afraid to go outside to seek help and if health workers are at risk of attack. The violence needs to stop, now, before the outbreak becomes out of control."
---
New cases
A further 6,209 Covid-19 infections have been reported in the Middle East and North Africa since yesterday's update. Of those, 1,595 were in Saudi Arabia and 1,323 in Iran.
Infections in Iran appear to be creeping up again. New cases reported in the official tally during the last couple of days were the highest for a fortnight.
The list below shows cumulative totals (excluding Iran) since the outbreak began, with day-on-day increases in brackets.
Algeria 4,838 (+190)
Bahrain 3,720 (+187)
Egypt 7,201 (+388)
Iraq 2,431 (+50)
Israel 16,268 (+85)
Jordan 471 (+6)
Kuwait 5,804 (+526)
Lebanon 741 (+1)
Libya 63 (-)
Morocco 5,219 (+166)
Oman 2,903 (+168)
Palestine 543 (+11)
Qatar 17,142 (+951)
Saudi Arabia 30,251 (+1,595)
Sudan 778 (+100)
Syria 44 (-)
Tunisia 1,022 (+4)
UAE 15,192 (+462)
Yemen 22 (+10)
TOTAL: 114,677 (+4,886)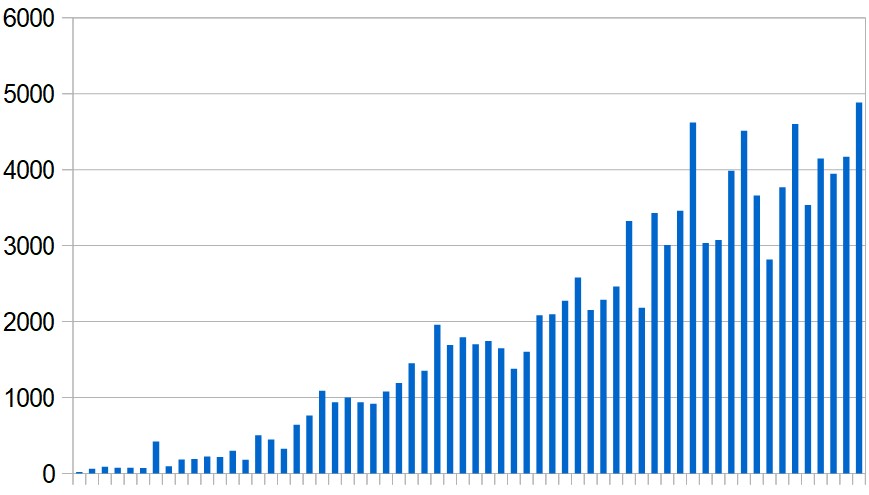 ---
Death toll
A further 114 coronavirus-related deaths were reported in the region yesterday – 63 of them in Iran and 16 in Egypt.
The list below shows cumulative totals of reported deaths in the region outside Iran, with day-on-day increases in brackets.
Algeria 470 (+5)
Bahrain 8 (-)
Egypt 452 (+16)
Iraq 102 (+4)
Israel 238 (+1)
Jordan 9 (-)
Kuwait 40 (-)
Lebanon 25 (-)
Libya 3 (-)
Morocco 181 (+2)
Oman 13 (+1)
Palestine 4 (-)
Qatar 12 (-)
Saudi Arabia 200 (+9)
Sudan 45 (+4)
Syria 3 (-)
Tunisia 43 (-)
UAE 146 (+9)
Yemen 4 (+2)
TOTAL: 1,994 (+51)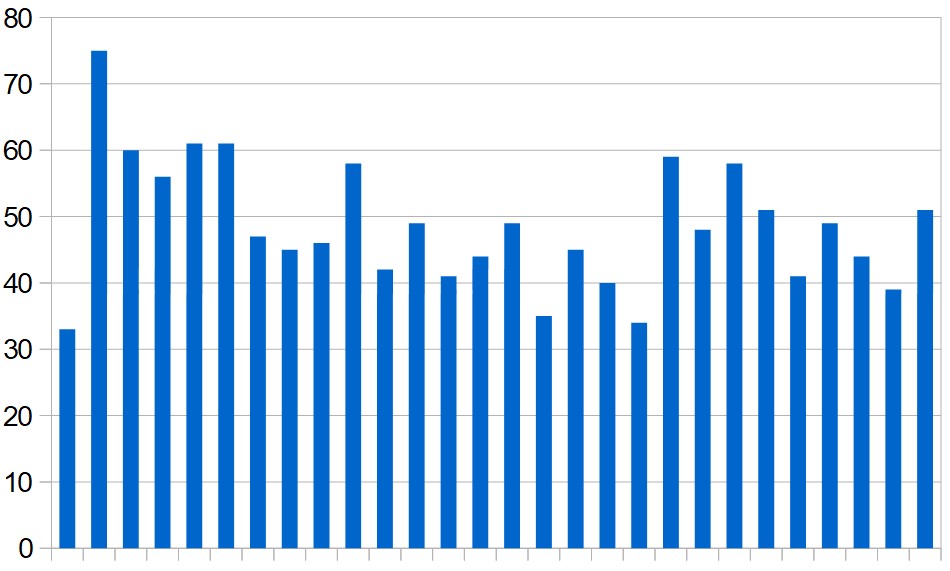 CLICK HERE for previous updates
For anyone interested: A spreadsheet documenting the coronavirus cases and deaths reported in the region each day can be viewed here.
This work is licensed under a Creative Commons Attribution-NonCommercial 4.0 International Licence.