Country narrative: Qatar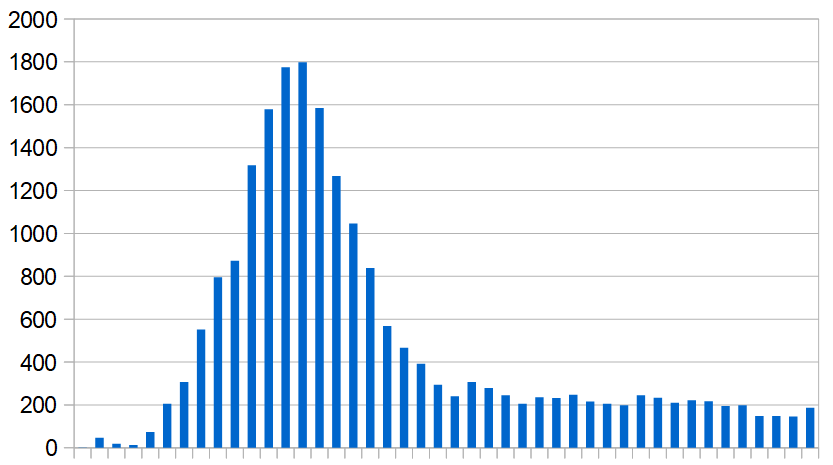 February 27, 2020
Qatar has ordered the evacuation of its citizens from Iran (and appears to be helping evacuate Kuwaitis too). So far, Qatar has no confirmed cases but that may change as a result of the evacuation.
February 28
Qatar has evacuated an unspecified number of its citizens from Iran and they will be quarantined in a hotel for the next two weeks.
March 1
Qatar announced its first confirmed case on Saturday: a 36-year-old Qatari man who arrived on a government-chartered evacuation flight from Iran on Thursday. He had been quarantined since arriving, as have others on the same flight.
March 2
Qatar confirmed two new cases, bringing the total to three.
March 3
Qatar reported four new cases on Monday – two Qatari citizens and two domestic workers who had accompanied them on a private plane from Iran on February 27. On Tuesday morning a fifth person – who had been quarantined immediately after arriving from Iran (apparently on the same private flight) – was also diagnosed.
March 7
Qatar announced three new cases on Friday – two Qatari citizens and a third person "of another nationality". On Saturday morning it reported a fourth new case – a Qatari citizen who had been in quarantine since arriving from Iran.
March 8
The Indian authorities are trying to trace people who travelled on two Qatar Airways flights – from Venice to Doha and from Doha to Kochi. The Times of India reports that three passengers, all from the same family, have been diagnosed with the virus.
March 9
Qatar has suspended entry for people from Bangladesh, China, Egypt, India, Iran, Iraq, Lebanon, Nepal, Pakistan, Philippines, South Korea, Sri Lanka, Syria and Thailand. Qatar depends heavily on migrant workers and this will have a huge impact if it continues for long. An official statement said: "The decision affects all individuals intending to enter from these countries, including visas upon arrival, those with a residence or work permit, and temporary visitors."
March 10
Qatar, which reported three new cases on Monday, has suspended school and university classes and closed nurseries.
March 11
Qatar has banned the smoking of shisha (hubble-bubble) pipes in cafes and restaurants. Shisha smoking carries a risk of coronavirus because pipes are often shared between users.
March 12
The health ministry announced that 238 cases of COVID-19 had been diagnosed among "expatriates" who "reside in one residential complex".
No information was given about the nationalities of these expatriates or the nature of their "residential complex" but the obvious conclusion is that the virus has swept through a compound housing migrant workers. If so, the same thing could happen to thousands or other workers living in cramped conditions – not only in Qatar but in other parts of the Gulf.
The "expatriates" affair in Qatar began on Sunday when three people were diagnosed with the virus. As a result, more than 300 people – most or all of whom lived in the same accommodation – were quarantined. Subsequent tests showed that 238 of them were positive, and those who have so far tested negative are not yet in the clear.
Overall in Qatar, 800 people have been quarantined and 6,000 have been tested, according to the authorities.
March 13
The health ministry has called on all citizens and residents to "avoid crowded places". Cinemas, theatres, children's play areas, gyms and wedding venues are closed from today. However, the regular Friday prayers in mosques will still go ahead, according to the ministry for Islamic affairs. Mosques are being urged to open their windows to increase ventilation and people with possible coronavirus symptoms are advised to stay away.
March 14
Qatar reported 58 new cases on Friday night, followed by 17 more on Saturday morning. All but four of the new cases are said to involve "expatriate workers" (which is probably a euphemism for migrant labourers) – most of whom were already in quarantine. Following the discovery of three "expatriate" cases last Sunday more than 300 people from the same "residential complex" were quarantined and on Wednesday the health ministry announced that 238 of them had tested positive. Many of the latest cases appear to be from the same quarantined group.
March 16
Qatar reported 64 new cases but gave no details. During the last six days its cumulative total has leapt from 24 cases to 401.
March 17
Qatar reported 38 new cases and according to the health ministry most of these are "related to migrant workers that were under quarantine". About three-quarters of Qatar's confirmed cases are thought to be migrant workers.
March 18
A real estate company announced that tenants of its restaurants, cafes and shops will be exempted from rent for three months, starting in April.
March 20
Qatar reported eight new cases and, once again, "most" of them are said to be expatriate workers.
March 25
Qatar has arrested nine people for violating home quarantine. A further 14 – listed here – have been publicly named and shamed.
April 17
Yesterday, Qatar reported 392 new Covid-19 cases and according to Gulf News most of them were "related to expatriate workers".
Amnesty International has interviewed 20 migrant workers from Nepal who say they were rounded up – along with many others – by Qatari police and then deported after being tricked into thinking they were just being given coronavirus tests. In a report issued on Wednesday, Amnesty said:
"On Thursday 12 and Friday 13 March, hundreds of migrant workers were rounded up and detained by police in parts of Doha including the Industrial Area, Barwa City, and Labour City. They were apprehended whilst away from their accommodation, carrying out errands or shopping for groceries ...
"One man told Amnesty International: 'We were asked to stop to test for the virus. Police told us that the doctor would come and check the virus. But they lied to us.'
"The men were then crammed on to buses, and taken to a detention facility in the Industrial Area ... One Nepali man told Amnesty International: 'The jail was full of people. We were given one piece of bread each day, which was not enough. All the people were fed in a group, with food lying on plastic on the floor. Some were not able to snatch the food because of the crowd'."
According to Amnesty, none of the men were able to challenge their detention or expulsion and some only learned about it while being taken to the airport.
Saudi Arabia is planning to deport 200,000 Ethiopian migrants, Reuters news agency reported earlier this week. So far, 2,870 of them have been expelled from the kingdom.
"They have been deported in a very congested way, with 300 to 500 squeezed on to single flights," the Ethiopian health minister was quoted as saying.
The UN has called on Saudi Arabia to suspend the deportations – at least until they can be better organised.
"Large-scale migratory movements which are not planned make the transmission of the virus much more likely to continue," Catherine Sozi, the UN humanitarian coordinator for Ethiopia, told Reuters.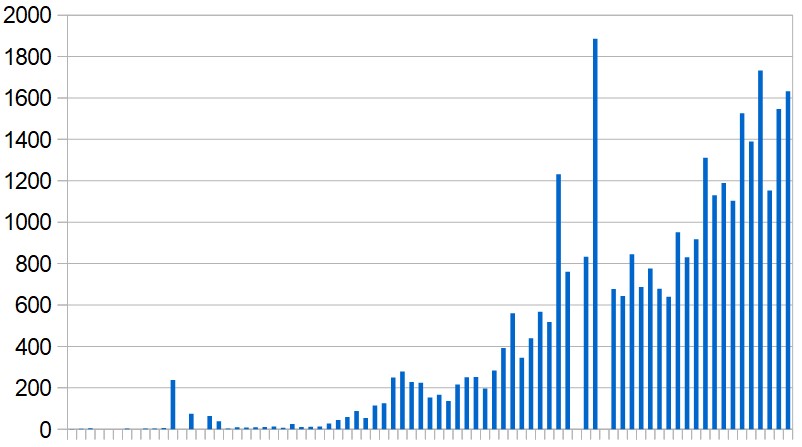 The wealthy Gulf state of Qatar – home to al-Jazeera television and controversial host for the 2022 World Cup – is offering to help the United States and other countries overcome the coronavirus crisis.
That is the main story today on the front page of Qatar's The Peninsula newspaper. The report, supplied by the official government news agency, describes a talk given by the Qatari ambassador in Washington at a video conference organised by the American Chamber of Commerce.
The ambassador reportedly explained how Qatar has been managing its Covid-19 epidemic and why it is "one of the countries that experienced the lowest death rate in the world due to the strength of its medical system".
The report adds: "For their part, representatives of American companies praised the State of Qatar's response to combat the coronavirus."
The same government-written report can be found in at least three other Qatari newspapers – in English in the Qatar Tribune and in Arabic in al-Watan and al-Sharq.
What none of these papers mention is that in proportion to its size Qatar has recorded more Covid-19 infections than almost anywhere else in the world. The high level of infections in Qatar is surpassed only by two micro-states – the Vatican City and San Marino.
It's only when population is taken into account that the full magnitude of Qatar's problem becomes apparent. On that basis, the 32,000 cases translate into more than 11,000 per million inhabitants.At first glance the 32,000 confirmed cases in Qatar don't look particularly noteworthy or unusual. Other countries have higher numbers, including Qatar's neighbour, Saudi Arabia, which has more than 54,000. But Qatar has less than one-tenth of Saudi Arabia's population.
That is not just high but phenomenally high. Aside from the Vatican, San Marino, Andorra and Luxembourg (all with populations well below a million) the countries whose infection levels come closest to Qatar's are Spain and Iceland. They have 5,900 and 5,300 known cases per million respectively – which is roughly half Qatar's figure.
In Qatar, as in the other Arab states of the Gulf, the majority of Covid-19 cases have occurred among migrant workers whose cramped living conditions allow the virus to spread easily. But even in comparison with its migrant-employing neighbours Qatar's cases-per-million are exceptional.
Country
Population
Confirmed
cases
Cases per
million pop'n

Qatar


Bahrain
Kuwait
UAE
Saudi
Oman
2.9
1.7
4.3
9.9
34.7
5.1
32,604
6,956
14,850
23,358
54,752
5,379
11,243
4,092
3,453
2,359
1,578
1,055
In its daily reports of new cases, Qatar's health ministry says infections are rising because the epidemic is approaching its peak. The ministry has been repeating this for at least a month and it doesn't really explain anything.
In its most recent statements the ministry says high numbers of new cases are due to "redoubling" of efforts to find infected people "through intensive and proactive investigations of large numbers of contacts". It gives no specifics about the scale of these efforts.
However, the ministry does say it has tested 157,570 people (which may or may not include repeat tests). Levels of testing often have some bearing on the number of cases being detected but this doesn't seem to be a particular issue in Qatar. Among the other Gulf states, the UAE, Bahrain and Kuwait have all tested more extensively in terms of population – and have found lower levels of infection.
Country
Population
Number
of tests
Tests per
million pop'n
UAE
Bahrain
Kuwait
Qatar
Saudi
Oman
2.9
1.7
4.3


9.9


34.7
5.1
1,600,923
236,828
244,476


157,570


586,405
61,000
161,709
139,311
56,855
54,334
16,899
11,961
The health ministry ​refers vaguely to new cases among expatriate workers "as a result of contact with individuals who were previously infected" and says that others have been discovered "among groups of workers in different regions" as a result of the ministry's investigations. Qatar hasn't given figures for infections among its own citizens compared with those among the expatriates who make up about 88% of its population.
It goes on to say that the high number of cases among both citizens and non-Qatari residents "is due to the lack of compliance by some with precautionary measures, the most important of which is social separation and reduced exit from the home and social visits".
To encourage greater compliance, a new law that came into effect on Sunday stipulates fines of 200,000 riyals ($55,000) or three years in prison for anyone who leaves home without wearing a face mask.
[Note: The above article was amended on 8 June 2020 to correct the UAE's population figure.]
May 31
There was good news from Qatar yesterday ... well, sort of. The Gulf state announced that 5,235 people with Covid-19 infections had recovered during the previous 24 hours.
This was the highest number of recoveries so far in a single day, far outstripping the number of new cases in the same period.
The conclusion that might be drawn from this is that Qatar's coronavirus situation is improving but a closer look suggests otherwise.
Since the epidemic began, Qatar has recorded 55,262 cases, which works out at more than 19,000 per million inhabitants. The only country with a higher level of infection is the town-sized statelet of San Marino.
Until the last few days, Qatar's total of confirmed cases had been growing more quickly than the total of recoveries, indicating that the virus was still spreading.
Since Thursday, though, the figures have shown a sharp rise in recoveries, narrowing what was previously a widening gap (see graph).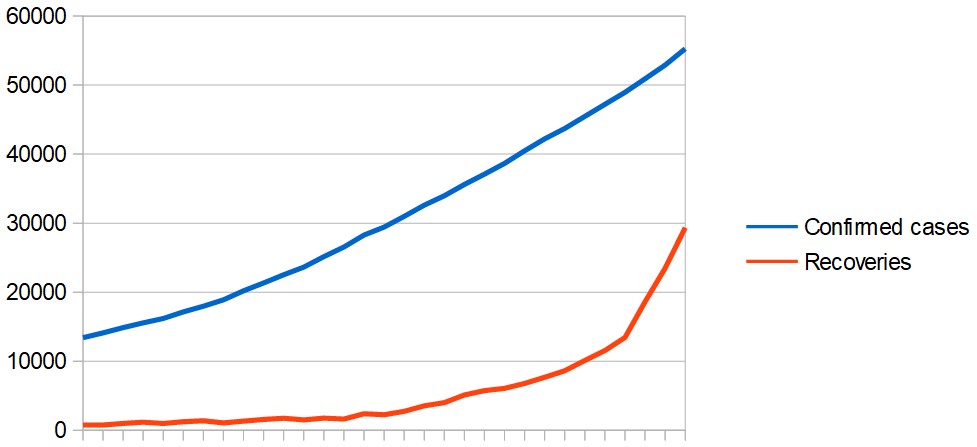 Unfortunately, this apparent improvement doesn't mean Qatar's epidemic is subsiding. It's the result of a change in the way Qatar counts recoveries.
Previously, two negative test results were needed before people who had been diagnosed with Covid-19 could be classified as having recovered.
Under the new system they are automatically classified as having recovered if they have no symptoms 14 days after first testing positive .
Eliminating the wait for negative test results means patients can now be discharged earlier, and the Qataris are confident that this won't lead to more infections. A virologist quoted in The Peninsula newspaper says "Guidance from around the world, including the United Kingdom, United States, and Germany shows that patients are no longer contagious after ten days" – so discharging them after 14 days should provide an additional safety margin.
As far as the official statistics are concerned, this has created a short-term spurt of new recoveries but it doesn't change the underlying picture.
June 19
From now until mid-September, Qatari citizens wishing to return home from abroad must first get permission from the government and then spend two weeks in quarantine when they arrive. It's a kind of luxurious imprisonment – at their own expense.
Before boarding their flight they must book a fortnight's stay at one of three government-approved hotels in Qatar and pay for it in advance. The cost ranges from $1,311 to $2,876 per person, depending on choice of hotel, and includes full board. Qatar Airways calls it a "Welcome Home Package".
On arrival in Doha, returning Qataris will welcomed with a "compulsory one way transfer" from airport to hotel and then shut in a bedroom for the next couple of weeks.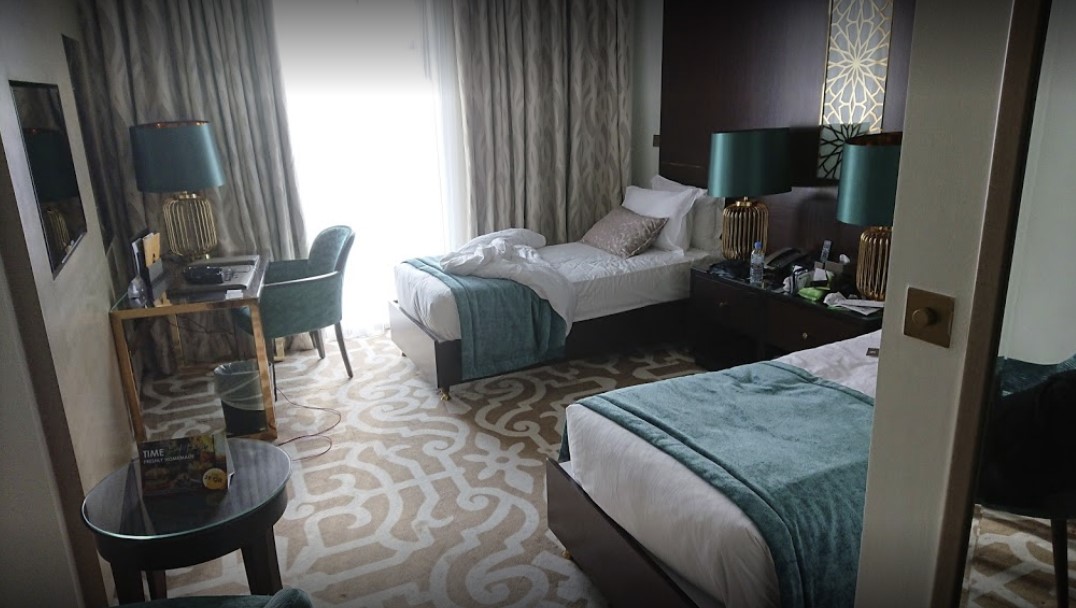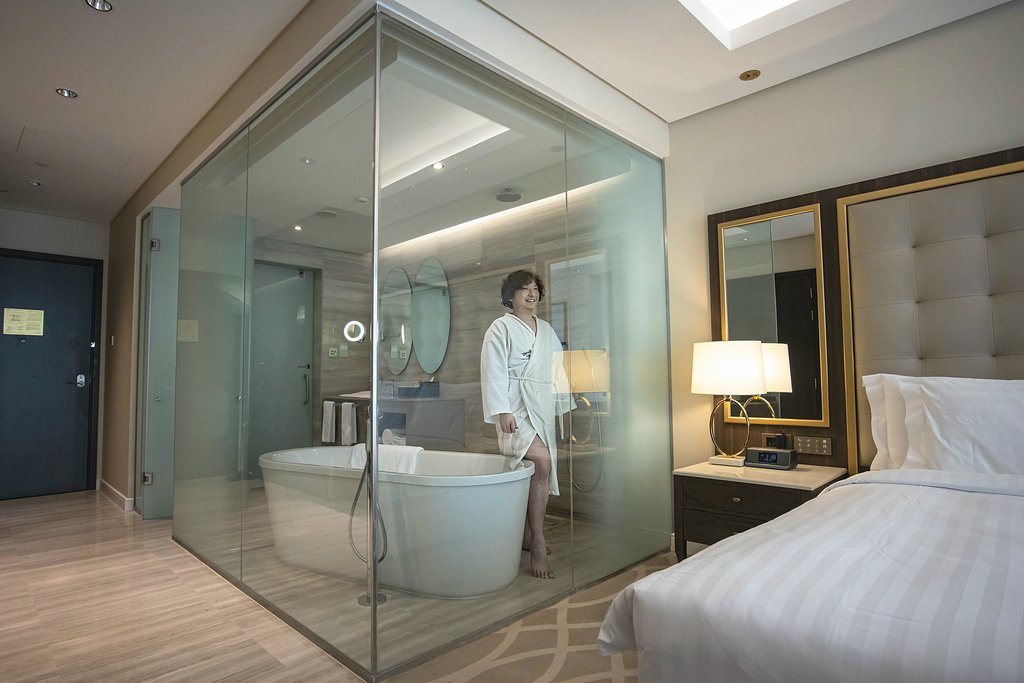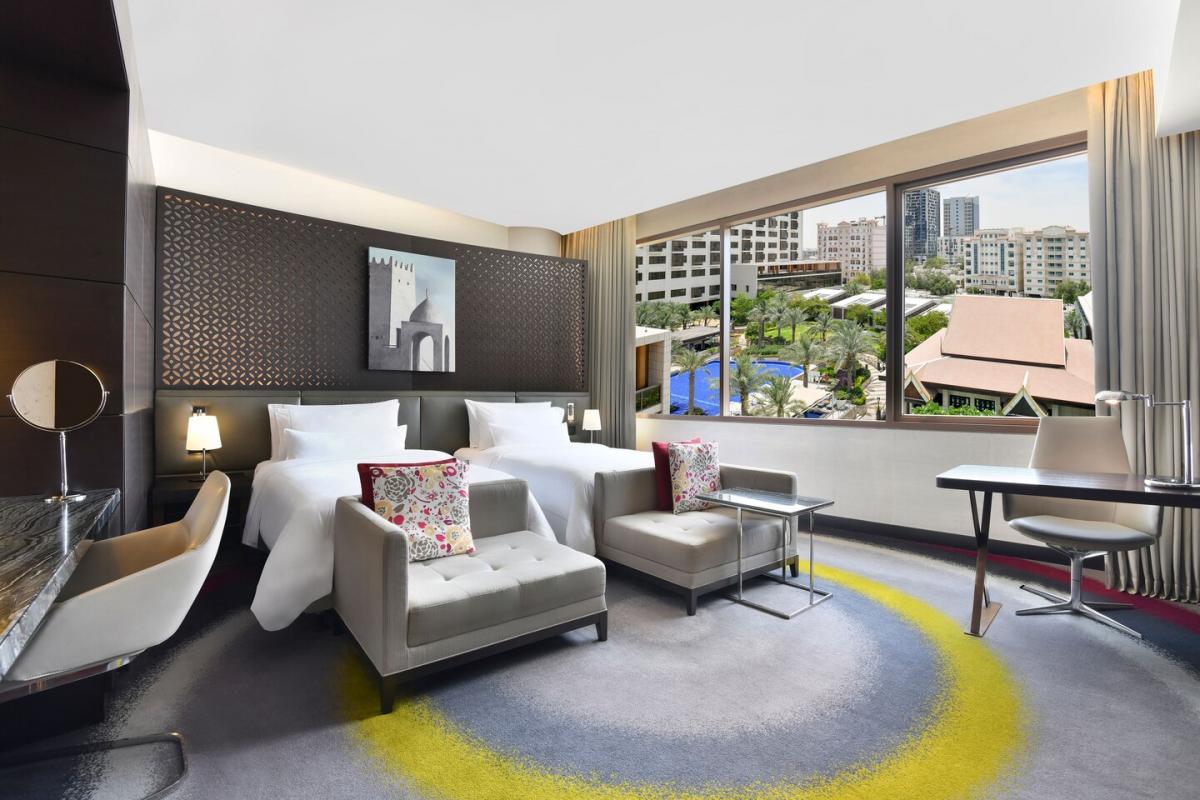 Nice as the rooms might look, guests are not allowed to leave them for any reason – not to take a stroll, visit the pool or gym, or even the prayer room. Breakfast, lunch and evening meals will be left outside the door.
Deliveries of additional food or goods from outside the hotel are not allowed.
To monitor for possible coronavirus infection, quarantined guests have to check their temperature twice a day and record it on a form. Hotel staff, contractors and suppliers are required to do the same.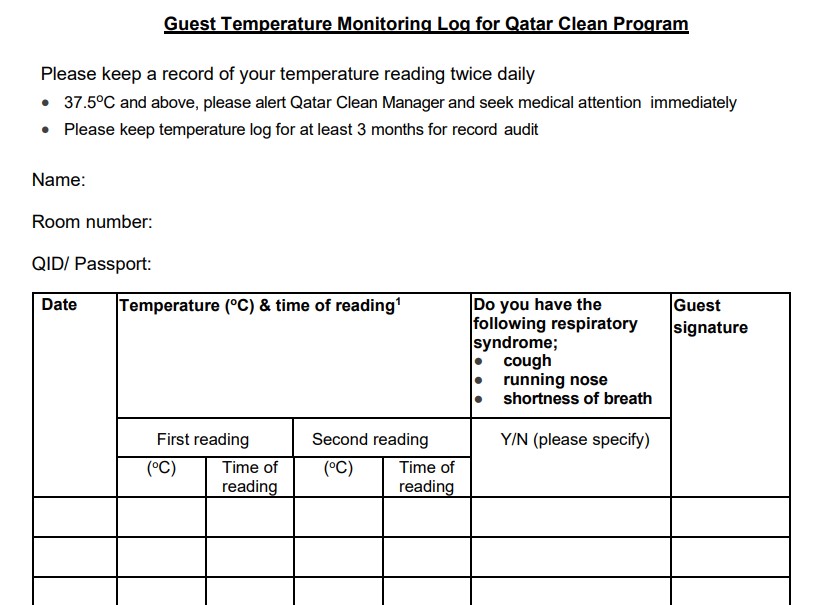 As far as cleaning of rooms is concerned, there's a detailed checklist of 43 "frequently touched" items to be disinfected by housekeeping staff.
Hotels in Qatar have also been issued with 32 pages of instructions for safeguarding guests and employees against Covid-19 infection. These will clearly generate a lot of extra work and add to running costs.
June 20
Qatar's epidemic reached a peak in the first week of June and new cases have fallen steadily since then. The government has now embarked on a four-stage plan for lifting restrictions.
July 25
In population terms Qatar has more known cases than any other country – 38,500 per million inhabitants. Migrant workers have been disproportionately affected. Qatar's epidemic reached a peak in the first week of June and new cases have fallen steadily since then. During the past week new cases averaged 391 a day, compared with more than 1,800 a day at the peak.
Qatar is due to begin reopening its borders on August 1. Travellers from countries on its low-risk list will need to take a test at the airport and self-isolate for a week before taking a second test. Full details here.
August 1
Qatar is due to begin reopening its borders today. Travellers from countries on its low-risk list will need to take a test at the airport and self-isolate for a week before taking a second test. Full details here.
About 200 of Qatar's mosques reopened for Friday prayers this week under Phase 3 of the national plan for lifting coronavirus restrictions.
August 15
Qatar Airways, whose flight attendants wear full PPE gear, is reported to have warned crews about "irresponsible" behaviour during rest periods. Crews are required to live in accommodation provided by the airline and their movements are tracked by security guards, key cards and surveillance cameras. However, a memo circulated by the company says there have been "several instances" of crew members failing to comply with Covid-19 regulations. They have now been placed under a 9pm to 7am curfew, with instructions not to take part in "gatherings or social events of any kind either within, or outside of, company accommodation".
November 1
Since the beginning of August the numbers of new cases have been relatively steady, ranging between 200 and 300 a day. The average during the past week was 227 a day.
November 18
Update on vaccines: At the end of October, Moderna announced an agreement to supply Qatar with the vaccine it has been developing. The vaccine is not yet approved and no details have been given of the quantity reserved for Qatar or the likely delivery date.
Qatar has also been in discussions with Pfizer and is said to be "confident" of receiving an initial batch of its vaccine by the end of this year or very early next year, assuming it gets regulatory approval.
February 6, 2021
Update on vaccines: Qatar has signed agreements with Pfizer/BioNTech and Moderna.
Since December 21 it has received several small shipments from Pfizer/BioNTech and larger deliveries are expected from early March.
The first delivery of Moderna vaccine – "a very limited quantity" – is due soon. Larger quantities are expected from the beginning of March.