In Yemen, the state is a weak institution. Central government exerts little authority over large parts of the country. Tribes hold considerable power and customary tribal law ('urf) is often respected more than state law.
Nevertheless, Ali Abdullah Saleh managed to survive as president for almost 34 years – an achievement which he famously described as "like dancing on the heads of snakes".
Articles
Role of the state in a traditional society
A speech by Dr Abd al-Karim al-Iryani, Prime Minister of Yemen, April 1998
Yemen, the tribe and the state
by Elham M. Manea
Yemen and stability in the Persian Gulf
by Stephen C. Pelletiere, US Army War College, Carlisle, Pennsylvania, May 1996
---
Legal framework
Draft constitution, 2015
(Not in force; unofficial translation)
Constitution of Yemen
As amended in 2001
Proposed amendments to constitution, August 2000
Constitution of Yemen, as amended in 1994
As amended in 1994
Constitution of the Republic of Yemen, 1990
Constitution of the Yemen Arab Republic, 1970
Law No 27 (1996) Concerning General Elections
Law No 41 (1992) Concerning General Elections
Law No 66 (1991) Concerning Parties and Political Organisations
Law No 25 (1990) Concerning the Press and Publications
---
Presidency
President Hadi: a man in the shadows
Blog post by Brian Whitaker, 24 March 2013
Ali Abdullah Salih: a biographical note
'President Saleh Website'
Official website
---
Governments
Current government ministers (CIA)
Yemeni governments of the 1990s
Members of the Consultative Council (2001- )
Members of the Consultative Council (1997-2001)
"Democratic Republic of Yemen" (1994)
---
Administrative divisions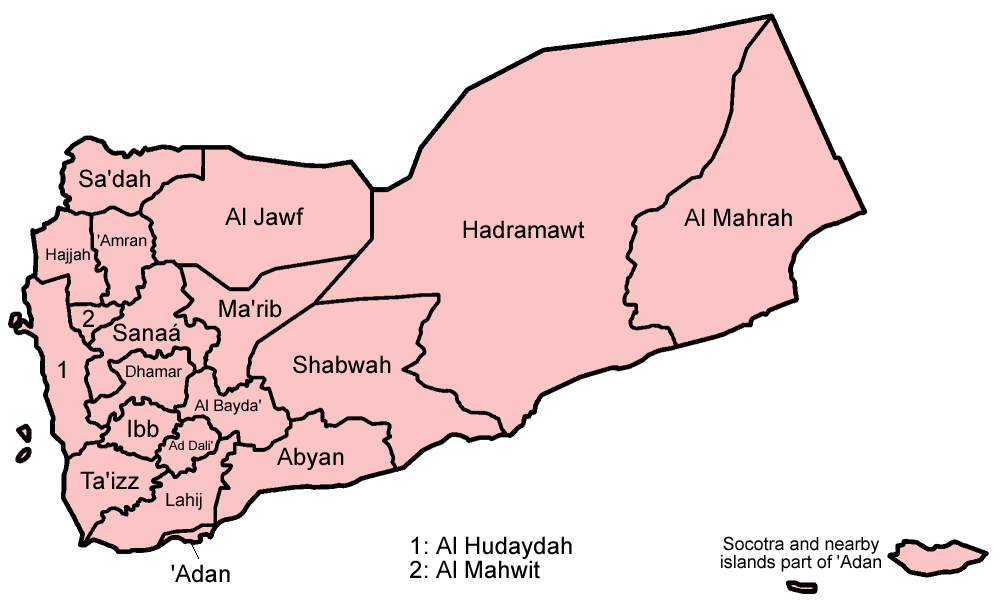 Following unification in 1990, Yemen consisted of 18 governorates (or provinces) – twelve from the former Yemen Arab Republic in the north and six from the former People's Democratic Republic of Yemen (south and east):
Northern provinces
al-Bayda
al-Jawf
al-Mahweet
Dhamar
Hajjah
Hudaydah
Ibb
Ma'rib
Sa'adah
Sana'a (city)
Sana'a (province)
Ta'izz
Southern provinces
Aden
Lahj
Abyan
Shabwah
Hadramawt
al-Maharah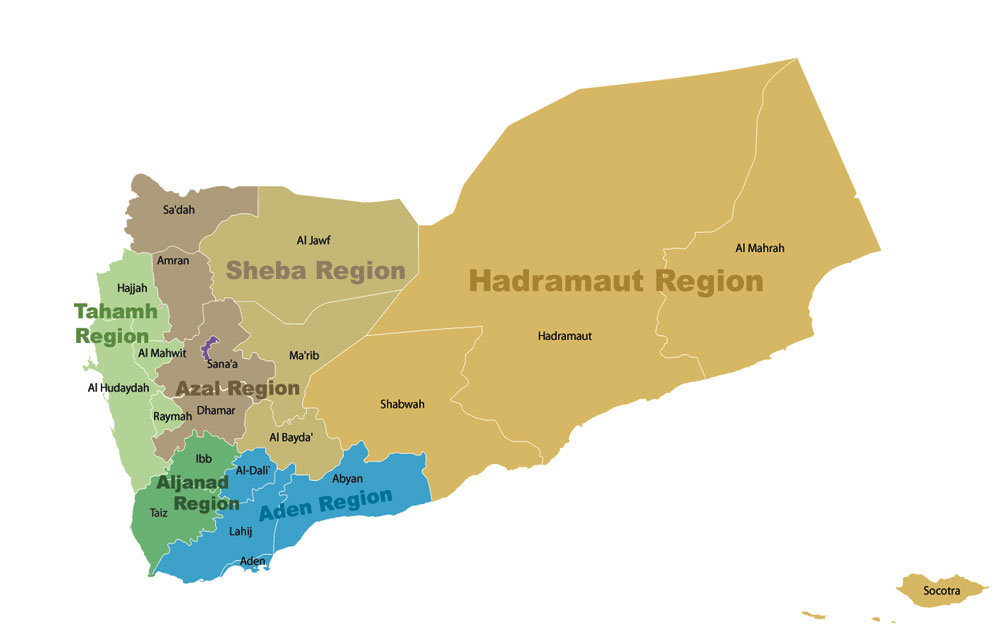 In 2014 there were moves to create a federal state by grouping these provinces into six federal regions (see map above, from the Yemen Times). The plan seems to have been a response, at least in part, to separatist agitation in the south calling for the country to be re-divided into two states.
Yemen celebrates new map of six regions
Yemen Times, 11 February 2014
United States of Yemen
Is federalism the solution or just a diversion? Blog post by Brian Whitaker, 13 February 2014