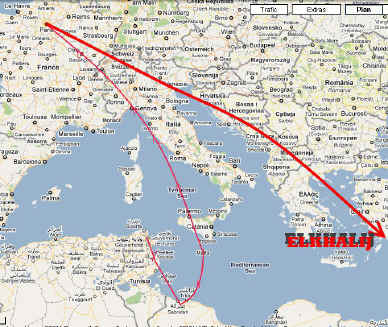 IMPORTANT: See update
After fleeing Tunisia yesterday, Zine el Abidine Ben Ali made a circuitous journey around the Mediterranean. His plane first headed south to Libya, then north towards Paris where he was apparently told he would not be welcome. After a reported refuelling stop in Italy, the plane eventually landed in Jeddah, Saudi Arabia, where Ben Ali is now a guest of the Guardian of the Two Holy Shrines, His Majesty King Abdullah.
Whether the king will offer him a long-term home there remains to be seen, though it's perhaps worth recalling that Saudi Arabia gave permanent refuge to the Ugandan dictator, Idi Amin, after he was deposed in 1979.
A statement from the official Saudi Press Agency said: "We have welcomed in the Saudi kingdom the arrival of President Zine El Abidine Ben Ali and his family."
Note the reference here to Ben Ali as "president". Legally speaking, this is correct, because there has been no announcement of his resignation. He has fled the country but he is still, technically, head of state.
This has an important bearing on what may happen next inside Tunisia. For the sake of legitimacy during the transition, it's desirable to follow the letter of the constitution – which is what Ben Ali did when he seized power in 1987. Very shortly after being appointed as prime minister, he had President Bourguiba declared medically unfit for office and became acting president himself, as specified in the constitution.
There are two different provisions in the Tunisian constitution: one to cover the president's "temporary disability" (Article 56), and the other for a vacancy caused by the president's "death, resignation or total incapacity" (Article 57).
Ben Ali's departure is being treated as a case of "temporary disability" – which is probably why prime minister Mohammed Ghannouchi has been cagey about saying whether or not he will return. In these circumstances, Ghannouchi legally assumes the duties of president, but with two important caveats: he cannot dissolve parliament and the existing government must remain in place until the end of the president's "disability".
Interestingly, Ben Ali dismissed the entire government (with the apparent exception of Ghannouchi) before leaving – so the rule about the government remaining in place doesn't strictly apply. This has opened the way for Ghannouchi – if he so chooses – to form a government of national unity that includes opposition politicians.
If Ben Ali had opted for the alternative course – immediate resignation – the chairman of parliament, not Ghannouchi, would have become acting president. However, that course also requires the holding of new presidential elections within 45-60 days (something even the opposition would probably not want, since it allows them little time to organise, especially during the present chaos).
Ghannouchi, 69, is not a popular figure. He has been prime minister since 1999 and is regarded as one of Ben Ali's long-term henchmen. Not surprisingly, there is talk among the Tunisian protesters of trying to oust him too. If they succeed, the constitutional position will become very murky indeed.
There doesn't seem to be an ideal solution but, if constitutionality is to be observed, a broadly-based and short-lived transitional government under Ghannnouchi (regrettably) may be the least bad option – assuming that Ben Ali can be persuaded to resign shortly, triggering a presidential election in, say, April or May. That would allow Tunisians to choose a new leader without letting Ghannouchi become too entrenched. When – and if – Ben Ali announces his resignation, Ghannouchi must cease to be acting president (at least, according to the constitution)..
On the other hand, there's a nightmare scenario where Ben Ali could refuse to resign and sit out the rest of his term in Saudi Arabia until October 2014. That would give Ghannouchi almost four years to consolidate his position – and it may be what Ben Ali has in mind.
Having Ben Ali as a guest also gives King Abdullah an opportunity to manipulate Tunisian politics behind the scenes. He could, for instance, insist on Ben Ali resigning as a condition for staying in the kingdom or, alternatively, he could continue to protect and honour him as a "president-in-exile".
Posted by Brian Whitaker, 15 Jan 2011.
This work is licensed under a Creative Commons Attribution-NonCommercial 4.0 International Licence.