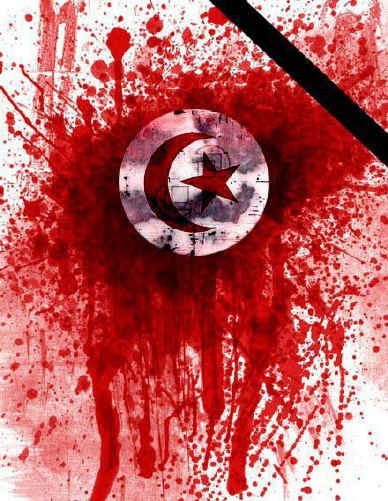 The Tunisian regime was fighting for survival yesterday. Reports and videos of clashes between police and demonstrators circulated on the internet throughout the day – so many that it became difficult to keep track. In some of them civilians were shot and killed – though at this stage it is impossible to even guess at the numbers.
Perhaps most telling were the scenes, reminiscent of the fall of Saddam Hussein, where pictures of President Ben Ali were openly destroyed in the streets (two examples here and here).
The EU issued a statement echoing that of the United States, calling for "restraint in the use of force and for the respect of fundamental freedoms", as did the UN secretary-general, Ban Ki-moon.
At 4pm local time, Ben Ali appeared on television and on this occasion his speech was not interrupted by a telephone call. It's a subjective assessment, but I felt from his demeanour that he looked more than a little rattled. Unlike his speech two weeks ago, where he was seated presidentially behind a gigantic desk, this time he decided to stand – as if ready to dash out of room at a moment's notice.
He began with some familiar bluster, deriding (and insulting) the thousands of protesters by blaming "hostile elements in the pay of foreigners, who have sold their souls to extremism and terrorism, manipulated from outside the country". This was so obviously untrue that, from then on, most of his audience probably stopped listening.
He followed this up with an implausible-sounding promise to create 300,000 new jobs within two years, and to hold a "national conference" next month (which nobody apart from the regime's most diehard supporters is likely to attend).
Clutching weakly for other things to offer, he announced "a new impetus to regional newspapers devoting space daily to all governorates of the country" and said the "people's representatives" would be asked to "intensify their periodic contacts with citizens".
He ended, very oddly, by thanking his "dear brother", Colonel Gadafy, for support and appeared to suggest that anyone who is unhappy with life in Tunisia should go to Libya. The situation must be truly dire if the only world leader you can publicly thank for support is Gadafy.
Following his speech, in which Ben Ali also lectured Tunisians on the importance the regime attaches to education, the education ministry demonstrated the regime's commitment by announcing that schools and universities would be closed until further notice.
Reports on Twitter overnight say access to Facebook within Tunisia has now been blocked in its entirety. Previously the regime had been blocking individual Facebook pages. If true, this is another blunder. Not only will it stir up further anger among Tunisia's youth; it will also be seen as a direct snub to the US, the EU and the UN, who have all made a specific point about the need for free expression.
Maybe the next step is martial law but, as of yesterday, all the signs point to the regime losing control. More civilian deaths mean more funerals, and more funerals mean more protests. And keeping kids out of school, without even Facebook to keep them occupied, is also a recipe for trouble.
Maybe Ben Ali will continue urging his security forces to redouble their efforts, but cooler heads in the police and army ought to be telling him (if they are not doing so already) that there is now only one action that can quell the riots: the departure of Ben Ali himself.

Posted by Brian Whitaker, 11 Jan 2011.
This work is licensed under a Creative Commons Attribution-NonCommercial 4.0 International Licence.