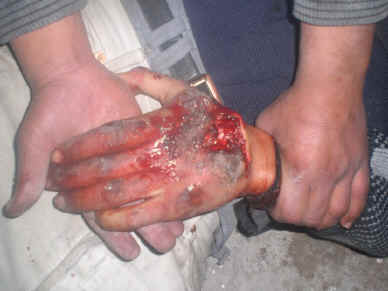 The Tunisian regime has responded to American calls for restraint... with live bullets. A number of protesters were shot dead last night – possibly 10 or more.
Most reports attribute the shootings to the police, though the army has now been deployed some areas – allegedly to protect government buildings.
The increasing use of live ammunition may be a measure of the Ben Ali regime's desperation at its inability to control the disturbances sweeping the country.
Al-Jazeera reports that in Thala (Kasserine province, near the Algerian border), four people were killed when police opened fire after first using water cannons to try to disperse a crowd throwing stones and petrol bombs. A government building had been set on fire.
The nawaat website shows some gruesome scenes from last night's events in Thala, including the picture above.
There was also trouble yesterday in the city of Kasserine. Reports on the internet named four people as having been killed there: Mounir Mbarki, Raouf Bouzidi, Saleh Fridhi and Mohamed Asswadi. According to AFP, a 12-year-old child died in Kasserine when shot in the head.
In Meknassy (Sidi Bouzid province), two people – Chihab Alibi and Youssef Fitouri – were shot dead, according to a note posted on Twitter.
Tunisia's main trade union, the UGTT (which is normally regarded as close to the government) now appears to have swung its weight behind the protesters.
Surrounded by riot police, several hundred of its members observed a minute's silence in the capital yesterday. In remarksquoted by AFP, the union's deputy general secretary, Abid Brigui, said:
"We support the demands of the people in Sidi Bouzid and interior regions ... The UGTT cannot but be with this region, behind those in need and demanding jobs.

"It is against nature to condemn this movement, it is not normal to respond with bullets."
AFP quotes an opposition economist as saying that by doing this the UGTT is "making a great about-turn".
Posted by Brian Whitaker, 9 Jan 2011.
This work is licensed under a Creative Commons Attribution-NonCommercial 4.0 International Licence.