In the face of overwhelming evidence to the contrary, Russian foreign minister Sergei Lavrov continues to claim that Syrian rebels were responsible for the chemical attacks in Damascus on August 21.
Lavrov "recently presented his US counterpart John Kerry with the latest compilation of evidence, which was an analysis of publicly available information," Russia Today (RT) reports.
It quotes Lavrov as saying that his "evidence" includes "the reports by the journalists who visited the sites, who talked to the combatants, combatants telling the journalists that they were given some unusual rockets and munitions by some foreign country and they didn't know how to use them".
Despite Lavrov's use of the plural ("reports" by "journalists"), he was obviously referring to the discredited Mint Press article last month which reported claims from anonymous sources in Syria suggesting that Prince Bandar of Saudi Arabia had provided rebel fighters with chemical weapons which the rebels – not knowing what the weapons were – then handled "improperly".
However, RT also reports Lavrov as saying that Russia has "enough evidence to assert" that the sarin used on August 21 was "homemade" – suggesting that Saudi Arabia could not have been the supplier (unless he thinks the sarin was something Prince Bandar had cooked up in his kitchen).
Describing the "evidence" he has presented to Kerry, Lavrov cited several published items – all of which have been challenged – but the Mint Press article was first on his list.
The central claim in the Mint Press article hinges on a series of quotes from unidentified Syrian rebels which were gathered by Yahya Ababneh, a Jordanian who also uses the name Yan Barakat.
In a comment posted on the internet on August 28, Barakat/Ababneh said he had been told about the rebels' chemicals by a Russian who befriended him:
"Some old men arrived in Damascus from Russia and one of them became friends with me. He told me that they have evidence that it was the rebels who used the weapons."
This raises the question of whether it was his Russian friend who first alerted him to the story and whether the Russian provided any further assistance.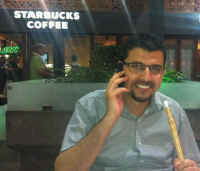 Yahya Ababneh / Yan Barakat
Ababneh's own credibility as a reporter has been questioned because claims made by Ababneh and Mint Press about his previous journalistic work have so far not been substantiated.
Mint Press said he "has covered events in Jordan, Lebanon, Saudi Arabia, Russia and Libya" and "his stories have appeared on Amman Net, Saraya News, Gerasa News and elsewhere".
Ababneh's recently-deleted LinkedIn profile said says this work "includes assignments in Jordan, Syria, Lebanon, Saudi Arabia, Russia, and Libya for clients such as al-Jazeera, al-Quds al-Arabi, Amman Net, and other publications".
Yesterday, Amman Net, one of the Jordanian news organisations that Ababneh claims to have worked for published an article headed: "Who is Yahya Ababneh?"
According to Amman Net, his work has not been published on any Jordanian websites. Amman Net also says it acquired his private telephone number "but he did not answer any calls".
A friend of Ababneh says he is travelling at the moment.
I have already posted a series of questions that I would like to ask Ababneh and if he wishes to make a statement giving his side of the story I shall be happy to post it here.

Posted by Brian Whitaker
Thursday, 26 September 2013
This work is licensed under a Creative Commons Attribution-NonCommercial 4.0 International Licence.