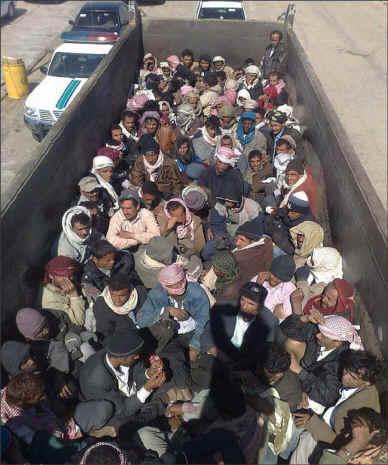 Photograph published by the Yemen Times last March, said to show Yemenis rounded up for deportation from Saudi Arabia

An "all-out campaign" to round up and expel foreigners who are living or working illegally in Saudi Arabia is getting under way today. There is no set time limit for the campaign and raids "will cover all cities, towns, regions and villages as well as highways across the kingdom", according to the Saudi Gazette.
"All expatriates who work for their personal gain or overstayed their Hajj, Umrah, and visit visas and infiltrators will be caught and will be detained until completing legal procedures for penal measures and deportation," interior ministry spokesman Mansour al-Turki told a news conference yesterday.
He added that the campaign will also target Saudis who employ or assist illegal residents: "Those who cover up illegals or those who give them shelter or transportation or any kind of help will also be apprehended."
---

Saudi expulsions crisis: full coverage

---
The mass expulsions are the result of a change in Saudi labour laws supposedly intended to tackle the kingdom's own unemployment problems. In an article for the Guardian, Ian Black explained:
"The amendment to Saudi Arabia's labour law stipulates that foreign workers are forbidden from running their own business and must remain strictly linked to their original sponsors for all work-related activities ...

"Many Yemenis [and others] have circumvented Saudi sponsorship rules by paying one sponsor/employer while working for another or setting up their own independent businesses."
Saudi Arabia is thought to have more than nine million foreign workers, many of whom are working illegally as a result of the onerous and corrupt sponsorship system.
"Saudisation" – replacing foreign workers with Saudis – has long been government policy though Saudis are generally reluctant to take on the traditional migrant-worker jobs such as street sweeping, construction work, shopkeeping and taxi driving. Saudisation has also been resisted by employers in the kingdom who claim it will deplete their workforce and perhaps even put them out of business.
Last year, according to official figures, Saudi Arabia deported 575,000 "illegal" workers, with a further 200,000 deportations in the first three months of this year.
The latest effort, aimed at ridding the kingdom entirely of "illegal" foreigners, is viewed as an attempt to protect the regime from the effects of the Arab Spring by reducing unemployment among young Saudis.
The authorities stepped up their expulsions last March, and at one point 2,000 Yemenis were reportedly being expelled every day. The result was chaos and panic as thousands of foreigners – especially Indians and Filipinos – sought to regularise their status or obtain exit visas. A number of private schools were forced to close as foreign teachers stayed away, fearing arrest. There were also reports of undocumented foreigners being physically attacked by vigilantes.
Amid a welter of criticism – not only about the heartless way the authorities set about implementing the plan but also from foreign embassies and employers whose businesses were put in jeopardy – the king then stepped in and called a temporary halt.
Initially the king declared a three-month grace period for foreigners to regularise their position but that was later extended for a total of seven months – ending yesterday.
The delay has also given the authorities some time to think about how the plan will be implemented, and how to head off some of the expected criticisms. Yesterday, officials insisted that inspection raids will be carried out by "highly professional teams", there will be no "random raids", inspectors have been trained to behave "in a highly civilised manner", private homes will not be raided and inspectors will not ask questions which have "a negative impact" on businesses.
Even so, there are signs that local media are unlikely to give the authorities an easy time. An article in today's Arab News, headed "Expats worried sick as amnesty ends", says labour shortages are already being felt as expatriates leave the country or go into hiding. A factory manager in Jeddah is quoted as saying production has been affected and "our clients fail to understand why delivery times have become longer".
The report continues:
"The caretaker of a building in the Faisaliyah district told Arab News that he is so scared that he has not been able to eat, drink or sleep for the last few weeks even though his application for an iqama [permit] is pending.

"He said he was told to report to the Passport Department office on Sunday but that the person in charge was not present. 'I am scared because I would have to leave before November 4 if I don't get an iqama. I have already paid SR4,000 and submitted my paperwork,' he sobbed.

"The man arrived in the kingdom nearly 10 years ago to work on a farm in a small village, but the work was difficult and the sponsor did not pay for months on end. So he ran away and came to Jeddah."
Al-Madinah newspaper also has some sad stories (reported in English by the Saudi Gazette) about Arab expatriates doing manual work in the kingdom while pretending to their families back home that they have managerial jobs:
"Egyptian national Ahmad Ibrahim said he came to the country to perform Umrah after which he did not go back and remained here to look for a job.He went to Jeddah to stay with some of his friends and worked as a painter. Whenever his wife asked him about his job, he told her that he was a manager, as he did not want to lose her trust in him.

"Mohammad Fawwaz, another Egyptian who came to the Kingdom to perform Umrah and overstayed, said he has a commerce degree but no companies would hire him as he did not hold an iqama or residency permit.

"Fawwaz said as he could not legally work, he learned to be a barber, which has provided him with a decent income.He also used to lie to his family, telling them he worked as an accountant in a large company and whenever he received visitors from Egypt he would take a few days off work until they leave."
Although the principle of Saudisation seems to be widely accepted, the Saudi Gazette says business opinion is "almost equally divided" over whether it should be implemented more slowly.
Because of the popular uprisings elsewhere in the region, the Saudi authorities are now treating Saudisation as a matter of some urgency but it is doubtful whether there can be a quick solution. The problem of illegal expatriates has been allowed to develop over many years and, according to Mahmoud Ahmad in an article for Arab News last May, it's a problem of the Saudis' own making.
If the Labour Ministry had been more willing in the past to give expatriates a chance to rectify their status, or if it had been tough on abusive sponsors, the number of foreigners without proper paperwork would have been much smaller than it is now, he said.

Posted by Brian Whitaker
Monday, 4 November 2013
This work is licensed under a Creative Commons Attribution-NonCommercial 4.0 International Licence.