An online activist in Saudi Arabia whose views angered religious conservatives is threatened with apostasy charges that could result in his execution, CNN reports.
Raif Badawi, former editor of the "Saudi Arabian Liberals" website, is already serving a seven-year jail sentence but a judge has now recommended that he be tried for apostasy, according to his wife.
Badawi has been imprisoned since June 2012, having been initially detained on charges that included "setting up a website that undermines general security" and ridiculing Islamic religious figures.
Last July, a court in Jeddah found him guilty of violating Saudi Arabia's cybercrime law and insulting Islam. He was sentenced to 600 lashes and seven years in jail. The sentence also included three months' jail for the "crime" of 'uquq (disobeying a parent) – apparently because of disputes Badawi had with his father.
The offending articles on his website included one about Valentine's Day (celebration of which is banned in the kingdom) and another suggesting that al-Imam Mohamed ibn Saud University had become "a den for terrorists"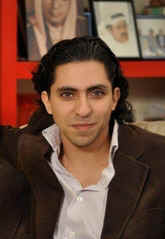 Raif Badawi
One article, which mocked the kingdom's religious police, ended sarcastically with the words: "Congratulations to us for the Commission on the Promotion of Virtue for teaching us virtue and for its eagerness to ensure that all members of the Saudi public are among the people of paradise."
A year ago, at a hearing before Jeddah District Court, a judge reportedly ordered Badawi to "repent to God". When he refused, the judge referred the case to a higher court, recommending that it try Badawi for apostasy. Part of the evidence for Badawi's supposed apostasy was that he had pressed the "Like" button on a Facebook page for Arab Christians.
The threat of execution appeared to be lifted in January when a court rejected the apostasy charge, but it now appears to have been revived.
Last month Saudi Arabia was one of several repressive countries
elected to the UN Human Rights Council for a three-year term. In the view of rights lawyer Abdulaziz Alhussan, 2013 has been "
one of the worst years" for activists in Saudi Arabia, though it was ultimately "much worse for the government" because Saudis are now more informed and aware of the needs for better governance.
The authorities are fighting what appears to be a losing battle to retain control of public discourse as citizens express their discontent through social media. In a recent article for the Guardian, Ian Black wrote:
"On the face of it, it may seem surprising that an absolute monarchy with no parliament or political parties, tame newspapers and TV channels, enforced gender segregation and an official morality police should have such a flourishing social media world. But Saudis tweet in their millions to swap jokes, whinge about salaries, government waste and inefficiency – and corruption."
Last week a report from Human Rights Watch looked in detail at the cases of 10 Saudi activists and their battles with the authorities.
Badawi had been harassed for several years, HRW says:
"In March 2008, authorities arrested Badawi and questioned him about his website, but released him a day later. In May 2008, Badawi was formally charged with 'setting up an electronic site that insults Islam' and he left the country. He returned when prosecutors apparently decided to drop the charges, he told Human Rights Watch. In 2009, the authorities barred Badawi from traveling abroad and froze his business interests, depriving him of a source of income, he told Human Rights Watch.

"On March 18, 2012, the well-known cleric Sheikh Abdulrahman al-Barrak issued a religious ruling declaring Badawi an 'unbeliever … and apostate who must be tried and sentenced according to what his words require'.

"Al-Barrak claimed that Badawi had said 'that Muslims, Jews, Christians, and atheists are all equal,' and that even if these were not Badawi's own opinions but 'an account of the words of others, this is not allowed unless accompanied by a repudiation' of such words."

Posted by Brian Whitaker
Thursday, 26 December 2013
This work is licensed under a Creative Commons Attribution-NonCommercial 4.0 International Licence.